A Geospatial Decision Support System Tool for Supporting Integrated Forest Knowledge at the Landscape Scale
1
Department of Agriculture, University of Napoli Federico II, Via Università 100, 80055 Portici (Naples), Italy
2
CRISP Research Center, Department of Agriculture, University of Napoli Federico II, Via Università 100, 80055 Portici (Naples), Italy
3
Institute for Mediterranean Agricultural and Forest Systems, National Research Council, Via Patacca 85, 80056 Ercolano, Italy
4
Ariespace Srl, Centro Direzionale, Isola A3, 80143 Naples, Italy
*
Author to whom correspondence should be addressed.
Received: 23 May 2019 / Revised: 7 August 2019 / Accepted: 12 August 2019 / Published: 14 August 2019
Abstract
Forests are part of a complex landscape mosaic and play a crucial role for people living both in rural and urbanized spaces. Recent progresses in modelling and Decision Support System (DSS) applied to the forestry sector promise to improve public participative forest management and decision-making in planning and conservation issues. However, most DSS are not open-source systems, being in many cases software designed for site-specific applications in forest ecosystems. Furthermore, some of these systems often miss challenging the integration of other land uses within the landscape matrix, which is a key issue in modern forestry planning aiming at linking recent developments in open-source Spatial-DSS systems to sectorial forest knowledge. This paper aims at demonstrating that a new type of S-DSS, developed within the Life+ project SOILCONSWEB over an open-source Geospatial Cyber-Infrastructure (GCI) platform, can provide a strategic web-based operational tool for forest resources management and multi-purpose planning. In order to perform simulation modelling, all accessible via the Web, the GCI platform supports acquisition and processing of both static and dynamic data (e.g., spatial distribution of soil and forest types, growing stock and yield), data visualization and computer on-the-fly applications. The DSS forestry tool has been applied to a forest area of 5,574 ha in the southern Apennines of Peninsular Italy, and it has been designed to address forest knowledge and management providing operational support to private forest owners and decision-makers involved in management of forest landscape at different levels. Such a geospatial S-DSS tool for supporting integrated forest knowledge at landscape represents a promising tool to implement sustainable forest management and planning. Results and output of the platform will be shown through a short selection of practical case studies.

►

▼

Figures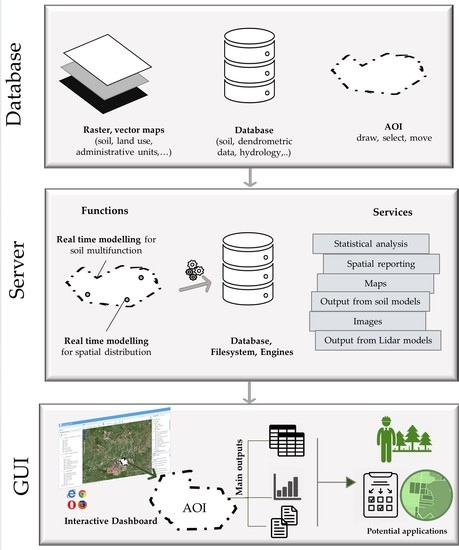 Graphical abstract
This is an open access article distributed under the
Creative Commons Attribution License
which permits unrestricted use, distribution, and reproduction in any medium, provided the original work is properly cited (CC BY 4.0).

Share & Cite This Article
MDPI and ACS Style
Marano, G.; Langella, G.; Basile, A.; Cona, F.; Michele, C.D.; Manna, P.; Teobaldelli, M.; Saracino, A.; Terribile, F. A Geospatial Decision Support System Tool for Supporting Integrated Forest Knowledge at the Landscape Scale. Forests 2019, 10, 690.
Note that from the first issue of 2016, MDPI journals use article numbers instead of page numbers. See further details here.
Related Articles
Comments
[Return to top]