European Union's Last Intact Forest Landscapes are at A Value Chain Crossroad between Multiple Use and Intensified Wood Production
1
Department of Natural Sciences, Mid Sweden University, SE-851 70 Sundsvall, Sweden
2
Faculty of Forest Sciences, Department of Wildlife, Swedish University of Agricultural Sciences, Fish and Environmental Studies, SE-90183 Umeå, Sweden
3
Grimsö Wildlife Research Station, Department of Ecology, Swedish University of Agricultural Sciences, SE-730 91 Riddarhyttan, Sweden
4
Faculty of Forest Sciences, School for Forest Management, Swedish University of Agricultural Sciences, PO Box 43, SE-73921 Skinnskatteberg, Sweden
5
Faculty of Forest Science and Ecology, Vytautas Magnus University, Akademija, Kaunas District, LT-53361 Lithuania
*
Author to whom correspondence should be addressed.
Received: 1 June 2019 / Revised: 28 June 2019 / Accepted: 2 July 2019 / Published: 7 July 2019
Abstract
Research Highlights:
The European Union's last large intact forest landscapes along the Scandinavian Mountain range in Sweden offer unique opportunities for conservation of biodiversity, ecological integrity and resilience. However, these forests are at a crossroad between intensified wood production aimed at bio-economy, and rural development based on multi-functional forest landscapes for future-oriented forest value chains.
Background and Objectives:
We (1) estimate the area of near-natural forests potentially remaining for forest harvesting and wood production, or as green infrastructure for biodiversity conservation and human well-being in rural areas, (2) review how forest and conservation policies have so far succeeded to reduce the loss of mountain forests, and (3) discuss what economic, socio-cultural and ecological values that are at stake, as well as different governance and management solutions.
Materials and Methods:
First, we estimated the remaining amount of intact mountain forests using (1) the Swedish National Forest Inventory, (2) protected area statistics, (3) forest harvest permit applications and actually harvested forests, (4) remote sensing wall-to-wall data on forests not subject to clear-felling since the mid-1950s, (5) mapping of productive and non-productive forestland, and (6) estimates of mean annual final felling rate. Second, we review policy documents related to the emergence of land use regulation in north Sweden, including the mountain forest border, and illustrate this with an actual case that has had significant policy implementation importance.
Results:
There is a clear difference between the proportions of formally protected productive forestland above the mountain forest border (52.5%) and north Sweden in general (6.3%). A total of 300,000 ha of previously not clear-felled mountain forest outside protected areas remain, which can support novel value chains that are not achievable elsewhere.
Conclusions:
The mountain forests in Sweden provide unique conservation values in the European Union. Since the beginning of the 1990s, policy regulations have been successful in limiting forest harvesting. Currently, however, mountain forests are a battle ground regarding intensification of forest use, including logging of forests that have never been subject to clear-felling systems vs. nature conservation and wilderness as a base for rural development. The ability of mountain municipalities to encourage sustainable rural forest landscapes must be strengthened.
View Full-Text
►

▼

Figures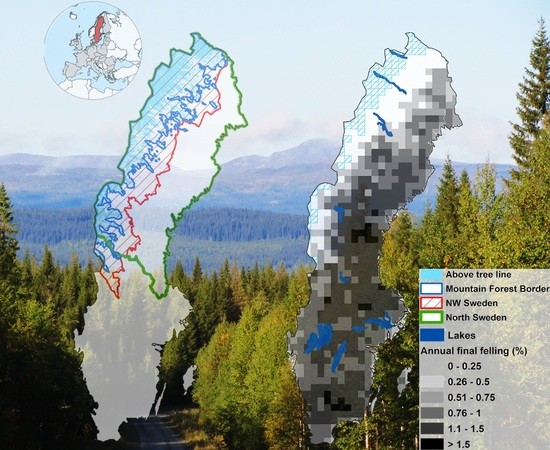 Graphical abstract
This is an open access article distributed under the
Creative Commons Attribution License
which permits unrestricted use, distribution, and reproduction in any medium, provided the original work is properly cited (CC BY 4.0).

Share & Cite This Article
MDPI and ACS Style
Jonsson, B.G.; Svensson, J.; Mikusiński, G.; Manton, M.; Angelstam, P. European Union's Last Intact Forest Landscapes are at A Value Chain Crossroad between Multiple Use and Intensified Wood Production. Forests 2019, 10, 564.
Note that from the first issue of 2016, MDPI journals use article numbers instead of page numbers. See further details here.
Related Articles
Comments
[Return to top]