Open Access This article is
freely available
re-usable
Article
Reconstruction of June–July Temperatures Based on a 233 Year Tree-Ring of
Picea jezoensis
var.
microsperma
1
Experimental Teaching Center, Shenyang Normal University, Shenyang 110034, China
2
School of Life Sciences, Henan University, Kaifeng 475004, China
3
Institute of Applied Ecology, Chinese Academy of Sciences, Shenyang 110016, China
4
College of Forestry, Shenyang Agricultural University, Shenyang 110866, China
5
College of Life Sciences, Shenyang Normal University, Shenyang 110034, China
6
College of Environmental and Resource Sciences, Dalian Minzu University, Dalian 116600, China
*
Author to whom correspondence should be addressed.
Received: 10 April 2019 / Accepted: 13 May 2019 / Published: 14 May 2019
Abstract
:
In this study, ring-width chronology of
Picea jezoensis
var.
microsperma
from the Changbai Mountain (CBM) area, Northeast China, was constructed. Growth/climate responses suggested that mean maximum temperature (T
max
) was the limiting factor affecting radial growth of PJ trees in the study region. According to the correlation analysis between the ring-width index and meteorological data, a June–July mean maximum temperature (T
max

6–7
) series between 1772 and 2004 was reconstructed by using the standard chronology. For the calibration period (1959–2004), the explained variance of the reconstruction was 41.6%. During the last 233 years, there were 36 warm years and 34 cold years, accounting for 15.5% and 14.7% of the total reconstruction years, respectively. Cold periods occurred in 1899–1913, 1955–1970, and 1975–1989, while warm periods occurred in 1881–1888. The reconstructed temperature series corresponded to the historical disaster records of extreme climatic events (e.g., drought and flood disasters) in this area. Comparisons with other temperature reconstructions from surrounding areas and spatial correlation analysis between the gridded temperature data and reconstruction series indicated that the regional climatic variations were well captured by the reconstruction. In addition, multi-taper method spectral analysis indicated the existence of significant periodicities in the reconstructed series. The significant spatial correlations between the reconstructed temperature series and the El Niño–Southern Oscillation (ENSO), solar activity, and Pacific Decadal Oscillation (PDO) suggested that the temperature in the CBM area indicated both local-regional climate signals and global-scale climate changes.
Keywords:
Changbai Mountain;
Picea jezoensis
; Tree-ring width; temperature reconstruction; solar activity; Pacific Decadal Oscillation; El Niño–Southern Oscillation
1. Introduction
The increase in global temperature since the 20th century has had a major impact on natural systems [
1
]. Global warming will result in significant changes in species abundance and the distribution of mountain ecosystems at the mid–high latitudes of the Northern Hemisphere, where plant growth is mainly limited by temperature [
2
,
3
,
4
,
5
,
6
,
7
,
8
,
9
,
10
]. Northeast China, an ecotone between temperate and cold temperate climatic zones and transitioning between monsoon and non-monsoon conditions, is extremely sensitive to climatic changes [
11
]. The drought and flood disasters caused by the interannual instability of the East Asia summer monsoon (EASM) have seriously affected the healthy development of agriculture and forest ecosystems [
12
,
13
]. Additionally, previous studies have shown that climate change in this region was also associated with global land–sea atmospheric circulation and solar activities [
14
,
15
]. It is widely believed that the climate will get colder in periods of less solar activity (e.g., the "Little Ice Age" during AD 1450 and 1850) [
16
,
17
], while in a period of intense solar activity, the climate will become warmer (e.g., the warm period of the Middle Ages during AD 1000 and 1400) [
18
,
19
]. In the last few years, the temperature in Northeast China has been rising [
11
,
20
]. To understand the potential impact of climate change on this area requires a detailed understanding of climate changes and trends in this region over the past few hundred years, or even longer [
21
,
22
]. However, most of the measured and archived meteorological records are from after 1949 (in this year, The People's Republic of China was established), which limits our understanding of the processes and mechanisms of past climatic changes in this region.
The tree-rings of trees growing in climate-limited environments can record climatic conditions well [
23
]. Tree rings in areas where temperature is the dominant limiting factor have already been widely applied to reconstruct past temperatures [
24
,
25
,
26
,
27
,
28
]. These reconstructed temperature series from tree rings have played a crucial role in the study of regional and global temperature changes. The Changbai Mountain (CBM) is situated in the core area of Northeast Forest, a large area of undisturbed temperate old-growth forest that offers an excellent opportunity for studies on climatology. Trees growing in this forest were shown to be sensitive to temperature change in the growing season [
29
,
30
,
31
]. In the last years, some studies on temperature reconstructions have been conducted in the CBM, including January–April and February–April temperature reconstructions based on Korean pine chronologies by Shao et al., 1997 [
32
], and Zhu et al., 2009 [
33
], respectively; and September–October temperature reconstruction based on
Fraxinus mandshurica
chronology by Wang et al., 2012 [
34
]. As mentioned above, temperature reconstructions, especially during the growing season (June–August), are still lacking in this area. Thus, it is very important to fill this gap. In the process of exploring the response of high-altitude
Picea jezoensis
var. trees to climate change in Changbai Mountain, we found that the radial growth of PJ has a high correlation with the mean maximum temperature in the previous year June–July (T67), and the radial growth has a high sensitivity to its annual variation. Therefore, we reconstructed the historical changes of T67 in the Changbai Mountain area, based on the chronology of PJ (see
Section 4.1
for the physiological basis). The long-term reconstruction of past temperatures in the growing season will enable us to better understand the change in climate and update the current climate model of Changbai Mountain. [
35
].
In this study, a tree-ring width series, constructed from the living trees of
Picea jezoensis
(PJ) was used to reconstruct the June–July maximum temperature histories for the last 233 years. The aims of this study are (1) to reconstruct and investigate temperature variability since 1772 AD in Changbai Mountain, and (2) to explore the potential connections between the reconstructed June–July temperature data and large scale climatic change.
5. Conclusions
A June–July mean maximum temperature reconstruction (1772–2004) was developed using tree-ring data from the Changbai Mountain (CBM) in the northeast of China. The reconstructed and observed temperature data showed coherence throughout the common periods. Compared with historical records, the warm and cold periods of the reconstructed record usually corresponded to temperature records in historical documents from Jilin Province of China. In addition, comparisons with other reconstructed temperature series from different regions and spatial correlations between the reconstructed Tmax6–7 series and gridded temperature record showed that the reconstructed temperature from the CBM area might contain both local and large-scale regional temperature variability. Some important cycles for temperature variability were exposed by the power spectrum analysis, indicating the possible linkage of regional temperature variations to the solar activity, ENSO and PDO.
Supplementary Materials
The following are available online at
https://www.mdpi.com/1999-4907/10/5/416/s1
, Table S1: Years of extremely high (>23.84 °C) and low (<21.78 °C) reconstructed mean maximum temperatures from June to July (Tmax6–7) from most extreme to least, Table S2: Flood and drought events recorded in historical archives in Jilin Province since 1772 [
52
].
Author Contributions
Data analysis: J.Z., X.Y. and Y.J.; writing original draft and revising: J.Z., X.W., L.H., J.W. and Y.J.; methodology, Y.J., J.Z., S.H. and Z.C.; investigation: Y.J., X.Y. and H.H.; software: G.L. and S.D.
Funding
The research was funded by the National Natural Science Foundation of China (Nos. 41330530, 41430639 and 41575153).
Conflicts of Interest
The authors declare no conflict of interest.
Figure 1.
Map showing the sampling site of CBM (Changbai Mountain) and meteorological stations in Erdao and Tianchi (
a
), and the sampling site of CBM and other locations mentioned in text for comparison, including Laobai Mountain (LBM): April–July temperature [
36
] and Hailar (HLE): April–September temperature [
27
] (
b
).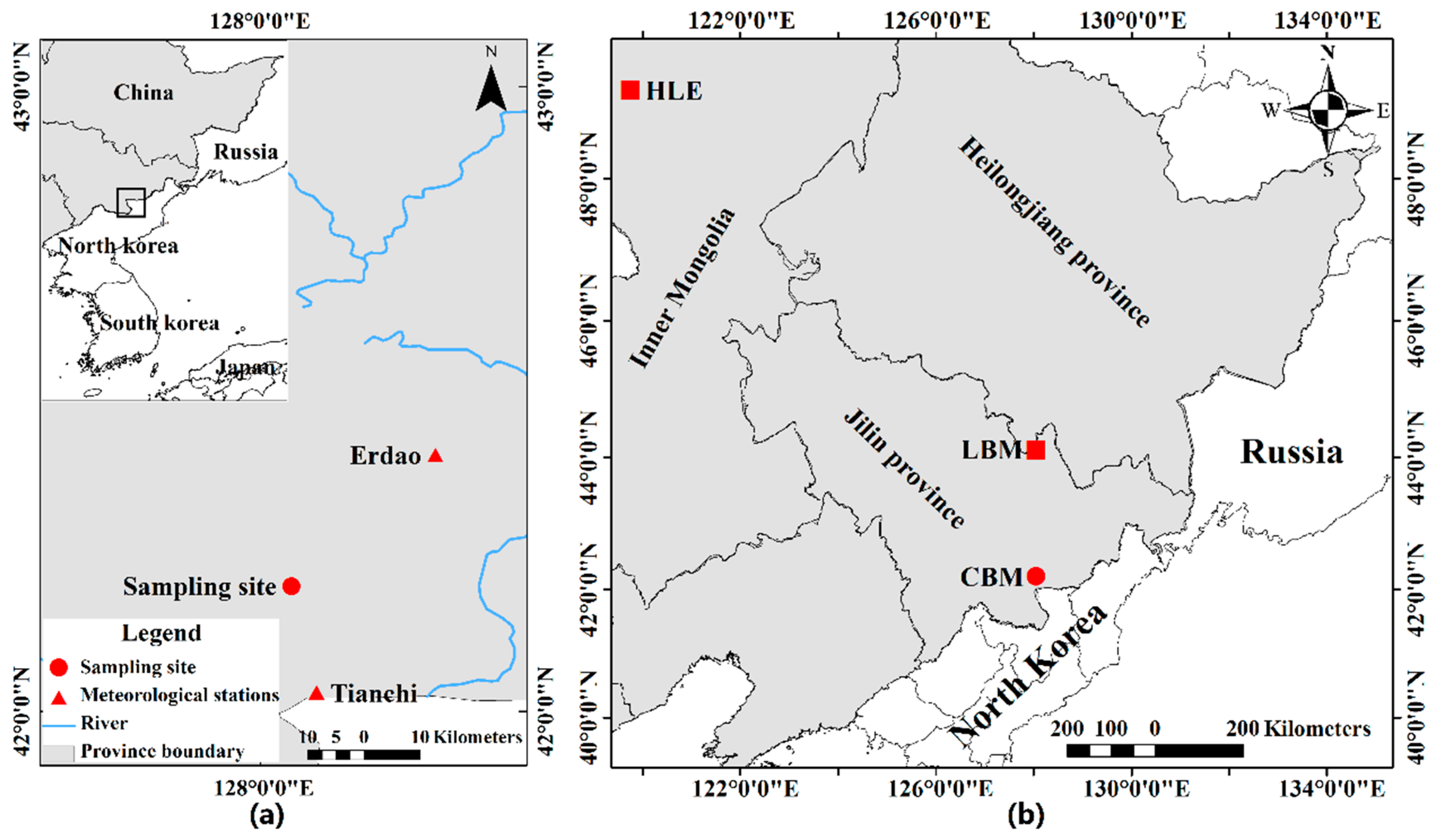 Figure 2. Total precipitation (in mm) and mean monthly temperature (in °C) in Changbai Mountain (CBM) (AD 1960–2005).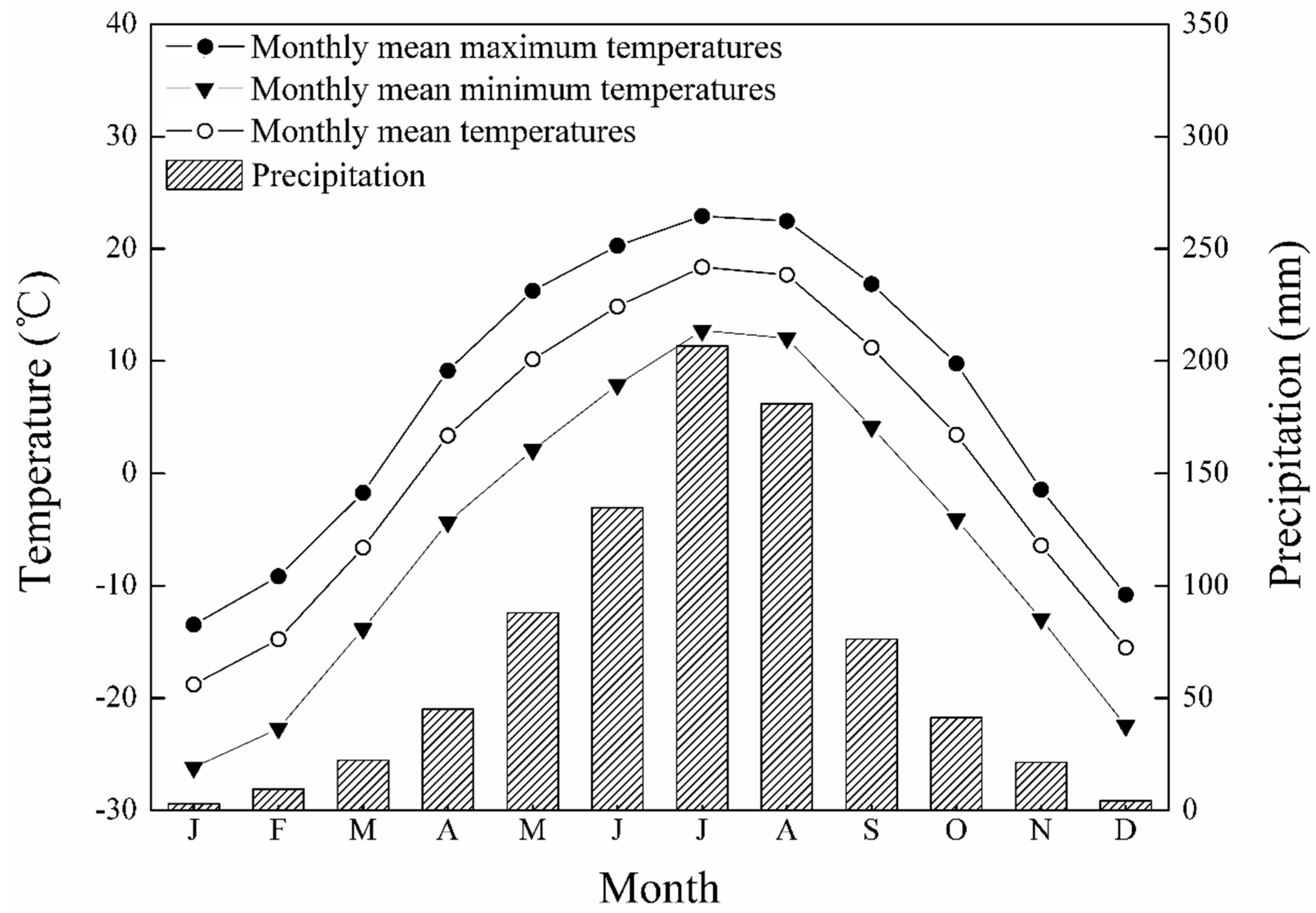 Figure 3. The EXP—negative exponential (green), RCS—regional curve standardization (blue), and SPL-300-year splines (red) chronologies from AD 1773 to 2005.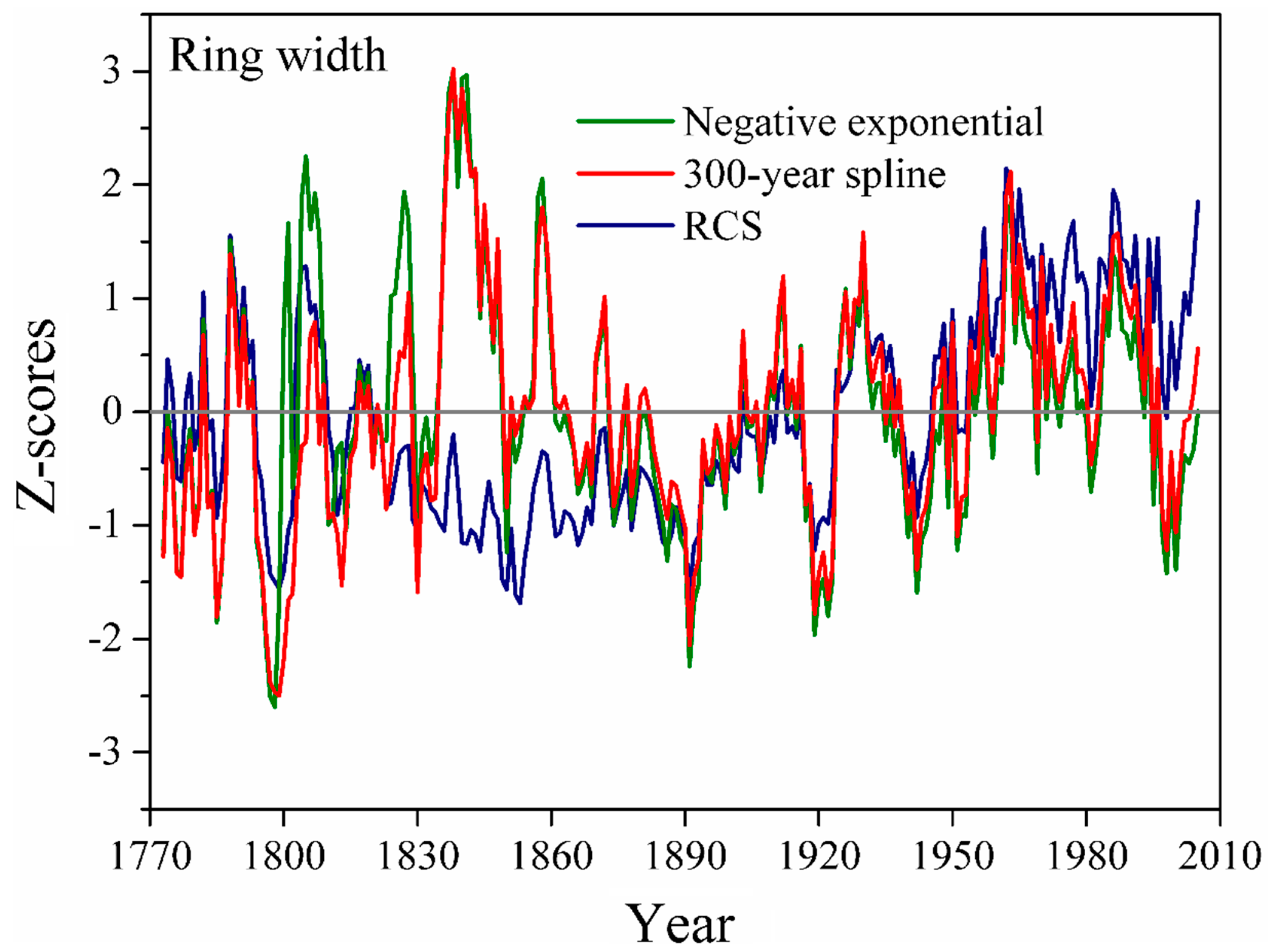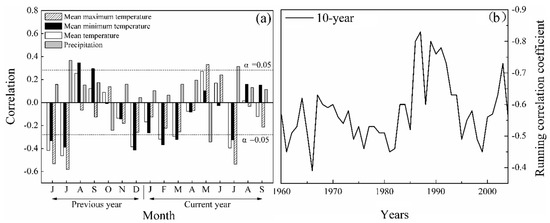 Figure 4. (a) Correlations between the standard chronology and monthly climate data, including monthly total precipitation (Prec), mean maximum temperature (Tmax), mean minimum temperature (Tmin), and mean temperature (Tm) from CBM during 1960–2005. The dashed lines indicate the 95% confidence level. (b) Running correlation between the ring-width index and mean maximum temperature from June to July of the previous year with a 10-year window.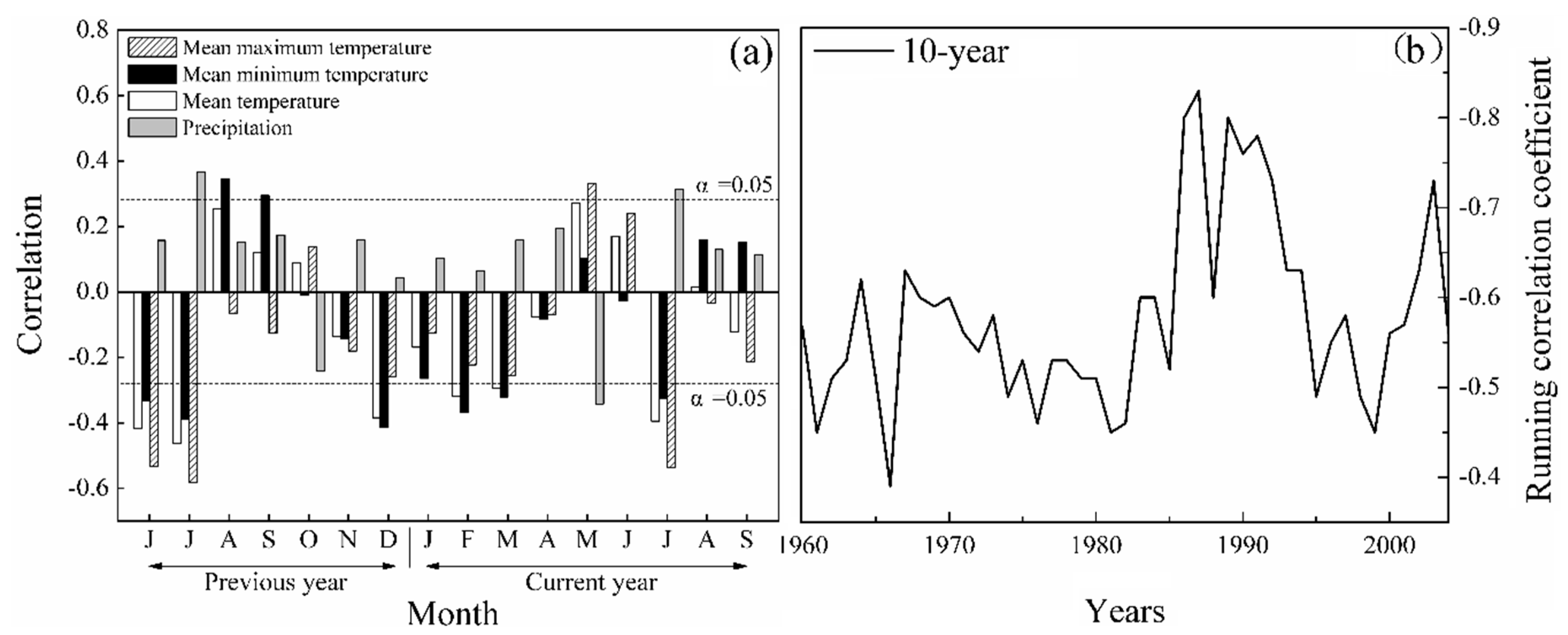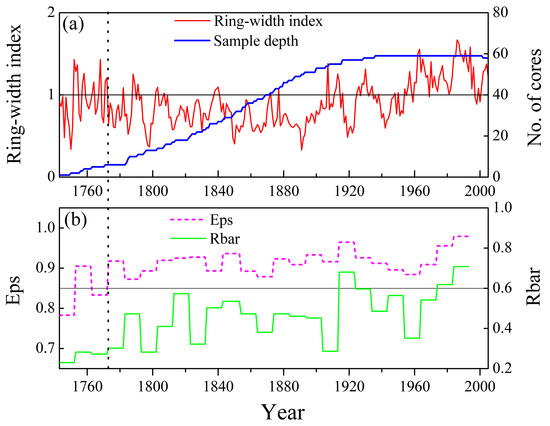 Figure 5.
(
a
) Ring-width STD chronology for the period 1743–2005 constructed for
Picea jezoensis
var.
microsperma
from Changbai Mountain in the northeast of China. The blue lines indicate the numbers of tree-ring series and (
b
) the expressed population signal (EPS) and average correlation between all series (Rbar) of the STD from AD 1743 to 2005. The vertical dash line indicates the point where EPS was higher than 0.85.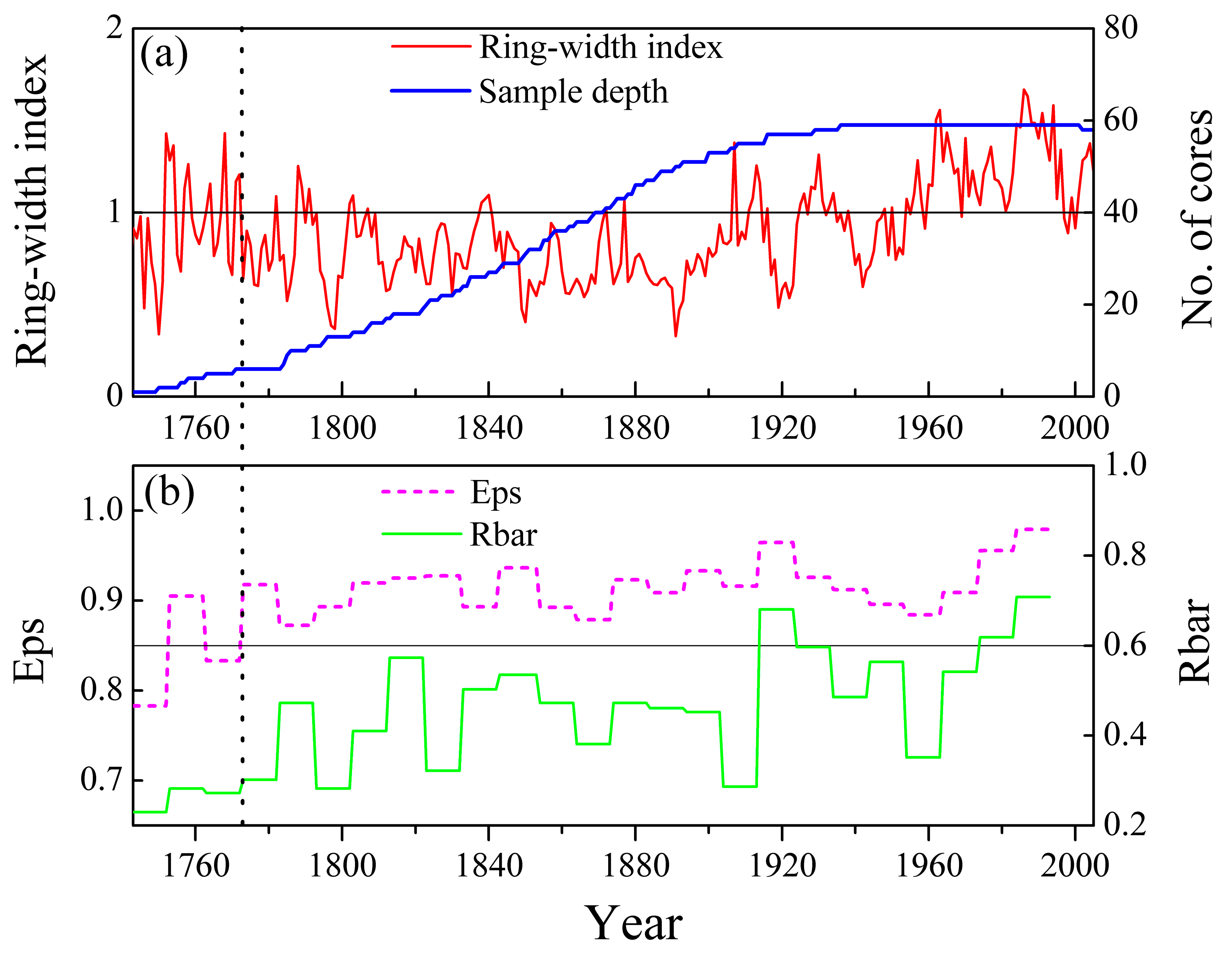 Figure 6.
(
a
) Observed (blue line) and reconstructed (black line) Tmax6–7 for the common period of 1959–2004; (
b
) Shapiro–Wilk residuals normality test (SW); (
c
) Durbin–Watson test for residuals autocorrelation (DW); (
d
) reconstruction of Tmax6–7 in CBM for the last 233 years. The smoothed line indicates the 11-year moving average, red dots represent drought events, and blue dots represent flood events. The drought and flood events were recorded by [
46
].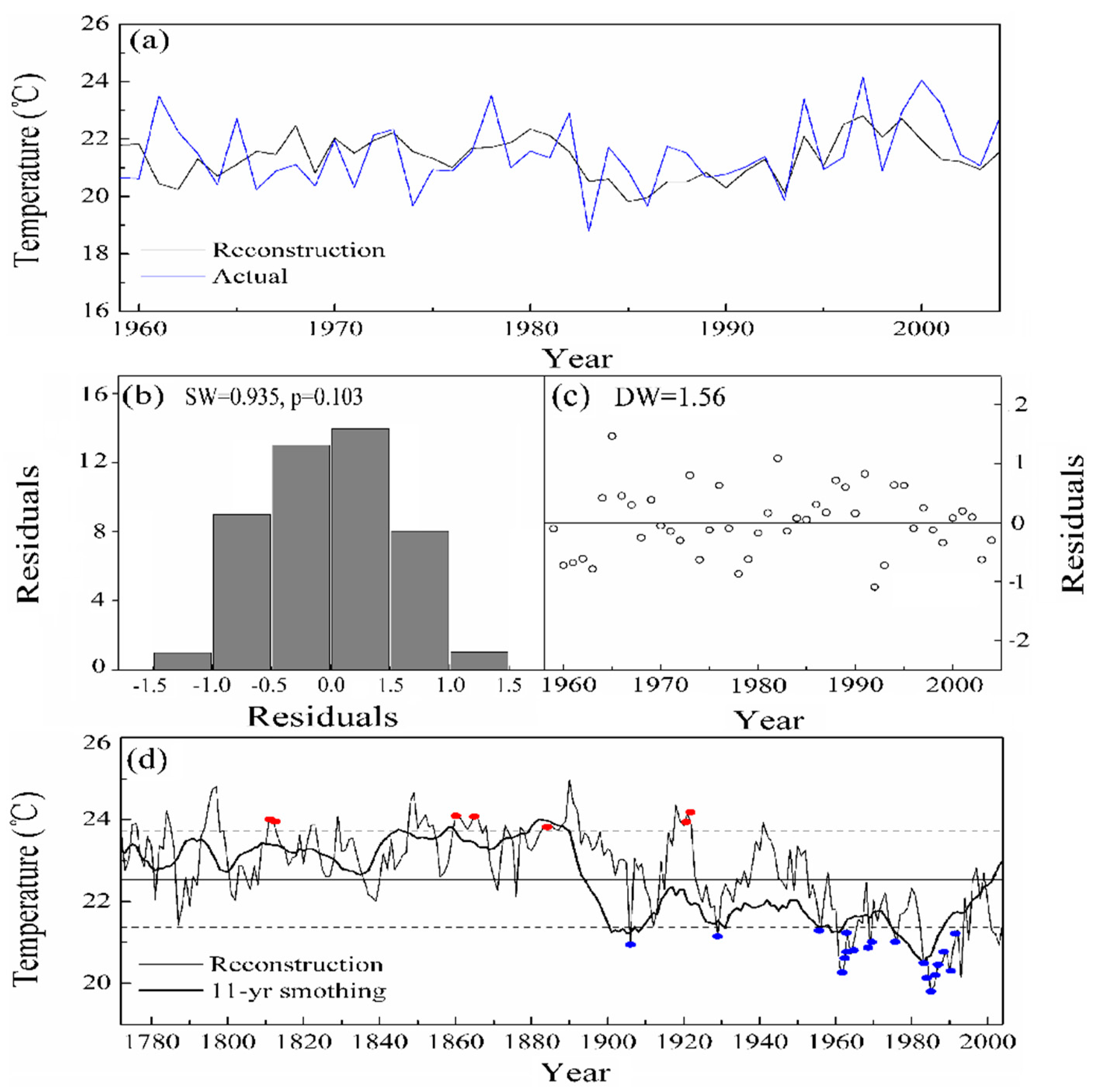 Figure 7. The power spectrum analyses of reconstructed June–July mean maximum temperature. The 95% confidence limits for peaks in the power spectrum are indicated by the dash lines.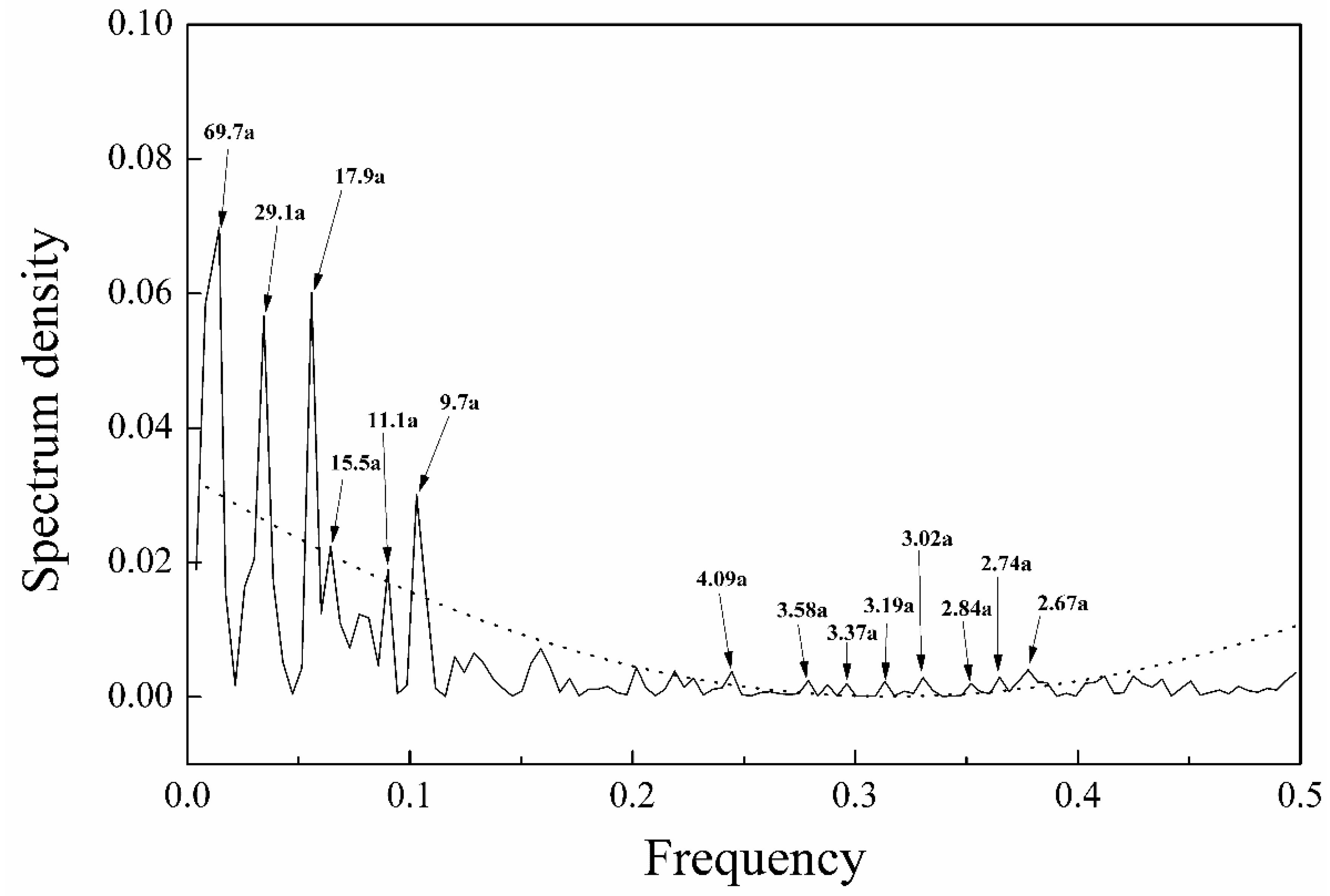 Figure 8.
Comparison of June–July maximum temperature (T
max6–7
) reconstruction between (
a
) this study, (
b
) April–July temperature reconstruction by Lyu et al., 2016 [
36
], and (
c
) April–September temperature reconstruction by Bao et al., 2012 [
27
]. The light/dark gray shading areas represent the common warm/cold periods in different series.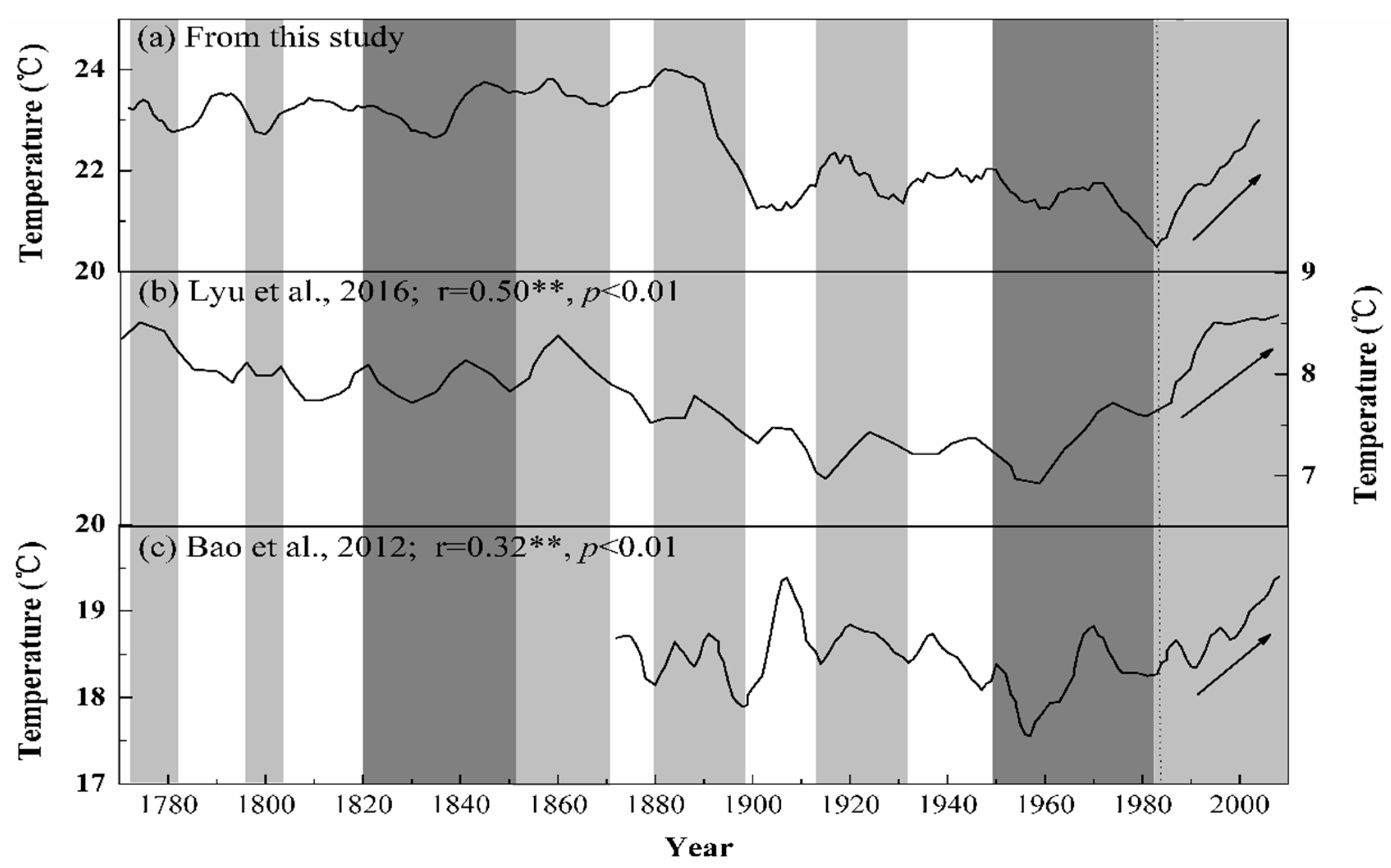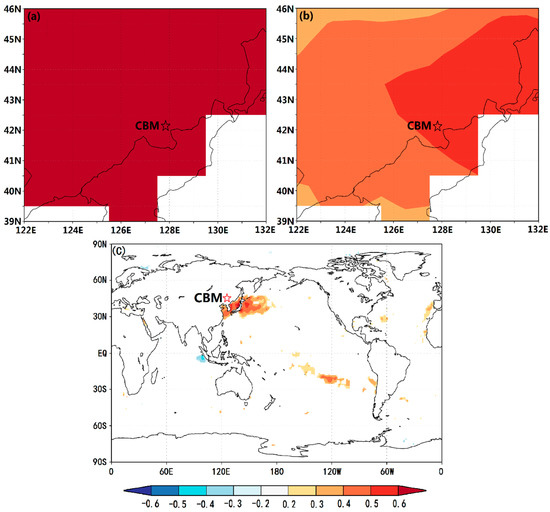 Figure 9.
Spatial correlation of (
a
) observed and (
b
) reconstructed June–July temperatures with regional gridded June–July temperatures from 1959 to 2004. (
c
) Spatial correlation for the reconstruction with June–July averaged HadlSST1 SST (sea surface temperatures) during the period of 1870–2004 (
http://climexp.knmi.nl
). The asterisk mark is the sampling position.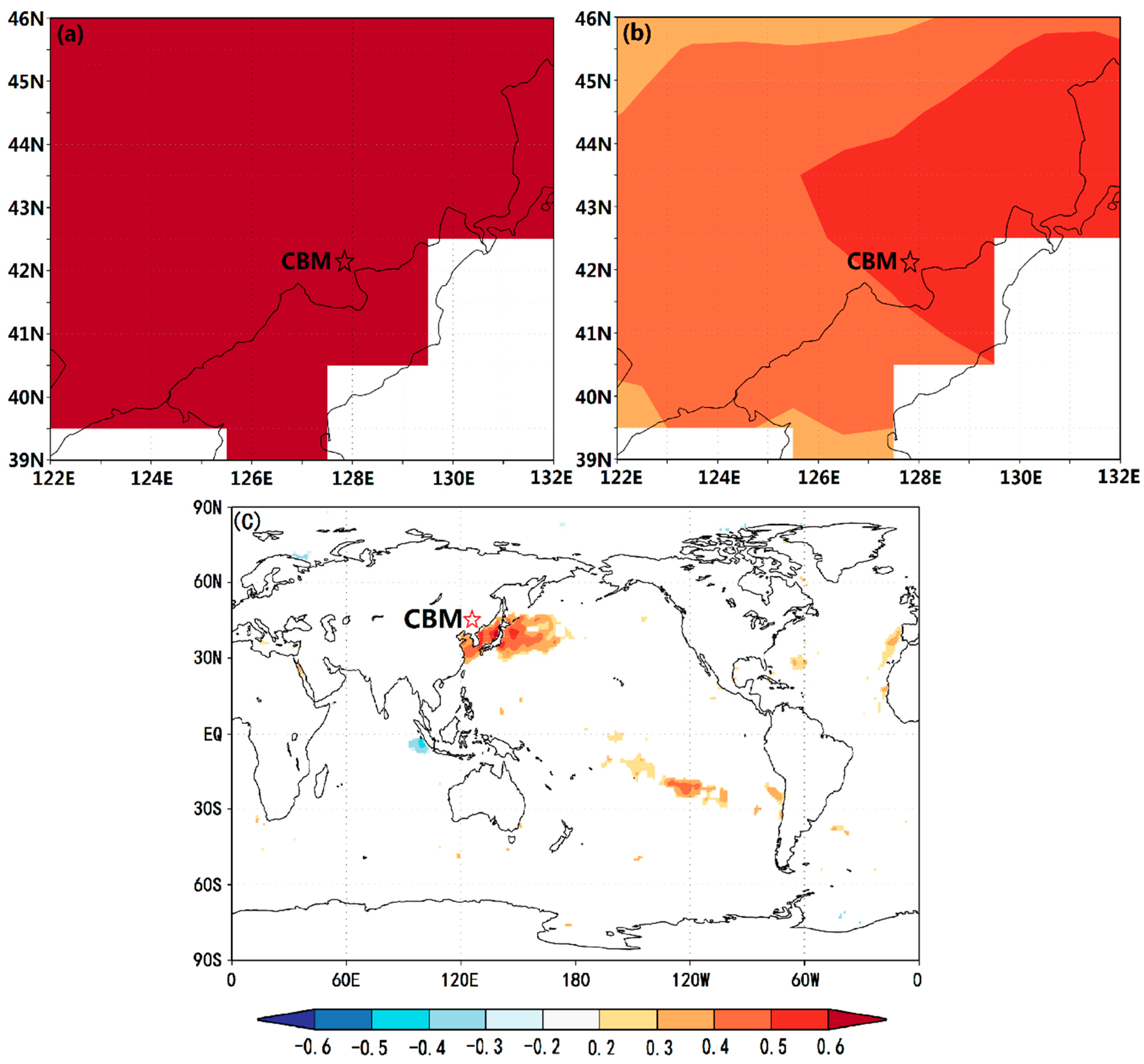 | Statistic | STD |
| --- | --- |
| MS | 0.32 |
| SD | 0.15 |
| Kurtosis | 0.17 |
| skewness | 0.45 |
| First order autocorrelation | 0.68 |
| Mean correlation between all series | 0.39 |
| Mean correlation between the trees | 0.35 |
| Mean correlation within a tree | 0.69 |
| Period | 1934/1743–2005 |
| SNR | 4.6 |
| MRW (mm) | 0.89 |
| EPS | 0.90 |
| First year where EPS > 0.85 (number of trees) | 1773 (6) |

Table 2.
Correlations between the ring-width index and meteorological data for different month combinations over the common period of 1960–2005. Months are given as follows: p6–p7—previous June to July; p8–p9—previous August to September; p12–c3—previous December to current March; p12–c2—previous December to current February; p12–c1—previous December to current January; c1–c3—current January to March; c2–c3—current February to March. *:
p
< 0.05.
| Months | Tmin | Tmean | Tmax |
| --- | --- | --- | --- |
| p6–p7 | −0.39 * | −0.45 * | −0.64 * |
| p8–p9 | 0.31 * | 0.17 | −0.12 |
| p12–c3 | −0.37 * | −0.31 * | −0.21 |
| p12–c2 | −0.35 * | −0.26 | −0.19 |
| p12–c1 | −0.29 | −0.25 | −0.16 |
| c1–c3 | −0.33 * | −0.31 * | −0.22 |
| c2–c3 | −0.36 * | −0.30 * | −0.27 |
Parameter
Calibration
Verification
Calibration
Verification
Final Calibration
1960–1982
1983–2005
1983–2005
1960–1982
1960–2005
r
−0.59
−0.68
−0.68
−0.59
−0.64

R

2
0.35
0.46
0.46
0.35
0.42

R

2adj
0.34
0.44
0.41
DW
1.72
1.50
1.56
RE
0.35
0.46
0.46
0.31
CE
0.35
0.41
0.46
0.22
t
5.5
7.3
7.1
5.7
r—correlation coefficient;

R

2—explained variance;

R

2adj—adjusted for the loss of degrees of freedom; RE—reduction of error statistic; CE—coefficient of efficiency statistic; t—product means; DW—Durbin–Watson.

Table 4. Cold and warm periods based on the 11-year moving average June–July mean maximum temperature in the CBM region during AD 1772–2004.
Cold Period
Warm Period
Rank
Period
Year
Mean (°C)
Period
Year
Mean (°C)
1
1899–1913
15
21.41
1881–1888
9
23.93
2
1955–1970
16
21.49
3
1975–1989
15
20.97

© 2019 by the authors. Licensee MDPI, Basel, Switzerland. This article is an open access article distributed under the terms and conditions of the Creative Commons Attribution (CC BY) license (http://creativecommons.org/licenses/by/4.0/).