Hybrid Machine Learning Approaches for Landslide Susceptibility Modeling
1
Vietnam Academy for Water Resources, 171 Tay Son Street, Ha Noi 100000, Viet Nam
2
Institute of Research and Development, Duy Tan University, Da Nang 550000, Vietnam
3
Department of Geotechnical Engineering, Hydraulic Construction Institute, Vietnam Academy for Water Resources, 3/95 Chua Boc Street, Ha Noi 100000, Viet Nam
4
Department of Science & Technology, Bhaskarcharya Institute for Space Applications and Geo-Informatics (BISAG), Government of Gujarat, Gandhinagar 382007, India
5
School of Computer Engineering, KIIT-Deemed to be University, Odisha 751024, India
6
Department of Geomorphology, Faculty of Natural Resources, University of Kurdistan, Sanandaj 66177-15175, Iran
7
Department of Rangeland and Watershed Management, Faculty of Natural Resources, University of Kurdistan, Sanandaj 66177-15175, Iran
8
Department of Geotechnical Engineering, University of Transport and Communication, Ha Noi 100000, Vietnam
9
Computer Science and Engineering Department, LNCT College, Jabalpur-482053, India
10
Department of IT, LBEF(APUTI), Kathmandu, Nepal-44600
11
Geographic Information System group, Department of Business and IT, University of South-Eastern Norway, Bø i Telemark N-3800, Norway
*
Author to whom correspondence should be addressed.
Received: 13 December 2018 / Revised: 19 January 2019 / Accepted: 23 January 2019 / Published: 12 February 2019
Abstract
This paper presents novel hybrid machine learning models, namely Adaptive Neuro Fuzzy Inference System optimized by Particle Swarm Optimization (PSOANFIS), Artificial Neural Networks optimized by Particle Swarm Optimization (PSOANN), and Best First Decision Trees based Rotation Forest (RFBFDT), for landslide spatial prediction. Landslide modeling of the study area of Van Chan district, Yen Bai province (Vietnam) was carried out with the help of a spatial database of the area, considering past landslides and 12 landslide conditioning factors. The proposed models were validated using different methods such as Area under the Receiver Operating Characteristics (ROC) curve (AUC), Mean Square Error (MSE), Root Mean Square Error (RMSE). Results indicate that the RFBFDT (AUC = 0.826, MSE = 0.189, and RMSE = 0.434) is the best method in comparison to other hybrid models, namely PSOANFIS (AUC = 0.76, MSE = 0.225, and RMSE = 0.474) and PSOANN (AUC = 0.72, MSE = 0.312, and RMSE = 0.558). Thus, it is reasonably concluded that the RFBFDT is a promising hybrid machine learning approach for landslide susceptibility modeling.
View Full-Text
►

▼

Figures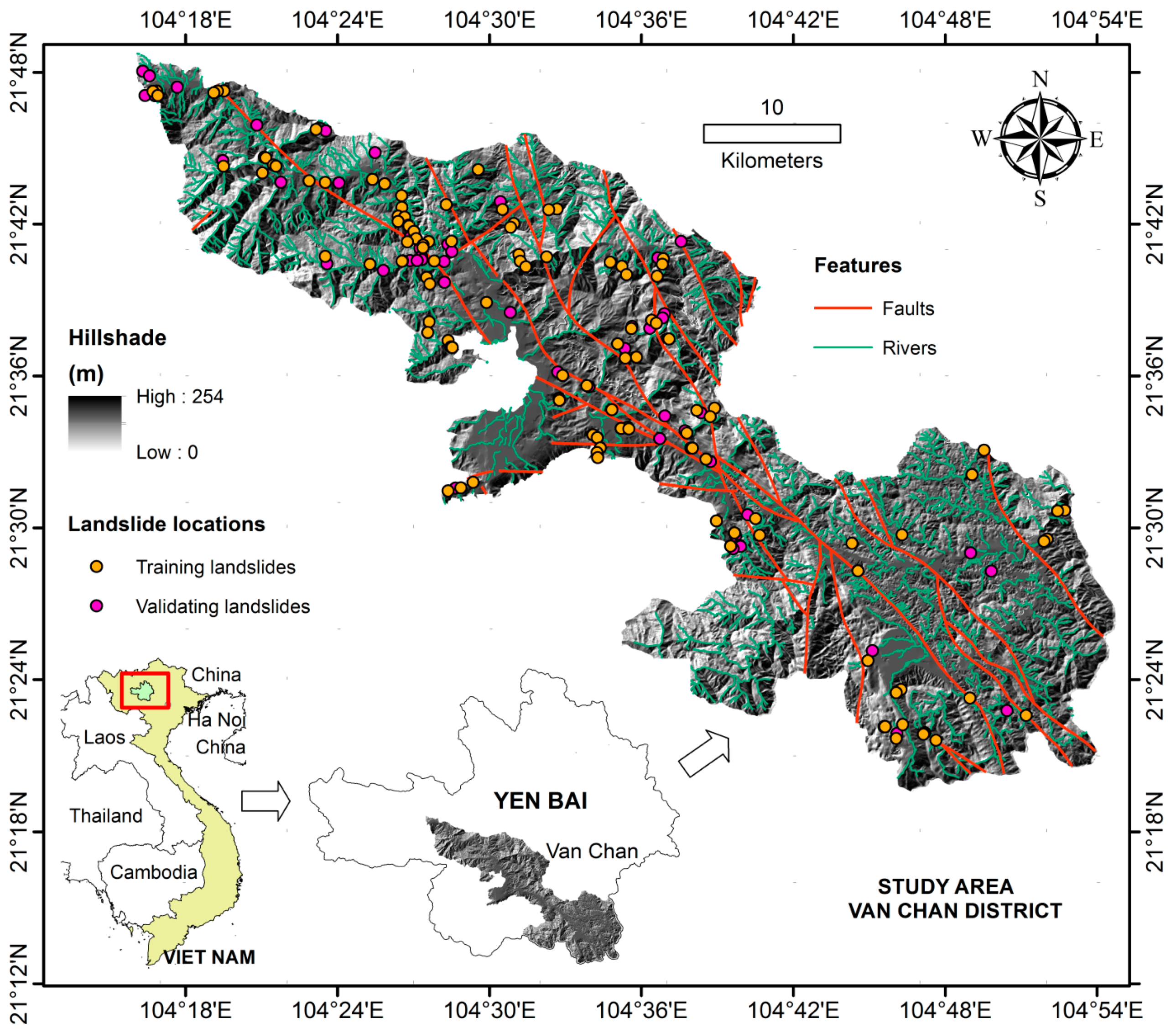 Figure 1
This is an open access article distributed under the
Creative Commons Attribution License
which permits unrestricted use, distribution, and reproduction in any medium, provided the original work is properly cited (CC BY 4.0).

Share & Cite This Article
MDPI and ACS Style
Nguyen, V.V.; Pham, B.T.; Vu, B.T.; Prakash, I.; Jha, S.; Shahabi, H.; Shirzadi, A.; Ba, D.N.; Kumar, R.; Chatterjee, J.M.; Tien Bui, D. Hybrid Machine Learning Approaches for Landslide Susceptibility Modeling. Forests 2019, 10, 157.
Note that from the first issue of 2016, MDPI journals use article numbers instead of page numbers. See further details here.
Related Articles
Comments
[Return to top]