Ectomycorrhizal Colonisation in Declining Oak Stands on the Krotoszyn Plateau, Poland
1
Department of Forest Ecology, Forest Research Institute, Braci Leśnej 3, 05-090 Sękocin Stary, Poland
2
Department of Plant Pathology, Faculty of Horticulture, Biotechnology and Landscape Architecture, Warsaw University of Life Sciences, Nowoursynowska 159, 02-776 Warsaw, Poland
3
Department of Experimental Design and Bioinformatics, Faculty of Agriculture and Biology, Warsaw University of Life Sciences, Nowoursynowska 159, 02-776 Warsaw, Poland
4
Faculty of Biology and Environmental Sciences, Cardinal Stefan Wyszynski University in Warsaw, Wóycickiego 1/3, 01-938 Warsaw, Poland
5
Department of Forest Protection, Forest Research Institute, Braci Leśnej 3, 05-090 Sękocin Stary, Poland
6
Department of Botany and Biodiversity Research, Faculty of Life Sciences, University of Vienna, Rennweg 14, Wien A-1030, Austria
*
Author to whom correspondence should be addressed.
Received: 5 December 2018 / Revised: 22 December 2018 / Accepted: 31 December 2018 / Published: 4 January 2019
Abstract
We describe the ectomycorrhizal (ECM) root tips and the diversity of mycorrhizal fungal species at three English oak (
Quercus robur
) sites (two 120 year old sites and one 60 year old site). The three oak stands in decline, located in western Poland, were characterized by a low degree of vital ECM colonization: 30.2%, 29.1% and 25.6% at Krotoszyn (K), Piaski (P) and Karczma Borowa (KB), respectively. DNA (ITS) barcoding revealed a total of 18 ECM fungal species. Based on exploration types, ectomycorrhizae were classified with respect to ecologically relevant features. The contact type was significantly correlated with C:N and C
org
, while the short distance type was correlated with Ca, phosphorus (P
2
O
5
) and pH. The medium distance exploration type was significantly correlated with fine-grained soil particle size fractions: coarse silt (0.05–0.02 mm) and fine silt (0.02–0.002 mm), and clay (<0.002 mm). The long distance type showed a similar pattern to the medium distance smooth type, but was also correlated with nitrate (N). The values of biometric root parameters of oak trees at the analysed forest sites were arranged as follows: K > P > KB, and were opposite to the condition of the tree crowns. A negative correlation of vital ECM root tip abundance with the crown health status of oaks was observed, whereas higher ECM diversity reflected better crown health in the oak stands studied.
View Full-Text
►

▼

Figures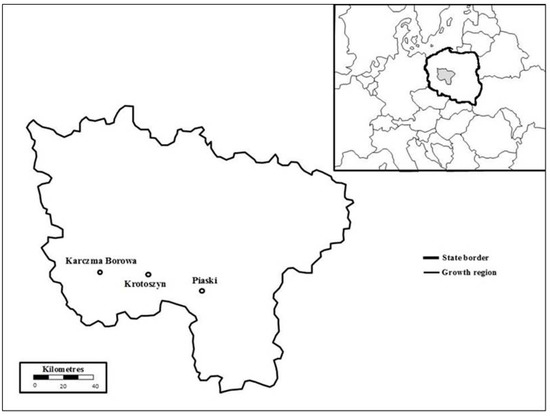 Figure 1
This is an open access article distributed under the
Creative Commons Attribution License
which permits unrestricted use, distribution, and reproduction in any medium, provided the original work is properly cited (CC BY 4.0).

Share & Cite This Article
MDPI and ACS Style
Bzdyk, R.M.; Olchowik, J.; Studnicki, M.; Nowakowska, J.A.; Oszako, T.; Urban, A.; Hilszczańska, D. Ectomycorrhizal Colonisation in Declining Oak Stands on the Krotoszyn Plateau, Poland. Forests 2019, 10, 30.
Note that from the first issue of 2016, MDPI journals use article numbers instead of page numbers. See further details here.
Related Articles
Comments
[Return to top]