Open Access This article is
freely available
re-usable
Article
Hollow Palladium Nanoparticles Facilitated Biodegradation of an Azo Dye by Electrically Active Biofilms
1
Division of Biological and Environmental Science & Engineering, King Abdullah University of Science and Technology, Thuwal 23955-6900, Saudi Arabia
2
Department of Chemical Engineering, Birla Institute of Technology & Science, Pilani-Dubai Campus, Dubai International Academic City, P.O. Box No. 345055, Dubai, UAE
*
Author to whom correspondence should be addressed.
Academic Editor: Deepak Pant
Received: 8 June 2016 / Accepted: 1 August 2016 / Published: 4 August 2016
Abstract
:
Dye wastewater severely threatens the environment due to its hazardous and toxic effects. Although many methods are available to degrade dyes, most of them are far from satisfactory. The proposed research provides a green and sustainable approach to degrade an azo dye, methyl orange, by electrically active biofilms (EABs) in the presence of solid and hollow palladium (Pd) nanoparticles. The EABs acted as the electron generator while nanoparticles functioned as the electron carrier agents to enhance degradation rate of the dye by breaking the kinetic barrier. The hollow Pd nanoparticles showed better performance than the solid Pd nanoparticles on the dye degradation, possibly due to high specific surface area and cage effect. The hollow cavities provided by the nanoparticles acted as the reaction centers for the dye degradation.
Keywords:
electrically active biofilm; dye degradation; hollow nanoparticles; catalysis
1. Introduction
Azo dyes are commonly used in textile industries and the dyes present in textile wastewater severely threaten aquatic life due to their acute toxicity [
1
,
2
]. They bio-accumulate in the environment and cause carcinogenic and mutagenic effects in humans [
3
]. In addition, dyes are recalcitrant molecules, which make it difficult to remove them from wastewater by conventional wastewater treatment processes [
3
]. Even though many methods, including chemical and biological methods, are available to degrade dyes, most of them are far from satisfactory [
1
,
2
,
4
,
5
]. In chemical dye degradation, NaBH
4
is used as the reducing agent, which causes secondary pollution due to its extreme toxicity [
6
]. To overcome this chemical toxicity, photodegradation technique is another widely used method for the removal of dyes by using appropriate photocatalyst, either under UV or visible light [
7
,
8
]. For this purpose, different kinds of inorganic- or organic-based semiconductors are used by changing parameters like dye or catalyst concentration [
9
,
10
,
11
] for wide varieties of dyes. Major disadvantages of this method are instability of the photocatalysts and incomplete or partial degradation of the dyes [
12
]. Dye degradation by physical methods such as ultrasound treatments consume high energy and need expensive instrumental set-up [
13
]. Biodegradation by fungi, bacteria and enzymes are also largely employed to remove dyes from wastewater [
5
], but the major drawbacks of these biological method are the inherent slow degradation nature and formation of sludge [
14
]. Electrically active microbes such as
Shewanella oneidensis
MR-1 can effectively degrade azo dyes extracellularly with the aid of outer-membrane c-type cytochromes (OM
c
-Cyts) [
15
]. Electrically active biofilms (EABs) are commonly used in bioelectrochemical systems (BESs) such as microbial fuel cells (MFCs) as living biocatalysts for electricity generation through the substrate oxidation [
2
,
16
,
17
]. In addition, EABs were employed in synthesis of metal nanoparticles and band gap engineering of semiconductors [
18
,
19
,
20
]. Hollow metal nanoparticles are considered outstanding electron transfer catalysts and are largely employed in various catalytic reactions [
21
,
22
,
23
,
24
,
25
]. For example, hollow metal nanoparticles exhibit better catalytic activities on oxygen reduction and methanol oxidation than the solid metal nanoparticles [
23
]. Mahmoud et al. [
23
] demonstrated that hollow Pd nanoparticles enhanced 4-nitrophenol reduction by NaBH
4
over solid Pd nanoparticles. The hollow cavities provided by the nanoparticles acted as the reaction centers due to the cage effect [
21
,
22
,
23
,
26
]. Here, we employed EABs to degrade methyl orange with hollow Pd nanoparticles as electron transfer agents. The proposed method can be an efficient and green degradation route for the removal of dyes from wastewater through EABs/hollow Pd hybrid system.
2. Results and Discussion
4. Conclusions
Although dye degradation by EABs is thermodynamically favorable, the degradation is sluggish due to the high kinetic barrier. The addition of metallic nanoparticles significantly enhanced the degradation rate by increasing the electron transfer rate from EABs to dye molecules. Especially, the addition of hollow Pd nanoparticles into the EABs system significantly enhanced (four times) the dye degradation as compared to EABs only. The catalytic activity of hollow nanoparticles was much higher than that of the solid nanoparticles because of the cage effect and large specific surface area of the former. The study proposes a sustainable approach for the efficient dye degradation through EABs/hollow nanoparticle hybrid system.
Supplementary Materials
The following are available online at
www.mdpi.com/1996-1944/9/8/653/s1
. Figure S1: High resolution TEM images of solid Pd nanoparticles; Figure S2: High resolution TEM images of hollow Pd nanoparticles; Figure S3: Plot of percent removal of MO dye in the solution with time at different conditions (control experiments); Scheme S1: Schematic of Pd hollow nanoparticles formation through Kirkendall method using Co as sacrificial template.
Author Contributions
S.K. conceived the idea. S.K. and R.G.C. designed and performed experiments. S.K. and R.G.C. wrote the manuscript.
Conflicts of Interest
The authors declare no conflict of interest.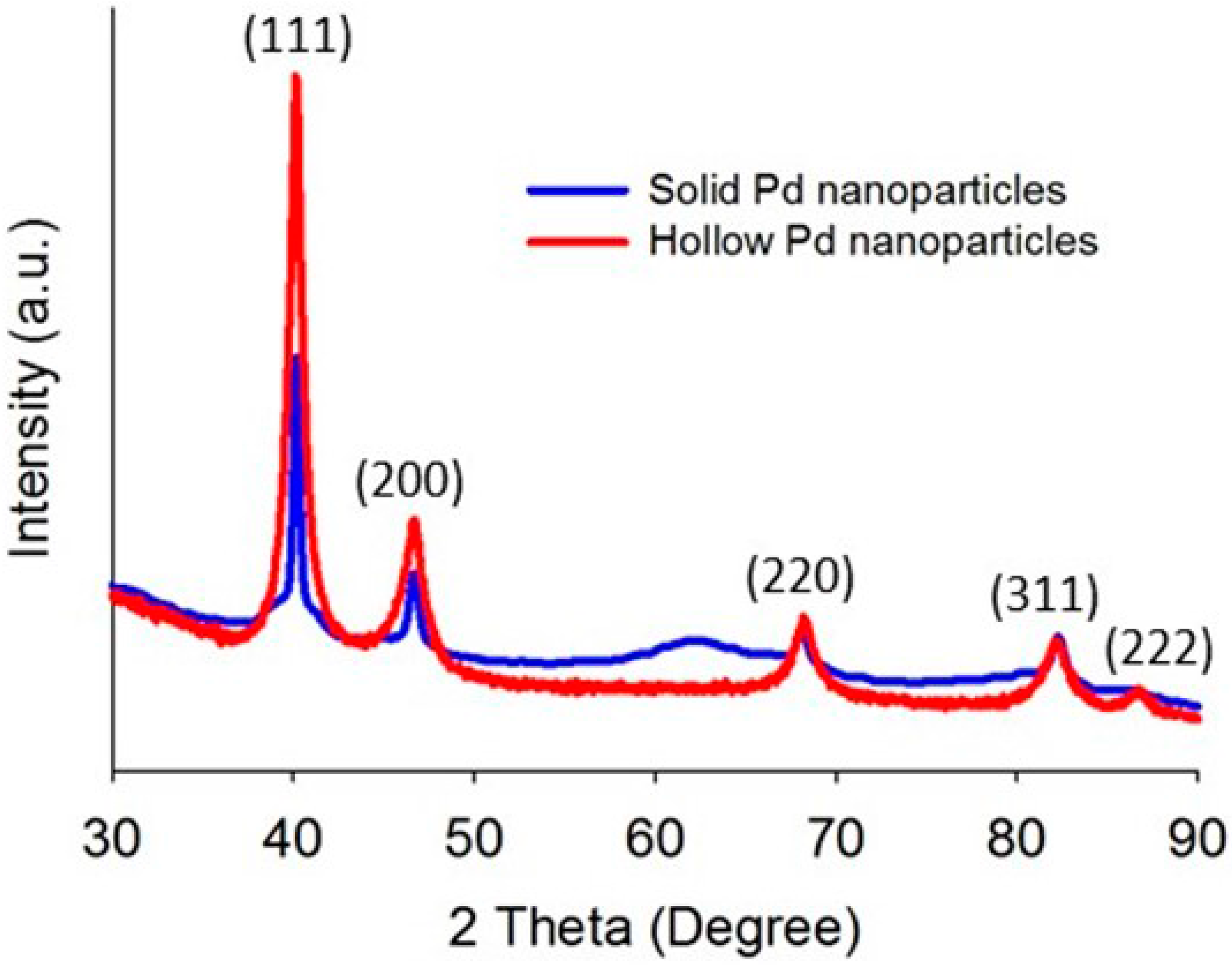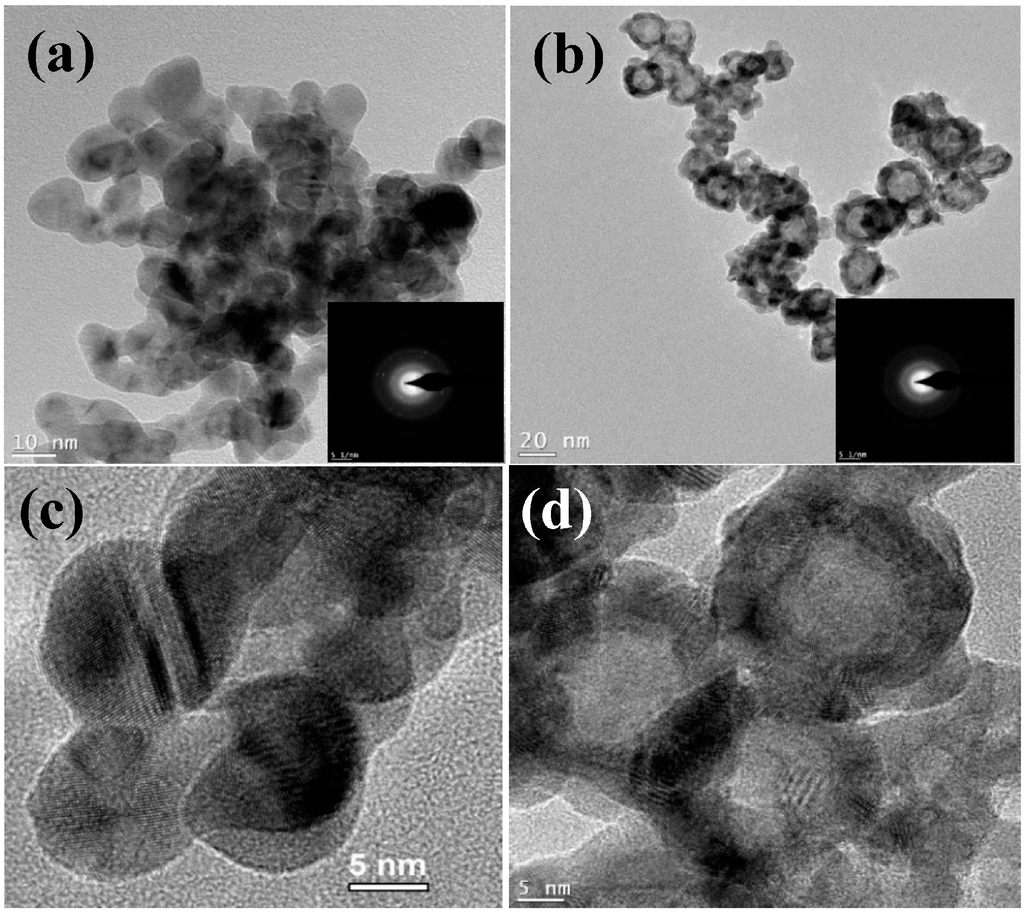 Figure 2. Low and high magnification TEM images of solid (a,c) and hollow (b,d) Pd nanoparticles. Insets (a,b) show selected area electron diffraction (SAED) patterns.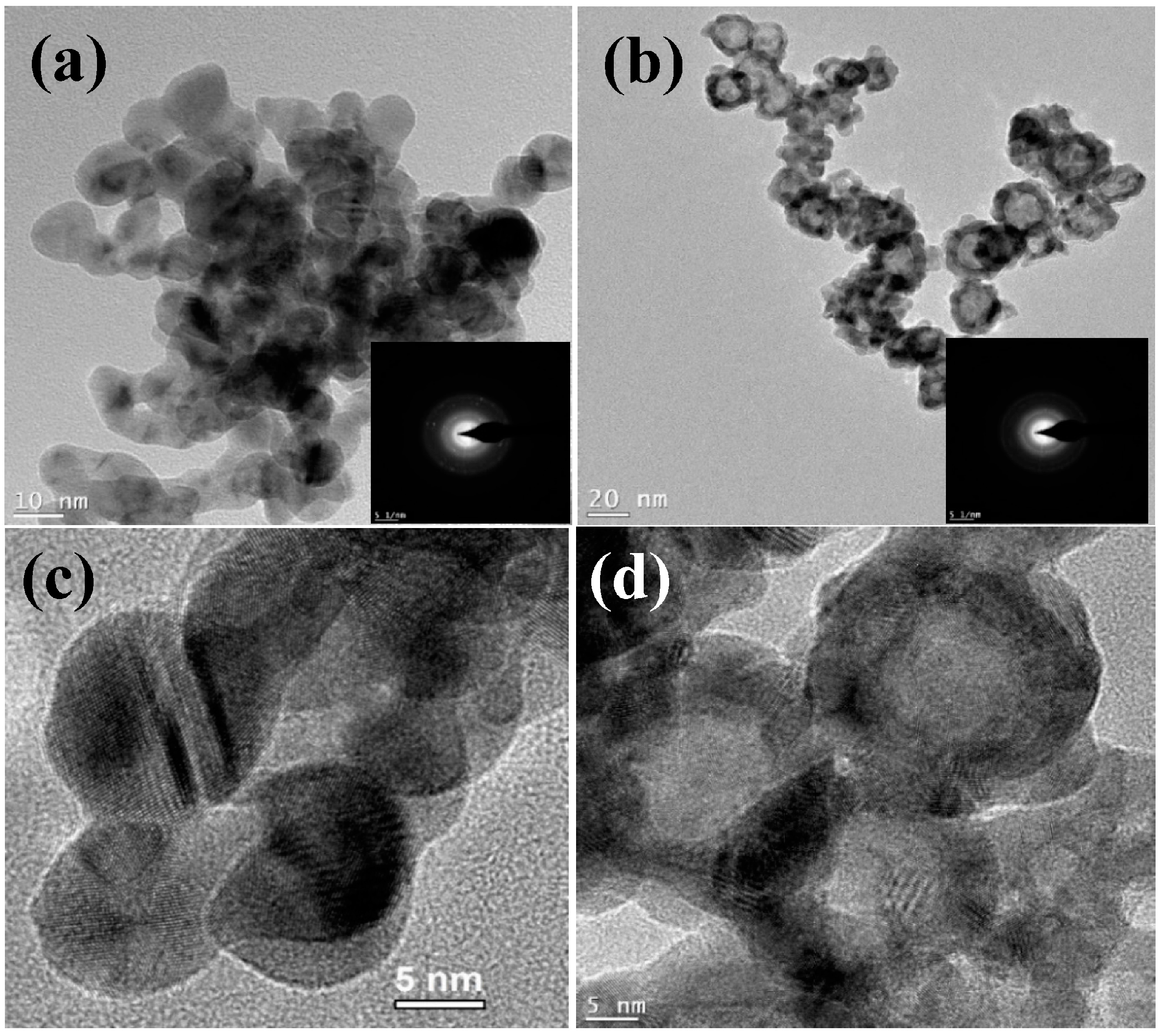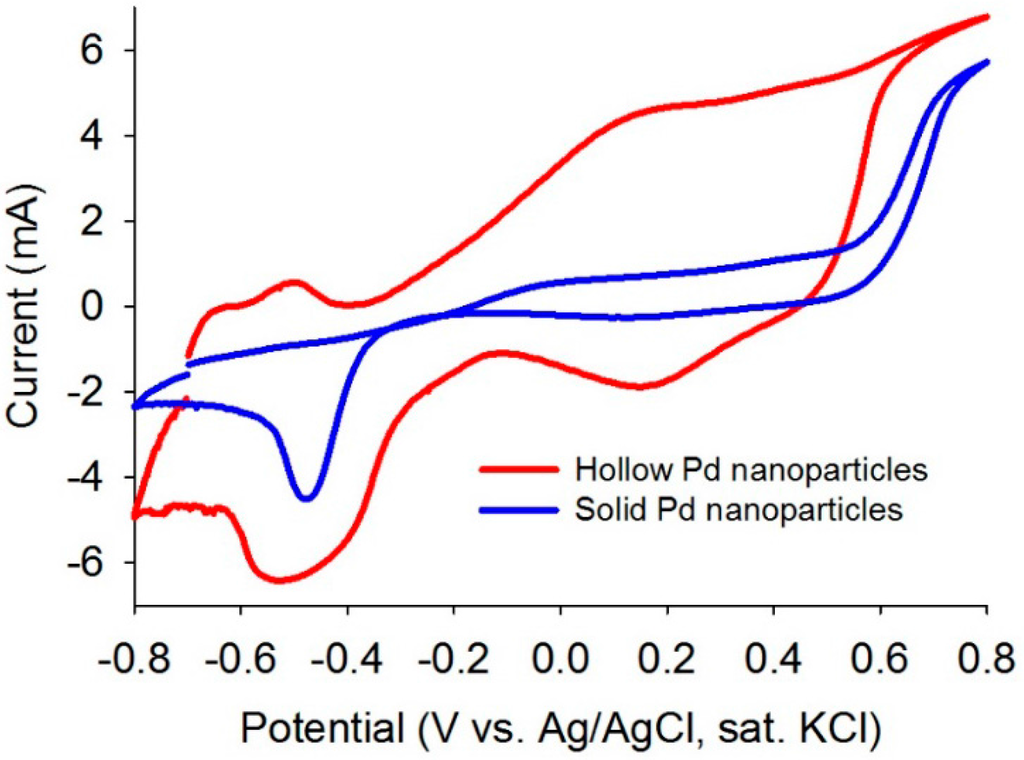 Figure 3. CV plots of the as-synthesized solid and hollow Pd nanoparticles in aqueous KOH (1M) with a scan rate of 20 mV/s (sat: saturated).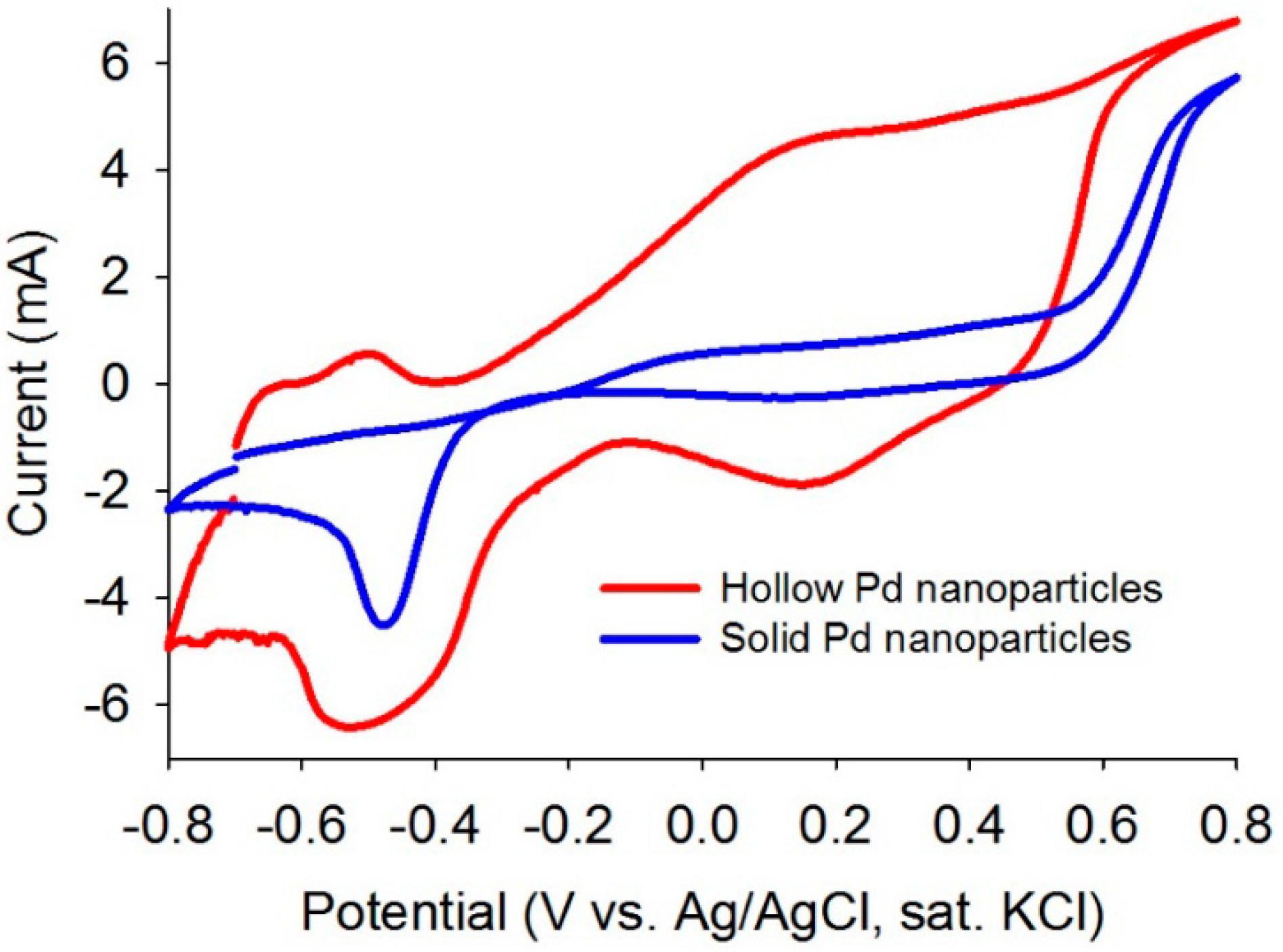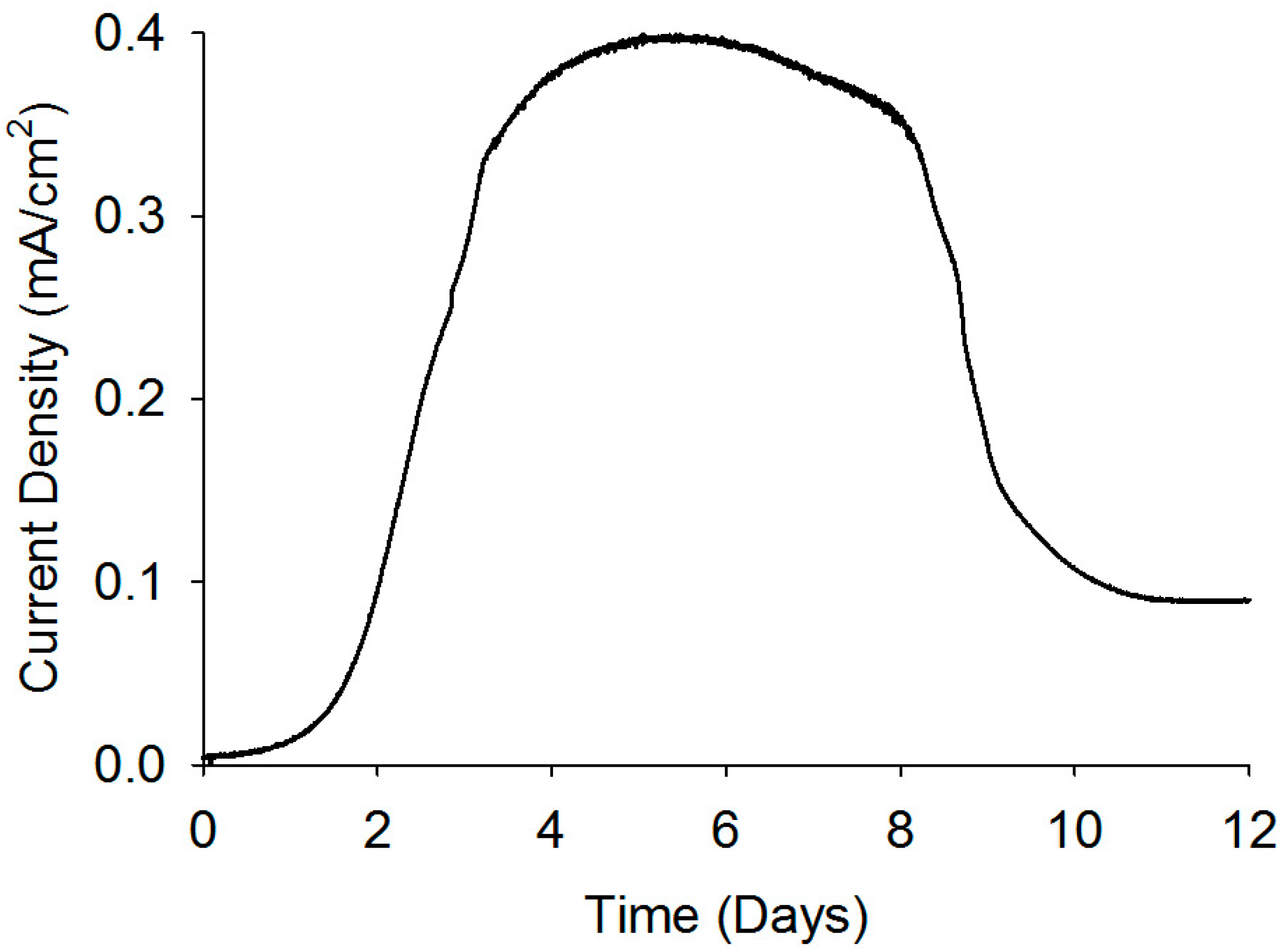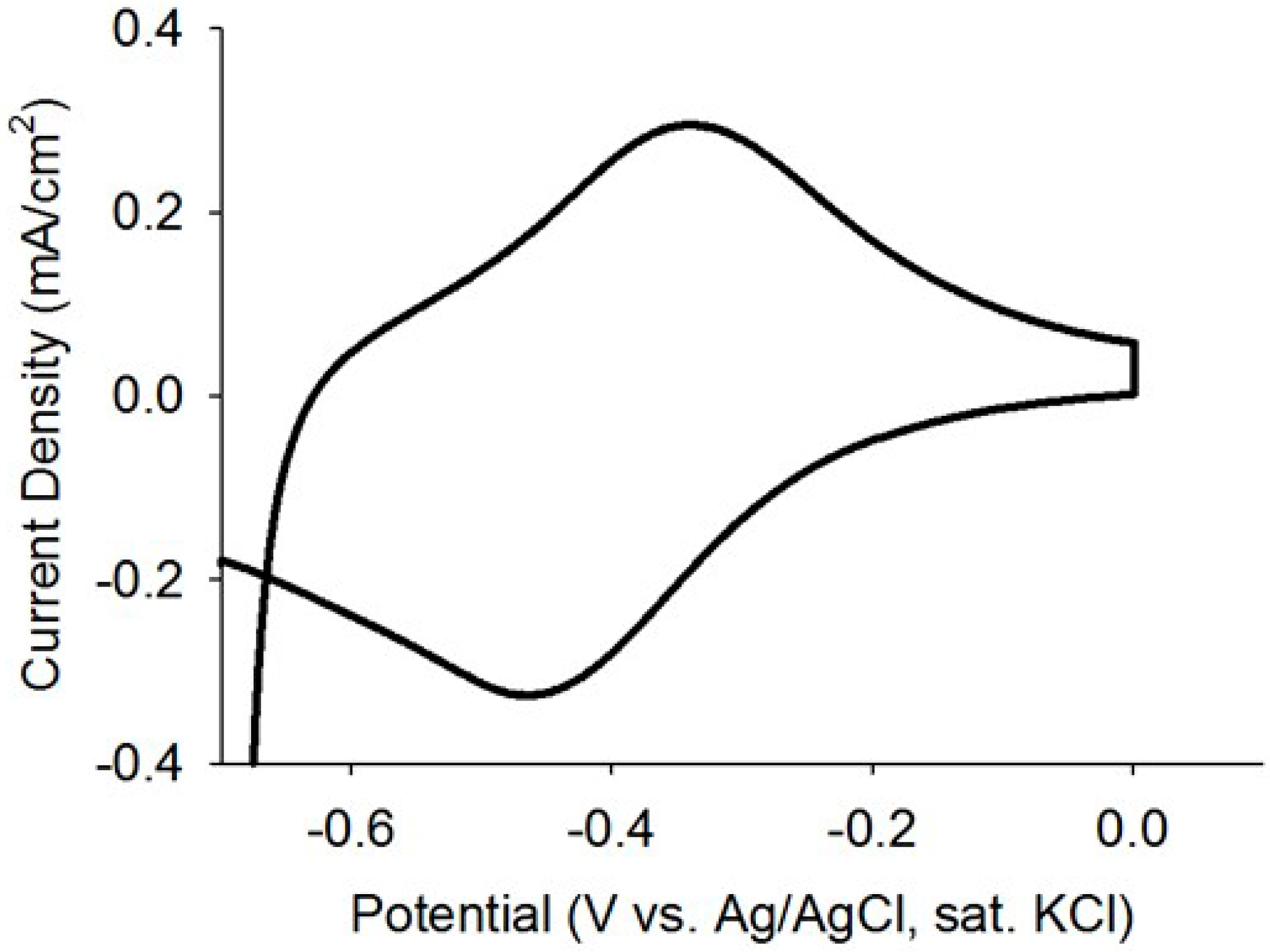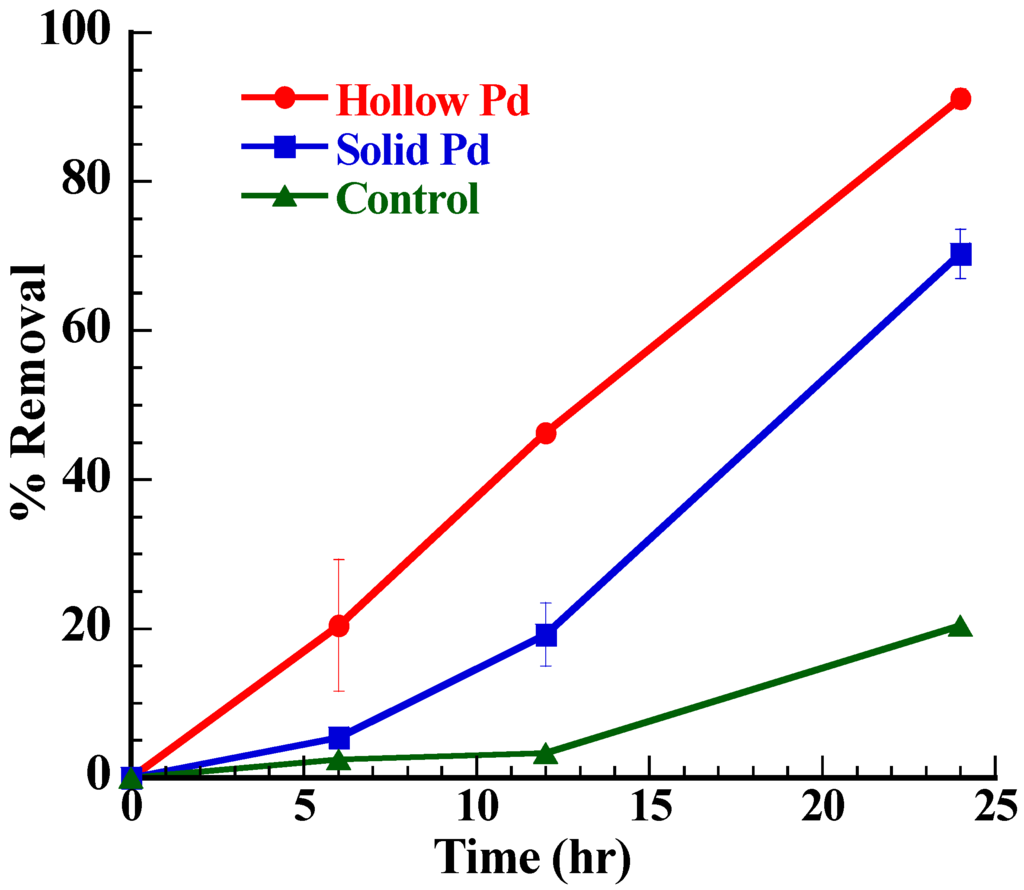 Figure 6. Plot of percent removal of MO dye in the solution with time by EABs in presence of solid or hollow Pd nanoparticles.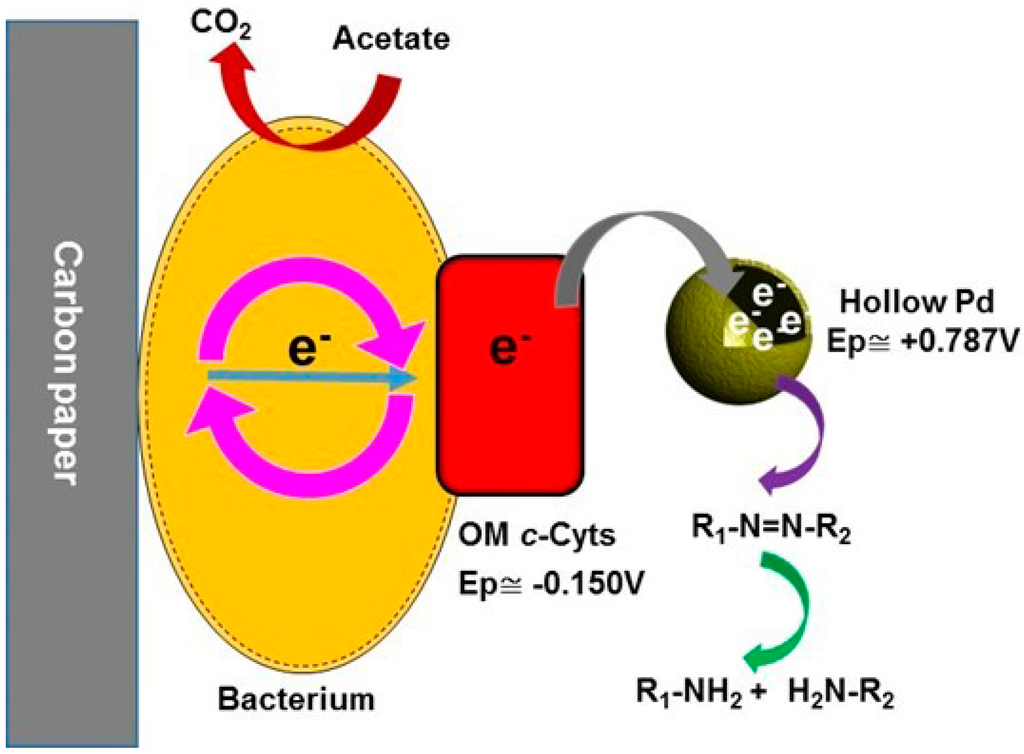 Scheme 1. Proposed mechanism of the dye degradation by electrically active biofilms (EABs) in the presence of hollow Pd nanocatalysts.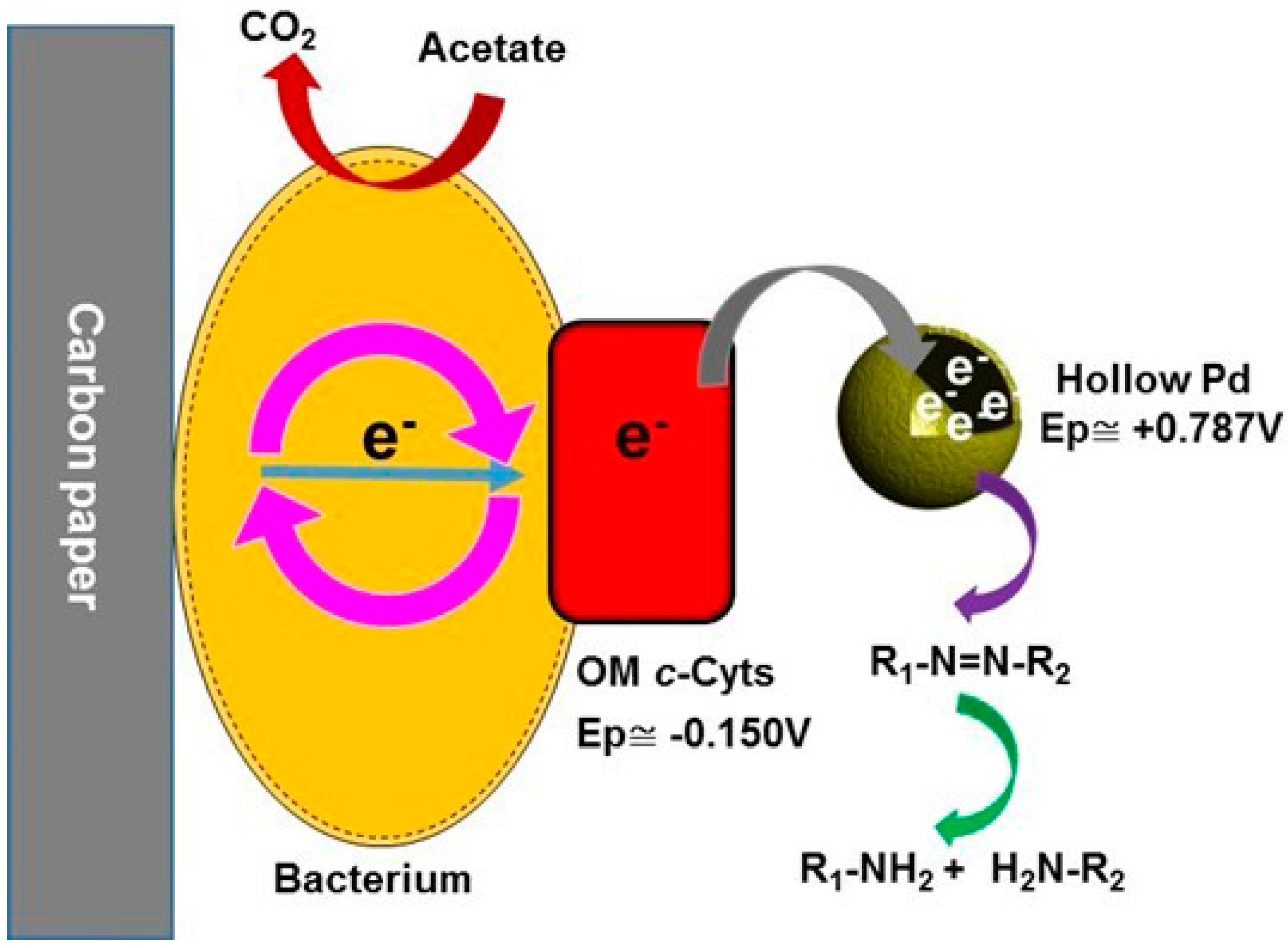 © 2016 by the authors; licensee MDPI, Basel, Switzerland. This article is an open access article distributed under the terms and conditions of the Creative Commons Attribution (CC-BY) license (http://creativecommons.org/licenses/by/4.0/).