Effect of A-Site Cation Ordering on Chemical Stability, Oxygen Stoichiometry and Electrical Conductivity in Layered LaBaCo2O5+δ Double Perovskite
Department of Material Science and Engineering, NTNU Norwegian University of Science and Technology, Trondheim NO-7491, Norway
*
Author to whom correspondence should be addressed.
Academic Editor: Lioz Etgar
Received: 22 January 2016 / Revised: 8 February 2016 / Accepted: 23 February 2016 / Published: 3 March 2016
Abstract
The effect of the A-site cation ordering on the chemical stability, oxygen stoichiometry and electrical conductivity in layered LaBaCo
2
O
5+δ
double perovskite was studied as a function of temperature and partial pressure of oxygen. Tetragonal A-site cation ordered layered LaBaCo
2
O
5+δ
double perovskite was obtained by annealing cubic A-site cation disordered La
0.5
Ba
0.5
CoO
3-δ
perovskite at 1100 °C in N
2
. High temperature X-ray diffraction between room temperature (RT) and 800 °C revealed that LaBaCo
2
O
5+δ
remains tetragonal during heating in oxidizing atmosphere, but goes through two phase transitions in N
2
and between 450 °C and 675 °C from tetragonal
P4/mmm
to orthorhombic
Pmmm
and back to
P4/mmm
due to oxygen vacancy ordering followed by disordering of the oxygen vacancies. An anisotropic chemical and thermal expansion of LaBaCo
2
O
5+δ
was demonstrated. La
0.5
Ba
0.5
CoO
3-δ
remained cubic at the studied temperature irrespective of partial pressure of oxygen. LaBaCo
2
O
5+δ
is metastable with respect to La
0.5
Ba
0.5
CoO
3-δ
at oxidizing conditions inferred from the thermal evolution of the oxygen deficiency and oxidation state of Co in the two materials. The oxidation state of Co is higher in La
0.5
Ba
0.5
CoO
3-δ
resulting in a higher electrical conductivity relative to LaBaCo
2
O
5+δ
. The conductivity in both materials was reduced with decreasing partial pressure of oxygen pointing to a p-type semiconducting behavior.
View Full-Text
►

▼

Figures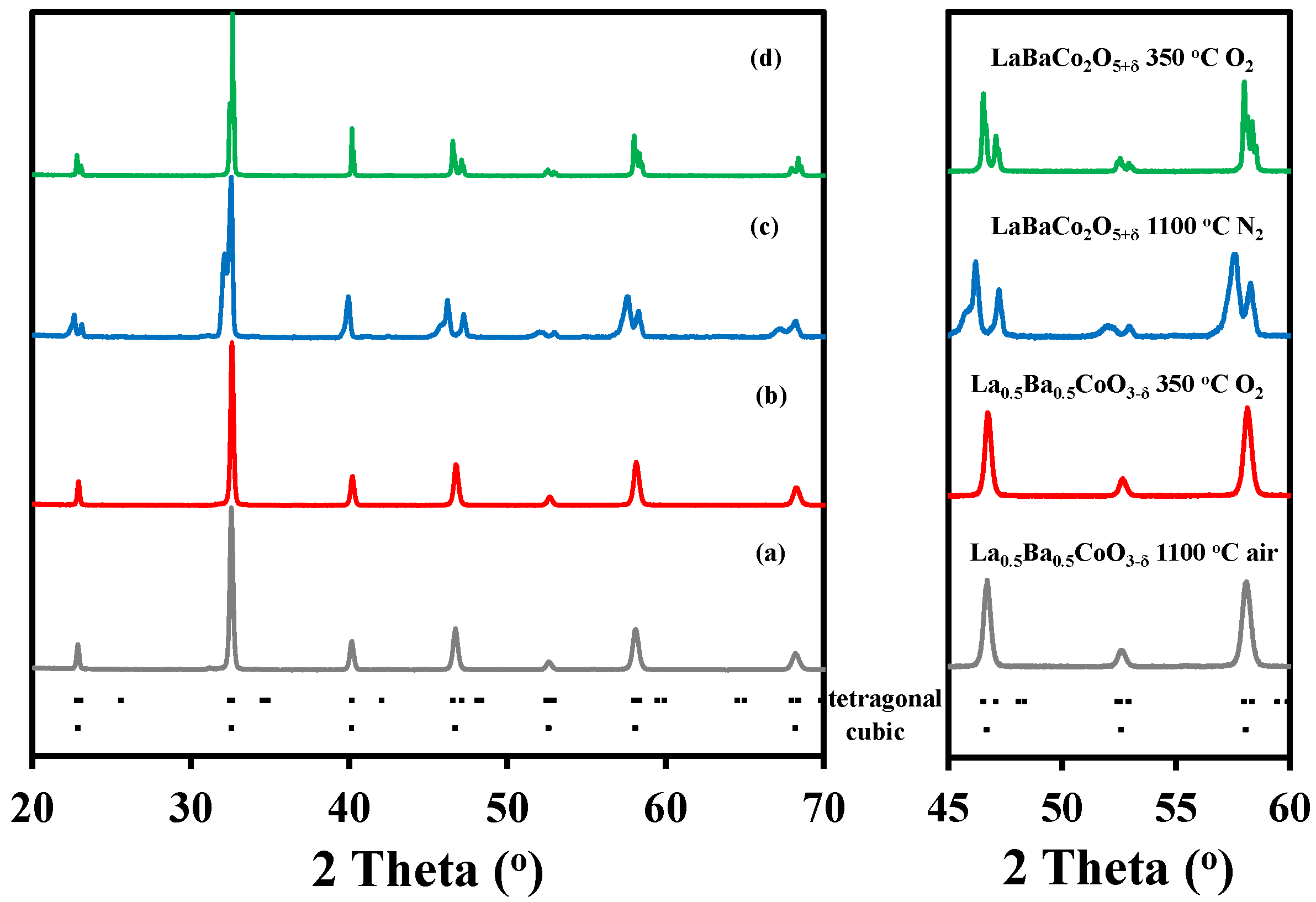 Figure 1
This is an open access article distributed under the
Creative Commons Attribution License
which permits unrestricted use, distribution, and reproduction in any medium, provided the original work is properly cited (CC BY 4.0).

Share & Cite This Article
MDPI and ACS Style
Bernuy-Lopez, C.; Høydalsvik, K.; Einarsrud, M.-A.; Grande, T. Effect of A-Site Cation Ordering on Chemical Stability, Oxygen Stoichiometry and Electrical Conductivity in Layered LaBaCo2O5+δ Double Perovskite. Materials 2016, 9, 154.
Note that from the first issue of 2016, MDPI journals use article numbers instead of page numbers. See further details here.
Related Articles
Comments
[Return to top]