Effect of Alkali-Acid-Heat Chemical Surface Treatment on Electron Beam Melted Porous Titanium and Its Apatite Forming Ability
1
Department of Mechanical and Aerospace Engineering, Carleton University, 1125 Colonel by Drive, Ottawa, ON K1S 5B6, Canada
2
Faculty of Mechanical, Maritime, and Materials Engineering, Delft University of Technology, Mekelweg 2, 2628 CD Delft, The Netherlands
3
Implantcast GmbH, Lueneburger Schanze 26, D-21614 Buxtehude, Germany
4
Department of Orthopaedics, Leiden University Medical Center, Albinusdreef 2, 2333 ZA Leiden, The Netherlands
*
Author to whom correspondence should be addressed.
Academic Editor: Jung Ho Je
Received: 28 January 2015 / Revised: 23 March 2015 / Accepted: 30 March 2015 / Published: 8 April 2015
Abstract
Advanced additive manufacturing techniques such as electron beam melting (EBM), can produce highly porous structures that resemble the mechanical properties and structure of native bone. However, for orthopaedic applications, such as joint prostheses or bone substitution, the surface must also be bio-functionalized to promote bone growth. In the current work, EBM porous Ti6Al4V alloy was exposed to an alkali acid heat (AlAcH) treatment to bio-functionalize the surface of the porous structure. Various molar concentrations (3, 5, 10M) and immersion times (6, 24 h) of the alkali treatment were used to determine optimal parameters. The apatite forming ability of the samples was evaluated using simulated body fluid (SBF) immersion testing. The micro-topography and surface chemistry of AlAcH treated samples were evaluated before and after SBF testing using scanning electron microscopy and energy dispersive X-ray spectroscopy. The AlAcH treatment successfully modified the topographical and chemical characteristics of EBM porous titanium surface creating nano-topographical features ranging from 200–300 nm in size with a titania layer ideal for apatite formation. After 1 and 3 week immersion in SBF, there was no Ca or P present on the surface of as manufactured porous titanium while both elements were present on all AlAcH treated samples except those exposed to 3M, 6 h alkali treatment. An increase in molar concentration and/or immersion time of alkali treatment resulted in an increase in the number of nano-topographical features per unit area as well as the amount of titania on the surface.
View Full-Text
►

▼

Figures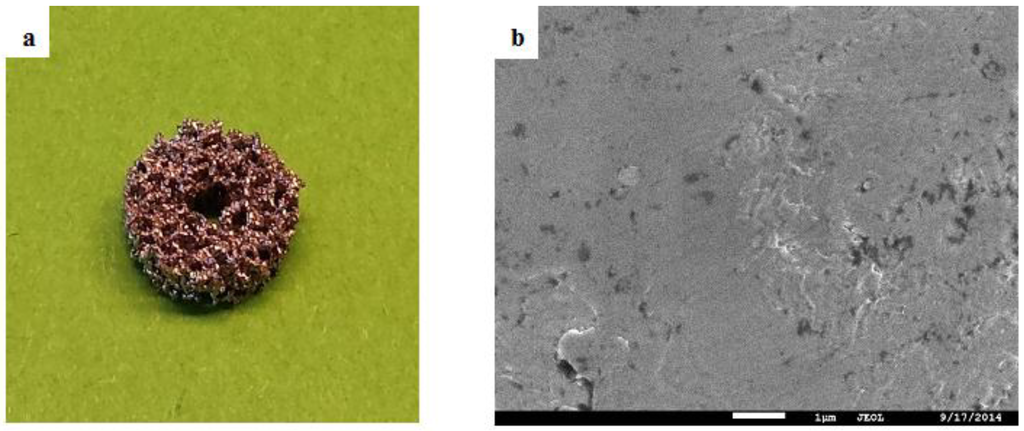 Figure 1
This is an open access article distributed under the
Creative Commons Attribution License
which permits unrestricted use, distribution, and reproduction in any medium, provided the original work is properly cited (CC BY 4.0).

Share & Cite This Article
MDPI and ACS Style
Bsat, S.; Yavari, S.A.; Munsch, M.; Valstar, E.R.; Zadpoor, A.A. Effect of Alkali-Acid-Heat Chemical Surface Treatment on Electron Beam Melted Porous Titanium and Its Apatite Forming Ability. Materials 2015, 8, 1612-1625.
Related Articles
Comments
[Return to top]