Open Access This article is
freely available
re-usable
Article
Effect of Heat Treatment on Microstructure and Properties of Clad Plates 316L/Q370qE
School of Material and Metallurgy University of Science and Technology LiaoNing, Anshan 114051, China
*
Author to whom correspondence should be addressed.
Received: 8 April 2019 / Accepted: 8 May 2019 / Published: 12 May 2019
Abstract
:
Mechanical properties of Q370qE carbon steel can be improved by cladding it with 316L stainless steel. After rolling these materials together, microstructure, hardness, shear strength, and corrosion properties of the cladded metals were evaluated. Hardness and shear tests were performed according to appropriate standards to evaluate the bonds. The results show that the remarkable diffusion of Ni and Cr formed a hard transition zone. The width of this diffusion zone increases with increasing temperature. The shear strength of the clad interface reached a minimum of 385 MPa. In addition, the surfaces of samples were examined by neutral salt spray (NSS) tests and potentiodynamic polarization tests to examine corrosion behavior. The 316L side primarily exhibited pitting corrosion, while the Q370qE side was dominated by uniform corrosion.
Keywords:
clad plate; microstructure; interface; shear strength; neutral salt spray
1. Introduction
Roll-bonded cladding of metals produces large bonding areas between metal plates. Our stainless clad plate is made of cladding 316L stainless steel and Q370qE carbon steel. It is less costly than using the cladding layer alone (316L) and is widely used in chemical, petrochemical, and marine applications for its good corrosion resistance and mechanical properties [
1
,
2
]. There are many methods for producing stainless steel clad plate, among which, hot roll-cladding is the most economical and efficient manufacturing process. Kang et al. [
3
] believed that roll bonding was a solid-state welding process that connects similar or dissimilar metals. It is a mature and widely used manufacturing technique. For stainless steel clad plates, the performance is determined by both stainless steel and carbon steel, and the elemental and structural changes of the two metals influence the subsequent processing properties of the material. Rao et al. [
4
] studied the 304 stainless steel clad plate and observed the highest hardness at the interface because of the diffusion of chromium and nickel. Li et al. [
5
] studied the amount of oxides at the interface of stainless steel clad plates at different degrees of vacuum, and the results showed that the surface oxidation was more obvious at lower vacuum. Peng et al. [
6
] found that the fracture of oxides during the rolling process achieved a strong metallurgical bond between the metals on both sides of the interface, with finer oxides being more favorable for interface bonding. Although metallurgical and mechanical properties are heavily influenced by interface characteristics, there is little information in the literature on the bimetallic interface produced by cladding welding processes.
In this study, Q370qE is used as the base material and 316L is the cladding material. Because metallurgical and mechanical properties are greatly influenced by interface characteristics, the current research work is to study the interdiffusion phenomenon and interface microstructure after heat treatment at 500 °C, 600 °C, 800 °C and 1000 °C.
2. Experiments
As mentioned above, the flyer plate is 316L and the parent plate is Q370qE. A schematic representation of the process for 316L/Q370qE clad plate is shown in
Figure 1
. It includes three steps: surface cleaning, assembly, heating and rolling. The primary chemical compositions of 316L and Q370qE are given in
Table 1
. The samples were heat-treated at 500 °C, 600 °C, 800 °C and 1000 °C for 30 min.
The test samples had a cross-sectional area of approximately 100 mm2 (10 mm × 10 mm). Both surfaces were etched: Q370 with 4% nitric acid alcohol solution and 316L with aqua regia. After the tests, the surfaces of the samples were examined using a scanning electron microscope (SEM, Carl Zesis AG, Jena, Germany) and subjected to mechanical and electrochemical testing. Vickers hardness tests were performed on a Huayin310HVS-5-type Vickers hardness machine (Laizhou Huayin Testing Instrument Co., Ltd., Laizhou, China) with a 100 g load for 10 s. The shear test was carried out on a Universal Testing Machine with reference to the Chinese standard GB/T 6396-2008. The cladding plates were subjected to neutral salt spray tests with 5% solution of NaCl in distilled water at room temperature. Polarization tests were performed in a 3.5 pct NaCl solution at room temperature using a CS350 electrochemical workstation (Corrtest, Wuhan, China) with a three-electrode device consisting of a silver chloride reference electrode, a platinum auxiliary electrode, and the samples. The scanning potential was in the range of −1~0.5 V, and the scan rate was 0.05 mV/s.
3. Results and Discussion
4. Conclusions
(1) In the 316L/Q370qE composite plate structure, the Q370qE was predominately ferrite with a refined grain structure. Decarburization occurs near the interface. The 316L is solely austenite with a uniform grain size. At the interface of the composite plates, a diffusion region appears in which chromium carbide is precipitated.
(2) The composite plates are well bonded at the interface. The mechanical properties of the composite plate are improved due to grain refinement, and diffusion improves the bonding performance. The hardness of 316L increased in proximity to the joint, and the hardness of Q370qE decreased on approaching the joint. When the heat treatment temperature was 500 °C, the shear strength was the highest and the interface was the strongest. The interface shear strength decreased with rise of heat treatment temperature.
(3) Neutral salt spray tests and polarization tests show that when the heat treatment temperature was 800 °C, the chromium content near the grain boundary and the corrosion resistance decreases. The corrosion resistance of the composite plate is worst after heat treatment at 800 °C.
Author Contributions
Conceptualization, Y.C. and M.D.; methodology, M.X.; formal analysis, S.K.; writing—review and editing, Z.W.
Funding
This research was funded by the Department of Education of Liaoning Province.
Conflicts of Interest
The authors declare no conflict of interest.

Figure 1. Schematic representation of the process for 316L/Q370qE clad plate (a) surface treatment and stacking; (b) hot rolling; (c) sampling schematic.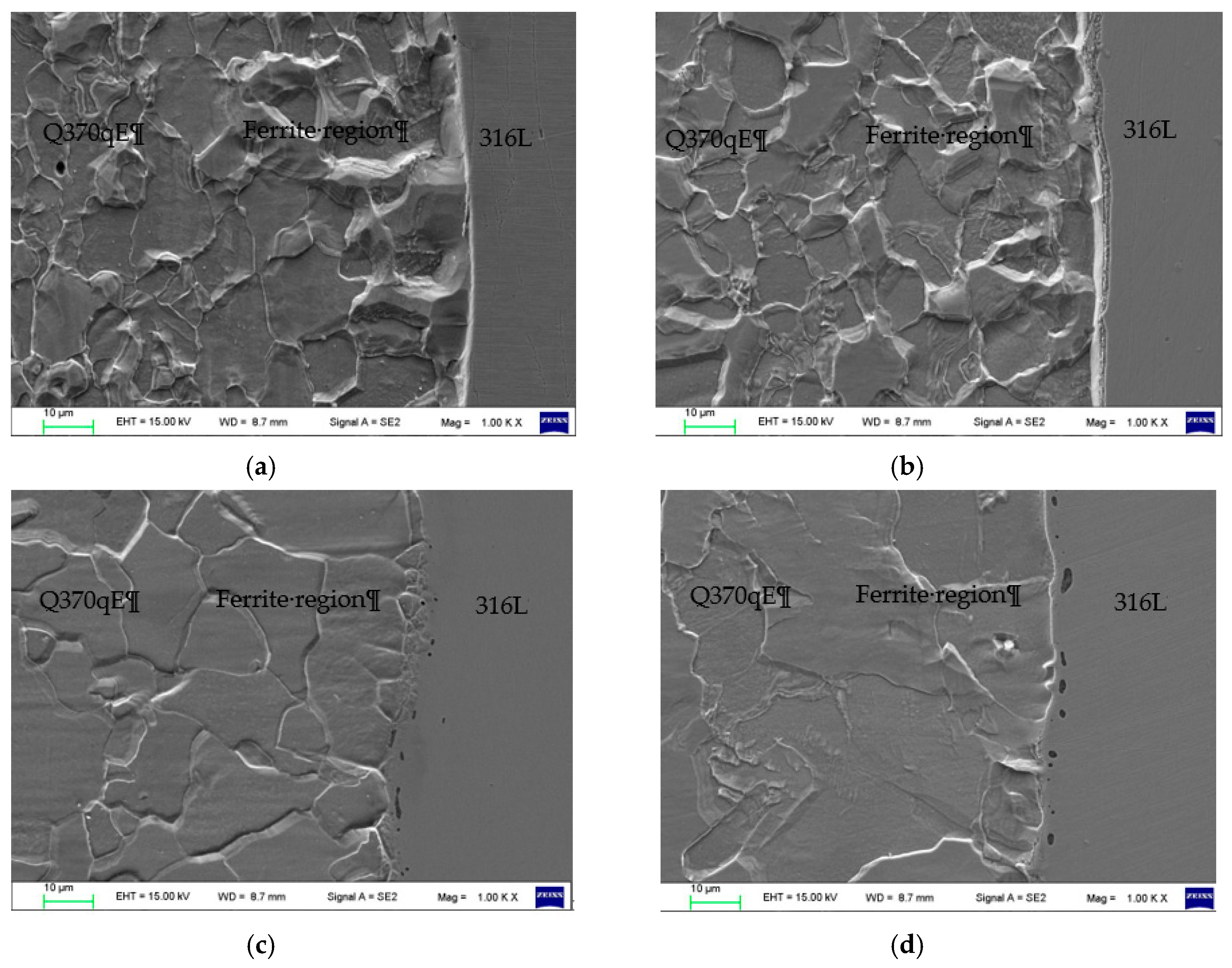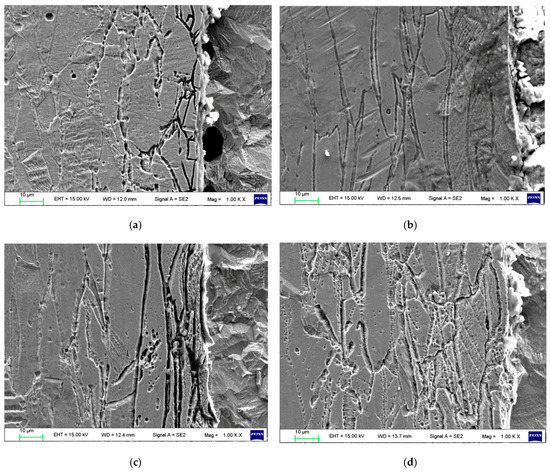 Figure 3. Microstructures of the 316L side and SEM results: (a) 500 °C; (b) 600 °C; (c) 800 °C; (d) 1000 °C.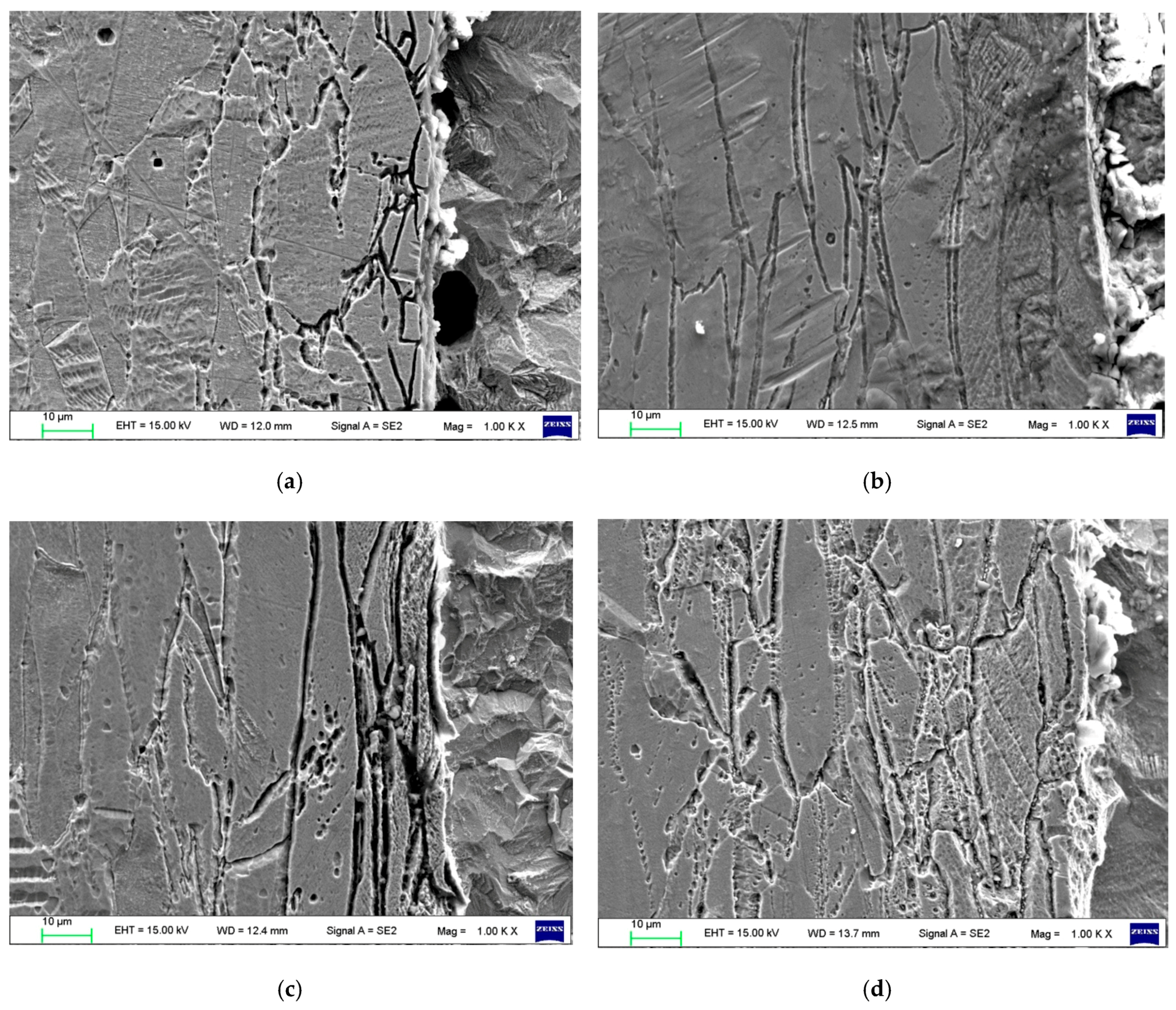 Figure 4. Line analyses of transition zone: (a,b) 500 °C; (c,d) 600 °C; (e,f) 800 °C; (g,h) 1000 °C.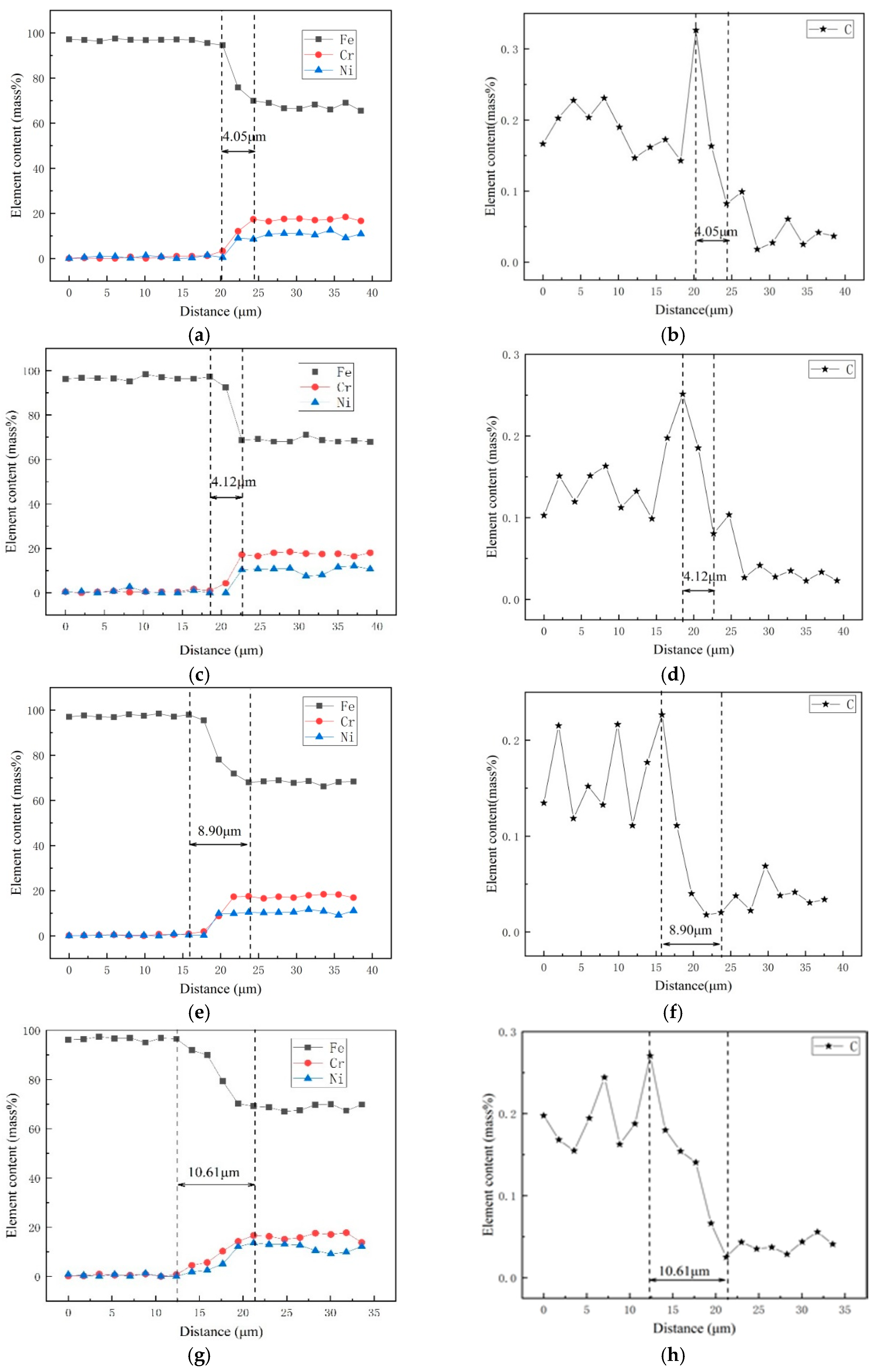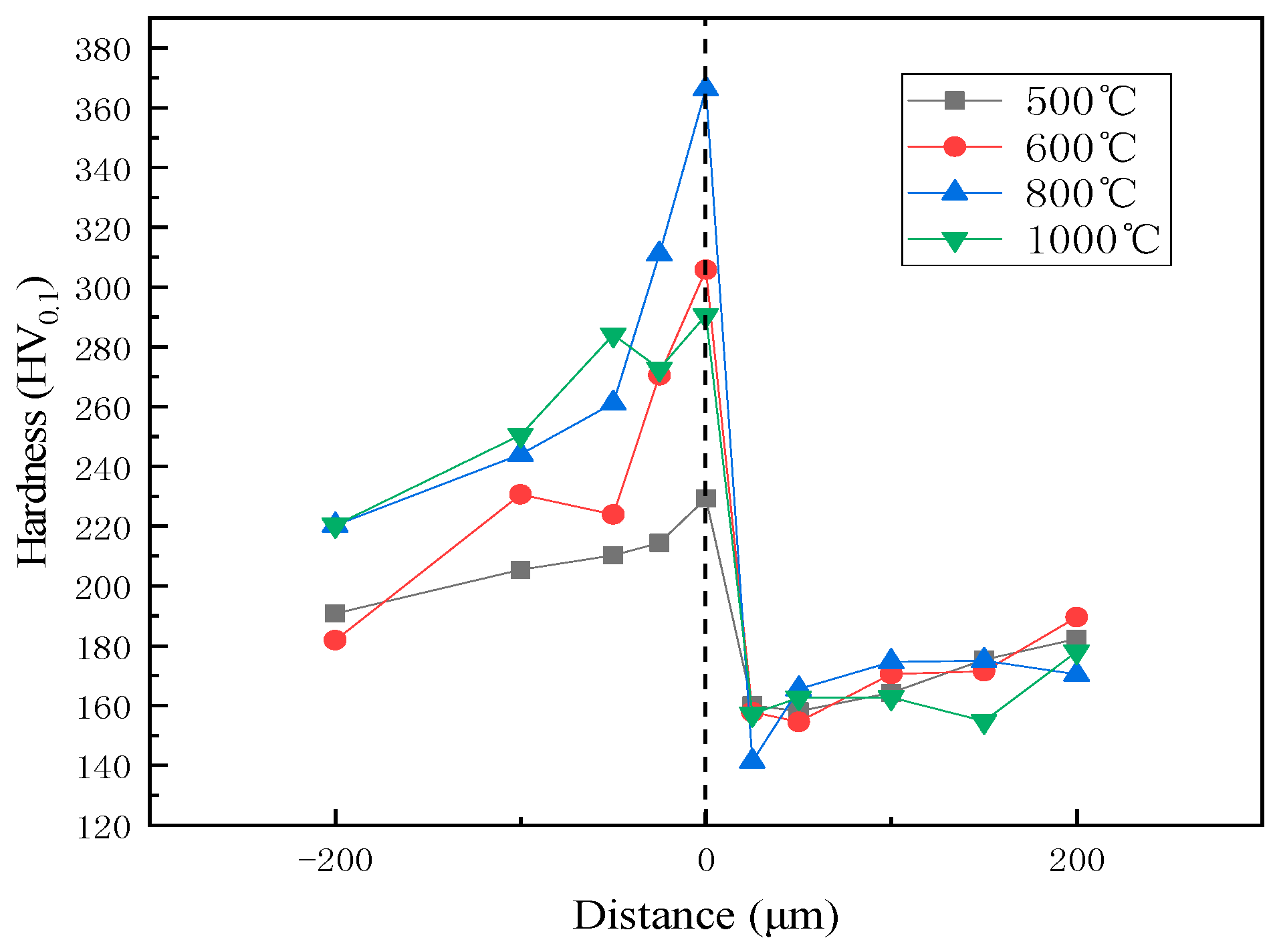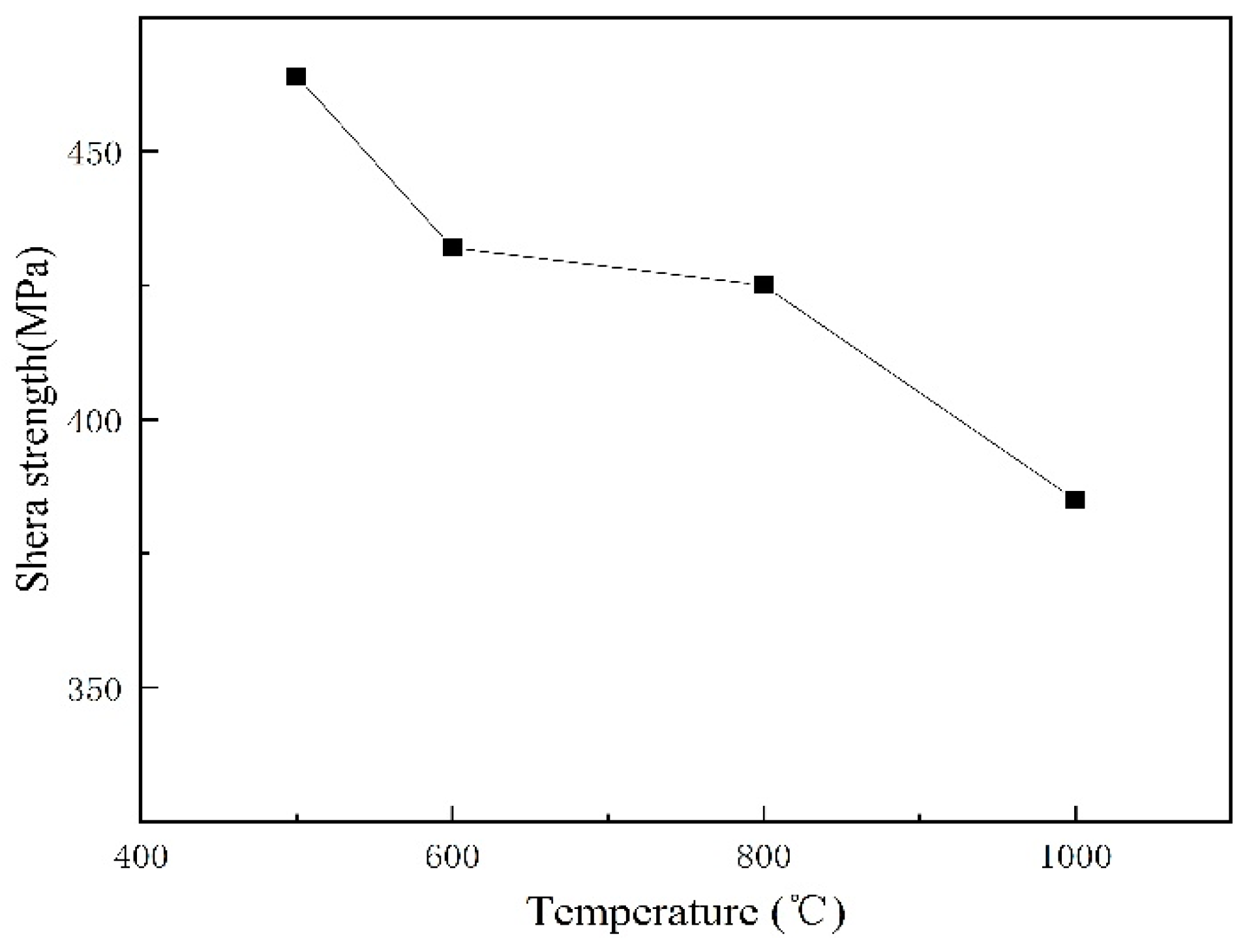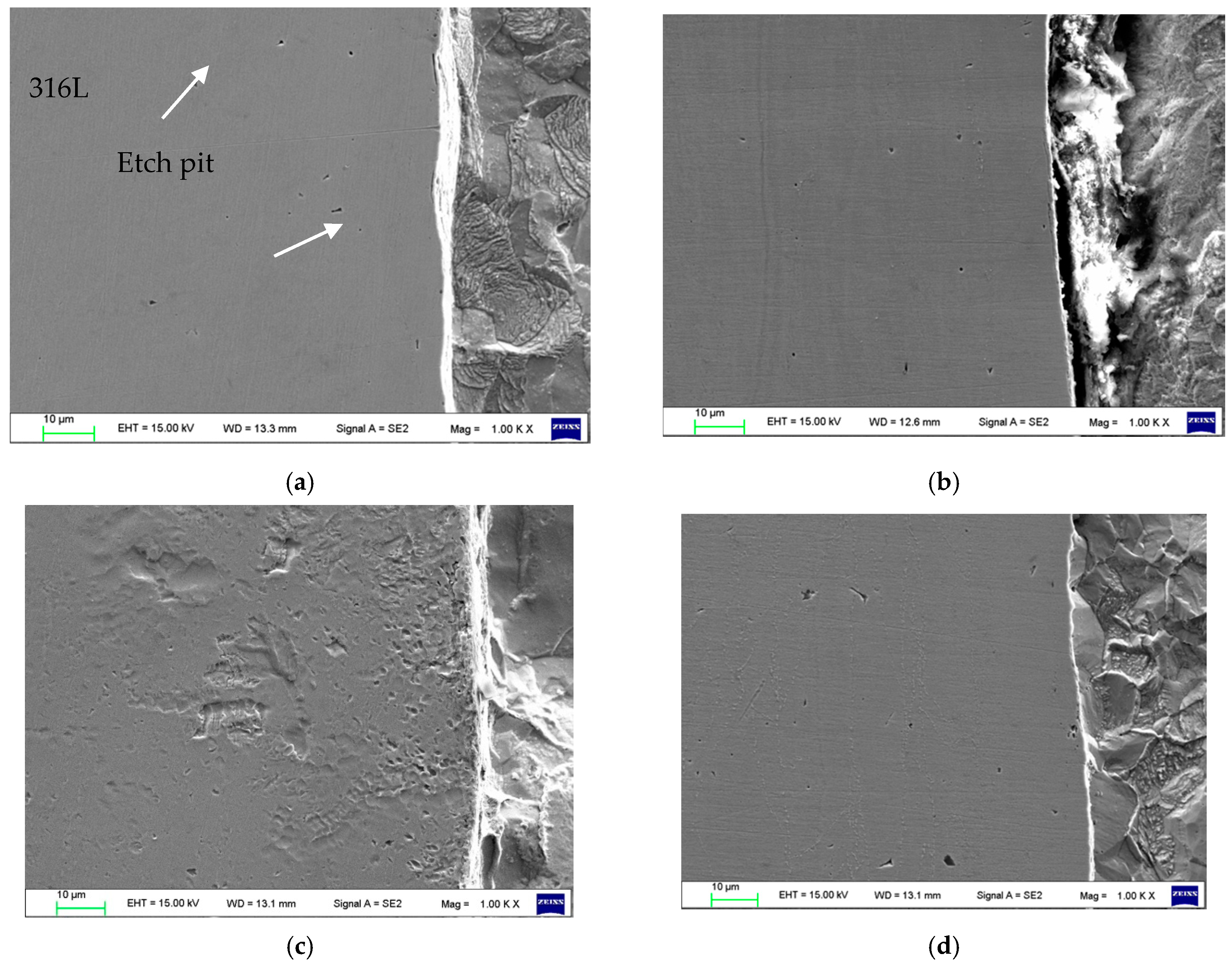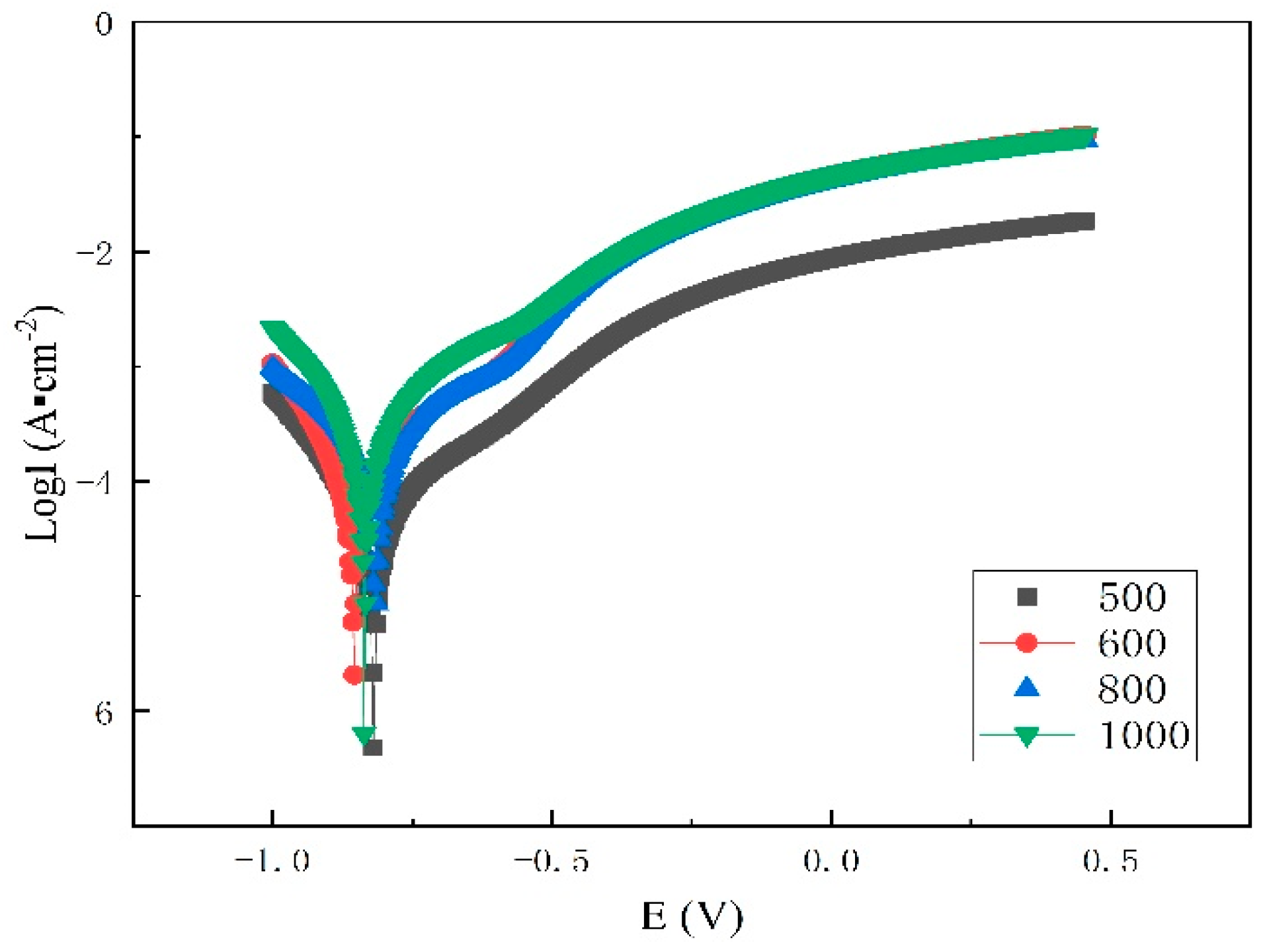 | Elements | C | Si | Mn | S | P | Cr | Ni | Mo | Fe |
| --- | --- | --- | --- | --- | --- | --- | --- | --- | --- |
| 316L | 0.02 | 0.56 | 1.33 | 0.002 | 0.031 | 17 | 10 | 2 | balance |
| Q370qE | 0.10 | 0.20 | 1.55 | 0.003 | 0.015 | – | – | – | balance |
| t/°C | 500 | 600 | 800 | 1000 |
| --- | --- | --- | --- | --- |
| E/V | −0.82 | −0.85 | −0.81 | −0.837 |
| I/A cm−2 | 4.79 × 10−7 | 2.07 × 10−6 | 8.65 × 10−6 | 6.41 × 10−7 |

© 2019 by the authors. Licensee MDPI, Basel, Switzerland. This article is an open access article distributed under the terms and conditions of the Creative Commons Attribution (CC BY) license (http://creativecommons.org/licenses/by/4.0/).