Open Access This article is
freely available
re-usable
Article
Microstructured Optical Waveguide-Based Endoscopic Probe Coated with Silica Submicron Particles
1
Skolkovo Institute of Science and Technology, 3 Nobelya str., 121205 Moscow, Russia
2
Department of Physics, Institute of Nanostructures and Biosystems, Saratov State University, 83 Astrakhanskaya str., 410012 Saratov, Russia
3
SPE LLC Nanostructured Glass Technology, 101 50 Let Oktjabrja, 410033 Saratov, Russia
4
Institute of Biochemistry and Physiology of Plants and Microorganisms, 13 Prospekt Entuziastov, 410049 Saratov, Russia
5
Department of Electrical Engineering, Tel Aviv University, Ramat Aviv, Tel Aviv 69978, Israel
6
Interdisciplinary Laboratory of Biophotonics, Tomsk State University, 36 Lenin's av., 634050 Tomsk, Russia
7
Laboratory of Laser Diagnostics of Technical and Living Systems, Institute of Precision Mechanics and Control of the Russian Academy of Sciences, 24 Rabochaya str., 410028 Saratov, Russia
*
Author to whom correspondence should be addressed.
Received: 5 April 2019 / Accepted: 28 April 2019 / Published: 1 May 2019
Abstract
:
Microstructured optical waveguides (MOW) are of great interest for chemical and biological sensing. Due to the high overlap between a guiding light mode and an analyte filling of one or several fiber capillaries, such systems are able to provide strong sensitivity with respect to variations in the refractive index and the thickness of filling materials. Here, we introduce a novel type of functionalized MOWs whose capillaries are coated by a layer-by-layer (LBL) approach, enabling the alternate deposition of silica particles (SiO2) at different diameters—300 nm, 420 nm, and 900 nm—and layers of poly(diallyldimethylammonium chloride) (PDDA). We demonstrate up to three covering bilayers consisting of 300-nm silica particles. Modifications in the MOW transmission spectrum induced by coating are measured and analyzed. The proposed technique of MOW functionalization allows one to reach novel sensing capabilities, including an increase in the effective sensing area and the provision of a convenient scaffold for the attachment of long molecules such as proteins.
Keywords:
sensing; layer-by-layer deposition; surface modification; microstructured optical waveguide; silica particles
Author Contributions
T.E. performed the experiments; J.S.S., A.A.Z. and A.A.S. fabricated the MOW samples; B.N.K. synthesized the silica particles; T.E., D.A.G., R.E.N., S.V.G., J.S.S., B.N.K., P.G. and Y.V.P. worked on the analysis of the data and wrote the paper; D.A.G., J.S.S, and V.V.T. engaged in project administration and critical revising of the manuscript for important intellectual content; S.V.G. engaged in visualization and images preparation; V.A. and A.Z. acquired the SEM data; R.E.N., V.V.T. and D.A.G. supervised the projects.
Funding
This work was supported by the Russian Foundation for Basic Research (RFBR grant 18-29-08046). Valery V. Tuchin was supported by the Ministry of Education and Science of the Russian Federation (grant 17.1223.2017/AP).
Conflicts of Interest
The authors declare no conflict of interest.
Appendix A
The procedure of graphs preparation is shown in
Figure A1
on the example of the transmission spectra of a MOW sample coated with a polyelectrolyte buffer layer and the sample with one deposited layer of 300-nm silica particles. The effect of smooth function can be seen. It does not change the general trend of the curves but makes them easier to analyze and work with.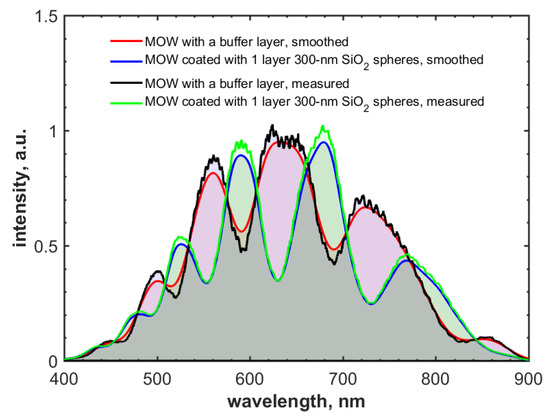 Figure A1. Transmission spectra for MOWs coated with the buffer layer only: measured (black) and smoothed (red). Transmission spectra for MOWs coated with one layer of 300-nm silica particles: measured (green) and smoothed (blue).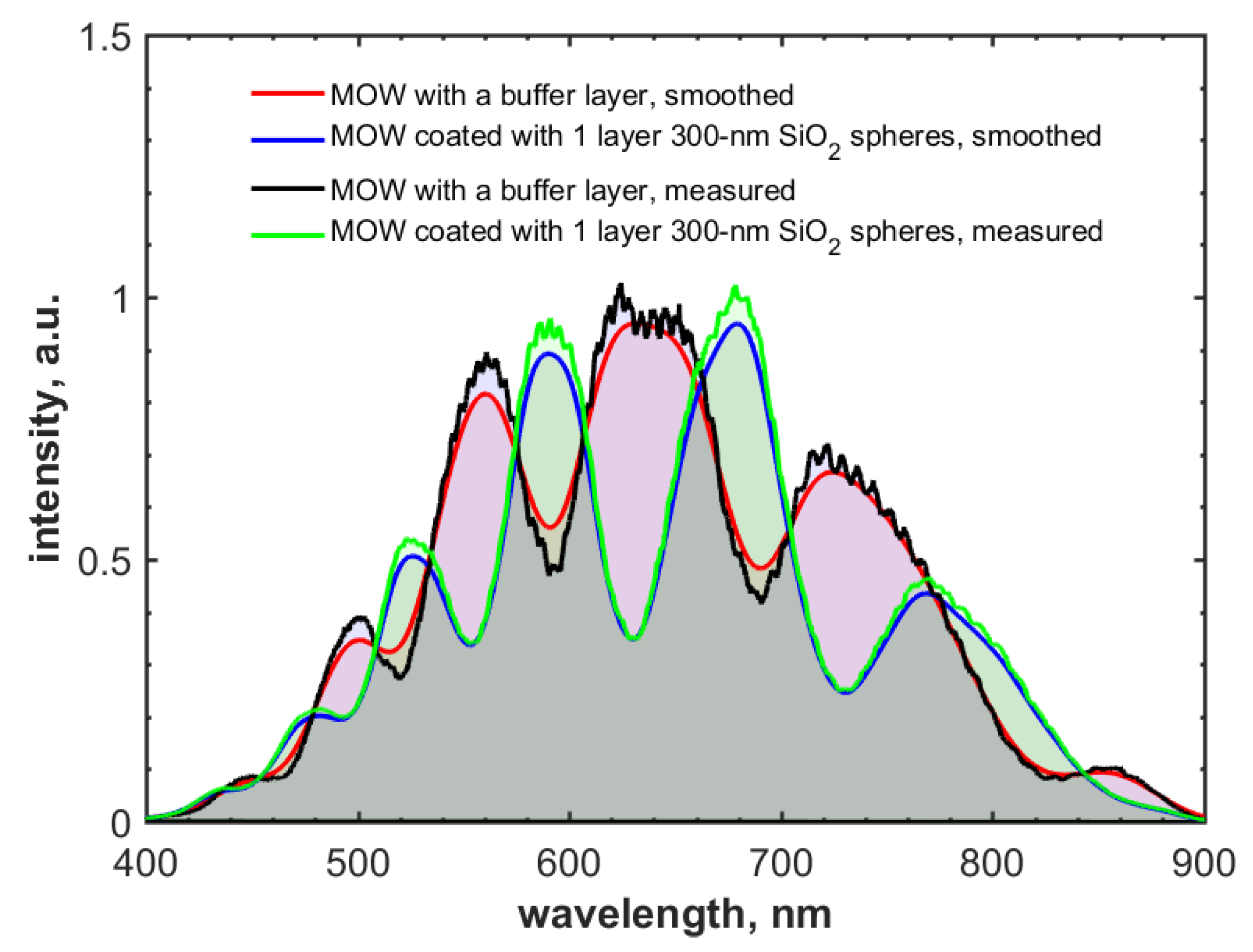 © 2019 by the authors. Licensee MDPI, Basel, Switzerland. This article is an open access article distributed under the terms and conditions of the Creative Commons Attribution (CC BY) license (http://creativecommons.org/licenses/by/4.0/).