Microstructured Optical Waveguide-Based Endoscopic Probe Coated with Silica Submicron Particles
1
Skolkovo Institute of Science and Technology, 3 Nobelya str., 121205 Moscow, Russia
2
Department of Physics, Institute of Nanostructures and Biosystems, Saratov State University, 83 Astrakhanskaya str., 410012 Saratov, Russia
3
SPE LLC Nanostructured Glass Technology, 101 50 Let Oktjabrja, 410033 Saratov, Russia
4
Institute of Biochemistry and Physiology of Plants and Microorganisms, 13 Prospekt Entuziastov, 410049 Saratov, Russia
5
Department of Electrical Engineering, Tel Aviv University, Ramat Aviv, Tel Aviv 69978, Israel
6
Interdisciplinary Laboratory of Biophotonics, Tomsk State University, 36 Lenin's av., 634050 Tomsk, Russia
7
Laboratory of Laser Diagnostics of Technical and Living Systems, Institute of Precision Mechanics and Control of the Russian Academy of Sciences, 24 Rabochaya str., 410028 Saratov, Russia
*
Author to whom correspondence should be addressed.
Received: 5 April 2019 / Revised: 24 April 2019 / Accepted: 28 April 2019 / Published: 1 May 2019
Abstract
Microstructured optical waveguides (MOW) are of great interest for chemical and biological sensing. Due to the high overlap between a guiding light mode and an analyte filling of one or several fiber capillaries, such systems are able to provide strong sensitivity with respect to variations in the refractive index and the thickness of filling materials. Here, we introduce a novel type of functionalized MOWs whose capillaries are coated by a layer-by-layer (LBL) approach, enabling the alternate deposition of silica particles (SiO
2
) at different diameters—300 nm, 420 nm, and 900 nm—and layers of poly(diallyldimethylammonium chloride) (PDDA). We demonstrate up to three covering bilayers consisting of 300-nm silica particles. Modifications in the MOW transmission spectrum induced by coating are measured and analyzed. The proposed technique of MOW functionalization allows one to reach novel sensing capabilities, including an increase in the effective sensing area and the provision of a convenient scaffold for the attachment of long molecules such as proteins.
View Full-Text
►

▼

Figures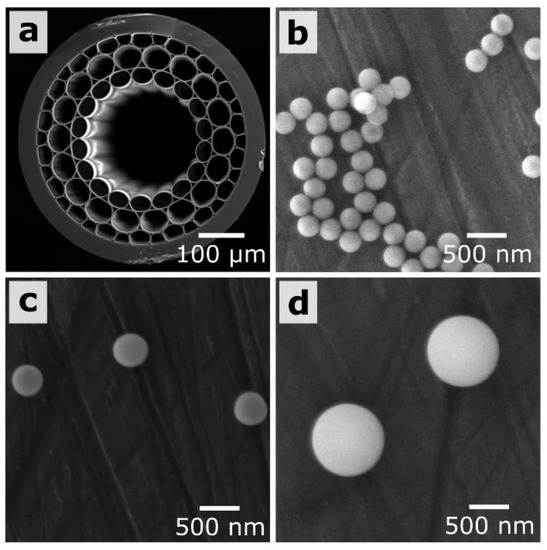 Figure 1
This is an open access article distributed under the
Creative Commons Attribution License
which permits unrestricted use, distribution, and reproduction in any medium, provided the original work is properly cited (CC BY 4.0).

Share & Cite This Article
MDPI and ACS Style
Ermatov, T.; Petrov, Y.V.; German, S.V.; Zanishevskaya, A.A.; Shuvalov, A.A.; Аtkin, V.; Zakharevich, A.; Khlebtsov, B.N.; Skibina, J.S.; Ginzburg, P.; Noskov, R.E.; Tuchin, V.V.; Gorin, D.A. Microstructured Optical Waveguide-Based Endoscopic Probe Coated with Silica Submicron Particles. Materials 2019, 12, 1424.
Note that from the first issue of 2016, MDPI journals use article numbers instead of page numbers. See further details here.
Related Articles
Comments
[Return to top]