Open Access This article is
freely available
re-usable
Article
Rapid Alloy Development of Extremely High-Alloyed Metals Using Powder Blends in Laser Powder Bed Fusion
1
Chair of Digital Additive Production, RWTH Aachen University, 52074 Aachen, Germany
2
Steel Institute, RWTH Aachen University, 52072 Aachen, Germany
3
Fraunhofer Institute for Laser Technology, 52074 Aachen, Germany
*
Author to whom correspondence should be addressed.
Received: 8 May 2019 / Accepted: 23 May 2019 / Published: 26 May 2019
Abstract
:
The design of new alloys by and for metal additive manufacturing (AM) is an emerging field of research. Currently, pre-alloyed powders are used in metal AM, which are expensive and inflexible in terms of varying chemical composition. The present study describes the adaption of rapid alloy development in laser powder bed fusion (LPBF) by using elemental powder blends. This enables an agile and resource-efficient approach to designing and screening new alloys through fast generation of alloys with varying chemical compositions. This method was evaluated on the new and chemically complex materials group of multi-principal element alloys (MPEAs), also known as high-entropy alloys (HEAs). MPEAs constitute ideal candidates for the introduced methodology due to the large space for possible alloys. First, process parameters for LPBF with powder blends containing at least five different elemental powders were developed. Secondly, the influence of processing parameters and the resulting energy density input on the homogeneity of the manufactured parts were investigated. Microstructural characterization was carried out by optical microscopy, electron backscatter diffraction (EBSD), and energy-dispersive X-ray spectroscopy (EDS), while mechanical properties were evaluated using tensile testing. Finally, the applicability of powder blends in LPBF was demonstrated through the manufacture of geometrically complex lattice structures with energy absorption functionality.
Keywords:
additive manufacturing; laser powder bed fusion; high-entropy alloys; multi-principal element alloys; powder blends; rapid alloy development
2. Materials and Methods
2.1. Rapid Alloy Development Methodology Using Powder Blends in LPBF
In
Figure 1
, the rapid alloy development methodology using powder blends in LPBF of the present study is schematically shown. The approach was divided into three steps. First, a base alloy was created by dry-mixing elemental powders. Secondly, to screen the alloy system, the base alloy was adapted by adding additional elemental powders, e.g., C. Finally, the various created powder blends were processed by LPBF and evaluated by microstructure analysis and mechanical properties.
2.3. Sample Preparation and Characterization Techniques
Specimens for microstructure analysis were mechanically removed from the baseplate and ground with up to 1200 SiC grit paper followed by polishing using 6 and 1 µm diamond suspension on a plane parallel to the build-up direction. Furthermore, samples were electrolytically polished using a voltage between 25 and 30 V (depending on the chemical composition) for 15 s in A2 electrolyte (Struers, Birmensdorf, Switzerland). Various etchants were tested to make microstructural features visible for optical microscopy. Reasonable results were only obtained with V2A etchant (a mixture consisting of equal parts water and hydrochloric acid with 5% nitric acid) at 70 °C.
Scanning electron microscopy (SEM), energy dispersive X-ray spectroscopy (EDS), and electron backscatter diffraction (EBSD) were performed on a field emission gun (FEG) SEM (Zeiss Sigma, Jena, Germany) with EDS and EBSD detectors (Oxford Instruments, Tubney Woods, Abingdon, UK). Combined EDS and EBSD area mappings were recorded with the voltage at 15 kV with the high-current mode enabled, a working distance between 8.5 and 9 mm, and a step size of 0.2 µm. Analysis and noise reduction of the data were carried out with the MATLAB®-based MTEX toolbox [
22
,
23
].
The manufactured cylinders were machined to obtain round dog bone tensile specimens with B4 × 20 dimensions after DIN 50125. The mechanical properties were then determined through quasi-static uniaxial tensile tests on a Z4204 device (Zwick/Roell, Ulm, Germany) at room temperature and a strain rate of 2.5 10
−4
·s
−1
. The lattice structures were removed from the baseplate by electrical discharge machining and were then compression-tested at room temperature on a servo-hydraulic universal mechanical testing machine (Schenk, Darmstadt, Germany) equipped with a 400 kN load cell and a constant strain rate of 10
−3
s
−1
. The specimens were tested according to DIN 50134:2008 and were interpreted after Tancogne et al. and Ashby et al. [
24
,
25
]. The specific energy absorption (
Es
40%
) was used to evaluate energy absorption potential, which was calculated by integrating the force–displacement curve up until 40% compression (
E
40%
) and dividing by the respective weight of the lattice structure [
18
,
26
].
4. Discussion
In the following, the adaption of the rapid alloy development methodology from LMD to LPBF as well as the processability of powder blends and the influence of process parameters on the mechanical properties are discussed.
5. Conclusions
The present study showed that fully dense and chemically homogenous MPEAs could be successfully manufactured by using elemental powder blends in LPBF. This enables a rapid and resource-efficient approach to screen and design novel materials. The following conclusions could be drawn:
Complex powder blends consisting of up to six elemental powders with different morphologies, size distributions, and amounts could be applied to the LPBF process. Therefore, rapid alloy development of chemically complex metallic alloys is possible, which was demonstrated on C-Al-Co-Fe-Mn-Ni MPEAs. Compared to other metal AM processes, higher cooling rates facilitated improved material properties, e.g., high strength, high energy absorption capacity, and less elemental segregation.

Chemical homogeneity was strongly dependent on the energy input and resulting size of the melt pool formed during LPBF. On the one hand, insufficient energy input resulted in inhomogeneous elemental distribution, as powders with high melting points were only partially melted. On the other hand, small melt pool sizes prohibited sufficient elemental mixing. Optimal energy input resulted in alloys with high chemical homogeneity.

The mechanical properties of the investigated Al0.26CoFeMnNi system were significantly improved by the addition of 0.6 wt% C, resulting in both increased strength and ductility. Therefore, the methodology of combining powder blending and LPBF was proven to be a promising method to produce high-quality material containing significant nonmetallic additions, such as C.

LPBF using powder blends enables manufacturing of parts with complex geometry, e.g., lattice structures, and reliable mechanical properties. The produced lattice structures indicated a higher energy absorption capacity compared to the commonly used 316L and were comparable to high-Manganese steel samples.
Author Contributions
The research work presented in this manuscript was planned and carried out as a collaboration of the authors listed above. S.E. and M.V. produced the samples and performed the experiments; F.K. performed the microstructural and mechanical analysis; S.E., F.K., S.H., and M.V. analyzed the data. S.E., F.K., and S.H. wrote the paper; supervision and conceptualization were perfomed by C.H. and J.H.S.; all authors contributed to the scientific design of the study and a discussion of the results and have seen and approved the final manuscript.
Funding
This research was funded by the German Research Foundation DFG within the Cluster of Excellence Internet of Production (IOP) Project-ID: 390621612—Cluster Research Domain B1 and C2. This research was also funded by Hans Hermann Voss-Stiftung from the RWTH Aachen Seed-Fund project OPSF406.
Conflicts of Interest
The authors confirm that there are no known conflicts of interest associated with this publication and that there has been no significant financial support for this work that could have influenced its outcome.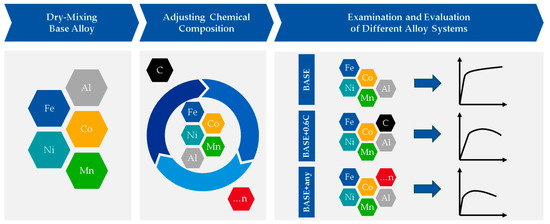 Figure 1. Schematic illustration of the rapid alloy development methodology using powder blends for the laser powder bed fusion (LPBF) process, where "...n" is a placeholder for additional elements.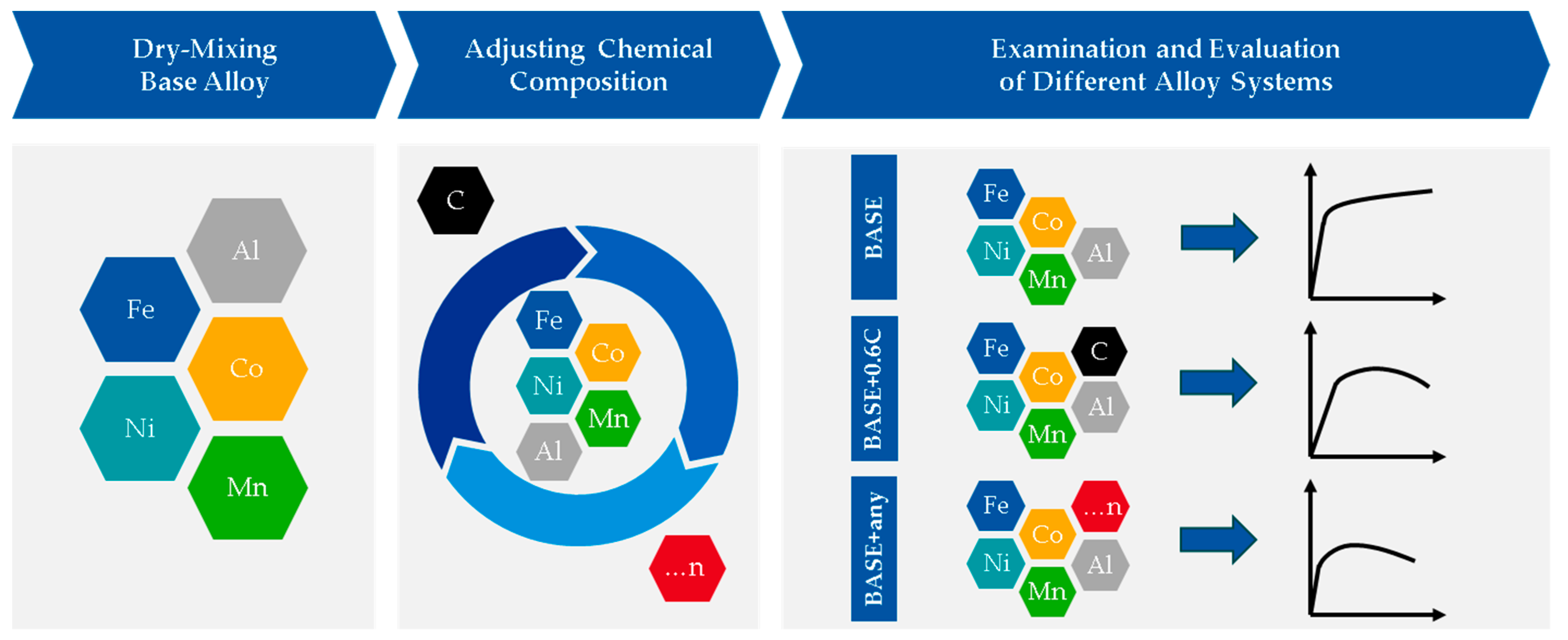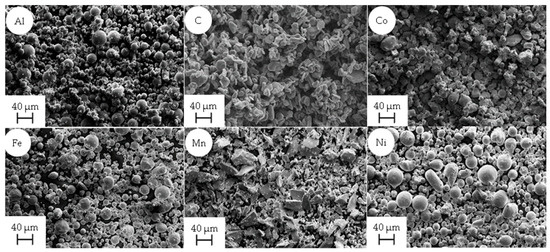 Figure 2. Secondary electron (SE) micrographs showing the different morphologies of the used powders: (a) Al, (b) C, (c) Co, (d) Fe, (e) Mn, and (f) Ni.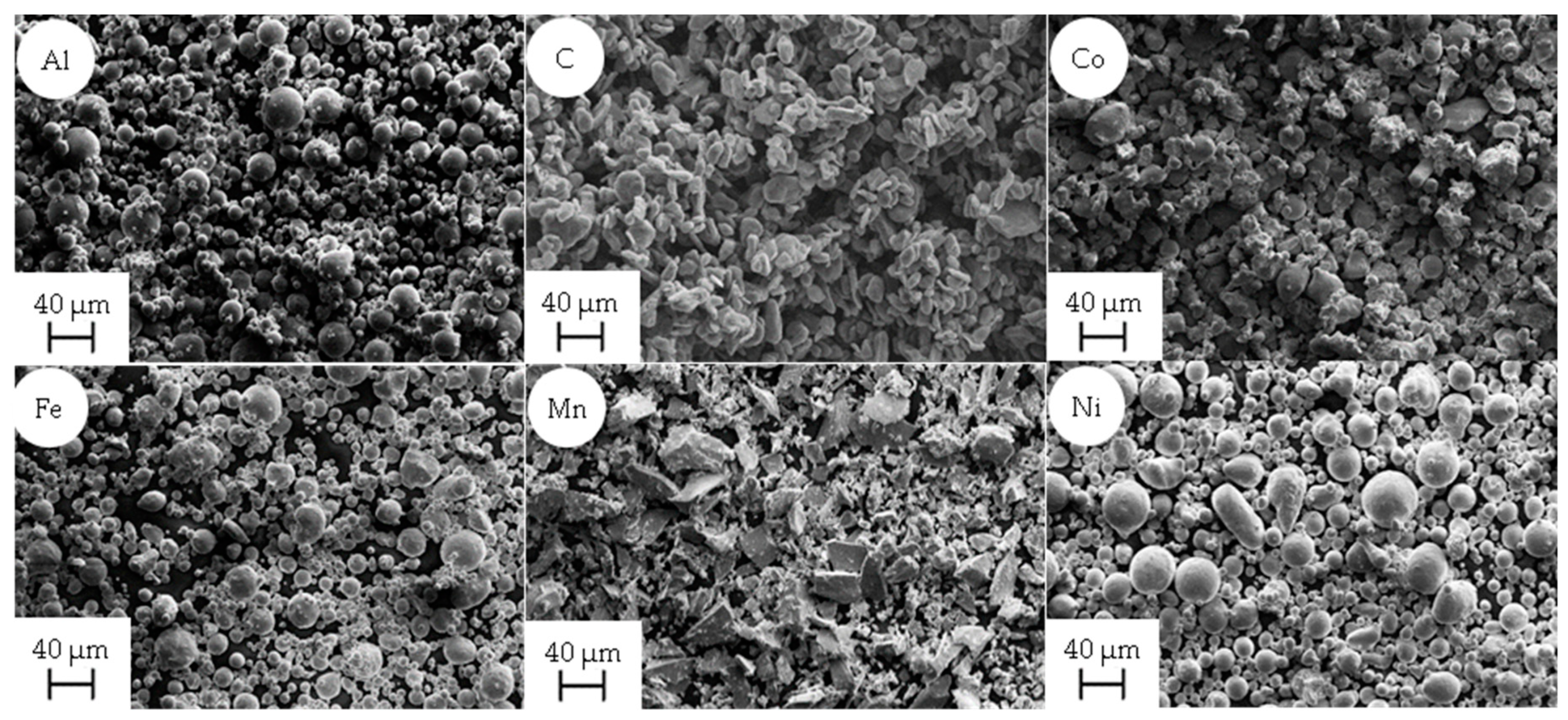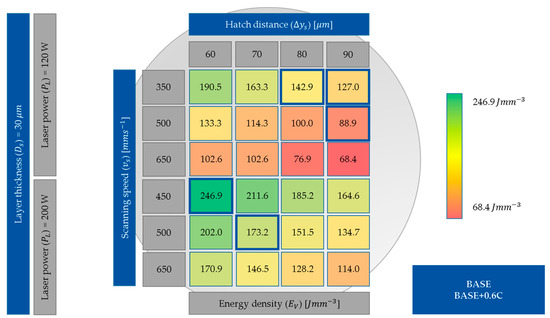 Figure 3. Investigated hatch process parameter combinations with corresponding EV. The used parameter sets for further samples are marked in blue.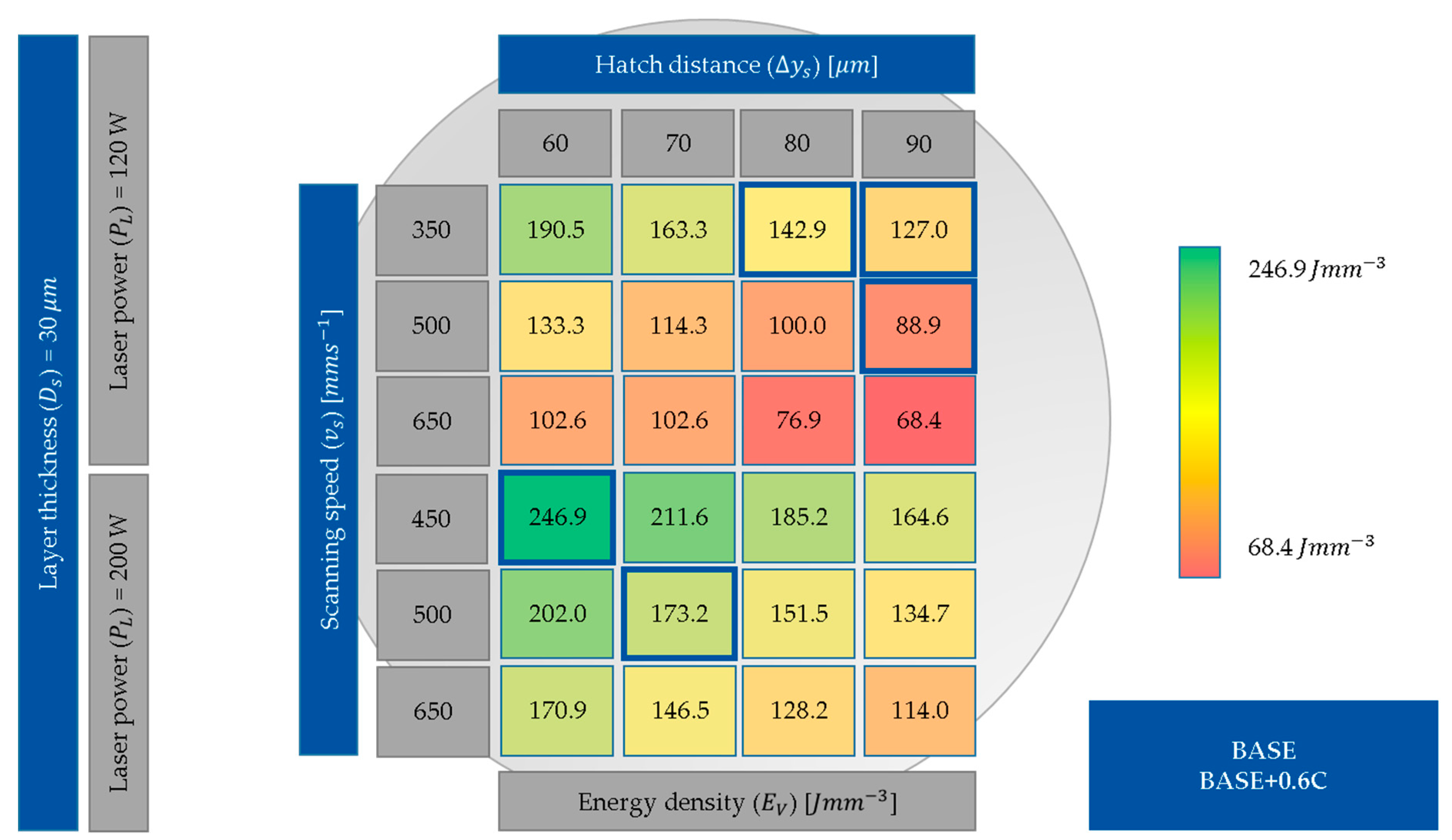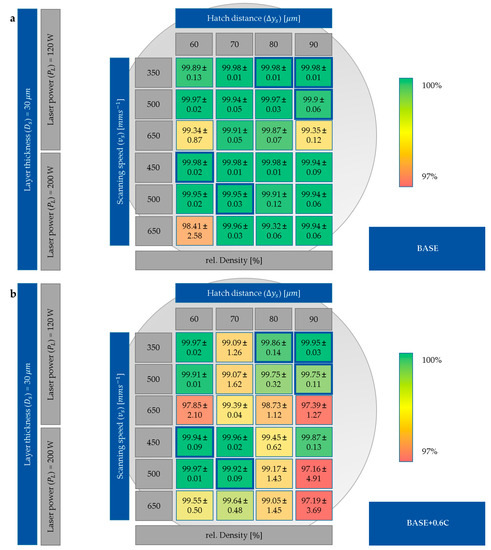 Figure 4. Color-coded relative densities dependent on different process parameters for (a) BASE and (b) BASE + 0.6C. The selected parameter sets for further production of samples are marked in blue.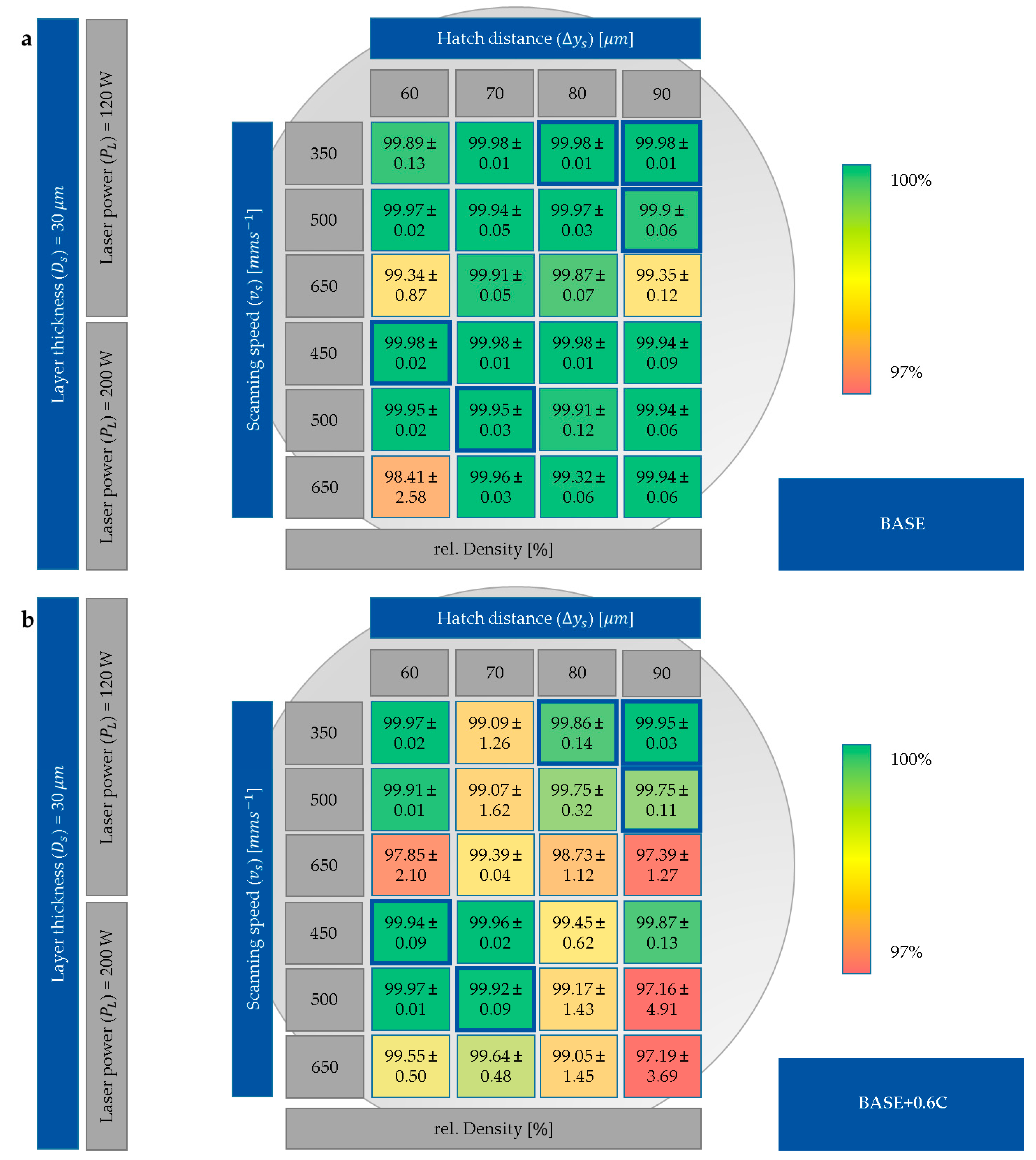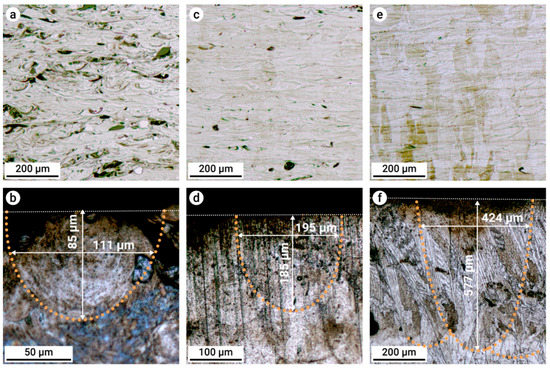 Figure 5. Optical micrographs of etched BASE alloy samples manufactured with energy densities of (a,b) 68, (c,d) 173, and (e,f) 247 J mm−3. Microstructure development is shown (a,c,e) in the center of the sample and (b,d,f) on the uppermost layer of the respective samples. White and orange dotted lines denote the sample surface and the shape of the former melt pool, respectively.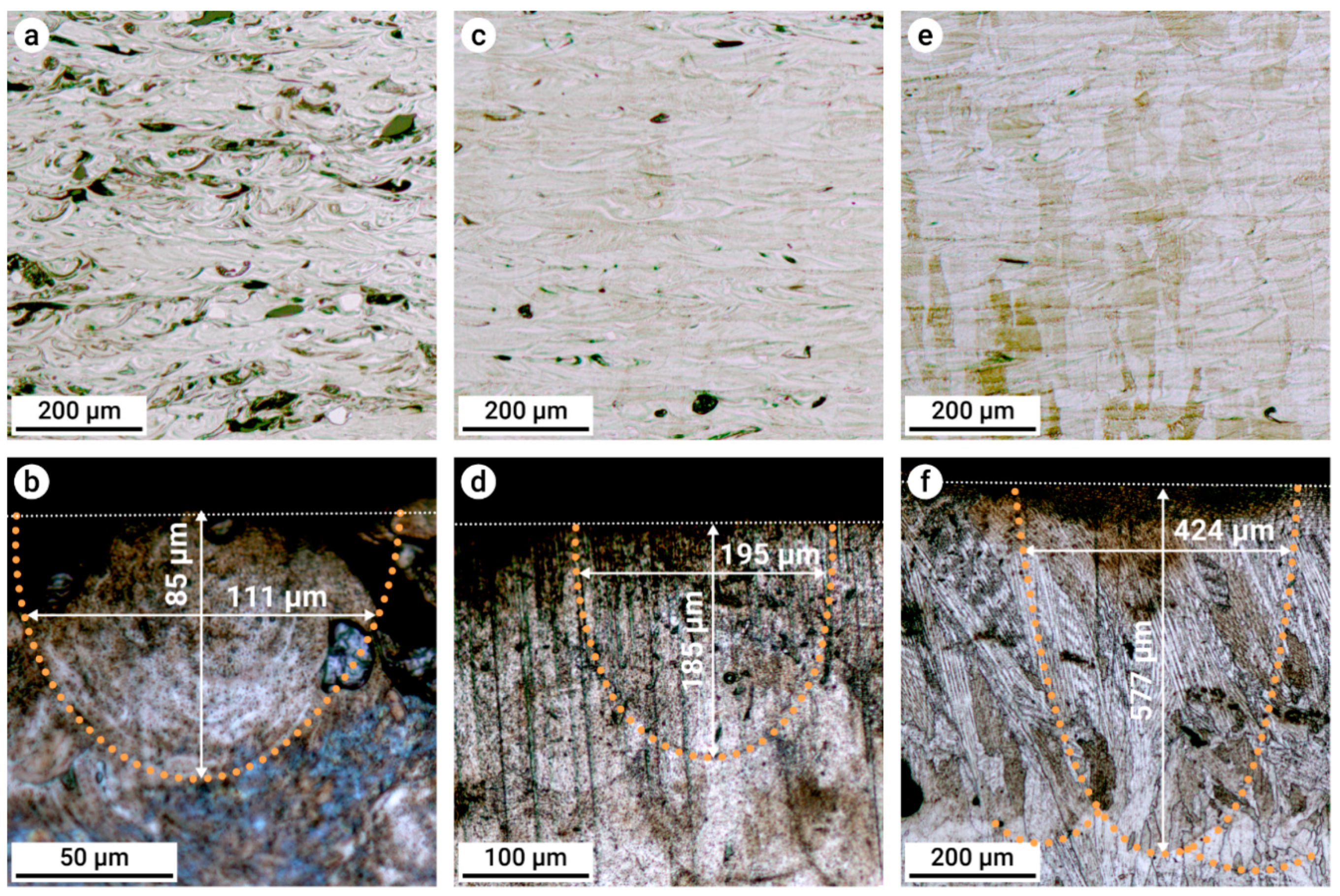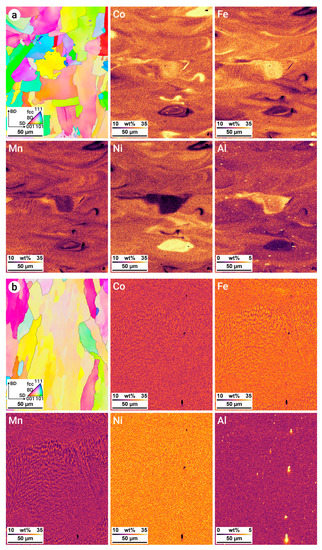 Figure 6. Electron backscatter diffraction (EBSD) and energy-dispersive X-ray spectroscopy (EDS) area maps for the BASE multi-principal element alloys (MPEAs) manufactured with energy densities of (a) 143 and (b) 247 J mm−3. Lower energy densities resulted in regions locally enriched in Co, Fe, and Ni, while higher values produced a more homogeneous elemental distribution. The color-coding of the EBSD maps refers to an inverse pole figure with the build-up direction (BD) as a reference axis.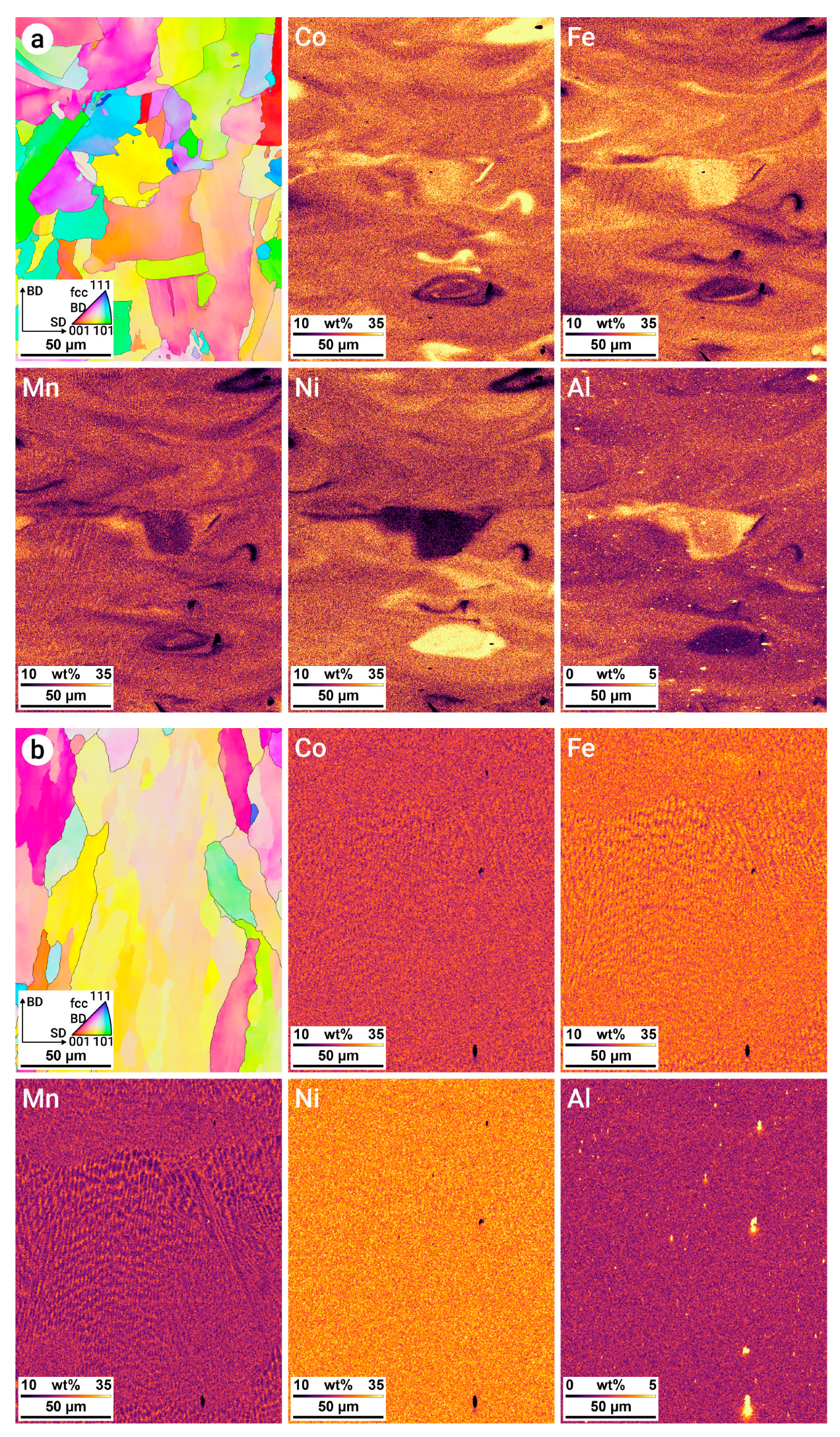 Figure 7. Engineering stress–strain curves of the (a) BASE and (b) BASE + 0.6C alloys processed with the shown energy densities. Total elongation was drastically reduced, whereas strength increased slightly at low energy densities. The addition of 0.6 wt% C led to strongly increased strength and ductility.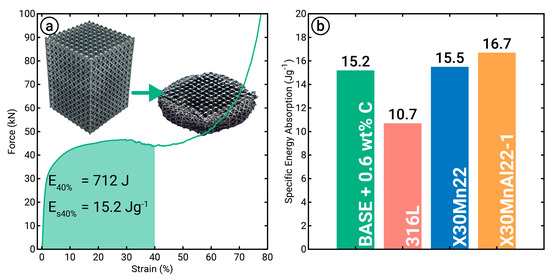 Figure 8.
(
a
) Force-engineering strain curve of the BASE + 0.6C lattice structure during compression testing. The sample was manufactured using an energy density of 173 J mm
−3
. (
b
) Comparison of the specific absorbed energy to lattice structures [
18
] of the same geometry (f
2
cc
z
type, 500 µm struts, 3 mm cell width) but different material.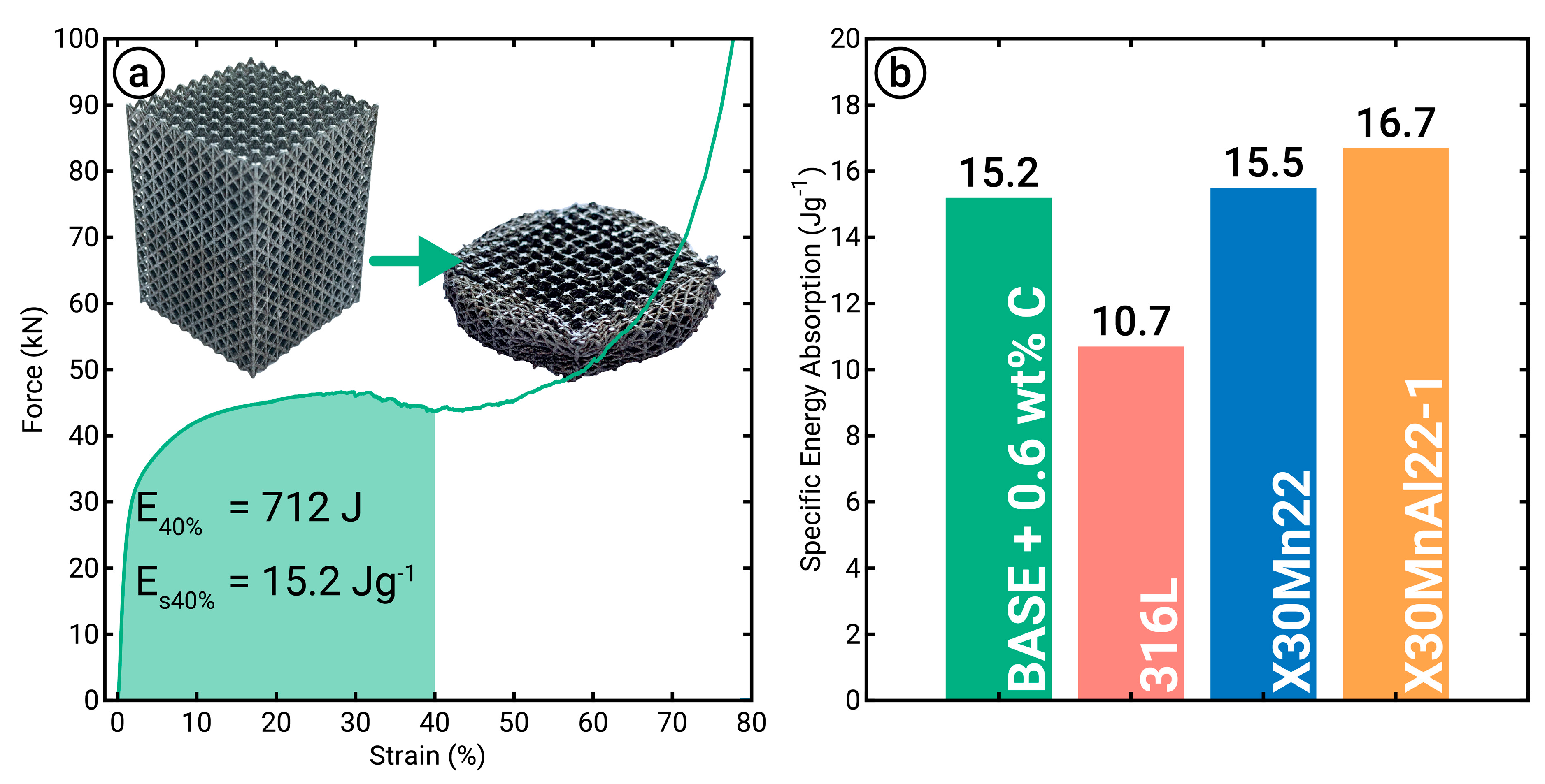 | Powder | Manufacturing Method | Particle Size Distribution (μm) | Form | Flowability as Avalanche Angle (°) | Laser Absorption for 1064 nm (%) | Bulk Density (g·ml−1) |
| --- | --- | --- | --- | --- | --- | --- |
| Al | gas-atomized (Ar) | 10–45 | spherical | 58 ± 0.18 | 48 ± 0.33 | 1.31 ± 0.02 |
| C | ground | up to 45 | flake-shaped | 62 ± 0.18 | 90 ± 0.29 | 0.54 ± 0.02 |
| Co | water-atomized | 15–45 | splash-shaped | 48 ± 0.10 | 73 ± 0.06 | 3.40 ± 0.02 |
| Fe | gas-atomized (Ar) | 10–45 | spherical | 56 ± 0.18 | 74 ± 0.65 | 4.03 ± 0.03 |
| Mn | ground | up to 45 | flake-shaped | 52 ± 0.09 | 73 ± 0.09 | 2.50 ± 0.02 |
| Ni | gas-atomized (Ar) | 15–45 | spherical | 55 ± 0.19 | 65 ± 0.34 | 4.55 ± 0.02 |
Alloy
Element
Al
C
Co
Fe
Mn
Ni
BASE
(at%)
6.14
–
23.46
23.46
23.46
23.46
(wt%)
3.00
–
25.03
23.72
23.33
24.93
BASE + 0.6C
(at%)
6.01
2.70
22.82
22.82
22.82
22.82
(wt%)
3.00
0.60
24.87
23.57
23.19
24.77
| Element | Al | C | Co | Fe | Mn | Ni |
| --- | --- | --- | --- | --- | --- | --- |
| Melting temperature (°C) | 660 | – | 1495 | 1538 | 1246 | 1455 |
| Evaporation temperature (°C) | 2470 | 4827 | 2870 | 2862 | 2061 | 2732 |

© 2019 by the authors. Licensee MDPI, Basel, Switzerland. This article is an open access article distributed under the terms and conditions of the Creative Commons Attribution (CC BY) license (http://creativecommons.org/licenses/by/4.0/).