Structural, Mechanical, Anisotropic, and Thermal Properties of AlAs in
o

C12 and

h

P6 Phases under Pressure

Key Laboratory of Ministry of Education for Wide Band-Gap Semiconductor Materials and Devices, School of Microelectronics, Xidian University, Xi'an 710071, China

*

Author to whom correspondence should be addressed.

Received: 30 March 2018 / Revised: 26 April 2018 / Accepted: 3 May 2018 / Published: 7 May 2018
Abstract
The structural, mechanical, anisotropic, and thermal properties of
o
C12-AlAs and
h
P6-AlAs under pressure have been investigated by employing first-principles calculations based on density functional theory. The elastic constants, bulk modulus, shear modulus, Young's modulus,
B
/
G
ratio, and Poisson's ratio for
o
C12-AlAs and
h
P6-AlAs have been systematically investigated. The results show that
o
C12-AlAs and
h
P6-AlAs are mechanically stable within the considered pressure. Through the study of lattice constants (
a
,
b
, and
c
) with pressure, we find that the incompressibility of
o
C12-AlAs and
h
P6-AlAs is the largest along the
c
-axis. At 0 GPa, the bulk modulus
B
of
o
C12-AlAs,
h
P6-AlAs, and diamond-AlAs are 76 GPa, 75 GPa, and 74 Gpa, respectively, indicating that
o
C12-AlAs and
h
P6-AlAs have a better capability of resistance to volume than diamond-AlAs. The pressure of transition from brittleness to ductility for oC12-AlAs and hP6-AlAs are 1.21 GPa and 2.11 GPa, respectively. The anisotropy of Young's modulus shows that
o
C12-AlAs and
h
P6-AlAs have greater isotropy than diamond-AlAs. To obtain the thermodynamic properties of
o
C12-AlAs and
h
P6-AlAs, the sound velocities, Debye temperature, and minimum thermal conductivity at considered pressure were investigated systematically. At ambient pressure,
o
C12-AlAs (463 K) and
h
P6-AlAs (471 K) have a higher Debye temperature than diamond-AlAs (433 K). At
T
= 300 K,
h
P6-AlAs (0.822 W/cm·K
−1
) has the best thermal conductivity of the three phases, and
o
C12-AlAs (0.809 W/cm·K
−1
) is much close to diamond-AlAs (0.813 W/cm·K
−1
).
View Full-Text
►

▼

Figures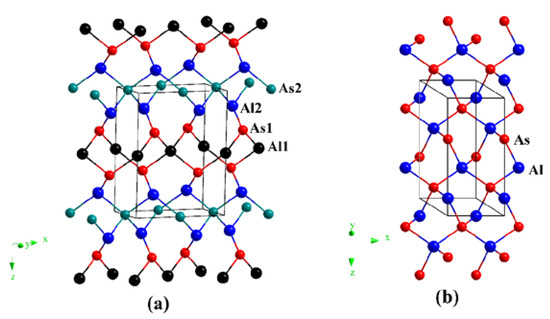 Figure 1
This is an open access article distributed under the
Creative Commons Attribution License
which permits unrestricted use, distribution, and reproduction in any medium, provided the original work is properly cited (CC BY 4.0).

Share & Cite This Article
MDPI and ACS Style
Zhang, W.; Chai, C.; Song, Y.; Fan, Q.; Yang, Y. Structural, Mechanical, Anisotropic, and Thermal Properties of AlAs in oC12 and hP6 Phases under Pressure. Materials 2018, 11, 740.
Note that from the first issue of 2016, MDPI journals use article numbers instead of page numbers. See further details here.
Related Articles
Comments
[Return to top]