Polyvinyl Alcohol Reinforced Flame-Retardant Polyacrylonitrile Composite Fiber Prepared by Boric Acid Cross-Linking and Phosphorylation
1
School of Textiles, Tianjin Polytechnic University, Tianjin 300387, China
2
Key Laboratory of Advanced Textile Composite, Ministry of Education, Tianjin Polytechnic University, Tianjin 300387, China
3
School of Materials Science and Engineering, Tianjin Polytechnic University, Tianjin 300387, China
*
Author to whom correspondence should be addressed.
Received: 26 October 2018 / Revised: 20 November 2018 / Accepted: 26 November 2018 / Published: 27 November 2018
Abstract
To improve the strength and maintain the inherent properties of flame-retardant polyacrylonitrile (FR-PAN) fiber, a commercialized hydrocarbon polymer, i.e., poly (vinyl alcohol) (PVA), used as an enhancement component, was blended with polyacrylonitrile (PAN) spinning dope to fabricate a PVA/PAN composite fiber through wet-spun technology. Then, cross-linked PVA/PAN composite fiber (C-PVA/PAN) was acquired via boric acid cross-linking. Finally, flame-retardant C-PVA/PAN fiber (FR-PVA/PAN) was prepared by phosphorylation. The structures of the samples were characterized by Fourier transform infrared analysis (FTIR) and X-ray photoelectron spectroscopy (XPS). The thermogravimetric analysis (TGA) results reveal that the thermal stability of the composite fiber is lower than that of the pristine PAN fiber. However, the char residue of the composite fiber is higher than that of the control sample, wherein, FR-PVA/PAN has the highest char residue of 62.5 wt% at 800 °C. The results regarding the combustion properties of FR-PVA/PAN show that the fire hazard of FR-PVA/PAN is restrained greatly, indicating excellent flame-retardant performance. The corresponding flame-retardant mechanism of FR-PAV/PAN is investigated by Pyrolysis gas chromatography and mass spectrometry (Py-GC/MS) and thermogravimetric analysis coupled with Fourier transform infrared analysis (TG-FTIR). The results indicate the gas-phase and condensed-phase flame-retardant mechanisms.
View Full-Text
►

▼

Figures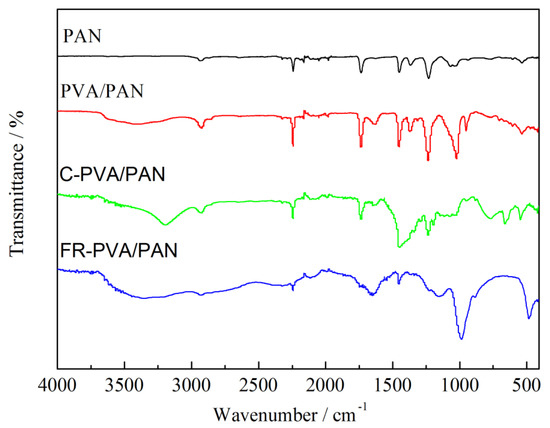 Figure 1
This is an open access article distributed under the
Creative Commons Attribution License
which permits unrestricted use, distribution, and reproduction in any medium, provided the original work is properly cited (CC BY 4.0).

Share & Cite This Article
MDPI and ACS Style
Ren, Y.; Tian, T.; Jiang, L.; Liu, X.; Han, Z. Polyvinyl Alcohol Reinforced Flame-Retardant Polyacrylonitrile Composite Fiber Prepared by Boric Acid Cross-Linking and Phosphorylation. Materials 2018, 11, 2391.
Note that from the first issue of 2016, MDPI journals use article numbers instead of page numbers. See further details here.
Related Articles
Comments
[Return to top]