The Effects of a Macromolecular Charring Agent with Gas Phase and Condense Phase Synergistic Flame Retardant Capability on the Properties of PP/IFR Composites
1
School of Materials Science and Engineering, Wuhan University of Technology, 122 Luoshi Road, Wuhan 430070, Hubei, China
2
State Key Laboratory of Advanced Technology for Materials Synthesis and Processing, Wuhan University of Technology, 122 Luoshi Road, Wuhan 430070, Hubei, China
3
Lehrstuhl füCarbon Composites, Technische Universitaet Muenchen (TUM), 80333 Munich, Germany
*
Author to whom correspondence should be addressed.
Received: 12 December 2017 / Revised: 29 December 2017 / Accepted: 11 January 2018 / Published: 11 January 2018
Abstract
In order to improve the efficiency of intumescent flame retardants (IFRs), a novel macromolecular charring agent named poly(ethanediamine-1,3,5-triazine-p-4-amino-2,2,6,6-tetramethylpiperidine) (PETAT) with gas phase and condense phase synergistic flame-retardant capability was synthesized and subsequently dispersed into polypropylene (PP) in combination with ammonium polyphosphate (APP) via a melt blending method. The chemical structure of PETAT was investigated by Fourier transform infrared spectroscopy (FTIR), and
1
H nuclear magnetic resonance (NMR) spectroscopy. Thermal properties of the PETAT and IFR systems were tested by thermogravimetric-derivative thermogravimetric analysis (TGA-DTG) and thermogravimetry–Fourier transform infrared spectroscopy (TG-FTIR). The mechanical properties, thermal stability, flame-retardant properties, water resistance, and structures of char residue in flame-retardant composites were characterized using tensile and flexural strength property tests, TGA, limiting oxygen index (LOI) values before and after soaking, underwritten laboratory-94 (UL-94) vertical burning test, cone calorimetric test (CCT), scanning electron microscopy with energy dispersive X-ray spectrometry (SEM-EDXS), and FTIR. The results indicated that PETAT was successfully synthesized, and when the ratio of APP to PETAT was 2:1 with 25 wt % loading, the novel IFR system could reduce the deterioration of tensile strength and enhance the flexural strength of composites. Meanwhile, the flame-retardant composite was able to pass the UL-94 V-0 rating with an LOI value of 30.3%, and the peak of heat release rate (PHRR), total heat release (THR), and material fire hazard values were considerably decreased compared with others. In addition, composites also exhibited excellent water resistance properties compared with traditional IFR composites. SEM-EDXS and FTIR analyses of the char residues, as well as TG-FTIR analyses of IFR were used to investigate the flame-retardant mechanism of the APP/PETAT IFR system. The results indicated that the efficient flame retardancy of PP/IFR composites could be attributed to the synergism of the free radical-quenching and char layer-protecting mechanisms in the gas phase and condense phase, respectively.
View Full-Text
►

▼

Figures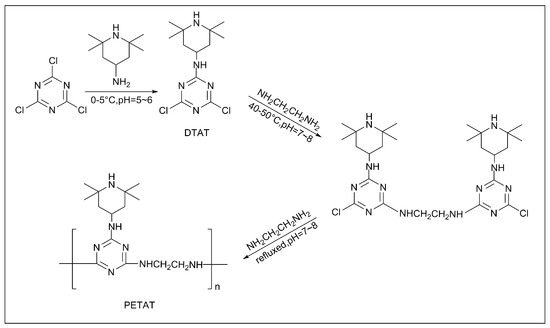 Figure 1
This is an open access article distributed under the
Creative Commons Attribution License
which permits unrestricted use, distribution, and reproduction in any medium, provided the original work is properly cited (CC BY 4.0).

Share & Cite This Article
MDPI and ACS Style
Chen, H.; Wang, J.; Ni, A.; Ding, A.; Han, X.; Sun, Z. The Effects of a Macromolecular Charring Agent with Gas Phase and Condense Phase Synergistic Flame Retardant Capability on the Properties of PP/IFR Composites. Materials 2018, 11, 111.
Note that from the first issue of 2016, MDPI journals use article numbers instead of page numbers. See further details here.
Related Articles
Comments
[Return to top]