The Effects of Particle Size, Different Corn Stover Components, and Gas Residence Time on Torrefaction of Corn Stover
Department of Agricultural and Biosystems Engineering, Iowa State University, 100 Davidson Hall, Ames, IA 50011, USA
*
Author to whom correspondence should be addressed.
Received: 20 February 2012 / Revised: 31 March 2012 / Accepted: 17 April 2012 / Published: 23 April 2012
Abstract
Large scale biofuel production will be possible only if significant quantities of biomass feedstock can be stored, transported, and processed in an economic and sustainable manner. Torrefaction has the potential to significantly reduce the cost of transportation, storage, and downstream processing through the improvement of physical and chemical characteristics of biomass. The main objective of this study was to investigate the effects of particle size, plant components, and gas residence time on the production of torrefied corn (
Zea mays
) stover. Different particle sizes included 0.85 mm and 20 mm. Different stover components included ground corn stover, whole corn stalk, stalk shell and pith, and corn cob shell. Three different purge gas residence times were employed to assess the effects of interaction of volatiles and torrefied biomass. Elemental analyses were performed on all of the samples, and the data obtained was used to estimate the energy contents and energy yields of different torrefied biomass samples. Particle density, elemental composition, and fiber composition of raw biomass fractions were also determined. Stalk pith torrefied at 280 °C and stalk shell torrefied at 250 °C had highest and lowest dry matter loss, of about 44% and 13%, respectively. Stalk pith torrefied at 250 °C had lowest energy density of about 18–18.5 MJ/kg, while cob shell torrefied at 280 °C had the highest energy density of about 21.5 MJ/kg. The lowest energy yield, at 59%, was recorded for stalk pith torrefied at 280 °C, whereas cob and stalk shell torrefied at 250 °C had highest energy yield at 85%. These differences were a consequence of the differences in particle densities, hemicellulose quantities, and chemical properties of the original biomass samples. Gas residence time did not have a significant effect on the aforementioned parameters.
View Full-Text
►

▼

Figures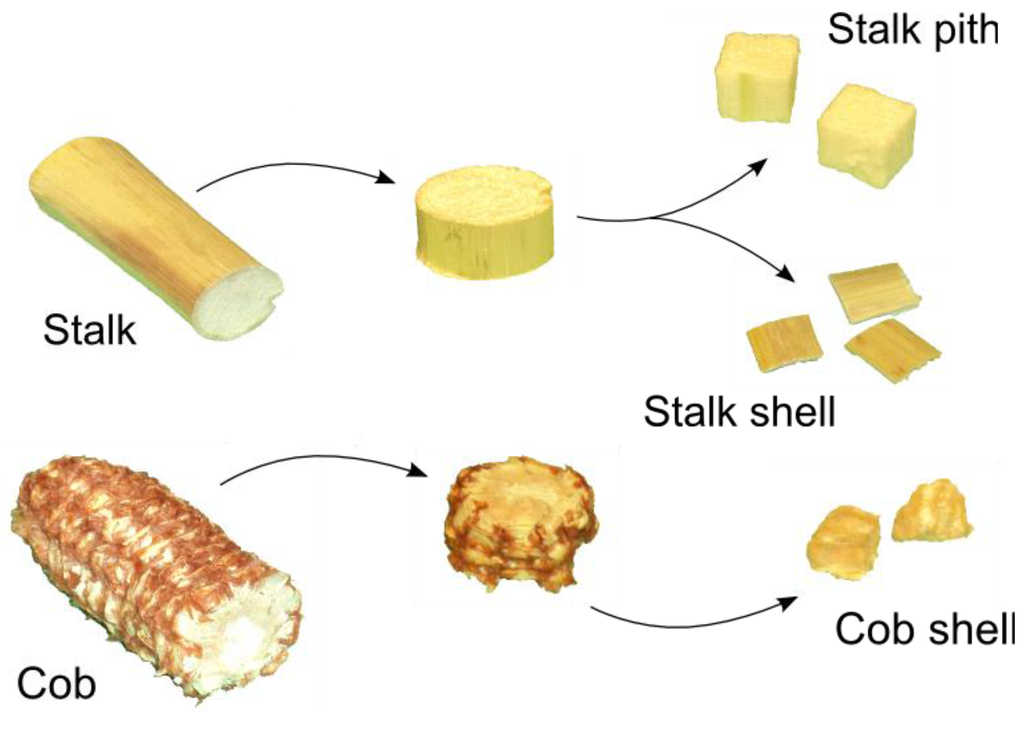 Figure 1

Share & Cite This Article
MDPI and ACS Style
Medic, D.; Darr, M.; Shah, A.; Rahn, S. The Effects of Particle Size, Different Corn Stover Components, and Gas Residence Time on Torrefaction of Corn Stover. Energies 2012, 5, 1199-1214.
Related Articles
Comments
[Return to top]