Optimum Thermal Concentration of Solar Thermoelectric Generators (STEG) in Realistic Meteorological Condition
1
Department of Agricultural Machinery Engineering, Faculty of Agricultural Engineering and Technology, University of Tehran, Karaj 31787, Iran
2
Laboratory of Organic Electronics, Department of Science and Technology, Linköping University, 60174 Norrköping, Sweden
3
Materials and Energy Research Center, Imam Khomeini Blvd, Meshkin-Dasht, Karaj 31787, Iran
4
Department of Energy Technology, Aalborg University, Pontoppidanstraede 111, 9220 Aalborg, Denmark
*
Authors to whom correspondence should be addressed.
Received: 24 August 2018 / Revised: 6 September 2018 / Accepted: 10 September 2018 / Published: 13 September 2018
Abstract
Global warming and air pollution concerns make renewable energies inevitable. Thermoelectric (TE) generators—solid-state devices which can convert thermal energy into electricity—are one of the candidates to capture the energy of the sun's rays. Impact of high thermal on flat panel Solar Thermoelectric Generator (STEG) performance is known. In this research, a method to optimize thermal concentration in realistic terrestrial condition is introduced. To this end, a Simulink model of the STEG was developed, and module performance curves are determined. According to the results, Thermal concentration in realistic condition is more than double, compared to standard condition. The efficiency of the STEG was 4.5%, 6.8%, and 7.7% when the module figure of merit (ZT) was set to 0.8, 1.2, and 1.5, respectively, in locations with a higher ratio of diffused radiation (e.g., Aalborg and Denmark). These values corresponded to 70%, 106%, and 121% of the electrical power produced by parabolic troughs under the same meteorological condition. Furthermore, the possibility of controlling the ratio of heat and electricity in the cogeneration system is possible by controlling the heating flow or electric current. Heating flow can be controlled by the electrical current in STEG over 17 percent of its value in optimum condition.
View Full-Text
►

▼

Figures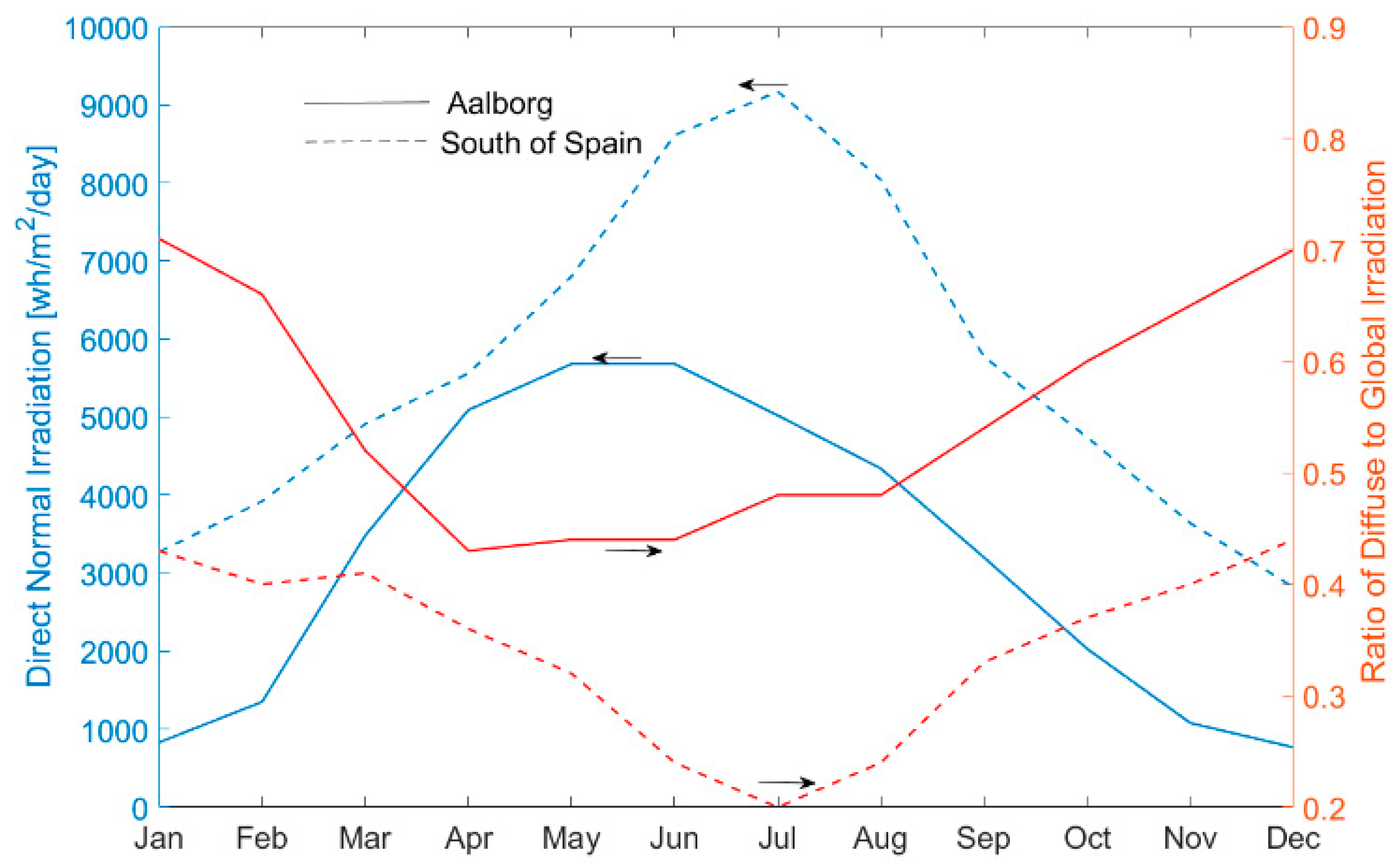 Figure 1
This is an open access article distributed under the
Creative Commons Attribution License
which permits unrestricted use, distribution, and reproduction in any medium, provided the original work is properly cited (CC BY 4.0).

Share & Cite This Article
MDPI and ACS Style
Karami Rad, M.; Omid, M.; Rajabipour, A.; Tajabadi, F.; Aistrup Rosendahl, L.; Rezaniakolaei, A. Optimum Thermal Concentration of Solar Thermoelectric Generators (STEG) in Realistic Meteorological Condition. Energies 2018, 11, 2425.
Note that from the first issue of 2016, MDPI journals use article numbers instead of page numbers. See further details here.
Related Articles
Comments
[Return to top]