Insertion of Mono- vs. Bi- vs. Trivalent Atoms in Prospective Active Electrode Materials for Electrochemical Batteries: An ab Initio Perspective
Department of Mechanical Engineering, Faculty of Engineering, National University of Singapore, Block EA #07-08, 9 Engineering Drive 1, Singapore 117576, Singapore
*
Author to whom correspondence should be addressed.
Received: 30 October 2017 / Revised: 29 November 2017 / Accepted: 30 November 2017 / Published: 5 December 2017
Abstract
Rational design of active electrode materials is important for the development of advanced lithium and post-lithium batteries. Ab initio modeling can provide mechanistic understanding of the performance of prospective materials and guide design. We review our recent comparative ab initio studies of lithium, sodium, potassium, magnesium, and aluminum interactions with different phases of several actively experimentally studied electrode materials, including monoelemental materials carbon, silicon, tin, and germanium, oxides TiO
2
and V
x
O
y
as well as sulphur-based spinels MS
2
(M = transition metal). These studies are unique in that they provided reliable comparisons, i.e., at the same level of theory and using the same computational parameters, among different materials and among Li, Na, K, Mg, and Al. Specifically, insertion energetics (related to the electrode voltage) and diffusion barriers (related to rate capability), as well as phononic effects, are compared. These studies facilitate identification of phases most suitable as anode or cathode for different types of batteries. We highlight the possibility of increasing the voltage, or enabling electrochemical activity, by amorphization and
p
-doping, of rational choice of phases of oxides to maximize the insertion potential of Li, Na, K, Mg, Al, as well as of rational choice of the optimum sulfur-based spinel for Mg and Al insertion, based on ab initio calculations. Some methodological issues are also addressed, including construction of effective localized basis sets, applications of Hubbard correction, generation of amorphous structures, and the use of
a posteriori
dispersion corrections.
View Full-Text
►

▼

Figures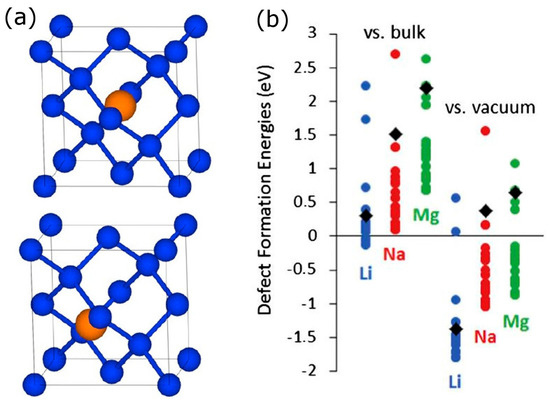 Figure 1
This is an open access article distributed under the
Creative Commons Attribution License
which permits unrestricted use, distribution, and reproduction in any medium, provided the original work is properly cited (CC BY 4.0).
Supplementary material
Externally hosted supplementary file 1
Doi: N/A
Link: http://N/A
Description: permissions to reuse some figures

Share & Cite This Article
MDPI and ACS Style
Kulish, V.V.; Koch, D.; Manzhos, S. Insertion of Mono- vs. Bi- vs. Trivalent Atoms in Prospective Active Electrode Materials for Electrochemical Batteries: An ab Initio Perspective. Energies 2017, 10, 2061.
Note that from the first issue of 2016, MDPI journals use article numbers instead of page numbers. See further details here.
Related Articles
Comments
[Return to top]