Organophosphorus and Carbamate Pesticide Residues Detected in Water Samples Collected from Paddy and Vegetable Fields of the Savar and Dhamrai Upazilas in Bangladesh
1
Agrochemicals and Environmental Research Division, Institute of Food & Radiation Biology, Atomic Energy Research Establishment, Savar, Dhaka 1349, Bangladesh
2
Department of Biochemistry and Molecular Biology, Jahangirnagar University, Savar, Dhaka 1342, Bangladesh
3
Department of Pharmacology, School of Medical Sciences, Universiti Sains Malaysia, Kubang Kerian, Kelantan 16150, Malaysia
4
Human Genome Centre, School of Medical Sciences, Universiti Sains Malaysia, Kubang Kerian, Kelantan 16150, Malaysia
*
Author to whom correspondence should be addressed.
Received: 23 July 2012 / Revised: 13 August 2012 / Accepted: 5 September 2012 / Published: 11 September 2012
Abstract
Several types of organophosphorous and carbamate pesticides have been used extensively by the farmers in Bangladesh during the last few decades.
Twenty seven water samples collected from both paddy and vegetable fields in the Savar and Dhamrai Upazilas in Bangladesh were analyzed to determine the occurrence and distribution of organo-phosphorus (chlorpyrifos, malathion and diazinon) and carbamate (carbaryl and carbofuran) pesticide residues. A high performance liquid chromatograph instrument equipped with a photodiode array detector was used to determine the concentrations of these pesticide residues. Diazinon and carbofuran were detected in water samples collected from Savar Upazila at 0.9 μg/L and 198.7 μg/L, respectively. Malathion was also detected in a single water sample at 105.2 μg/L from Dhamrai Upazila. Carbaryl was the most common pesticide detected in Dhamrai Upazila at 14.1 and 18.1 μg/L, while another water sample from Dhamrai Upazila was contaminated with carbofuran at 105.2 μg/L. Chlorpyrifos was not detected in any sample. Overall, the pesticide residues detected were well above the maximum acceptable levels of total and individual pesticide contamination, at 0.5 and 0.1 μg/L, respectively, in water samples recommended by the European Economic Community (Directive 98/83/EC). The presence of these pesticide residues may be attributed by their intense use by the farmers living in these areas. Proper handling of these pesticides should be ensured to avoid direct or indirect exposure to these pesticides.
View Full-Text
►

▼

Figures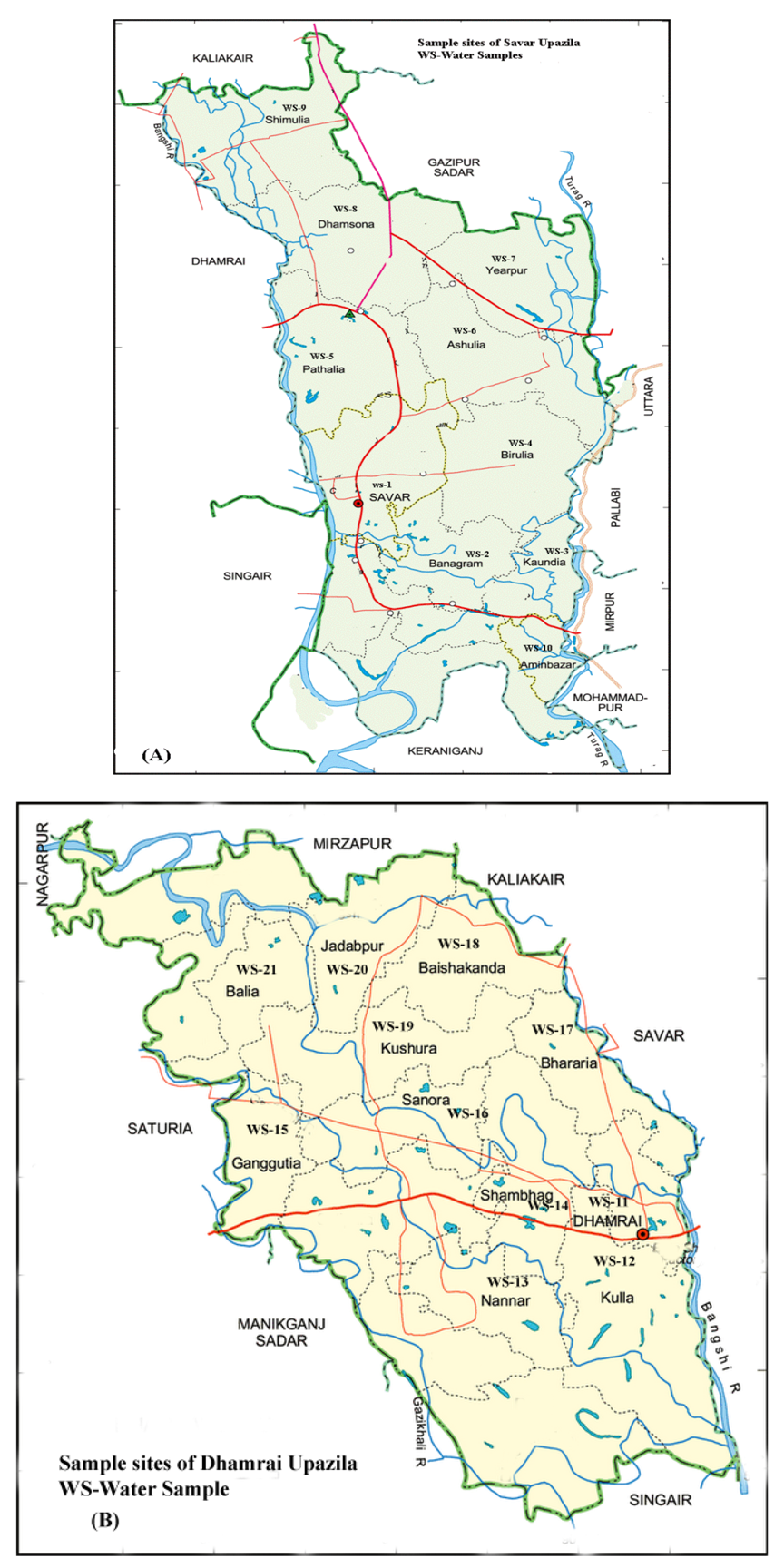 Figure 1

Share & Cite This Article
MDPI and ACS Style
Chowdhury, M.A.Z.; Banik, S.; Uddin, B.; Moniruzzaman, M.; Karim, N.; Gan, S.H. Organophosphorus and Carbamate Pesticide Residues Detected in Water Samples Collected from Paddy and Vegetable Fields of the Savar and Dhamrai Upazilas in Bangladesh. Int. J. Environ. Res. Public Health 2012, 9, 3318-3329.
Related Articles
Comments
[Return to top]