Polycyclic Aromatic Hydrocarbon (PAH) Exposure and DNA Adduct
Semi

-Quantitation in Archived Human Tissues

1

Carcinogen-DNA Interactions Section, National Cancer Institute, Bldg 37, Rm 4032 NIH, 37 Convent Drive, Bethesda, MD 20892, USA

2

Department of Obstetrics and Gynaecology, Royal Free Hospital Hampstead, Pond Street, London, NW3 2QG, UK

3

Section of Molecular Carcinogenesis, Institute of Cancer Research, Brookes Lawley Building, Cotswold Road, Sutton, SM2 5NG, UK

*

Author to whom correspondence should be addressed.

Received: 19 May 2011 / Revised: 22 June 2011 / Accepted: 22 June 2011 / Published: 29 June 2011
Abstract
Polycyclic aromatic hydrocarbons (PAHs) are combustion products of organic materials, mixtures of which contain multiple known and probable human carcinogens. PAHs occur in indoor and outdoor air, as well as in char-broiled meats and fish. Human exposure to PAHs occurs by inhalation, ingestion and topical absorption, and subsequently formed metabolites are either rendered hydrophilic and excreted, or bioactivated and bound to cellular macromolecules. The formation of PAH-DNA adducts (DNA binding products), considered a necessary step in PAH-initiated carcinogenesis, has been widely studied in experimental models and has been documented in human tissues. This review describes immunohistochemistry (IHC) studies, which reveal localization of PAH-DNA adducts in human tissues, and
semi
-quantify PAH-DNA adduct levels using the Automated Cellular Imaging System (ACIS). These studies have shown that PAH-DNA adducts concentrate in: basal and supra-basal epithelium of the esophagus, cervix and vulva; glandular epithelium of the prostate; and cytotrophoblast cells and syncitiotrophoblast knots of the placenta. The IHC photomicrographs reveal the ubiquitous nature of PAH-DNA adduct formation in human tissues as well as PAH-DNA adduct accumulation in specific, vulnerable, cell types. This
semi
-quantative method for PAH-DNA adduct measurement could potentially see widespread use in molecular epidemiology studies.
View Full-Text
►

▼

Figures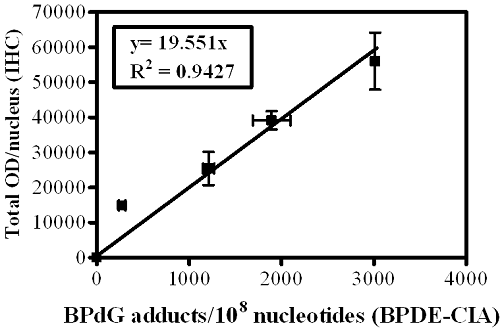 Graphical abstract

Share & Cite This Article
MDPI and ACS Style
Pratt, M.M.; John, K.; MacLean, A.B.; Afework, S.; Phillips, D.H.; Poirier, M.C. Polycyclic Aromatic Hydrocarbon (PAH) Exposure and DNA Adduct Semi-Quantitation in Archived Human Tissues. Int. J. Environ. Res. Public Health 2011, 8, 2675-2691.
Related Articles
Comments
[Return to top]