Open Access This article is
freely available
re-usable
Review
Biological, Psychological, Social, and Legal Aspects of Trans Parenthood Based on a Real Case—A Literature Review
1
Faculty of Nursing N. S. Candelaria, University of La Laguna, 38010 Tenerife, Canary Islands, Spain
2
Faculty of Psychology, University of La Laguna, 38071 Tenerife, Canary Islands, Spain
*
Author to whom correspondence should be addressed.
Received: 20 February 2019 / Accepted: 11 March 2019 / Published: 14 March 2019
Abstract
:
Trans men are people who, based on their genitals, were assigned the status of female at birth. However, their identity and their way of living gender do not correspond to the socially established norms. In this paper, we discuss the different perspectives in relation to transgender people and their desire for parenthood. This review, and the basis of this paper, is inspired by the case of a trans man who desired gestation with his own genetic material. He began the cycle of assisted reproduction when he was a legally recognized woman, but that attempt ended with a miscarriage. From that assisted reproduction cycle, four embryos remained frozen. After the failed experience of gestation, the person completed his transition. Now legally a man, he attempted to gestate using his reproductive organs. This literature review aimed to identify relevant studies describing the relationship between transgender person and biological parenthood. This study comprehensively addresses important aspects one should know when considering a transgender pregnancy. These factors include biological, psychological, social, and legal issues. After reviewing the state-of-the-art information on trans parenthood, the main conclusion is that 'the desire to have a child is not a male or female desire but a human desire'.
Keywords:
transgender person; pregnancy; parenting; assisted reproduction; health legislation; holistic health
1. Introduction
Transgender parenthood opens a debate full of complexities at different levels that have not been sufficiently addressed by the scientific community. However, for people who face the decision to transition to another gender, an integral approach to their situation and to their decision to become parents turn out to be central. We present the case of Dan, a Spanish trans man who wants to have offspring. Dan is currently 38 years old. Ten years ago, as a woman, she went to the fertilization unit of her hospital with her previous partner, another woman, because they wanted to have a child. At that time, Dan underwent ovarian stimulation with subsequent extraction of oocytes and fecundation with donor semen. Four embryos were implanted but were eventually rejected and aborted by Dan's body. Another four embryos currently remain vitrified.
At age 30, Dan started cross-hormone testosterone treatment for a sex change and chest masculinization surgery. After divorcing his previous partner, Dan joined another woman, age 45, with whom he now wishes to have biological offspring. Dan would like to use his frozen embryos, although he does not renounce other ways of parenthood.
According to Spanish legislation, embryos can be used only by the owner couple, in this case, Dan and his first partner. If this does not happen, they must be destroyed, ceded for research purposes, or donated anonymously [
1
]. In Dan's case, his ex-partner does not want to use the embryos herself, but she does not want to give them to Dan either. Currently, he is in the middle of a legal battle for the ownership of the vitrified embryos. Regardless of the judicial opinion, however, Dan wants to proceed with the gestation, either with his own genetic material or that of a donor. Dan wants to have offspring, and he has the physical ability to gestate and carry out the pregnancy to term. It is not the first case referenced in the literature. Other trans men have been able to gestate and breastfeed their own children as a result of the reversibility of certain effects of hormone therapy in the absence of the previous surgery. Until a few years ago, female to male (FtM) therapy involved only a decision regarding the possibility of cryopreservation of ovarian tissue to allow another person, always a woman, to gestate. Currently, there is a strong trend against sex reassignment surgeries that imply changes contrary to the biological possibility of having offspring.
The case of Dan does not leave us indifferent. Trans people have had to fight for many years just to have their individual rights recognized in such basic matters as identification related choosing a name, gaining access to health systems, and nondiscrimination due to gender issues as recognized in the Universal Declaration of Human Rights. In the case of gestation, the very rejection suffered by transgender people and the social impact of the image of a pregnant man supposes not only legal and biological issues for the birth parent but for the development and physical well-being of the fetus as well.
Gestational paternity is a reality today. Even though more and more men are becoming pregnant and having children, the specialized scientific literature describing the experience of trans person gestation remains scarce [
2
,
3
,
4
]. Most of the existing publications offer more controversy than they do knowledge and debate. Moreover, the position of the scientific research has focused on aseptic information and on the biological aspects without analyzing the issue from other multiple perspectives. The demand for the democratization of access to these technological advances in assisted reproduction adds new questions to those already existing. With this article, the authors intend to examine the issue from different perspectives in a way that serves as a starting point to understand the situation. Throughout the document, the term trans is used as an inclusive expression of all trans binary and nonbinary identities.
2. Materials and Methods
To identify previous research and future research needs, the literature review method was applied. A limited systematic review of the literature was conducted using four extensive databases: Academic Search Complete (EBSCO), PubMed, PsycInfo, and Web of Science (WoS). The aim was to identify relevant studies on the relationship between a transgender person and biological–gestational parenthood.
The search was performed from June to September 2018. It retrieved published articles using keywords related to transgender people and biological parenthood using assisted reproduction techniques, according to the legal background and considering psychosocial issues.
The search query included (but was not limited to) terms: (transsexualism (MeSH) OR transgender person OR transgenderism OR sexisms), (reproductive techniques, assisted (MeSH) OR fertility preservation OR sterilisation), (pregnancy (MeSH) OR parenting (MeSH) OR parenthood OR prenatal education), (health legislation (MeSH) OR family law), and (holistic health (MeSH) OR integrative medicine). The results from the literature search were complemented by the author's own collections of relevant documents.
All original research articles published in English or Spanish were considered. No restrictions based on year of publication or methodology were applied. No systematic data extraction or quality evaluation of the included studies was employed.
A total of 706 studies with the main objective of transgender parenthood was identified; of these, 69 studies met the inclusion criteria and were used in this literature review. Abstracts were reviewed for relevance, and relevant manuscripts were reviewed in full. Discussion sessions were held to increase the consensus of the group while screening and analyzing. During the consensus meetings, themes were identified through observation and discussion. Refer to
Figure 1
to see the flow diagram of the search strategy. In general, the literature search resulted in articles that examined biological (or biomedical) aspects, psychological aspects, social aspects or legal aspects. Particularly this last point, legal aspects, was mainly complex due to the diverse legislations in the different countries. In the most recent years, efforts have been made to more accurately describe the multifaceted interactions between transgender people and biological parenthood. However, authors could not find research that considers holistically all these dimensions.
3. Results
An analysis of the data extracted from the 69 included articles revealed four broad themes: Biological or biomedical aspects [
3
,
4
,
5
,
6
,
7
,
8
,
9
,
10
,
11
,
12
,
13
,
14
,
15
,
16
,
17
,
18
,
19
,
20
,
21
,
22
,
23
,
24
], psychological aspects [
3
,
7
,
8
,
9
,
12
,
15
,
16
,
18
,
20
,
25
,
26
,
27
,
28
,
29
,
30
,
31
,
32
,
33
,
34
,
35
,
36
,
37
,
38
,
39
,
40
,
41
], social aspects [
2
,
25
,
37
,
42
,
43
,
44
,
45
,
46
,
47
,
48
,
49
,
50
,
51
,
52
,
53
,
54
,
55
,
56
,
57
,
58
] and legal aspects [
1
,
59
,
60
,
61
,
62
,
63
,
64
,
65
,
66
,
67
,
68
,
69
].
Refer to
Figure 2
to see and overview of the articles and the theme that they align with.
3.1. Biological Aspects
Nonetheless, because pregnancy in the trans male has an important impact on his hormonal balance, it is necessary to find the right time to restart the hormone treatment following the pregnancy. To date, however, there are no studies that explore the optimal time for restarting cross-gender hormone treatment following a pregnancy.
3.2. Psychological Aspects
3.4. Legal Aspects
Nonetheless, as already mentioned, this legislation is not common to all countries. Even with advanced legislation, such as in Spain, there are aspects to which the law does not give a response, thus leaving their resolution to the ethical considerations of experts and committees whose findings are not always fair. For example, one such finding is that a trans person, after his transition, is not legally considered a woman even with his female reproductive organs. This is recorded in his civil registry after having undergone hormonal treatment. The same law that protects him by recognizing his sexual identity discriminates against him by not allowing him to be a potential beneficiary of assisted reproduction techniques. According to this, the person must be a woman to be entitled to these techniques, in contravention of gender discrimination.
4. Discussion
In this literature review, the authors present an integral perspective of trans person gestation whereby trans people who are facing assisted reproduction techniques must struggle with all these facts, with one influencing the other in a holistic life experience of parenthood. Dan's case is an example of how many factors can influence this difficult decision.
Three limitations emerge from this study. The first is that it is not a systematic review; it is a revision of the literature based on the problematic of a specific case. Therefore, there may be documents that have not been incorporated. Nor has a measure been made of the quality of the articles found or the degree of evidence they generate. More depth of research is needed in this area. The wide range of factors and their variability among different cultures and countries (especially in legal and cultural factors as well as access to healthcare) must also be considered, making it difficult to synthesize concrete and extrapolatable ideas to larger populations. Another limitation is that in the studies consulted, most people have not had children before or have had them before the transition. Despite these limitations, literature-based arguments have been gathered for the transparenthood in the biological, social, psychological, and legal context.
As future directions for research, the results of this review identified several biological, social, psychological, and legal factors that impact a trans person's ability to parenthood. Among them, some are negative, so research to find strategies for how to mitigate these factors needs to be explored. Paternity assumes new roles and areas of responsibility specifically defined, and more research is needed to consider trans parenthood holistically.
5. Conclusions
There are different forms of trans parenthood, including biological gestation by the FtM person. The biological paternity, once the person makes the transition (central idea of this study), is unusual, and there are few documented cases and no long-term follow-up studies of the trans individual or the child.
The literature highlights many of the factors that continue to serve as facilitators or barriers for transparenthood. There is no biological, psychological, social or legal constraints or rules preventing trans from gestating, giving birth and breastfeeding their offspring.
International legislation is extremely diverse with respect to the rights of trans people, especially about paternity in general and gestation in particular.
The lack of visibility of the reproductive diversity of trans people means that many trans people do not even consider the reproductive options available to them.
A part of society that still does not agree or accept the practice is often motivated by transphobia. It is a disruption to the very heart of the binary gender construct.
Deciding how, when, and the disclosure (or not) of one's trans status to one's children is considered a challenge, with significant pros and cons in both sides. These positions are related to other variables, such as age and parenthood.
This review also highlights the fact that these factors are often interrelated and somewhat fluid in categorization, with several factors overlapping in multiple categories. The recommendations that arise from this review provide argument and support to show that trans people can perform effective parenthood, with a good control of all these factors.
There is a growing need for more attention and research in this area.
Author Contributions
All authors contributed to the conception, design, and process to develop the final sections of this paper. M.E.d.-C.-P., N.D.L.-R., and J.M.G.-A. drafted the manuscript with inputs from N.D.-R., R.L.-S., C.C.-L., and M.I.S.-A., M.E.d.-C.-P., N.D.L.-R., N.D.-R., and J.M.G.-A. contributed to the review and approved the final work. All authors read and approved the final manuscript.
Funding
This research received no external funding.
Acknowledgments
We acknowledge trans people looking for parenthood, specially Dan, who inspired the writing of this paper.
Conflicts of Interest
The authors declare no conflict of interest.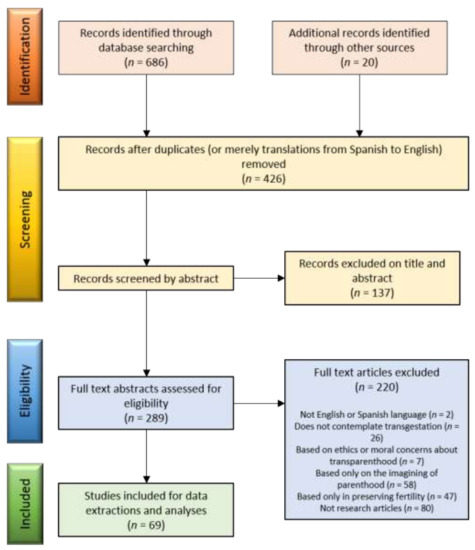 Figure 1. A flowchart showing phases of the literature search for extraction of the most specific literature for the review.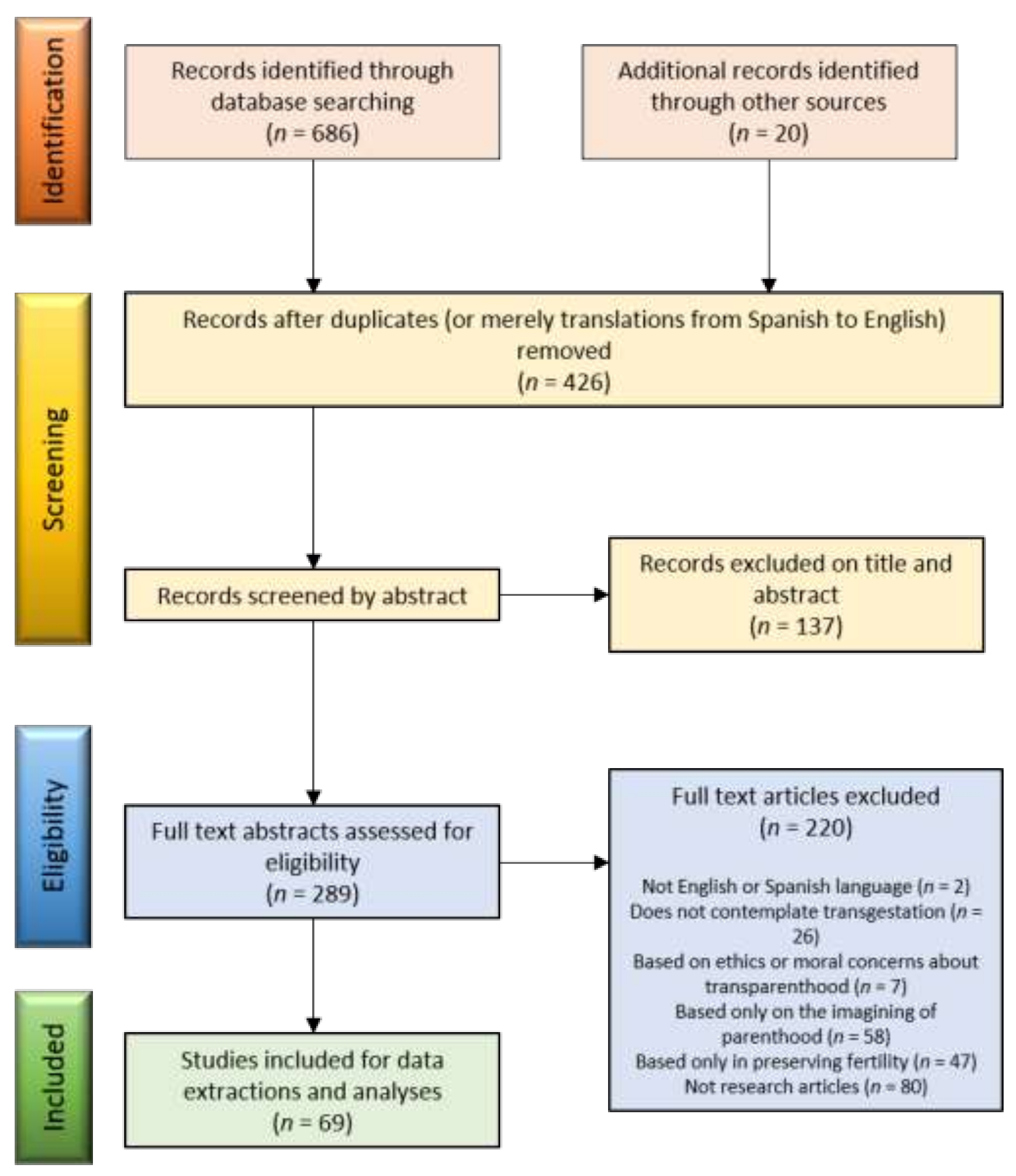 © 2019 by the authors. Licensee MDPI, Basel, Switzerland. This article is an open access article distributed under the terms and conditions of the Creative Commons Attribution (CC BY) license (http://creativecommons.org/licenses/by/4.0/).