Open Access This article is
freely available
re-usable
Review
Management of Endocrinopathies in Pregnancy: A Review of Current Evidence
1
Department of Clinical Pharmacy, University of Medicine and Pharmacy of Craiova, 200349 Craiova, Romania
2
Department of Toxicology, University of Medicine and Pharmacy of Craiova, 200349 Craiova, Romania
3
Scientific Education Center of Nanotechnology, Far Eastern Federal University, Vladivostok 690950, Russia
4
Department of Obstetrics and Gynecology, Mitera Maternity Hospital, 71110 Heraklion, Crete, Greece
5
Department of Forensic Sciences and Toxicology, Faculty of Medicine, University of Crete, 71110 Heraklion, Crete, Greece
6
Department of Obstetrics and Gynecology, Medical School, University of Crete, 71110 Heraklion, Crete, Greece
†
These authors contributed equally to this work.

Received: 28 January 2019 / Accepted: 27 February 2019 / Published: 4 March 2019
Abstract
:
Pregnancy in women with associated endocrine conditions is a therapeutic challenge for clinicians. These disorders may be common, such us thyroid disorders and diabetes, or rare, including adrenal and parathyroid disease and pituitary dysfunction. With the development of assisted reproductive techniques, the number of pregnancies with these conditions has increased. It is necessary to recognize symptoms and correct diagnosis for a proper pharmacotherapeutic management in order to avoid adverse side effects both in mother and fetus. This review summarizes the pharmacotherapy of these clinical situations in order to reduce maternal and fetal morbidity.
Keywords:
pregnancy; pharmacotherapeutic management; thyroid; parathyroid; adrenal disorders; pituitary; diabetes insipidus
1. Introduction
In the first two weeks of pregnancy, the embryo is under "all-or-nothing" law, meaning that a drug could trigger embryonic death or it has no influence at all on the future development of pregnancy. In the next eight weeks until the end of the first trimester (the so-called major and minor organogenesis period) cellular differentiation and organogenesis occur. Any drug given during this period must be verified concerning the potential teratogenic risk and be free from causing congenital malformations. In the second and third trimester, the drugs could induce fetal toxicity, especially at the central nervous system level.
Category A—Randomized control trials were not able to demonstrate any fetal risk in the first trimester of pregnancy, as well as no risk at all in the second and third trimester.

Category B—Studies on experimental animals were not able to demonstrate a fetal risk but there are no well-controlled adequate studies in pregnant women. Most of the drugs are included in this category.

Category C—Studies on experimental animals demonstrated an adverse effect upon fetus and there are no well-controlled adequate studies in pregnant women, but the potential benefits could justify the use of that drug in pregnant women, despite potential risks.

Category D—There are important proofs showing the human fetal risks, starting from data of adverse reactions on experimental animals, or human studies, but the potential benefits could justify the use of drug in pregnant women despite potential risks.

Category X—Studies on experimental animals and/or in humans from previously reported adverse effects or marketing studies demonstrate fetal anomalies and positive evidence on human-fetal risks. The risk of using the drug during pregnancy is far more than the benefits and women taking these drugs should avoid conception using contraceptive measures.
This paper highlights the pharmacotherapeutic management of these conditions in order to avoid maternal and fetal complications during the gestational and postpartum period.
2. The Endocrine Disorders and Pregnancy
Most endocrinopathies associated with pregnancy can lead to maternal and fetal complications. In order to avoid them it is important to be treated properly. The initial diagnosis of many of them is often difficult due to the overlapping of symptoms occurring during normal pregnancy, such as hyperemesis gravidarum and those suggesting specific endocrine diseases, as well as changes in the baseline for common biochemical measurements resulting from physiological changes during pregnancy [
5
]. Hyperemesis gravidarum during pregnancy can be manifested by nausea, vomiting, weakness, drowsiness, poor health, irritability, and depression. It is caused by the increase of the human chorionic gonadotropin hormone (hCG) in the body of a pregnant woman. In the first trimester of pregnancy hCG stimulates the formation of hormones necessary for development and maintenance of pregnancy: progesterone and the estrogens estradiol and free estriol [
5
]. In the normal course of pregnancy, these hormones and human placental lactogen (hPL) will be secreted by the placenta. Placental lactogen hormone actively affects the metabolism, under its influence the intake of amino acids increases to "build" the baby's tissues and cause nausea, headaches and fatigue to the mother [
5
].
3. Conclusions
Pharmacotherapeutic management of endocrine diseases associated with pregnancy is complex and covers fetal, neonatal, and maternal issues that may occur during gestational period. Women with various antenatal diagnosed endocrine diseases should be counseled about the possible complications that may occur along the way. Medication and monitoring should be made by a multidisciplinary team; excessive doses should be avoided.
The management is much more difficult if endocrine disorders are discovered during pregnancy; the symptoms are sometimes indistinguishable from those that occur physiologically during pregnancy. Thyroid disorders are the most common endocrine problems associated with pregnancy, but subclinical thyroid disease treatments generate controversy; the therapeutic target in these cases should be to maintain euthyroidism throughout pregnancy.
The most common of pituitary tumors are microprolactinomas. If they have macroprolactinomas, pregnant women should be tested constantly for visual field. In both cases it is important that patients be counseled about the occurrence of intense headache requiring emergency medical presentation as tumor expansion may compromise the optic chiasm.
Clinical suspicion for Cushing's syndrome, pheochromocytoma, and Conn's syndrome should be considered in women with high blood pressure who do not respond to classic, conventional treatment during pregnancy.
Author Contributions
D.C., A.O.D., and K.S.D. contributed to drafting and writing the manuscript and were responsible for the collection of relevant literatures. S.S., A.T., and A.M. contributed to the conception of the figure, interpreted the results, and revised the manuscript critically for important intellectual content. All the authors read and approved the final manuscript.
Funding
This research received no external funding.
Acknowledgments
This work was supported in part by the Internal Grant 162/2018 of University of Medicine and Pharmacy of Craiova.
Conflicts of Interest
The authors declare no conflicts of interest.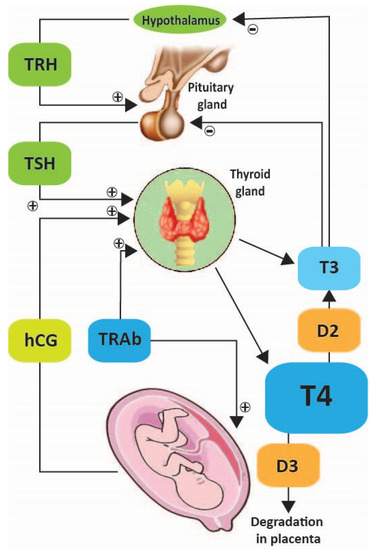 Figure 1. Pregnancy and hypothalamic pituitary thyroid axis. T4—Tetraiodothyronin, T3—Triiodothyronine, TRH—Thyrotropin-releasing hormone, TSH—Tyroid Stimulator Hormone, TRAb—TSH Receptor Auto Antibodies, hCG—human Chorionic Gonadotropin, D3—type 3 iodothyronine deiodinase.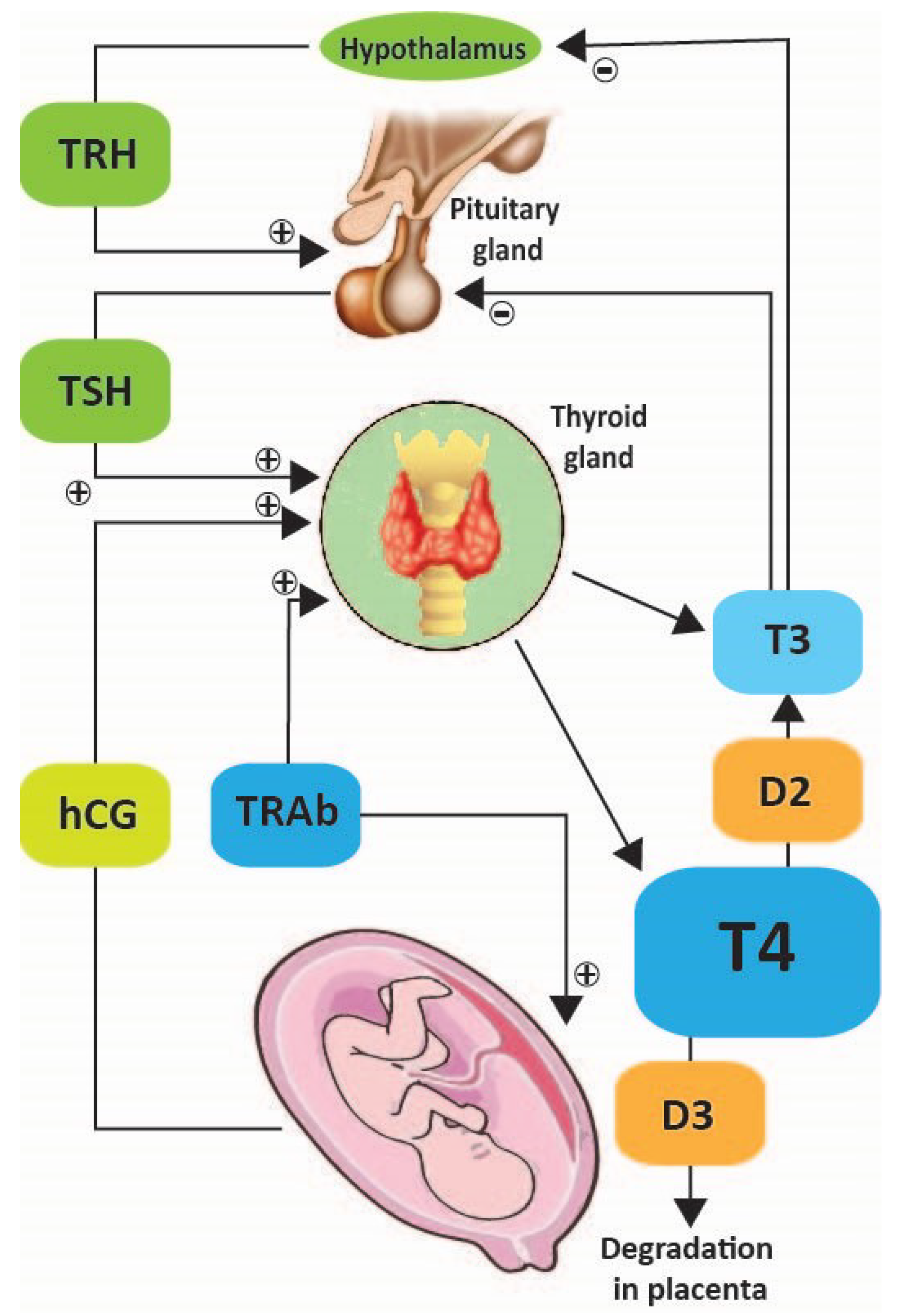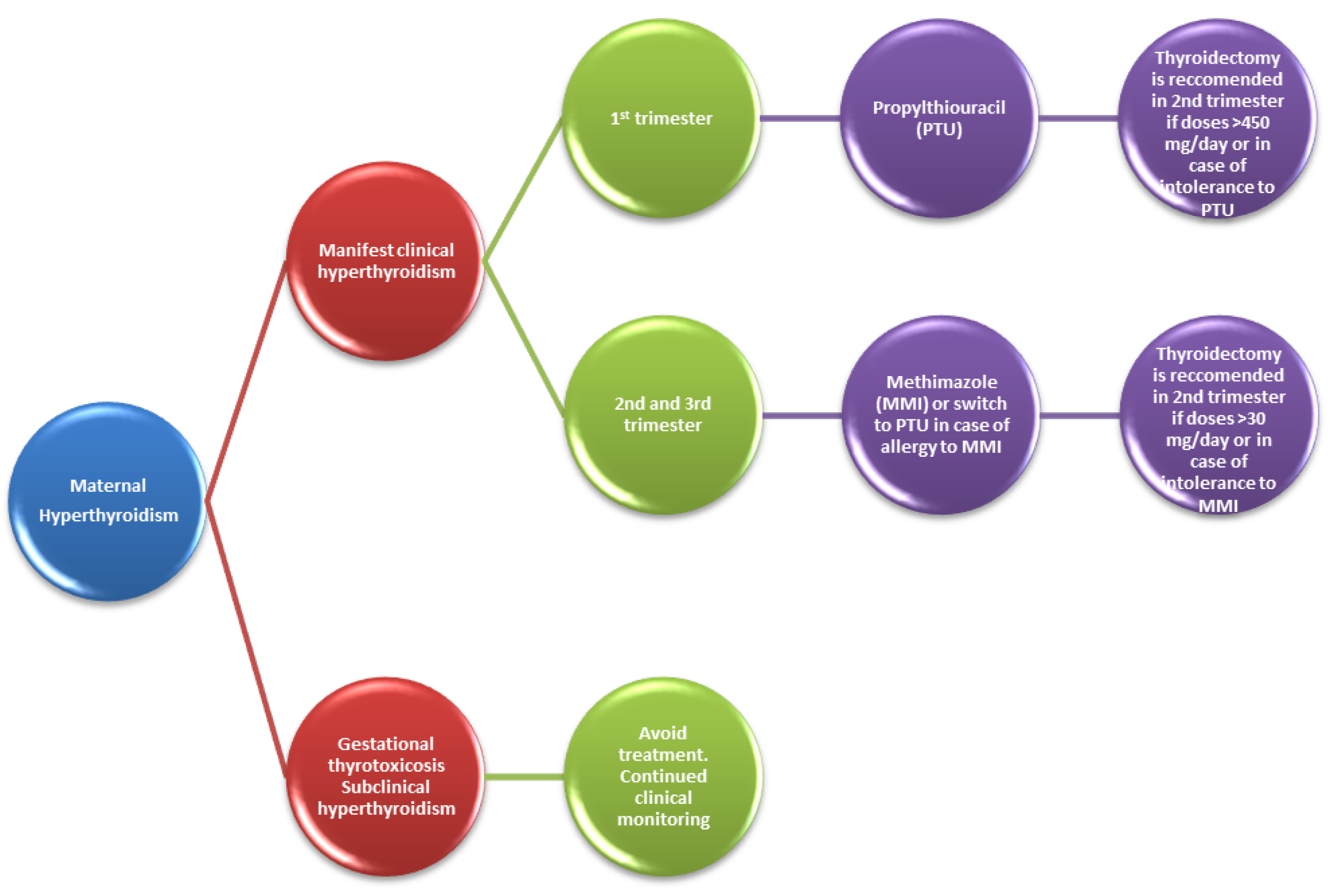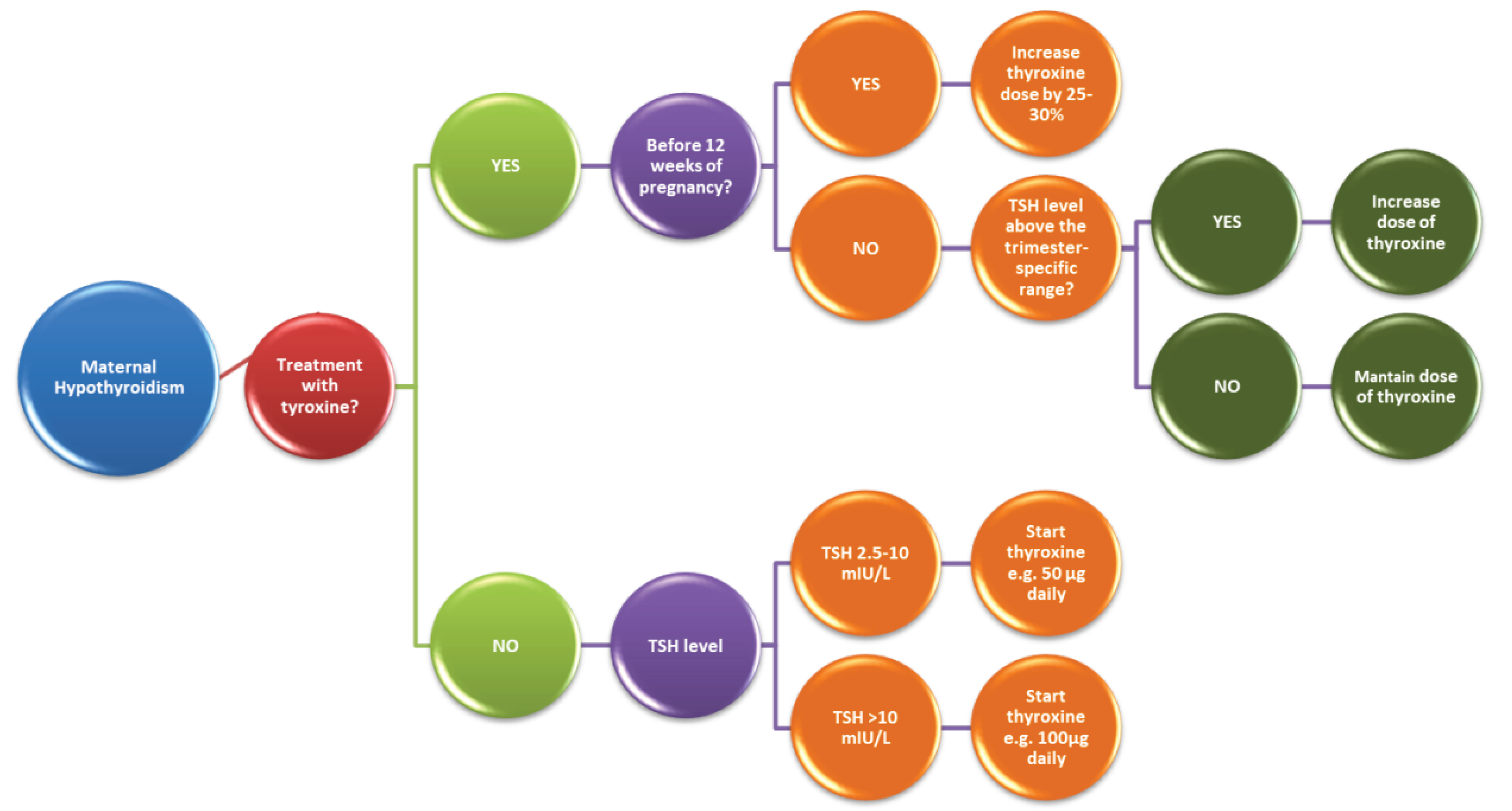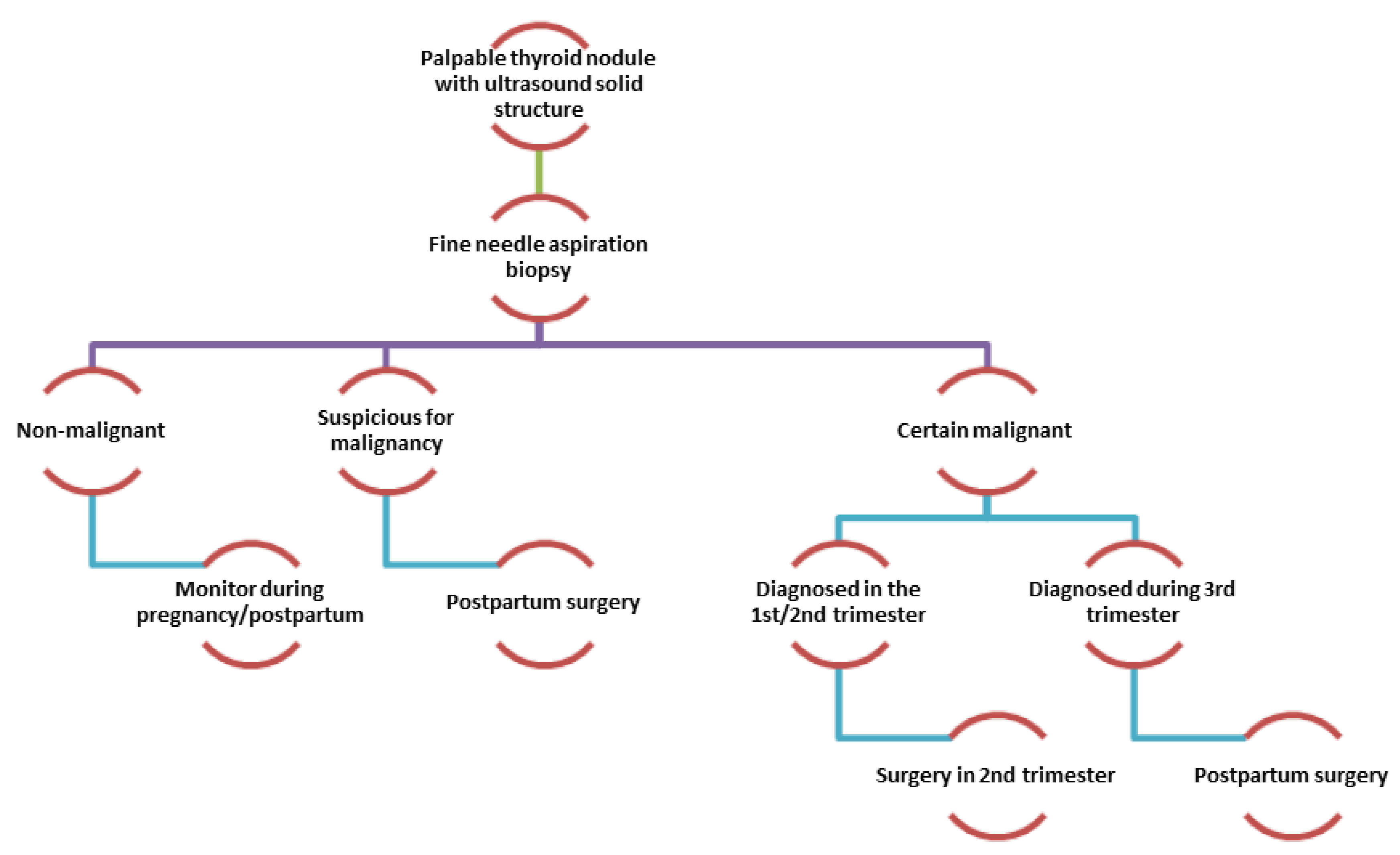 © 2019 by the authors. Licensee MDPI, Basel, Switzerland. This article is an open access article distributed under the terms and conditions of the Creative Commons Attribution (CC BY) license (http://creativecommons.org/licenses/by/4.0/).