Open Access This article is
freely available
re-usable
Article
Generalizability of Total Worker Health® Online Training for Young Workers
1
Department of Occupational and Environmental Health, University of Iowa, Iowa City, IA 52242, USA
2
Oregon Institute of Occupational Health Sciences, Oregon Health & Science University, Portland, OR 97239, USA
3
Confluence Health, Wenatchee, WA 98801, USA
*
Author to whom correspondence should be addressed.
Received: 18 January 2019 / Accepted: 12 February 2019 / Published: 16 February 2019
Abstract
:
Young workers (under 25-years-old) are at risk of workplace injuries due to inexperience, high-risk health behaviors, and a lack of knowledge about workplace hazards. Training based on Total Worker Health® (TWH) principles can improve their knowledge of and ability to identify hazards associated with work organization and environment. In this study, we assessed changes to knowledge and behavior following an online safety and health training between two groups by collecting information on the demographic characteristics, knowledge, and self-reported behaviors of workplace health and safety at three different points in time. The participants' age ranged from 15 to 24 years. Age adjusted results exhibited a significant increase in knowledge immediately after completing the training, although knowledge decreased in both groups in the follow-up. Amazon Marketplace Mechanical Turk (MTurk) participants demonstrated a greater increase in knowledge, with a significantly higher score compared to the baseline, indicating retention of knowledge three months after completing the training. The majority of participants in both groups reported that they liked the Promoting U through Safety and Health (PUSH) training for improving health and safety and that the training should be provided before starting a job. Participants also said that the training was interactive, informative and humorous. The participants reported that the PUSH training prepared them to identify and control hazards in their workplace and to communicate well with the supervisors and coworkers about their rights. Training programs based on TWH improves the safety, health and well-being of young workers.
Keywords:
young workers; training; Total Worker Health
®
; MTurk; health; safety; likeability; behavior change
Author Contributions
Conceptualization, D.S.R. and M.P.; data curation, A.A.; formal analysis, A.A.; funding acquisition, D.S.R.; investigation, D.S.R. and M.P.; methodology, D.S.R. and M.P.; project administration, D.S.R. and M.P.; resources, D.S.R. and M.P.; software, A.A.; supervision, D.S.R. validation, A.A., D.S.R. and M.P.; visualization, A.A.; writing—original draft, A.A.; writing—review & editing, A.A., D.S.R. and M.P.
Funding
The project was funded by the Oregon Healthy Workforce Center: [NIOSH, grant number U19OH010154] and the Healthier Workforce Center of the Midwest [NIOSH, grant number U19OH008868].
Acknowledgments
We thank our colleagues at Portland Park and Recreation center for their strong support. We greatly appreciate the constructive feedbacks and suggestions of our colleagues at the Healthier Workforce Center of the Midwest at the University of Iowa, especially Kevin M. Kelly, Megan R. TePoel.
Conflicts of Interest
Rohlman has a significant financial interest in Northwest Education Training and Assessment, LLC, a company that may have a commercial interest in the results of this research and technology. This potential conflict of interest was reviewed, and a management plan approved by the OHSU and the University of Iowa Conflict of Interest in Research Committees was implemented.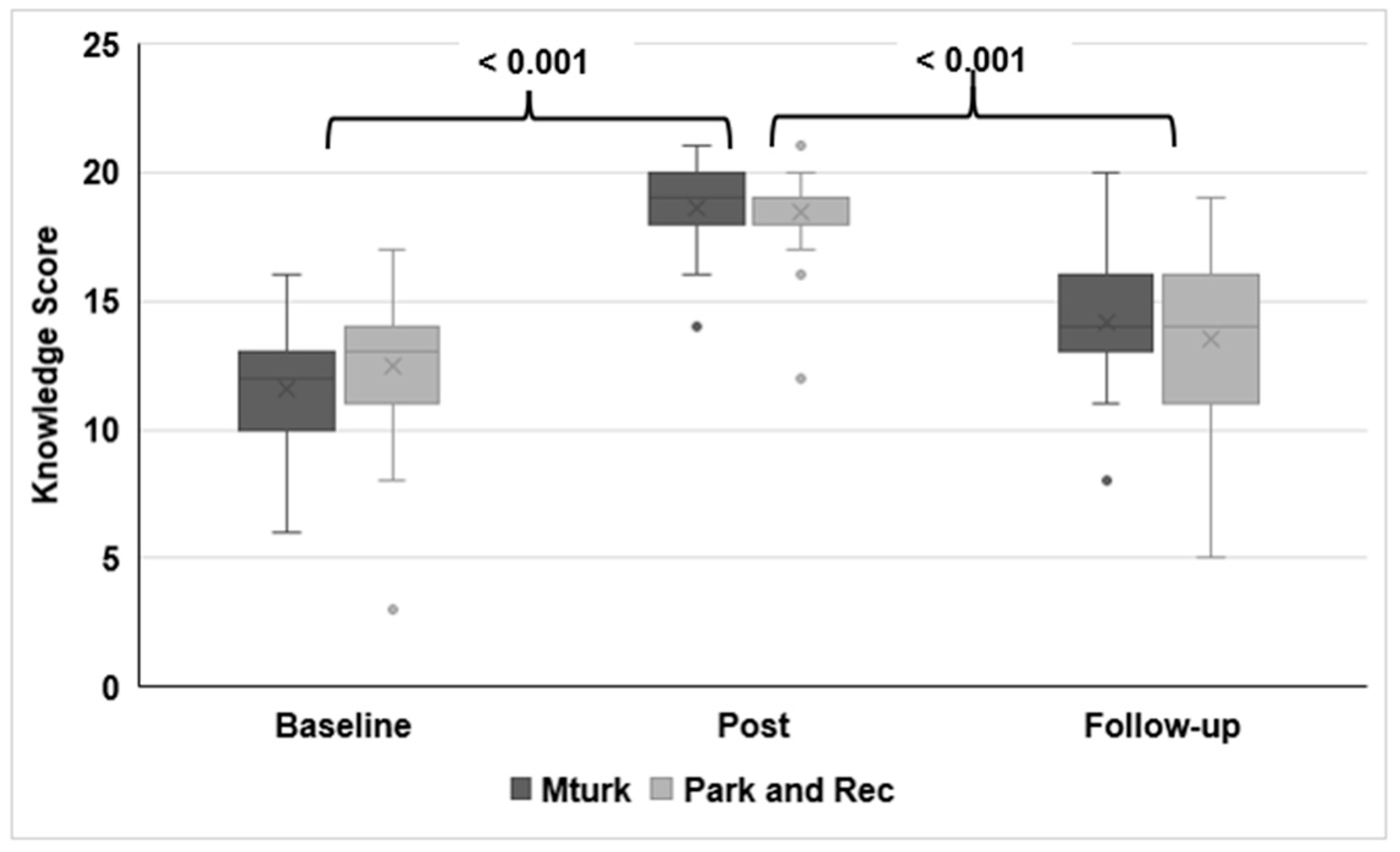 Mturk (

N

= 39)
Park and Rec (

N

= 31)
Mean (SD)
Mean (SD)
Age ***
22.4 (1.4)
16.03 (1.3)
Total years worked ***
1.9 (1.9)
1.3 (0.5)

n

(%)

n

(%)
Gender
 Female
17 (43.6)
16 (51.7)
Ethnicity
 White/Caucasian
24 (61.5)
21 (67.6)
 Asian/Pacific Islander
11 (28.2)
7 (22.6)
 Others
4 (10.2)
3 (9.7)
Education ***
 High School
6 (15.4)
27 (87.1)
 Technical school
15 (38.5)
4 (12.9)
 College 4 years or more
6 (15.4)
0
 College graduate or above
12 (30.8)
0

© 2019 by the authors. Licensee MDPI, Basel, Switzerland. This article is an open access article distributed under the terms and conditions of the Creative Commons Attribution (CC BY) license (http://creativecommons.org/licenses/by/4.0/).