Open Access This article is
freely available
re-usable
Review
Chloracne and Hyperpigmentation Caused by Exposure to Hazardous Aryl Hydrocarbon Receptor Ligands
1
Department of Dermatology, Graduate School of Medical Sciences, Kyushu University, Maidashi 3-1-1, Higashiku, Fukuoka 812-8582, Japan
2
Research and Clinical Center for Yusho and Dioxin, Kyushu University, Maidashi 3-1-1, Higashiku, Fukuoka 812-8582, Japan
3
Division of Skin Surface Sensing, Graduate School of Medical Sciences, Kyushu University, Maidashi 3-1-1, Higashiku, Fukuoka 812-8582, Japan
*
Author to whom correspondence should be addressed.
Received: 21 October 2019 / Accepted: 2 December 2019 / Published: 3 December 2019
Abstract
:
Dioxins and dioxin-like compounds are environmental pollutants that are hazardous to human skin. They can be present in contaminated soil, water, and air particles (such as ambient PM2.5). Exposure to a high concentration of dioxins induces chloracne and hyperpigmentation. These chemicals exert their toxic effects by activating the aryl hydrocarbon receptor (AHR) which is abundantly expressed in skin cells, such as keratinocytes, sebocytes, and melanocytes. Ligation of AHR by dioxins induces exaggerated acceleration of epidermal terminal differentiation (keratinization) and converts sebocytes toward keratinocyte differentiation, which results in chloracne formation. AHR activation potently upregulates melanogenesis in melanocytes by upregulating the expression of melanogenic enzymes, which results in hyperpigmentation. Because AHR-mediated oxidative stress contributes to these hazardous effects, antioxidative agents may be potentially therapeutic for chloracne and hyperpigmentation.
Keywords:
chloracne; hyperpigmentation; dioxin; aryl hydrocarbon receptor; reactive oxygen species; epidermal terminal differentiation; melanocytes
1. Introduction
Health problems induced by environmental pollutants are an important issue. Environmental polycyclic and halogenated aromatic hydrocarbons, such as 2,3,7,8-tetrachlorodibenzo-
p
-dioxin (TCDD), polychlorinated dibenzo-p-dioxins (PCDDs), polychlorinated dibenzofurans (PCDFs), polychlorinated biphenyls (PCBs), and benzo[
a
]pyrene (BaP) are high-affinity ligands for aryl hydrocarbon receptors (AHRs), namely, dioxin receptor [
1
,
2
,
3
,
4
,
5
]. To sense these chemicals, AHR is abundantly expressed in skin cells, including epidermal keratinocytes [
1
,
2
,
3
,
4
,
5
]. Therefore, skin is one of the most important target organs for these environmental AHR ligands.
The toxic potency of these dioxins and dioxin-like compounds are variable in humans and other mammals. To estimate the total body burden, the toxic equivalency factor (TEF) has been defined for each compound by the World Health Organization (WHO) [
6
]. The body burden of these molecules is calculated by the sum of toxic equivalency (TEQ) of each compound (TEF × concentration of the compound) [
6
,
7
]. Exposure to high TEQ concentration of dioxins manifests various acute systemic signs and symptoms, including general malaise, cough/sputum, diarrhea, headache, nausea, arthralgia, and pain/dysesthesia of extremities [
8
,
9
,
10
,
11
]. In addition, the most prominent clinical findings are chloracne and hyperpigmentation [
9
,
10
,
11
,
12
]. Similar skin disorders are induced by other endocrine-disrupting chemicals [
13
].
In Japan, chloracne and hyperpigmentation are present in Yusho, which occurred in Japan in 1968 by mass food poisoning with high concentrations of PCDFs and related compounds [
12
,
14
,
15
]. Because these compounds are extremely lipophilic and structurally stable, high concentrations of PCDF are still detectable in the blood of those exposed, even 50 years after the outbreak [
16
,
17
,
18
]. Chloracne has been typical of other incidents of dioxin poisoning; examples include TCDD exposure from an industrial accident in Seveso, Italy [
9
]; the Yucheng illness, a mass poisoning in Taiwan caused by PCDF [
10
]; and the poisoning of former Ukrainian President Victor Yushchenko with TCDD [
11
]. Hyperpigmentation was noted in Asian individuals with darker skin in the Yusho (Japan) and Yucheng (Taiwan) incidents, but was also recognized in President Yushchenko [
9
,
10
,
11
,
12
]. Air pollutants, including ambient particulate matter of up to 2.5 µm in diameter (PM
2.5
), contain high concentrations of polycyclic aromatic hydrocarbons and BaP [
19
]. Notably, facial hyperpigmentation is significantly associated with exposure to PM
2.5
in Chinese women [
20
]. In this article, we will review the current evidence on chloracne and hyperpigmentation induced by AHR activation.
2. AHR Signals and Oxidative Stress in Epidermal Keratinocytes
3. AHR Signaling Accelerates Epidermal Terminal Differentiation
4. Chloracne Caused by Environmental AHR Ligands
5. Hyperpigmentation Caused by Environmental AHR Ligands
Cutaneous hyperpigmentation was one of the diagnostic hallmarks in the Yusho and Yucheng diseases [
10
,
14
] (
Figure 3
; see also [
71
]). PM
2.5
contains various amounts of dioxin-related compounds and could feasibly activate the AHR signal [
19
,
77
]. It has been reported that facial hyperpigmentation is high in people living in air-polluted areas with high PM
2.5
concentrations in China [
20
]. Although hyperpigmentation is not functionally problematic, it causes significant cosmetic and psychological distress. In melanocytes, melanin granules are produced by sequential enzymatic reactions by tyrosinase (TYR) and tyrosinase-related proteins 1 and 2 (TYRP1 and TYRP2). The expression of these melanogenic enzymes is upregulated by the microphthalmia-associated transcription factor (MITF), which is a key transcriptional regulator in melanogenesis [
83
,
84
]. Human and murine melanocytes express functional AHR [
85
,
86
,
87
,
88
].
Tobacco smoke contains environmental AHR ligands, such as BaP [
33
,
89
]. AHR activation by tobacco smoke activates MITF and upregulates the expression of TYR, leading to increased melanogenesis [
88
,
89
] (
Figure 2
). Luecke et al. [
87
] have also reported that TCDD enhances the expression of TYR and TYRP2 in an AHR-dependent manner and induces the production of melanin. In addition, Abbas et al. [
86
] showed that the oxidative AHR ligand benzanthrone upregulates TYR activity and increases melanin production in murine melanocytes in vitro [
86
]. Moreover, topical application of benzanthrone or TCDD induces cutaneous hyperpigmentation and increases histological melanin deposits, together with upregulated protein expression levels of MITF, TYR, TRP1, and TRP2 [
86
]. These in vitro and in vivo studies support the notion that AHR signaling directly augments melanogenesis and induces hyperpigmentation. However, the involvement of ROSs in melanogenesis is controversial [
90
,
91
]. ROS production may not be a prerequisite factor for AHR-mediated hyperpigmentation.
6. Conclusions
Skin is exposed to numerous environmental pollutants. Some of these, such as halogenated aromatic hydrocarbons, including dioxins, are hazardous and induce chloracne and hyperpigmentation in high-concentration exposure. These environmental chemicals strongly activate AHR, which is abundantly expressed in keratinocytes, sebocytes, and melanocytes. Accumulating evidence indicates that AHR ligation by dioxins accelerates epidermal terminal differentiation (keratinization) of keratinocytes and converts sebocytes to a keratinocytic phenotype, leading to chloracne formation. Dioxins also increase the melanogenesis of melanocytes via AHR activation, leading to clinical hyperpigmentation.
Author Contributions
M.F. wrote the first draft. G.T. reviewed the draft. M.F. finalized the article. Both authors approved the article for submission.
Funding
This work was partly supported by grants from The Ministry of Health, Labour, and Welfare in Japan (H30-Shokuhin-Shitei-005) and The Leading Advanced Projects for Medical Innovation in Japan (LEAP).
Conflicts of Interest
The authors have no conflict of interest.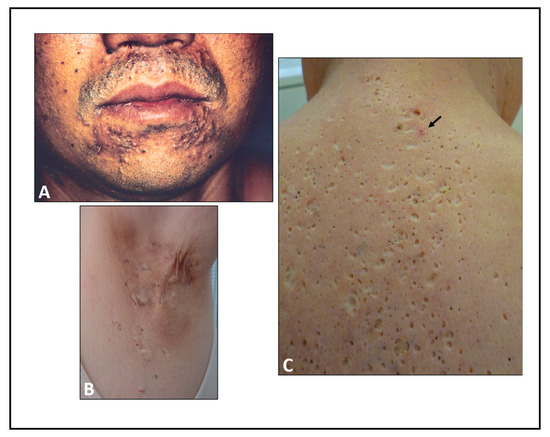 Figure 1. Clinical features of chloracne in patients with Yusho disease, an outbreak that occurred in Japan in 1968. (A) Chloracne in the perioral area in 1968. (B) Scars and cysts from chloracne in the axilla in 2008. (C) Severe crateriform, or punched-out scars, from chloracne on the back in 2008. Inflammatory acneiform eruption still appears frequently (arrow).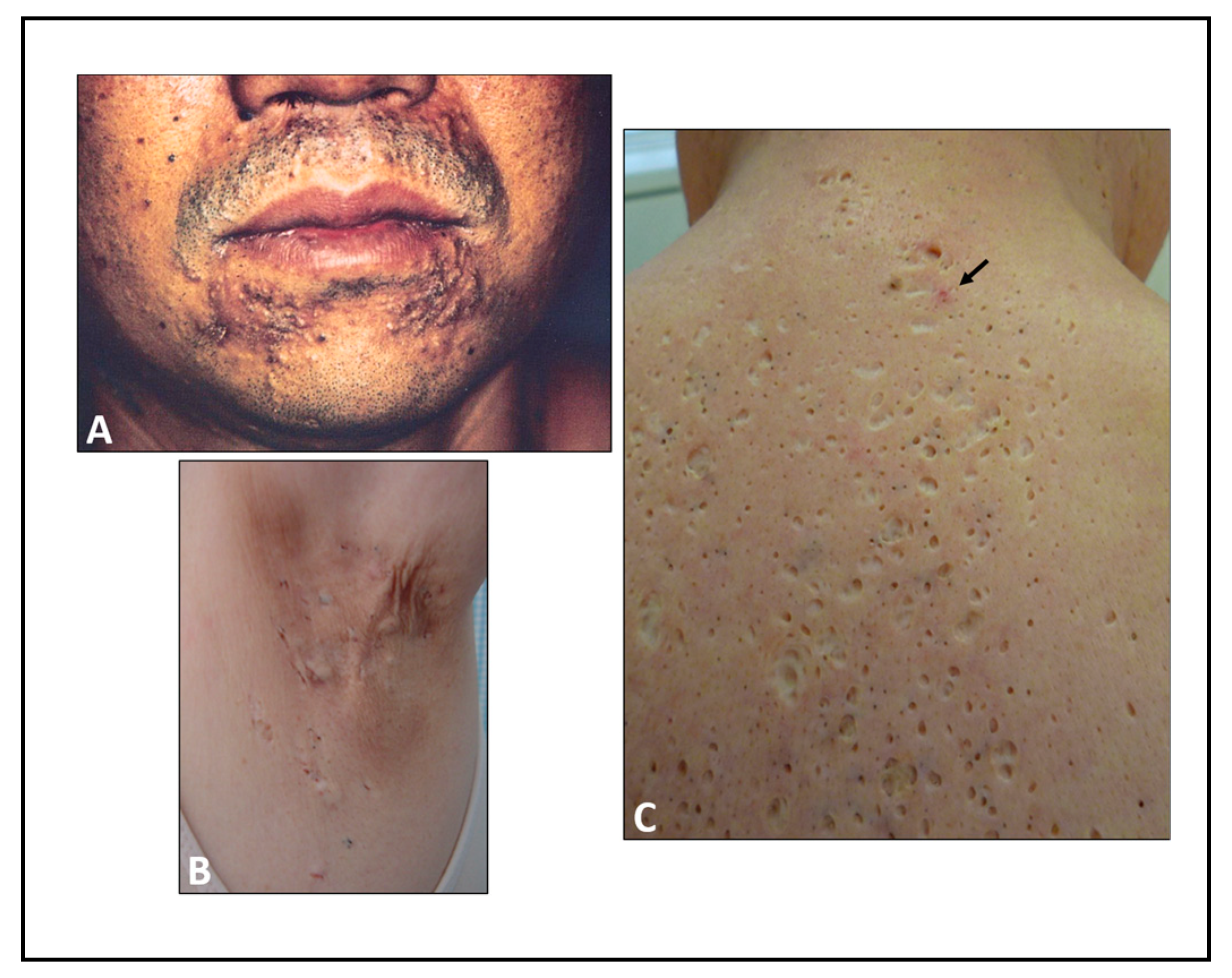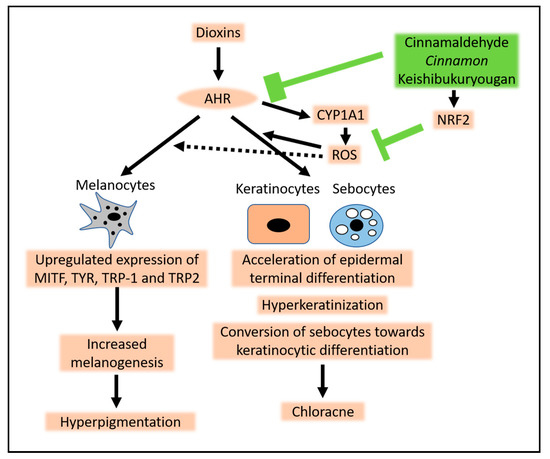 Figure 2. A schema of the pathogenesis of chloracne and hyperpigmentation by dioxins. Dioxins bind to the aryl hydrocarbon receptor (AHR) and induce production of xenobiotic metabolizing enzyme cytochrome p450 1A1 (CYP1A1). CYP1A1 tries to degrade the dioxins, but has little success because dioxins are structurally stable. These unsuccessful efforts give rise to enormous production of reactive oxygen species (ROSs). AHR signaling, together with the oxidative stress, accelerate the epidermal terminal differentiation (i.e., keratinization) in keratinocytes. This also converts sebocytes toward keratinocytic differentiation, which results in the development of chloracne. AHR activation by dioxins also upregulates the expression of melanogenic genes, including microphthalmia-associated transcription factor (MITF), tyrosinase (TYR), and tyrosinase-related proteins 1 and 2 (TYRP1 and TYRP2), and increases melanogenesis in melanocytes, resulting in hyperpigmentation. It is not clear whether ROSs are involved in dioxin-induced hyperpigmentation. Cinnamaldehyde, cinnamon, and the cinnamon-containing herbal drug Keishi-bukuryo-gan inhibit the AHR-mediated CYP1A1 expression. They also activate nuclear factor erythroid 2-related factor 2 (NRF2), upregulate gene expression of antioxidative enzymes, neutralize ROSs, and inhibit chloracne formation.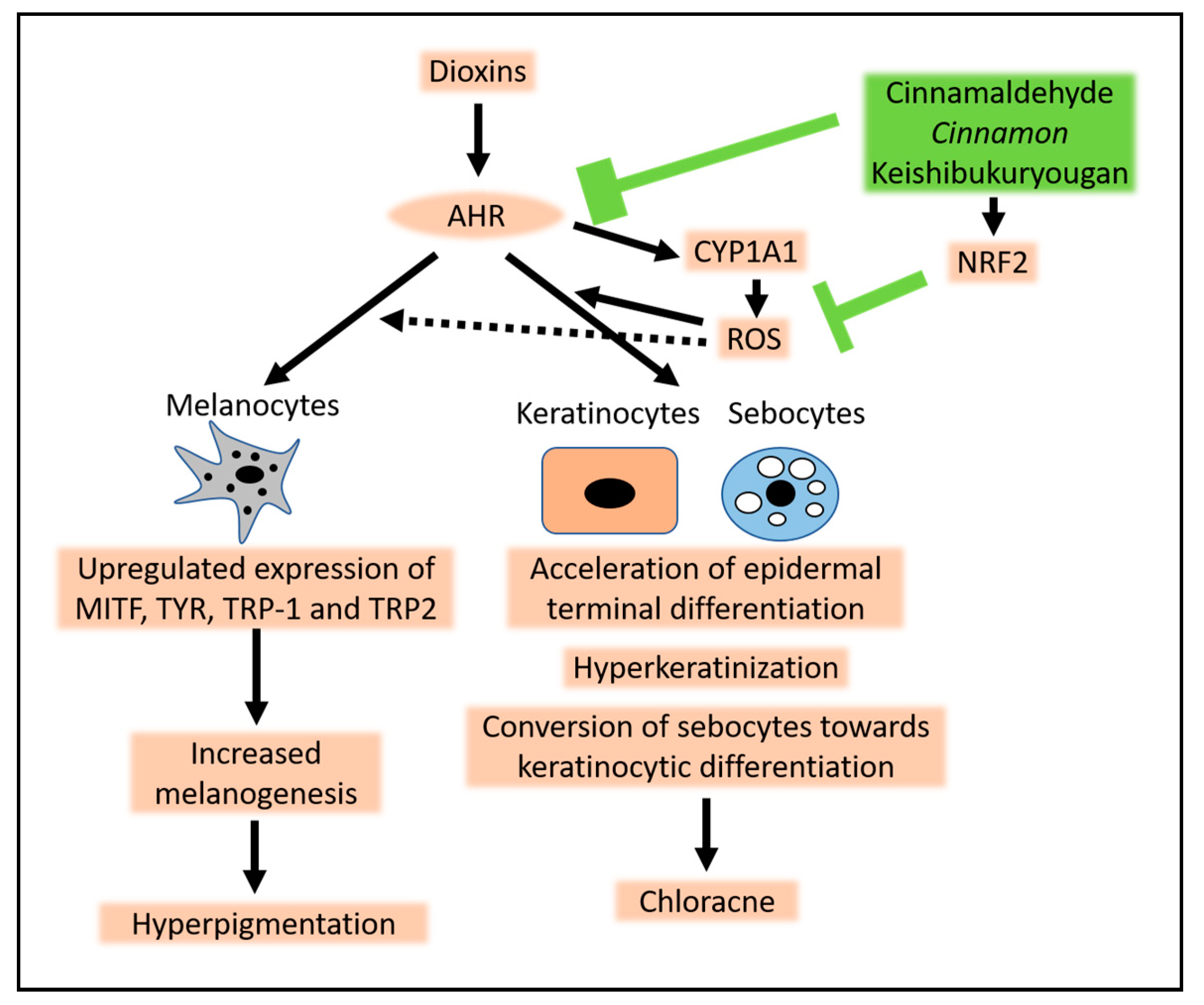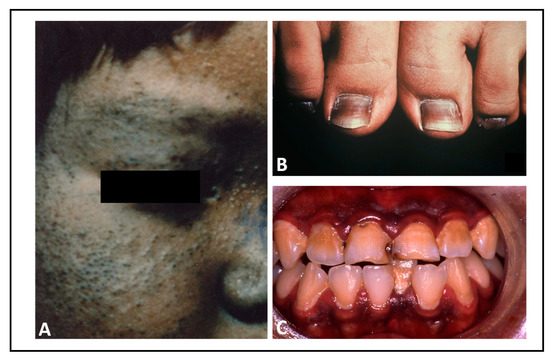 Figure 3. Clinical features of hyperpigmentation in patients with Yusho disease. (A) Hyperpigmentation and chloracne on the face. (B) Ungual hyperpigmentation. (C) Gingival hyperpigmentation.

© 2019 by the authors. Licensee MDPI, Basel, Switzerland. This article is an open access article distributed under the terms and conditions of the Creative Commons Attribution (CC BY) license (http://creativecommons.org/licenses/by/4.0/).