Open Access This article is
freely available
re-usable
Review
The Sustainability Challenge of Food and Environmental Nanotechnology: Current Status and Imminent Perceptions
1
Research Institute of Biotechnology & Medical Converged Science, Dongguk University-Seoul, Ilsandong-gu, Gyeonggi-do 10326, Korea
2
Department of Food Science and Human Nutrition, Agricultural University of Athens, GR-11855 Athens, Greece
3
Department of Food Science and Biotechnology, Dongguk University-Seoul, Ilsandong-gu, Gyeonggi-do 10326, Korea
*
Authors to whom correspondence should be addressed.
Received: 8 November 2019 / Accepted: 29 November 2019 / Published: 2 December 2019
Abstract
:
Nanotechnology is a connection among various branches of science with potential applications that extend over a variety of scientific disciplines, particularly in the food science and technology fields. For nanomaterial applications in food processing, such as antimicrobials on food contact surfaces along with the improvement of biosensors, electrospun nanofibers are the most intensively studied ones. As in the case of every developing skill, an assessment from a sustainability point of view is necessary to address the balance between its benefits to civilization and the unwanted effects on human health and the environment. The current review aimed to provide an update regarding the sustainability of current nanotechnology applications in food science technology, environment, and public health together with a risk assessment and toxicity evaluation.
Keywords:
antimicrobials; biosensors; electrospun nanofiber; food processing; nanotechnology; sustainability; environment; human health
1. Introduction
Nanotechnology was first hinted at by Richard Feynman during a speech at the annual meeting of the American Physical Society in December 1959. Nanotechnology concerns the use of nanomaterials at a nanometric scale in order to take benefit of the specific physico-chemical properties occurring in this size range. Over the next two decades, the theoretical knowledge and analytical tools for nanotechnology were established, which led to the discovery of fullerenes and carbon nanotubes a few years later. Nanotechnology, being the intersection between physics, chemistry, materials science, engineering, and modern molecular biotechnology, has a number of prospective uses. However, every emerging technology needs to be balanced between the benefits for human civilization and its unwanted effects on environment and life. In the following paper, an attempt was made to present this balance with reference to food nanotechnology by discussing the most typical applications and also discussing advances in green biotechnology together with risk assessments and toxicity evaluations of novel nanomaterials for the purpose of legislation as well as public acceptance in terms of food.
2. Nanotechnology and Its Potential Applications in Food Science Technology, Environment, and Human Health
Nanotechnology is extensively applied in the everyday life of human beings in almost all fields. It has appeared as a high-tech development in the field of agriculture and food with the potential to increase global food production along with an increase in the nutritional value, quality, and safety of food [
1
,
2
,
3
]. Progress in the arena of nanotechnology has enabled a quite wide and diverse variety of applications in food technology which includes food additives, food safety, nano-delivery systems, biosecurity, nanotoxicity, etc. [
1
,
4
,
5
,
6
,
7
]. A number of potential applications for nanotechnology in the food and agriculture sector has been presented by He et al. [
5
] (
Table 1
,
Figure 1
). The use of nanomaterials as processing aids, antimicrobials for surface contact with foodstuffs, and also in the manufacture of biosensors and electrospun nanofibers are the most expansively studied factors which are discussed in the current review along with their pros and cons.
3. Sustainability of Food Nanotechnology
A rapid development in novel nanomaterials and related applications has been witnessed over the last decade. Moreover, this tendency is likely to continue further in the future. A number of promising opportunities have been identified for nano-based technologies which are intended for the improvement of sustainability in agriculture and food systems (
Figure 3
) [
73
,
74
]. These include sensors for testing chemicals, measuring physical, chemical, or biological properties, and for detecting pathogens or toxins in products; advanced techniques for detection and control of harmful pathogens and to increase food safety; technology for water treatment in agricultural fields; nano-based fertilizers, etc. [
73
,
74
,
75
]. However, there are many apprehensions concerning their influence on the environment and human health. Addressing these concerns, the European Food Safety Authority (EFSA) has developed and published a practical approach for real risk assessment on the use of engineered nanomaterials in food and food chain [
76
]. Within this document, the lack of consistent detection methods, identification, and classification of engineered nanomaterials, especially in multifaceted ecological samples, is mentioned. This issue was also recently talked about by the Organization for Economic Co-operation and Development [
77
].
The aim of green nanobiotechnology has been adequately presented by Hutchison [
78
] and Maksimovic and Omanovic-Miklicanin [
79
]. These may be abridged into two cornerstones: the enlargement of positive effects on the health of humans and well-being and the diminishment of the hostile effects on the environment. Nevertheless, this attitude is significantly hindered by the aforementioned lack of reliable methodology and our inadequate knowledge of the factors which are responsible for the toxic properties of nanomaterials. Study of the structure of various food products at the nanoscale range is a developing area in the field of nanotechnology and, in the near future, it will be a reality to assess the food structure and develop new food materials at the nanoscale range.
3.1. Nano-Based Sensors
Nano-based sensors and probes have proved to be beneficial for the improvement of agricultural productivity as well as in food protection and preservation [
73
,
74
,
80
,
81
,
82
]. There are numerous examples of nano-based sensors and devices that detect various types of pathogens, toxins, and contaminants in food products and in packaging materials [
74
,
75
,
82
,
83
]. Regardless of several remarkable achievements, accomplishing the careful and delicate recognition of specific pathogens and toxicants in food remains challenging. The capacity to differentiate between live and dead pathogenic microbes in the food system among a large number of pathogens is always challenging, and it needs to be studied extensively [
84
]. Furthermore, the manufacture of specific types of nanosensors targeting specific functions in the food system is also challenging [
85
].
3.2. Nano-Based Control of Pathogens
The application of nano-based materials in food packaging, for protection against harmful pathogens and to increase the shelf-life of food materials by nano-coating and smart packaging, is commercially used [
86
,
87
,
88
]. However, there are a number of issues which prevent the smooth implementation of these nano-based materials for food safety. The exact mechanism of such effects on pathogens is not fully understood. Furthermore, the effect of environmental parameters, such as temperature, pH, light, and excretes from food, while packaging is also not properly explained [
89
]. Finally, the safety of nano-empowered packaging materials which are used straightway on food products and food processing equipment needs to be proved in order to avoid any unintentional negative results on human health [
86
,
89
].
3.3. Nano-Based Fertilizers
There is a current and growing body of literature on the development of nano-based materials as nano-fertilizers for agrochemical delivery [
90
,
91
,
92
,
93
]. Notwithstanding being an extremely active research field, approaches to ensuring targeted delivery to specific organisms through the use of biological materials, such as antibiotics and other hormones or materials, to be triggered at extreme environmental conditions are usually lacking. A number of challenges, such as the nature of interactions between plants and nanomaterials, the effect of nanomaterials on plant growth, the nutritional value of the food as well the quality, are still not clear and, thus, prevents the effective use of smart nano-based fertilizers in agriculture [
73
,
92
].
3.4. Nanoparticle Toxicity
The cause of nano-toxicity and its future nature has been extensively studied recently. There are numerous entrance points for release of engineered nanomaterials into the environment which includes direct application to an environmental compartment (either intentionally or through unintentional product degradation), wastewater treatment plant effluent, and wastewater treatment plant sludge [
94
,
95
]; yet, it is hard to guess the pertinent absorptions of nanoparticles that are released at any given point of time [
94
]. The amplified nanoparticle utilization in a number of applications including food industries has raised a major concern for food safety and the potential consequences on public health and the environment [
96
]. The effects on aquatic and terrestrial systems along with associated factors have been recently reviewed by Bundschuh et al. [
97
]. A number of portions of the human body, especially the skin, lungs, and the intestinal tracts, are in continuous exposure to the outside environment and these parts are vulnerable to nanoparticle exposure [
98
]. In such cases, the importance of size, shape, chemical composition, solubility, surface properties, and aggregation have been very early recognized [
99
]. Size-dependent toxicity has also been exhibited in numerous studies involving human lung cells [
100
]. Nanoparticle shape also significantly affects exerted toxicity [
101
,
102
,
103
]. A variety of nanoparticles, with respect to their size and configuration, could be highly lethal to cells by causing oxidative stress or/and organelle damage [
98
]. The effect of surface properties on toxicity level has also attracted significant attention, since a variety of coating ingredients, such as proteins, polysaccharides, various surfactants, and citric acid, have been effectively applied [
104
]. A better understanding of the effect of nanoparticles on various parts of the human body is presented in
Figure 4
. It is shown that exposure of nanoparticles to various organs may cause specific diseases in that particular organ; for example, when nanoparticles are inhaled, they may cause diseases like emphysema, bronchitis, lung cancer, and neurodegenerative diseases, and further, when intestinal tracts are affected by these nanoparticles, they may result in cancer-related diseases [
98
,
103
].
Besides, a number of risk assessment efforts have been undertaken in order to predict the amount of nanoparticles exposed to the environment from various sources, and a summary of this has been presented [
94
,
105
,
106
] which shows that a large dynamic range of nanoparticles are exposed to the environment, and it requires an accurate methodology to measure it. A multidisciplinary tactic which merges experimental, computational, and theoretical methods could be helpful in finding a risk assessment method in order to confirm the eco-toxicological issues linked with the engineered nanoparticles and their exposure to food and the environment.
3.5. Operational Approaches
3.6. Measurement Issues
The capacity to quantify the presence of nanomaterials in the food system at a particular time period is a very critical issue for its potential application in the food system [
125
,
126
]. These quantifications of the nanomaterials comprise both the preparation and storage of the food products, along with its digestion and channel through the alimentary canal of the digestive system of the humans which is itself a various complicated issue due to the multifaceted nature of the human body and the thermodynamic instability of the nanomaterials [
125
]. It is also not clear what factors in specific are needed to be quantified. A number of factors are accountable for the establishment of a highly applicable method in the measurement of nanomaterials in the food system that comprise the case of how nanomaterials are added, and it is always essential to identify them whether they are natural or added from external sources as food additives, enhancers or emulsions. Besides, the multifaceted nature of the human alimentary canal also creates further concerns in the measurement and classification of the nanomaterials [
125
]. A number of analytical methods particularly in a combined form are applied to basically measure the nanomaterials in the food [
125
,
127
]. These methods include microscopy (transmission electron microscopy, scanning electron microscopy), chromatography, spectroscopy (X-ray powder diffraction spectroscopy, energy-dispersive X-ray spectroscopy), centrifugation, chromatography, and other related methodologies [
128
].
4. Conclusions
There is numerous evidence for the involvement of the science of nanotechnology in almost all steps of the food chain. In addition, novel nanomaterials along with their applications are expected to emerge within the upcoming years. Consequently, it is imperative to discuss these advancements through a green biotechnology perspective. The essential first step towards this direction is the improvement of the analytical tools that will allow accurate and reliable quantification of the planned nanomaterials in a multifaceted environmental sample. Then only will our understanding regarding their conversions and bio-kinetics be improved, allowing for the design of safer nanomaterials with reduced environmental impact.
Author Contributions
Conceptualization, G.D., J.K.P. and S.P.; resources, G.D., J.K.P. and S.P.; writing—original draft preparation, G.D., J.K.P. and S.P.; writing—review and editing, G.D., J.K.P., S.P. and H.-S.S.
Funding
This research received no external funding.
Acknowledgments
The authors are grateful for their respective institutes for the support.
Conflicts of Interest
The authors declare no conflict of interest.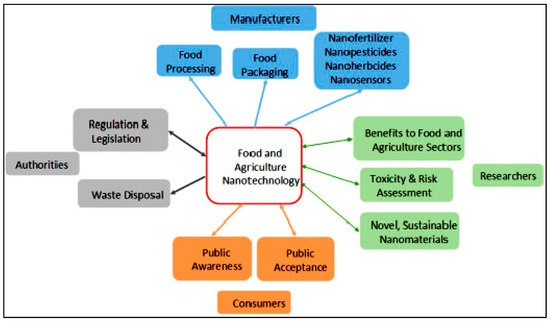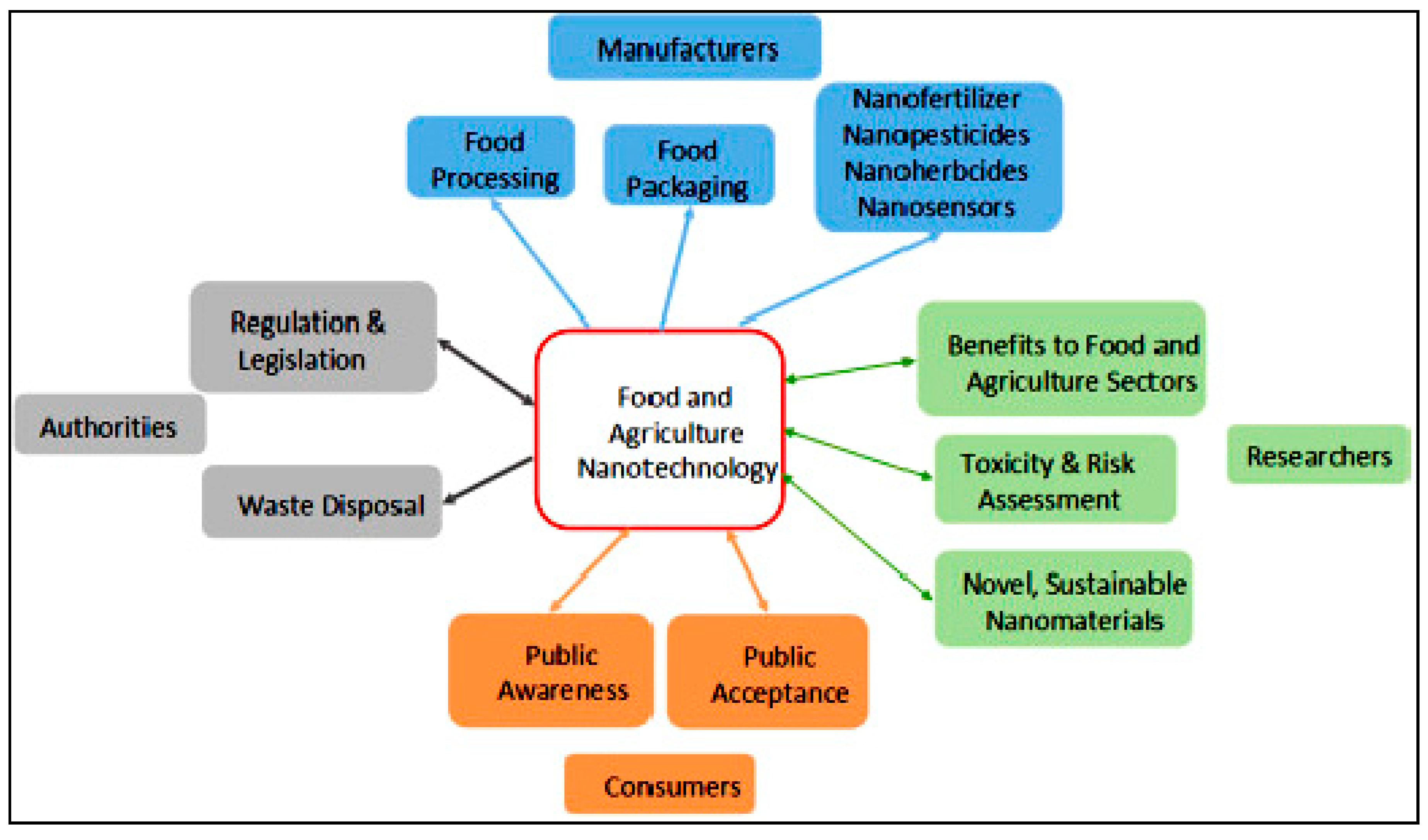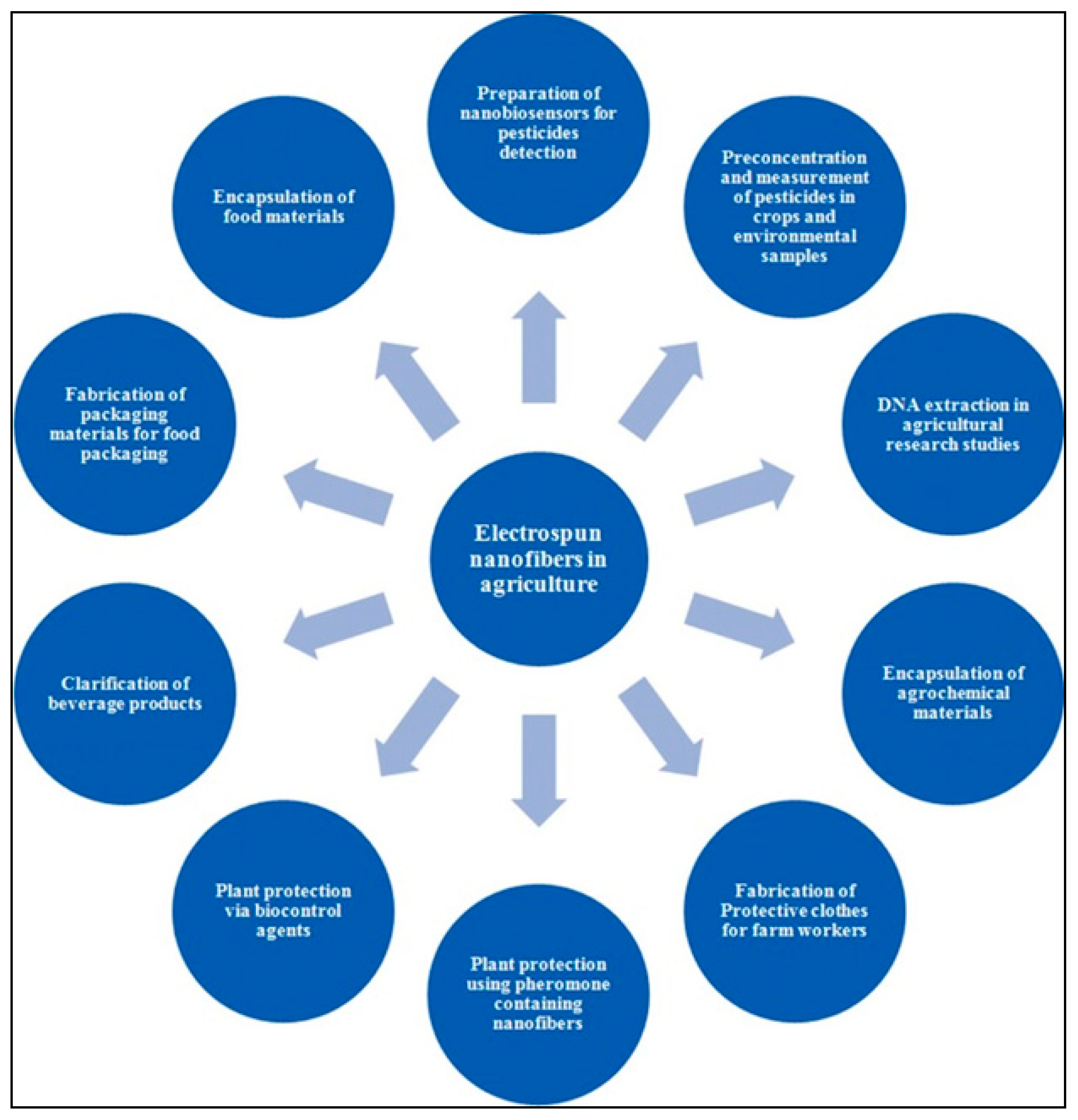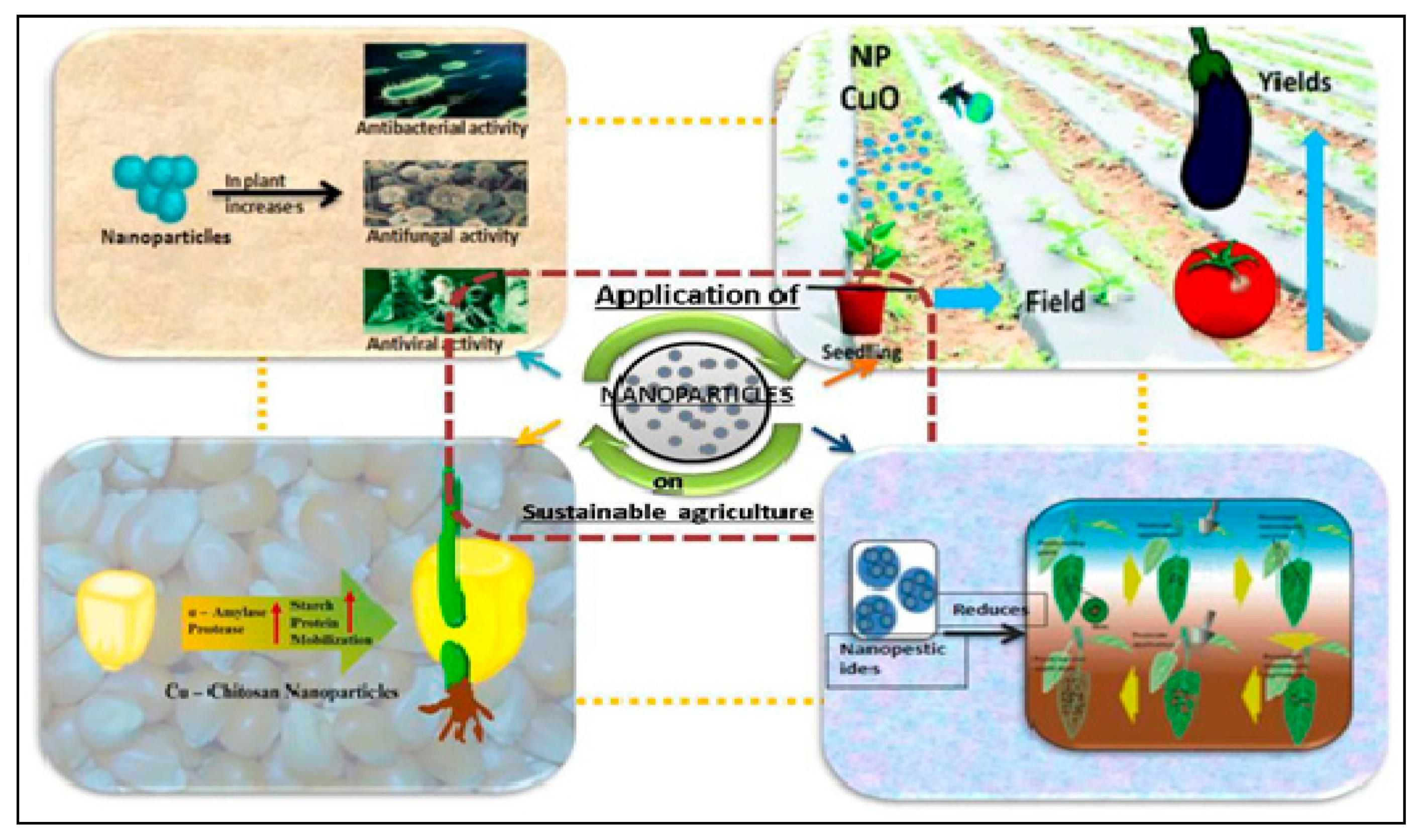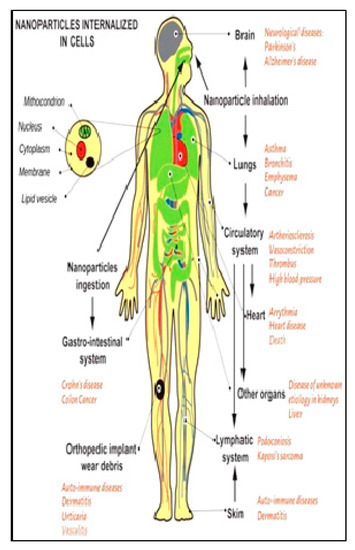 Figure 4.
Various types of contact paths linked to nanoparticles and various diseases as proven by epidemiological and clinical studies. Reproduced with permission from Buzea et al. [
98
] (originally Figure 7).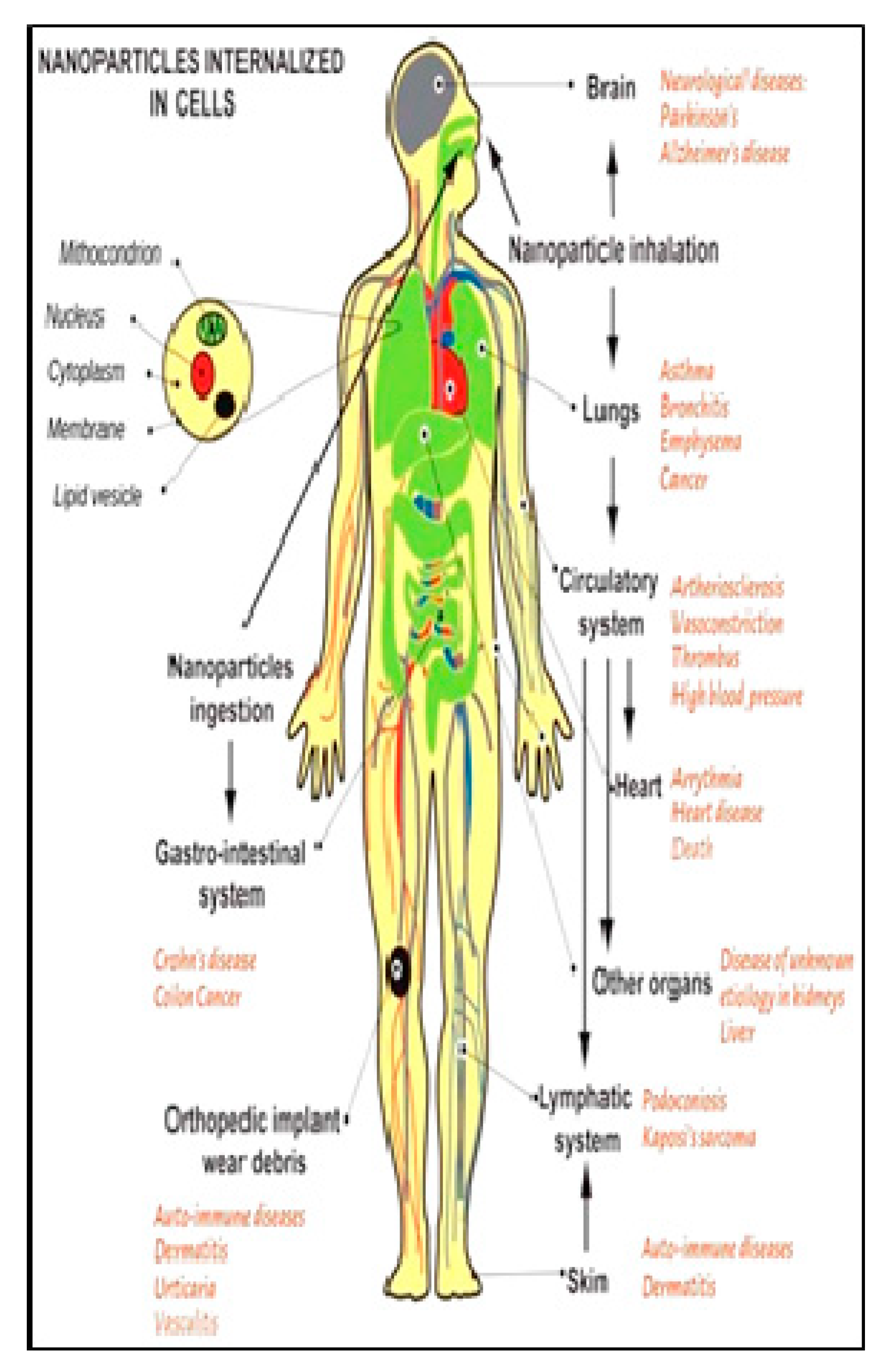 Sector
Application
Nanomaterials
Manufacturer
Current Status
Note
Reference
Food processing
Color additives
TiO2
Exempt from certification
<1% by weight of the food
[8]
Synthetic iron oxide
Exempt from certification
<0.25% (for dogs and cats) and 0.1 (for human) % by weight of the finished food
[8,9]
Additive or polymer production aid
ZnO, iron oxide, aluminum oxide, silicon dioxide, cobalt oxide, manganese oxide (E530)
Authorized by EC 10/2011
Authorization based on conventional particle size
[10]
Titanium nitride
No migration reported. Only to be used in PET bottles up to 20 mg/kg
Carbon black
Authorized by EC 10/2011; no longer authorized by the US FDA as additives
<2.5%

w

/

w

in the polymer
Preservatives
Silver-silica
Nanox Intelligent Materials
FCS Inventory a
FCN No. 1235. <4 ppm by weight of silver as an antimicrobial agent blended into polymers
[11]
Flavor carrier
Silicon dioxide (E551 d)
Authorized by EC1334/2008
<10,000 mg/kg, excluding foods for infants and young children
[12]
Marking fruit and vegetables
Silicon dioxide (E551)
Exempt from certification
<2% of the ink solids
[8]
Anticaking agents
Silicon dioxide (E551)
REG b
<2% by weight of the food
[13]
Nutritional dietary supplement
Copper oxide, iron oxide
Approved for animal feed
[14]
ZnO
GRAS c
Food contact packaging
Pesticides detection
Zinc Oxide QDs
R&D
[15]
Pathogens detection
Magnetic nano-sensors
R&D
[16,17]
Plasmonic nano-sensors
[18]
Fluorescent nano-sensors
[19]
Toxins detection
Fluorescent nano-sensors
R&D
[20]
Plasmonic nano-sensors
[21]
Phosphorescent QDs
[22]
Edible film/coating
Chitosan/nano-silica coating
Tested on longan fruit
[23]
Poly-ε-caprolactone
Tested on fresh-cut "Red Delicious" apples
[24]
Nano-emulsion/quinoa protein/ chitosan
Tested on fresh strawberries
[25]
Bio-nano-hybrid pectins and LDH-salicylate
Tested on fresh apricots
[26]
Nano-emulsion with lemongrass essential oil
R&D
Tested on fresh-cut Fuji apples
[27]
Bentonite (Al2O34SiO2nH2O)
GRAS
US FDA 21CFR184.1155
[28]
Flame retardation
additives, gas barrier, etc. Prevent abrasive wear
Montmorillonite
PolyOne Corporation
Nanocor® Inc.
FCS Inventory
FCN No. 1163
[11]
Montmorillonite chromium (III) oxide
Toyo Seikan Kaisha
Limited and Nanocor
Incorporated
FCN No. 932
[26]
Nano-emulsion with lemongrass
essential oil
Oerlikon Balzers Coating
AG, Oerlikon Surface
Solutions AG
FCN No. 1839. For use at a thickness not to exceed 200 nm, not for use in contact with infant formula and human milk
[27]
Prevent abrasive wear
Heating enhancer in polyethylene
terephthalate (PET)
polymers
Titanium aluminum nitride
Balzers
Aktiengesellschaft
GRAS
FCN No. 302. The maximum
thickness of the surface coating shall not exceed 5 mm
[28]
Tin antimony oxide
Nyacol Nano
Technologies, Inc.
FCS Inventory
FCN No. 1437. <0.05% by weight of the polymer
[11]
a FCS: Effective Food Contact Substance (FCS) Notifications; b REG: Food additives for which a petition has been filed and a regulation issued; c GRAS: Generally Recognized as Safe; d E numbers are codes of specific substances used as food additives approved by the European Food Safety Authority (EFSA). EC: European Commission; FDA: United States Food and Drug Administration; R & D: Research & Development; Layered double hydroxide. Reproduced with permission from He et al. [5].
| Target Nanoparticle (NP) | Matrix | Sample Preparation | Detection/Quantification Method | Comments | Reference |
| --- | --- | --- | --- | --- | --- |
| Ag NPs | chicken meat | sonication followed by proteinase K treatment | SP-ICP-MS | The established method exhibited good performance with respect to trueness, repeatability, reproducibility, and ability to determine Ag NPs transformed into silver sulfide. | [107] |
| Ag NPs | sock fabric | HNO3/H2O2 digestion | ICP-OES | The sock manufacturing process may control silver release; high silver concentration will end with the wastewater treatment facility limiting the disposal of the biosolids as agricultural fertilizers. | [108] |
| Cu NPs | topsoil | colloidal soil suspensions digested by HNO3/HCl/H2O2 and microwaves | ICP-MS | The significance of dwell time, background removal, and sample dilution as methods for optimization and recovery maximization were highlighted. | [109] |
| TiO2 | water suspended particulate matter | filtration | SP-ICP-MS | TiO2 NPs from sunscreens are possibly released into the water but settle into the sediment. | [110] |
| TiO2 NPs, Ag NPs, Au NPs | water | none | SP-ICP-MS | Lime softening followed by alum coagulation collected with powdered activated carbon adsorption resulted in removal of Au and Ag NPs and almost complete of TiO2 NPs in wastewater. | [111] |
| Various fullerenes | wastewater | filtration followed by sonication-assisted toluene extraction and partial evaporation | LC-QqLIT-MS | The established method was characterized as very effective. | [112] |
| C60 and C70 fullerenes | soil and sediment | sonication-assisted toluene extraction and partial evaporation | UHPLC-HRMS | A fast and sensitive method suitable for the analysis of very complex matrices. | [113] |
| Various fullerenes | water and sediment | LLE with toluene (water samples); ultrasound extraction and PLE (sediment samples) | UHPLC-MS/MS | An effective approach for fullerene analysis in biological entities. | [114] |
| Graphene and graphene oxide | wastewater biomass | solubilization followed by thermal digestion and reduction | PTA | The proposed approach provided had promising results. | [115] |
| SWCN | sediment | sonication in the presence of surfactants | NIRF Spectroscopy | The applicability of this tactic was exhibited. | [116] |
NPs: NanoParticles; SP-ICP-MS: single particle inductively coupled plasma mass spectrometry; OES: Optical Emission Spectroscopy; LC-QqLIT-MS: liquid chromatography coupled to a hybrid triple quadrupole linear ion trap mass spectrometry; UHPLC-HRMS: Ultra High Performance Liquid Chromatography coupled with High Resolution Mass Spectrometry; LLE: liquid-liquid extraction; PSE: pressurized solvent extraction; PTA: Programmed Thermal Analysis; SWCN: Single-Walled Carbon Nanotubes; NIRF: Near InfraRed Fluorescence.

© 2019 by the authors. Licensee MDPI, Basel, Switzerland. This article is an open access article distributed under the terms and conditions of the Creative Commons Attribution (CC BY) license (http://creativecommons.org/licenses/by/4.0/).