Open Access This article is
freely available
re-usable
Article
Our Healthy Clarence: A Community-Driven Wellbeing Initiative
1
Centre for Rural and Remote Mental Health, University of Newcastle, Orange 2800, Australia
2
School of Medicine and Public Health, University of Newcastle, Callaghan 2308, Australia
3
New School of Arts Neighbourhood Centre, South Grafton 2460, Australia
4
Mental Health & Drug and Alcohol Services, Northern NSW Local Health District, Lismore 2480, Australia
*
Author to whom correspondence should be addressed.
Received: 19 August 2019 / Accepted: 25 September 2019 / Published: 30 September 2019
Abstract
:
In 2015–2016, the Clarence Valley in Northern New South Wales, Australia, experienced an unexpectedly high number of deaths by suicide, and the resulting distress was exacerbated by unhelpful press coverage. The local response was to adopt a community-wide positive mental health and wellbeing initiative. This paper describes the process and achievements of the initiative called 'Our Healthy Clarence'. Key stakeholders were interviewed at year two and relevant documents reviewed. Data were analysed using document and thematic analysis. Our Healthy Clarence was established following community consultation, including forums, interviews, surveys and workshops. It adopted a strengths-based approach to suicide prevention, encompassing positive health promotion, primary and secondary prevention activities, advocacy, and cross-sectoral collaboration. A stakeholder group formed to develop and enact a community mental health and wellbeing plan. Factors contributing to its successful implementation included a collective commitment to mental health and wellbeing, clarity of purpose, leadership support from key local partners, a paid independent coordinator, and inclusive and transparent governance. Stakeholders reported increased community agency, collaboration, optimism and willingness to discuss mental health, suicide and help-seeking. Our Healthy Clarence draws ideas from mental health care, community development and public health. This initiative could serve as a model for other communities to address suicide, self-harm and improve wellbeing on a whole-of-community scale.
Keywords:
wellbeing; community-driven initiative; mental health capacity building; collaboration; public health; community development; mental health promotion; suicide prevention; rural
Author Contributions
Conceptualization, N.P., H.D. and D.P.; Methodology, H.D., N.P., R.C. and D.P.; Validation, N.P., H.D. and D.P.; Formal Analysis, N.P. and H.D.; Investigation, R.C., N.P., S.H., S.O. and H.D.; Data Curation, N.P.; Writing—Original Draft Preparation, N.P. and H.D.; Writing—Review & Editing, D.P., R.B., R.C., S.O. and S.H.; Visualization, H.D. and N.P.; Project Administration, N.P. and H.D.; Funding Acquisition, D.P. and H.D.
Funding
This research was supported by a grant from the Mental Health Commission of New South Wales
Acknowledgments
The Centre for Rural and Remote Health (CRRMH) has been involved with OHC since before it was formed. The LHD asked representatives from the CRRMH to act as consultants in the early stage of the initiative, based on their academic understanding of the issues of suicide, mental health and wellbeing. The role of the CRRMH did not extend to planning, implementation or a role on the steering committee. Due to the relationships formed with OHC, it was possible for the CRRMH to perform this evaluation to (a) report their findings to the community, (b) provide data for the development of the next iteration of the OHC plan and (c) summarise the findings in this paper.
Conflicts of Interest
The authors S.H., S.O. and R.B. are or have been involved in Our Healthy Clarence and were interviewed as part of the study. These authors did not have access to the data (raw or coded) but were able to provide context and background information to the information recovered. The funding that OHC has received was not contingent on this evaluation.

Figure 1. The Clarence Valley in the context of Australia (A, red marker); the North Coast Primary Health Network (B, red marker compared to the dark red shaded area) and the Clarence Valley Local Government Area alone (C, grey outlined area).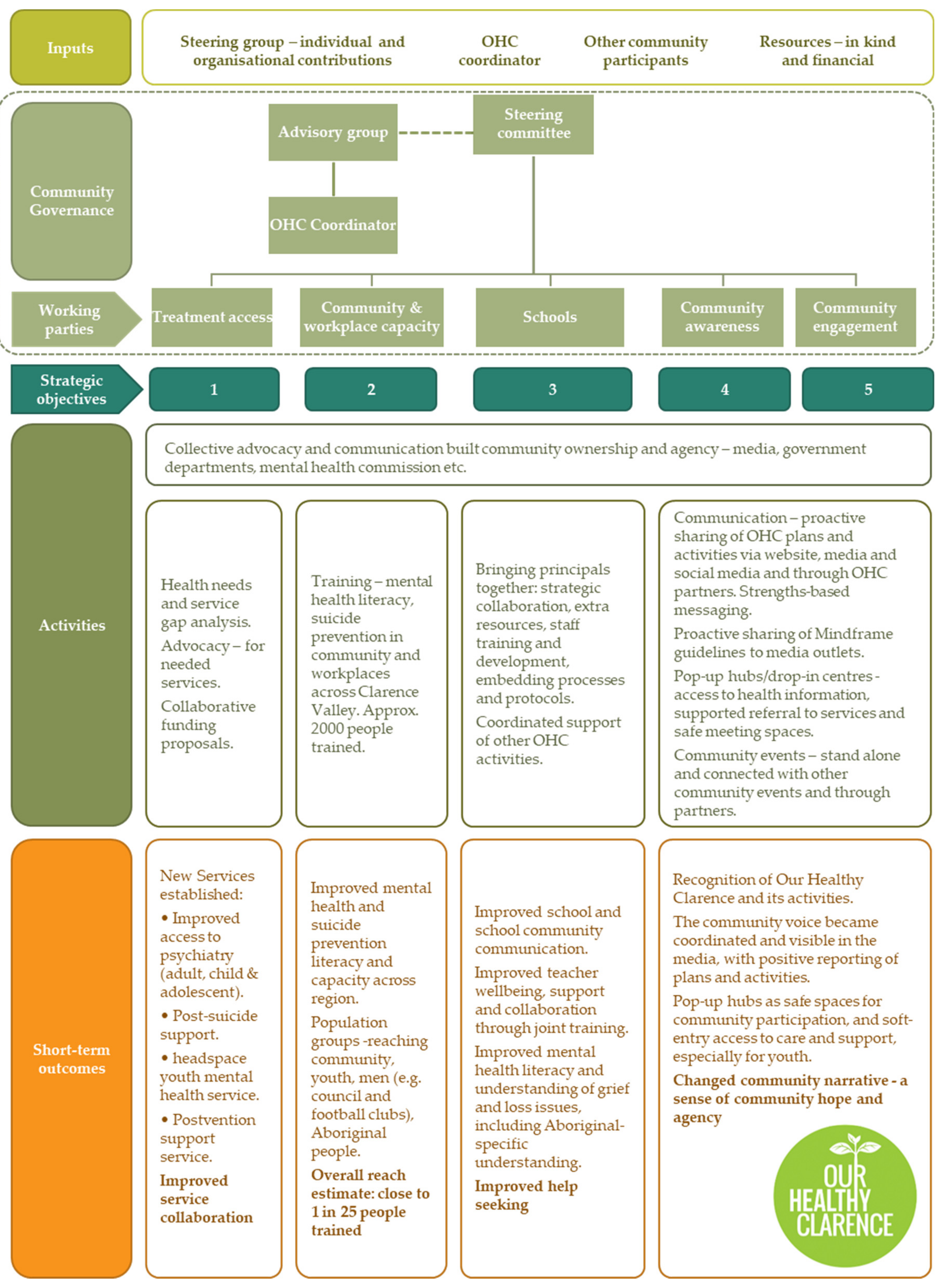 Figure 3. Key events and changes to Our Healthy Clarence over the planning and implementation period.

Theme
Sub-Theme
The community-owned, codesigned approach promoted engagement and empowerment
The community decided priorities which promoted buy-in
Multiple channels of engagement promoted representation
Engagement should be harnessed while it is present
Community readiness can arise from a variety of circumstances
The initiative took a strengths-based approach to suicide prevention via wellbeing
The wellbeing approach helped the community build after tragedy
The wellbeing approach gave a broader reach into community
The strengths-based approach got the community to realise its assets
Policy and programs focused on suicide prevention as a negative construct conflicted with the community desire to focus on community wellbeing as a positive approach
Governance and structure were important to the success of the initiative and matured over time
Early forums made it clear that community were drivers
Professional support assisted the governance of the initiative
Collaboration helped to realise the vision
Positions were given the flexibility to adapt to community needs
The committee had to balance inclusivity and size
The committee had to balance transparency, sensitivity and confidentiality
The culture of collaboration increased trust, coordination and agency
Service collaboration was an approachable goal to begin
The experience of collaboration built empowerment within the group
Consistency between institutions improved services
Personnel changes created challenges for collaboration
The activities of the initiative consistently reflected the community vision
Services became more accessible as the vision developed
The pop-up hubs go beyond traditional community centres
Existing community networks were used to reach into community
Willingness for mental health training helped to build awareness and capacity
OHC coincided with a changed community narrative of hope and agency
The community transitioned from fear to hope
The community became more willing to solve problems in the context of their strengths
The community developed the perception that their concerns were heard and addressed
Positive stories across the community were important to build hope
Community hope could be threatened in the event of a suicide

© 2019 by the authors. Licensee MDPI, Basel, Switzerland. This article is an open access article distributed under the terms and conditions of the Creative Commons Attribution (CC BY) license (http://creativecommons.org/licenses/by/4.0/).