The Effects of Endocrine Disrupting Chemicals on Biomarkers of Inflammation Produced by Lipopolysaccharide Stimulated RAW264.7 Macrophages
Department of Medical Bioscience, University of the Western Cape, Bellville 7535, South Africa
*
Author to whom correspondence should be addressed.
Received: 19 May 2019 / Revised: 25 July 2019 / Accepted: 26 July 2019 / Published: 14 August 2019
Abstract
Endocrine disrupting chemicals (EDCs) are common pollutants in the environment and can induce disruption of the endocrine and immune systems. The present study evaluated the effects of selected common environmental EDCs on secretion of inflammatory biomarkers by RAW264.7 cells. The EDCs investigated were Estradiol (E2), 5α-dihydrotestosterone (DHT), and Bisphenol A (BPA). To evaluate if the effects caused by EDCs were modulated by steroid hormone receptors, antagonists of estrogen and androgen receptors were used. The steroid receptor antagonists used were Tamoxifen, an estrogen receptor antagonist, and Flutamide, an androgen receptor antagonist. Secretion of biomarkers of inflammation, namely nitric oxide (NO) and interleukin 6 (IL-6), were monitored. The NO was determined using Griess reaction and IL-6 was measured by enzyme linked immunosorbent assay (ELISA). Although 5 μg/mL E2, DHT, and BPA were not toxic to RAW264.7 cell cultures, the same treatments significantly (
p
< 0.001) reduced both NO and IL-6 secretion by lipopolysaccharide (LPS)-stimulated RAW264.7 cell cultures. The suppression of NO and IL-6 secretion indicate inhibition of inflammation by DHT, E2, and BPA. The inhibitory effects of DHT, E2 and BPA are partially mediated via their cellular receptors, because the effects were reversed by their respective receptor antagonists. Flutamide reversed the effects of DHT, while Tamoxifen reversed the effects of E2 and BPA. In conclusion, E2, BPA, and DHT inhibit the synthesis of inflammation biomarkers by LPS-stimulated RAW264.7 cells. The inhibitory effects of EDCs can be partially reversed by the addition of an estrogen receptor antagonist for E2 and BPA, and an androgenic receptor antagonist for DHT. The inhibition of inflammatory response in stimulated RAW264.7 cells may be a useful bioassay model for monitoring estrogenic and androgenic pollutants.
View Full-Text
►

▼

Figures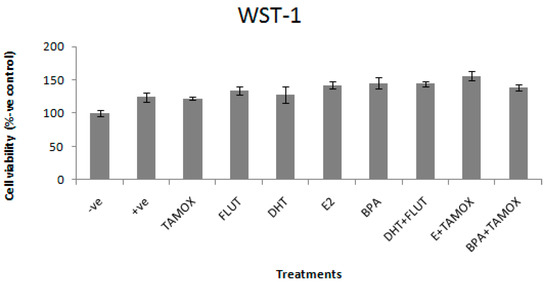 Figure 1
This is an open access article distributed under the
Creative Commons Attribution License
which permits unrestricted use, distribution, and reproduction in any medium, provided the original work is properly cited (CC BY 4.0).

Share & Cite This Article
MDPI and ACS Style
Makene, V.W.; Pool, E.J. The Effects of Endocrine Disrupting Chemicals on Biomarkers of Inflammation Produced by Lipopolysaccharide Stimulated RAW264.7 Macrophages. Int. J. Environ. Res. Public Health 2019, 16, 2914.
Note that from the first issue of 2016, MDPI journals use article numbers instead of page numbers. See further details here.
Related Articles
Comments
[Return to top]