Open Access This article is
freely available
re-usable
Article
Neonatal Bisphenol A Exposure Affects the IgM Humoral Immune Response to 4T1 Breast Carcinoma Cells in Mice
1
Departamento de Inmunología, Instituto de Investigaciones Biomédicas, Universidad Nacional Autónoma de Mexico, AP 70228, Ciudad de Mexico CP 04510, Mexico
2
Laboratorio de Genotoxicología y Mutagénesis Ambientales, Departamento de Ciencias Ambientales, Centro de Ciencias de la Atmósfera, Universidad Nacional Autónoma de Mexico, Ciudad de Mexico CP 04510, Mexico
*
Author to whom correspondence should be addressed.
Received: 8 February 2019 / Accepted: 12 April 2019 / Published: 20 May 2019
Abstract
:
Bisphenol A (BPA) is an endocrine disruptor of estrogenic nature. During the early stages of development, any exposure to BPA can have long-term effects. In this work, we study the potential alterations to the humoral antitumor immune (IgM) response in adult life after a single neonatal exposure to BPA. Female syngeneic BALB/c mice were exposed to a single dose of BPA of 250 μg/kg. Once sexual maturity was reached, a breast tumor was induced. After 25 days, the serum was obtained, and the populations of B cells in the spleen and lymph nodes were analyzed by flow cytometry. The reactivity of IgM was evaluated by 2D immunoblots. No significant changes were found in the B cell populations in the peripheral lymph nodes and the spleen. The level of ERα expression was not significantly different. However, the IgM reactivity was affected. In individuals treated with BPA, a decrease in the number of IgMs that recognize tumor antigens was observed. The possibility that these antibodies are the high affinity products of the adaptive response is discussed. The recognition of IgG was also evaluated but a null recognition was found in the controls as in the individuals treated with the 4T1 cells.
Keywords:
BPA; IgM; 4T1 cells
2. Materials and Methods
2.1. Ethics Statement
The procedure for animal handling is described in [
9
]. As an ethical statement, the technical specifications for the production, care and use of laboratory animals can be consulted in: "NORMA Oficial Mexicana NOM-062-ZOO-1999, Especificaciones técnicas para la producción, cuidado y uso de los animales de laboratorio" [
12
].
2.2. Neonatal BPA Exposure
The procedure is described in [
9
]. Although the main exposure route is commonly oral, subcutaneous injection was selected instead as no differences between oral and subcutaneous routes are observed in neonate mice in this case.
2.3. Mammary Tumour Induction
2.4. Cell Culture and Flow Cytometry
The procedure is described in [
9
]. After the cardiac puncture, the spleen and the inguinal peripheral lymph nodes were mechanically disaggregated using a 50 μm nylon mesh and washed with PBS. These organs were placed in the wells of culture plate with 1 mL of PBS and kept on ice. The nodules were kept cold in PBS until processing for flow cytometry. Spleen erythrocytes were lysed by incubation for 10 min in erythrocyte lysis buffer (0.15 M NH
4
Cl, 1 M KHCO
3
, 0.1 mM Na
2
EDTA, pH 7.3) for 10 min and washed with PBS.
2.5. Two-Dimensional Immunoblot and Image Processing
The 2D immunoblots and image analysis were performed as previously described [
11
]. An average 2D image of the duplicates of each mouse was obtained. A master image was obtained from the superposition of all the average images of all the mice under different experimental conditions. The master image was used to identify the spots that were common to all mice.
2.6. Statistical Analysis
The experimental design considers two independent variables: neonatal exposure (Intact, BPA vehicle) and induction of mammary tumors (Control or 4T1). Data from 2–3 independent experiments were analyzed using the Prism 6
®
software (GraphPad Software Inc.) A one-way ANOVA (alpha = 0.05) was performed. The differences were considered to be significant if
p
< 0.05. The estrogen receptor expression data consider the two independent variables and therefore, a two-way ANOVA (alpha = 0.05) was performed, followed by a and Bonferroni multiple comparison between all groups.
4. Discussion
We did not found changes in B lymphocytes and ERα levels because it may be more appropriate to search for plasmatic cells. B cells did not change because their production may also not be affected by BPA, with its differentiation to plasmatic cells potentially being the key. We are currently working to elucidate this effect of BPA. As for the ERα, the binding of BPA probably does not affect its expression and thus, there will be no changes despite the mechanism of action occurring through that pathway. To block ER using tamoxifen or ICI-250 would help to dilucidate if the BPA mechanism of action only occurs by binding to ERα. Otherwise, it is possible that other steroid hormone receptors are involved in the BPA effect, such as PR or even ERα.
5. Conclusions
Our results demonstrate that BPA administered during the neonatal period has no impact on the percentage of the B cell population but instead affects its ability to generate high affinity IgM antibodies, as measured by its reactivity to tumor antigens.
Author Contributions
Conceptualization, P.O.-S. and J.M.-M.; Methodology, R.H.A.; M.I.P.-A.; K.E.N.-C.; Resources, P.O.-S. and J.M.-M.; Writing—Original Draft Preparation, P.O.-S. Writing—Review & Editing, J.M.-M.; R.H.A.; M.I.P.-A.; K.E.N.-C.; Funding Acquisition, P.O.-S. and J.M.-M.
Funding
This research was funded by Project Grants IN-202218 from Programa de Apoyo a Proyectos de Innovación Tecnológica (PAPIIT), Dirección General de Asuntos del Personal Académico (DGAPA), Universidad Nacional Autónoma de Mexico (UNAM) to Pedro Ostoa Saloma. Also IN-209719 from DGAPA PAPIIT and grant FC 2016–2125 from Fronteras en la Ciencia, Consejo Nacional de Ciencia y Tecnología (CONACYT), both granted to Jorge Morales-Montor.
Acknowledgments
Margarita I. Palacios Arreola is a Postdoctoral fellow from DGAPA, UNAM.
Conflicts of Interest
The authors declare no conflict of interest.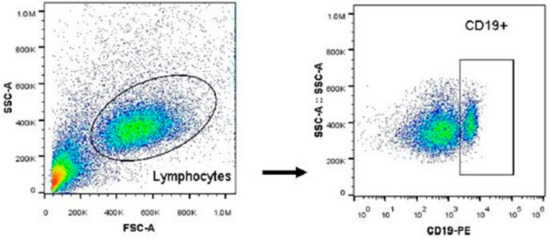 Figure 1. Strategy used for the identification of B lymphocytes. The dot plot is representative of the region of interest. Data analyzed with Flow Jo software.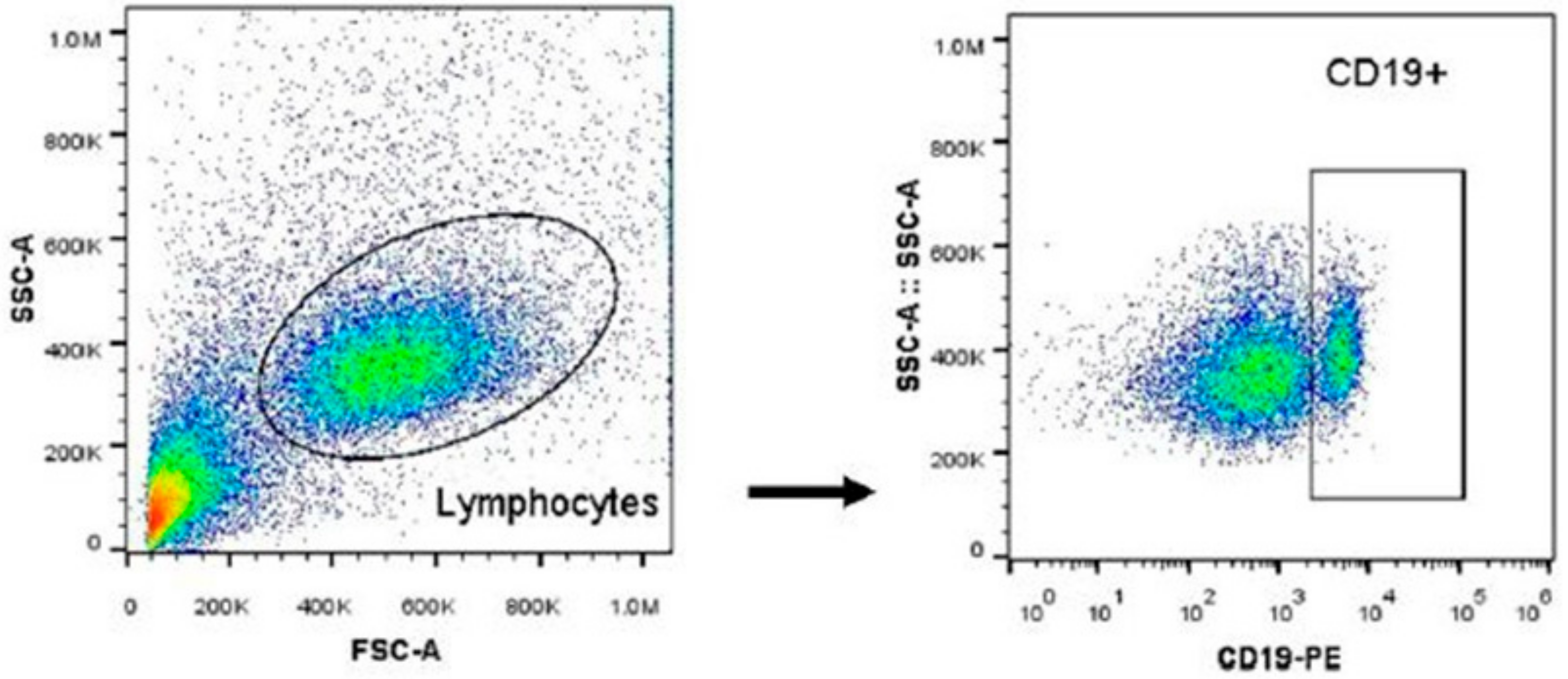 Figure 2.
(
A
): B lymphocyte population in spleen. B lymphocytes are diminished in tumor bearing animals. (
B
): Population of B lymphocytes in draining peripheral lymph nodes. An increase in B lymphocytes is observed as a consequence of tumor development. However, for both groups, no significant differences were observed due to the neonatal treatment effect in healthy groups or in those with tumor development. Data were obtained from 3 independent experiments and are expressed as mean ± SD; n = 12 per group. Notation: (b ≠ a),
p
< 0.05.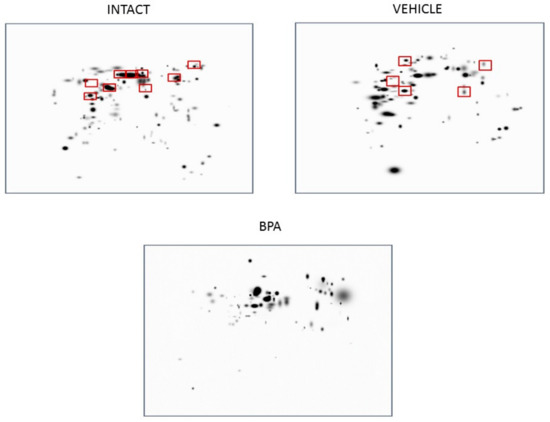 Figure 3. 2D master images obtained from average images of mice in each experimental situation. Control: N = 6, Vehicle: N = 4 and BPA: N = 7. The red boxes indicate the spots that are common to all the mice in that group.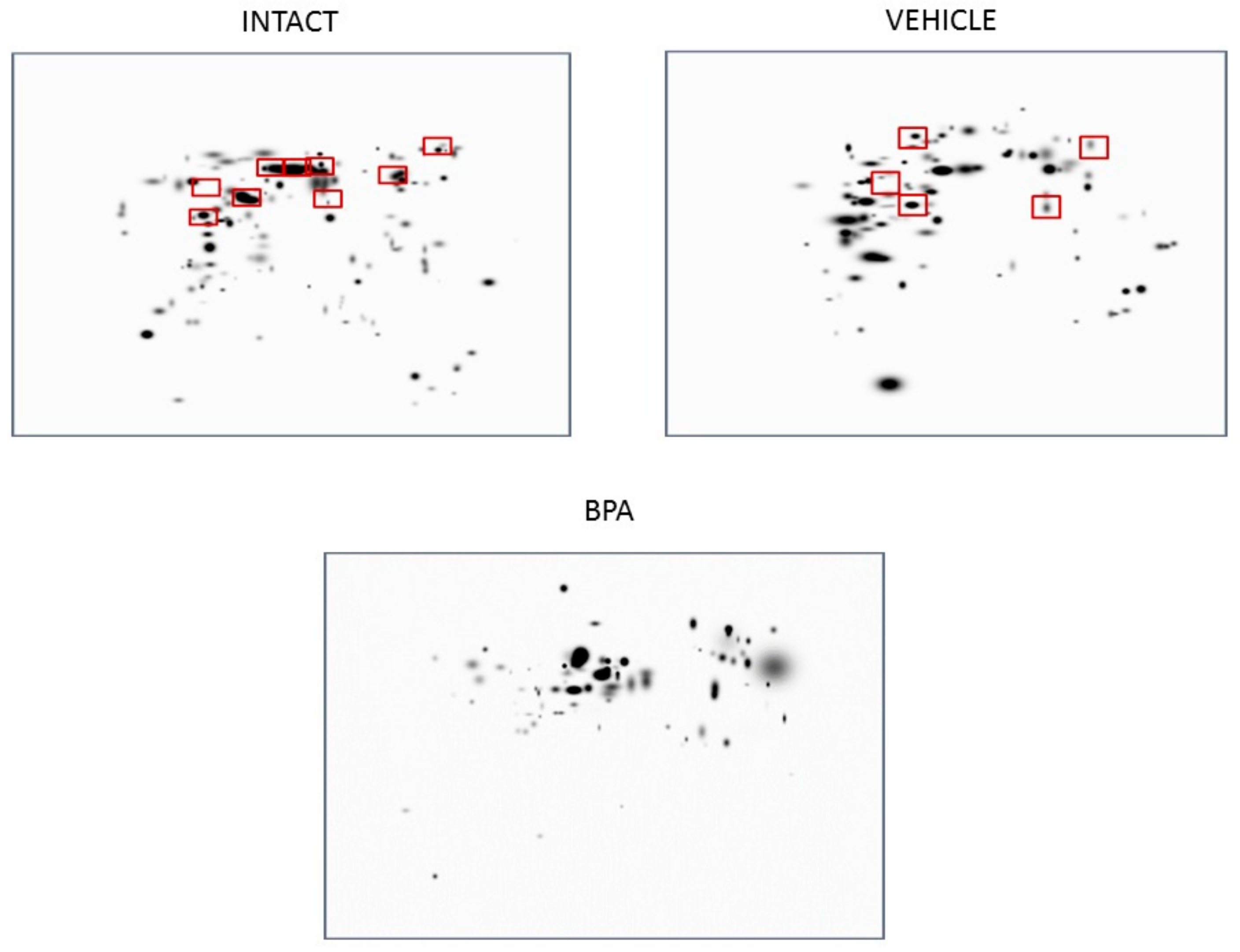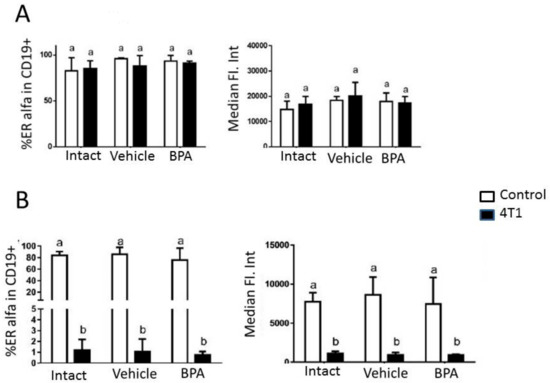 Figure 4.
(
A
): Evaluation of ERα expression in terms of percentage of ERα
+
cells and level of expression represented by the median intensity of fluorescence in draining peripheral lymph nodes using flow cytometry. No changes are observed between experimental groups. (
B
): Evaluation of ERα expression in terms of percentage of ERα
+
cells and level of expression represented by the median intensity of fluorescence in spleen. It was observed that the B lymphocytes of the animals that developed tumors had a lower expression of ERα compared to healthy individuals. This phenomenon was more evident in the groups treated with vehicle and BPA. Data were obtained from 2 independent experiments and are expressed as mean ± SD; n = 10 per group. Notation: (b ≠ a),
p
< 0.05.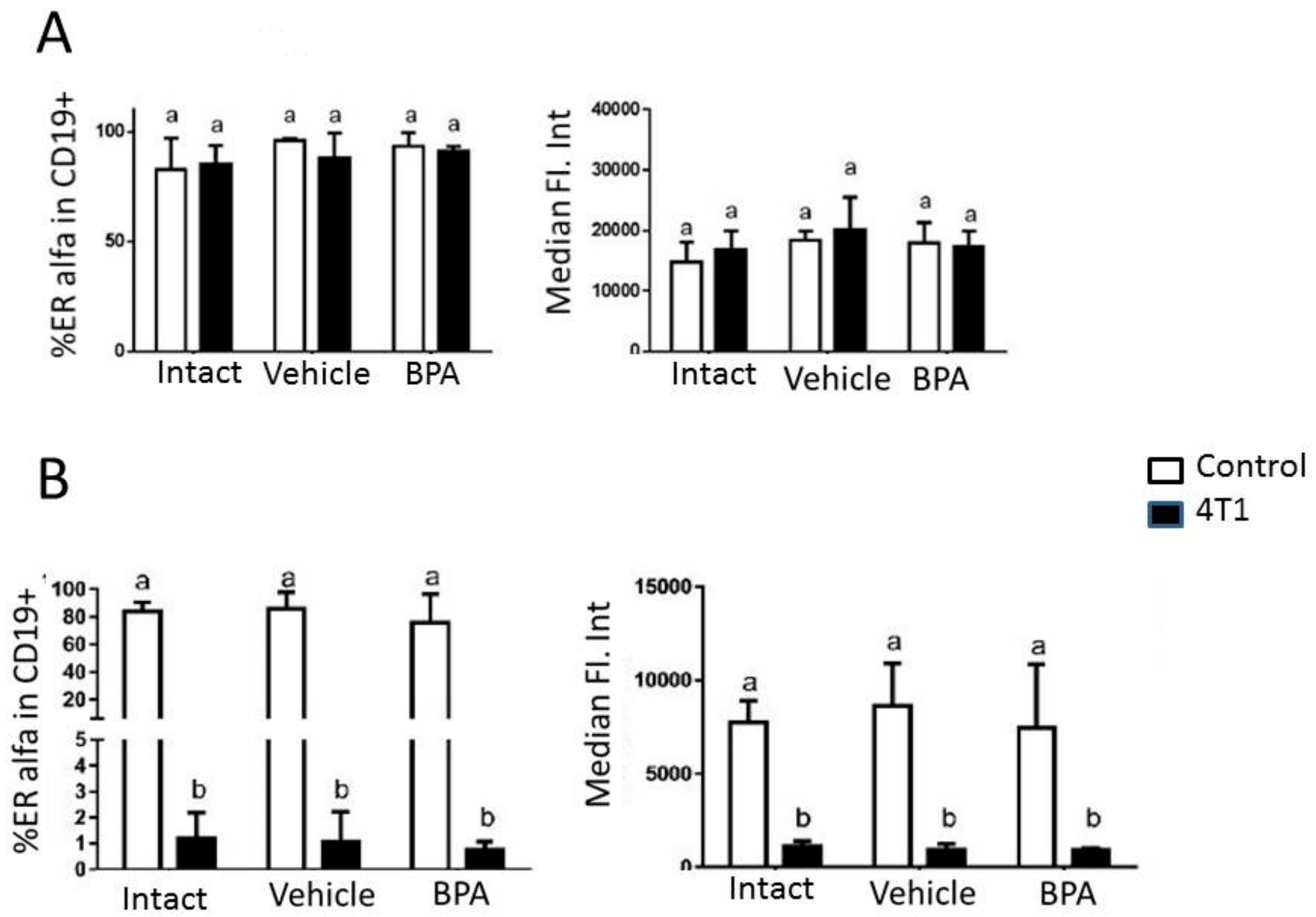 © 2019 by the authors. Licensee MDPI, Basel, Switzerland. This article is an open access article distributed under the terms and conditions of the Creative Commons Attribution (CC BY) license (http://creativecommons.org/licenses/by/4.0/).