Childhood Asymmetry Labium Majus Enlargement (CALME): Description of Two Cases
1
Paediatric Clinic, Department of Surgical and Biomedical Sciences, Università degli Studi di Perugia, 06132 Perugia, Italy
2
Pediatric Surgery Unit, S. Maria della Misericordia Hospital, 06132 Perugia, Italy
3
Section of Pathologic Anatomy and Histology, Department of Experimental Medicine, Università degli Studi di Perugia, 06132 Perugia, Italy
4
Radiology Unit, Department of Surgical and Biomedical Sciences, Università degli Studi di Perugia, 06132 Perugia, Italy
5
Università degli Studi di Milano, 20122 Milan, Italy
*
Author to whom correspondence should be addressed.
Received: 5 June 2018 / Revised: 12 July 2018 / Accepted: 13 July 2018 / Published: 19 July 2018
Abstract
Background
: Childhood asymmetry labium majus enlargement (CALME) is an uncommon, benign condition that occurs in pre- and early pubertal girls and is characterized by a painless, fluctuating, non-tender labial swelling with normal overlying skin. Recognition of this benign condition is essential. Differentiation with several other diseases that mimic CALME and require different diagnostic and therapeutic approaches is mandatory. Two cases of CALME are described in this report. Differential diagnoses and therapeutic approaches are highlighted.
Case presentation
: The first case was an 11-year-old Caucasian girl referred to our hospital for the evaluation of right labium majus, which showed a palpable, painless, soft, non-tender, non-erythematous enlargement measuring approximately 2 cm with indistinct borders. Ultrasound showed a mass 23 × 18 × 12 mm in diameter. Surgical excision of the mass was performed and in the histopathological evaluation, the tissue specimens were composed of haphazardly arranged vascular channels, adipose tissue and nervous elements that were components of the vulvar soft tissue and were compatible with the diagnosis of CALME. Case 2 was a 6-year-old Caucasian girl who presented a post-traumatic painless mass of left labium majus swelling that progressively increased in volume. Ultrasound study evidenced an ill-defined heterogeneous echotexture mass 26 × 15 × 10 mm in diameter and magnetic resonance imaging confirmed these findings. Histopathological examination was performed after bioptic sampling evidencing normal constituents of vulvar soft tissue, including fibroblast, collagen, adipose tissue, blood vessels and nerves compatible with CALME.
Conclusions
: CALME is a particular clinical condition that occurs mainly in pre-pubertal girls and has a benign course but poses numerous problems in differential diagnosis that can be solved only with careful clinical observation and with a careful use of radiological imaging techniques. Our cases, in agreement with recent literature, suggest that radical excision is not recommended and that surgical biopsy should be taken into consideration only in cases of doubt.
View Full-Text
►

▼

Figures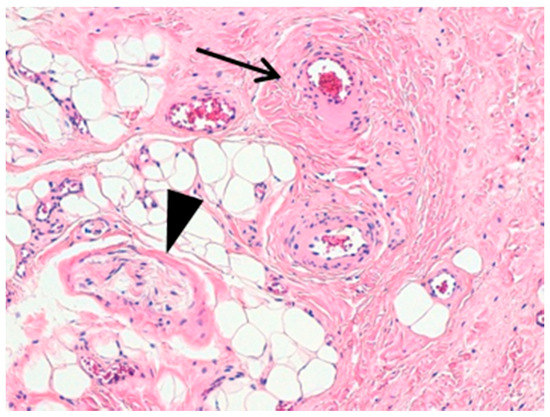 Figure 1
This is an open access article distributed under the
Creative Commons Attribution License
which permits unrestricted use, distribution, and reproduction in any medium, provided the original work is properly cited (CC BY 4.0).

Share & Cite This Article
MDPI and ACS Style
Salvatori, C.; Testa, I.; Prestipino, M.; Laurenti, M.E.; Riccioni, S.; Di Cara, G.; Principi, N.; Esposito, S.; Bertozzi, M. Childhood Asymmetry Labium Majus Enlargement (CALME): Description of Two Cases. Int. J. Environ. Res. Public Health 2018, 15, 1525.
Note that from the first issue of 2016, MDPI journals use article numbers instead of page numbers. See further details here.
Related Articles
Comments
[Return to top]