Acute Toxicity of an Emerging Insecticide Pymetrozine to
Procambarus clarkii

Associated with Rice-Crayfish Culture (RCIS)

1

State Key Laboratory of Freshwater Ecology and Biotechnology, Institute of Hydrobiology, Chinese Academy of Sciences, 7 South Donghu Road, Wuhan 430072, Hubei, China

2

College of Life Sciences, University of Chinese Academy of Sciences, Beijing 100049, China

3

Department of Chemical Engineering, McGill University, Montreal, QC H3A 0C5, Canada

*

Author to whom correspondence should be addressed.

Received: 23 March 2018 / Revised: 25 April 2018 / Accepted: 26 April 2018 / Published: 14 May 2018
Abstract
This study aims to evaluate the acute toxicity of pymetrozine to juvenile
Procambarus clarkii
. Two 96-h toxicity tests were conducted to assess the lethal concentration 50 (LC
50
) values, behaviors, and histopathology (at 50% of the 96 h LC
50
) after pymetrozine exposure. The results showed high toxicity of pymetrozine to juvenile
P. clarkii
in a dose and time dependent manner, with a decreasing LC
50
from 1.034 mg/L at 24 h to 0.479 mg/L at 96 h. The maximum allowable concentration (MAC) of pymetrozine for
P. clarkii
was 0.106 mg/L. Behavioral abnormalities were observed in pymetrozine-treated crayfish, such as incunabular hyperexcitability, subsequent disequilibrium, lethargy, and increased defecation. Significant lesions were observed in all pymetrozine-treated tissues, including: (1) in gill, hemocytic infiltration and 33.27% of epithelial cells lesions; (2) in perigastric organs, 64.37%, 29.06%, and 13.99% of tubules with lumen atrophy, vacuolation, and cell lysis, respectively; (3) in heart, 2.5%, 8.55% and 7.74% of hemocytic infiltration, vacuolization, and hyperplasia, respectively; (4) in stomach, 80.82%, 17.77%, 6.98%, 5.24% of cuticula swelling, vacuolization, muscle fragmentation, hemocytic infiltration, respectively; (5) in midgut, 7.45%, 10.98%, 6.74%, and 13.6% of hyperplasia, tissue lysis and vacuolation, hemocytic infiltration, muscle fracture; and (6) in abdominal muscle, 14.09% of myofiber fracture and lysis. This research demonstrates that pymetrozine is highly toxic to juvenile
P. clarkii
, with significant effects on mortality, behavior and histopathology at concentrations of ≤1.1 mg/L, while the estimated practical concentration of pymetrozine in rice-crayfish culture water was around 20 times lower than the calculated MAC.
View Full-Text
►

▼

Figures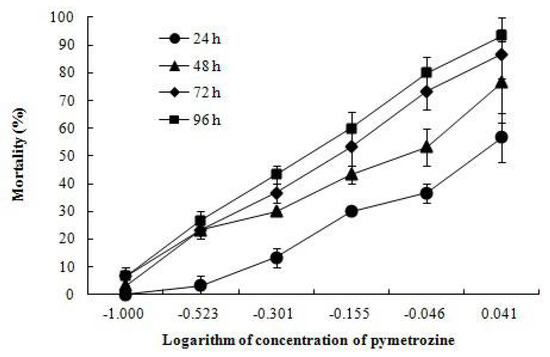 Figure 1
This is an open access article distributed under the
Creative Commons Attribution License
which permits unrestricted use, distribution, and reproduction in any medium, provided the original work is properly cited (CC BY 4.0).

Share & Cite This Article
MDPI and ACS Style
Yu, J.; Xu, E.G.; Li, W.; Jin, S.; Yuan, T.; Liu, J.; Li, Z.; Zhang, T. Acute Toxicity of an Emerging Insecticide Pymetrozine to Procambarus clarkii Associated with Rice-Crayfish Culture (RCIS). Int. J. Environ. Res. Public Health 2018, 15, 984.
Note that from the first issue of 2016, MDPI journals use article numbers instead of page numbers. See further details here.
Related Articles
Comments
[Return to top]