Open Access This article is
freely available
re-usable
Article
Detection of the Invasive Mosquito Species
Aedes
(
Stegomyia
)
albopictus
(Diptera: Culicidae) in Portugal
1
National Institute of Health Doutor Ricardo Jorge, Centre for Vectors and Infectious Diseases Research, Avenida da Liberdade 5, 2965-575 Águas de Moura, Portugal
2
Instituto de Saúde Ambiental, Faculdade de Medicina da Universidade de Lisboa, Av. Prof. Egas Moniz, Ed. Egas Moniz, Piso 0, Ala C, 1649-028 Lisboa, Portugal
3
Biosystems and Integrative Sciences Institute (BioISI), Edificio TecLabs, Campus da FCUL, Campo Grande, 1749-016 Lisboa, Portugal
4
Administração Regional de Saúde do Norte, I.P., Departamento de Saúde Pública, Rua Anselmo Braamcamp, 144, 4000-078 Porto, Portugal
5
Agrupamento de Centros de Saúde de Vale de Sousa Sul—Unidade de Saúde Pública, Avenida Comendador Abílio Seabra, 104, 4580-029 Paredes, Portugal
*
Author to whom correspondence should be addressed.
Received: 21 March 2018 / Accepted: 18 April 2018 / Published: 21 April 2018
Abstract
:
The Asian tiger mosquito
Aedes albopictus
is an invasive mosquito originating from the Asia-Pacific region. This species is of major concern to public and veterinary health because of its vector role in the transmission of several pathogens, such as chikungunya, dengue, and Zika viruses. In Portugal, a National Vector Surveillance Network (REde de VIgilância de VEctores—REVIVE) is responsible for the surveillance of autochthonous, but also invasive, mosquito species at points of entry, such as airports, ports, storage areas, and specific border regions with Spain. At these locations, networks of mosquito traps are set and maintained under surveillance throughout the year. In September 2017,
Ae. albopictus
was detected for the first time in a tyre company located in the North of Portugal. Molecular typing was performed, and a preliminary phylogenetic analysis indicated a high similarity with sequences of
Ae. albopictus
collected in Europe. A prompt surveillance response was locally implemented to determine its dispersal and abundance, and adult mosquitoes were screened for the presence of arboviral RNA. A total of 103 specimens, 52 immatures and 51 adults, were collected. No pathogenic viruses were detected. Despite the obtained results suggest low abundance of the population locally introduced, the risk of dispersal and potential establishment of
Ae. albopictus
in Portugal has raised concern for autochthonous mosquito-borne disease outbreaks.
Keywords:
Aedes albopictus
; invasive mosquito species; DNA barcoding; REVIVE; arboviruses; Portugal
Author Contributions
Maria Neto and Sílvia Silva coordinated the entomological surveillance activities at the collection sites; Ana Sofia Silva, Fátima Marques, and Hugo Costa Osório performed the mosquito collection activities; Hugo Costa Osório identified morphologically and molecularly the mosquito specimens; Líbia Zé-Zé performed the sequence data analysis; Hugo Costa Osório, Líbia Zé-Zé, and Maria João Alves wrote the paper. All authors read and approved the final manuscript.
Conflicts of Interest
The authors declare no conflict of interest.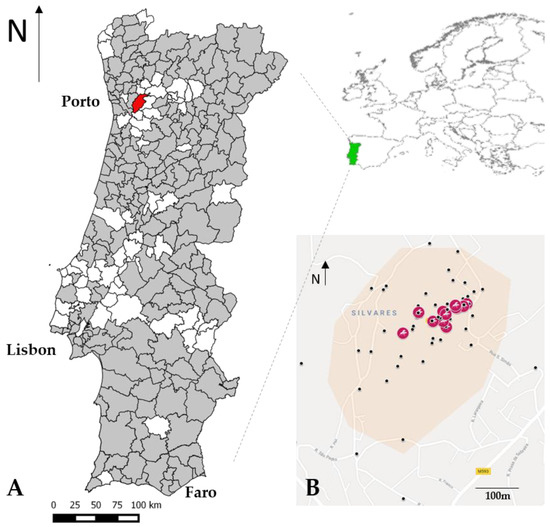 Figure 1.
(
A
) In red, the positive location for
Ae. albopictus
in Portugal, municipality of Penafiel (LAU 1), parish of Guilhufe and Urrô (LAU 2) (41°11′08.1′′ N 8°19′45.7′′ W). In grey, the municipalities (LAU 1) surveyed under REVIVE in 2017; (
B
) Distribution map of traps and breeding sites (black points) in the premises of the tyre company and in the 200 m perimeter buffer around the company (rose area). The pink circles indicate the positive sites for the presence of
Ae. albopictus
.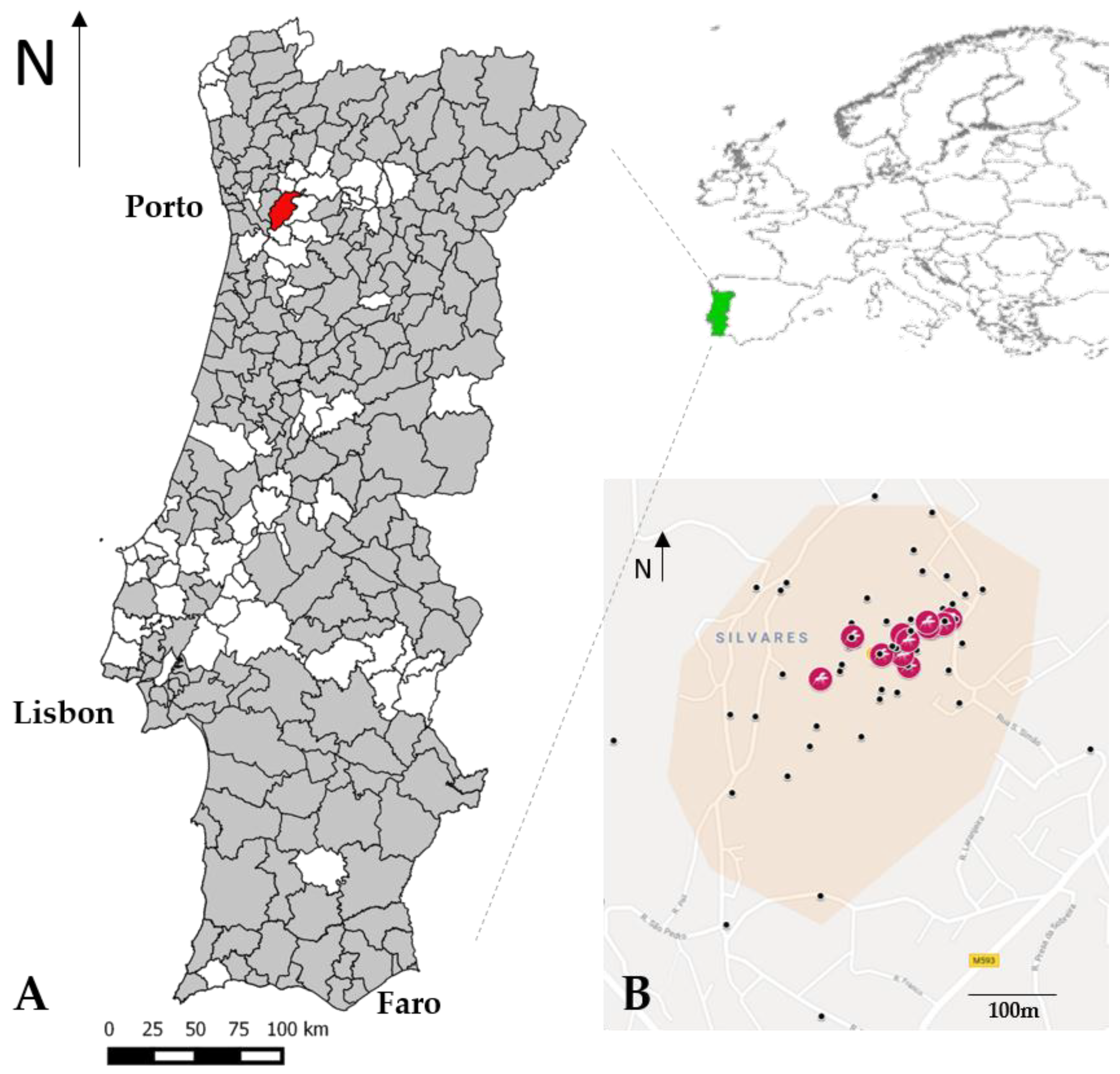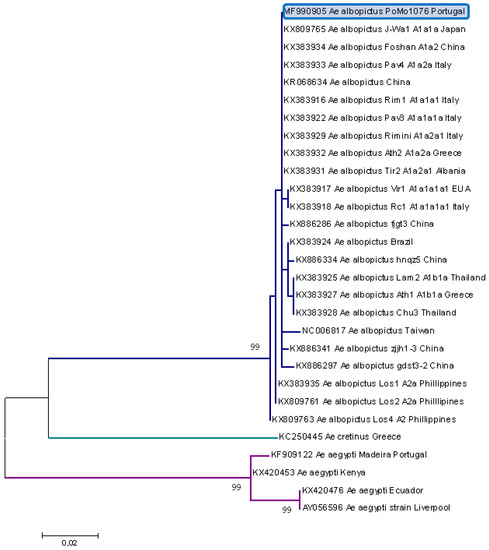 Figure 2.
Phylogenetic analysis of
Ae. albopictus
sequences using partial COI sequence region. The maximum likelihood phylogenetic tree was inferred on the basis of 29 partial cytochrome oxidase I (COI) nucleotide sequences (660 bp) by using Molecular Evolutionary Genetics Analysis (MEGA) version 7 software. Distance matrices were calculated using the T92+G model. Bootstrap values obtained from 1000 replicate trees are shown for key nodes (more than 70%). The scale is shown at the bottom as substitutions per site. GenBank accession number and origin are indicated. The
Ae. albopictus
sequence related to this work is highlighted in blue.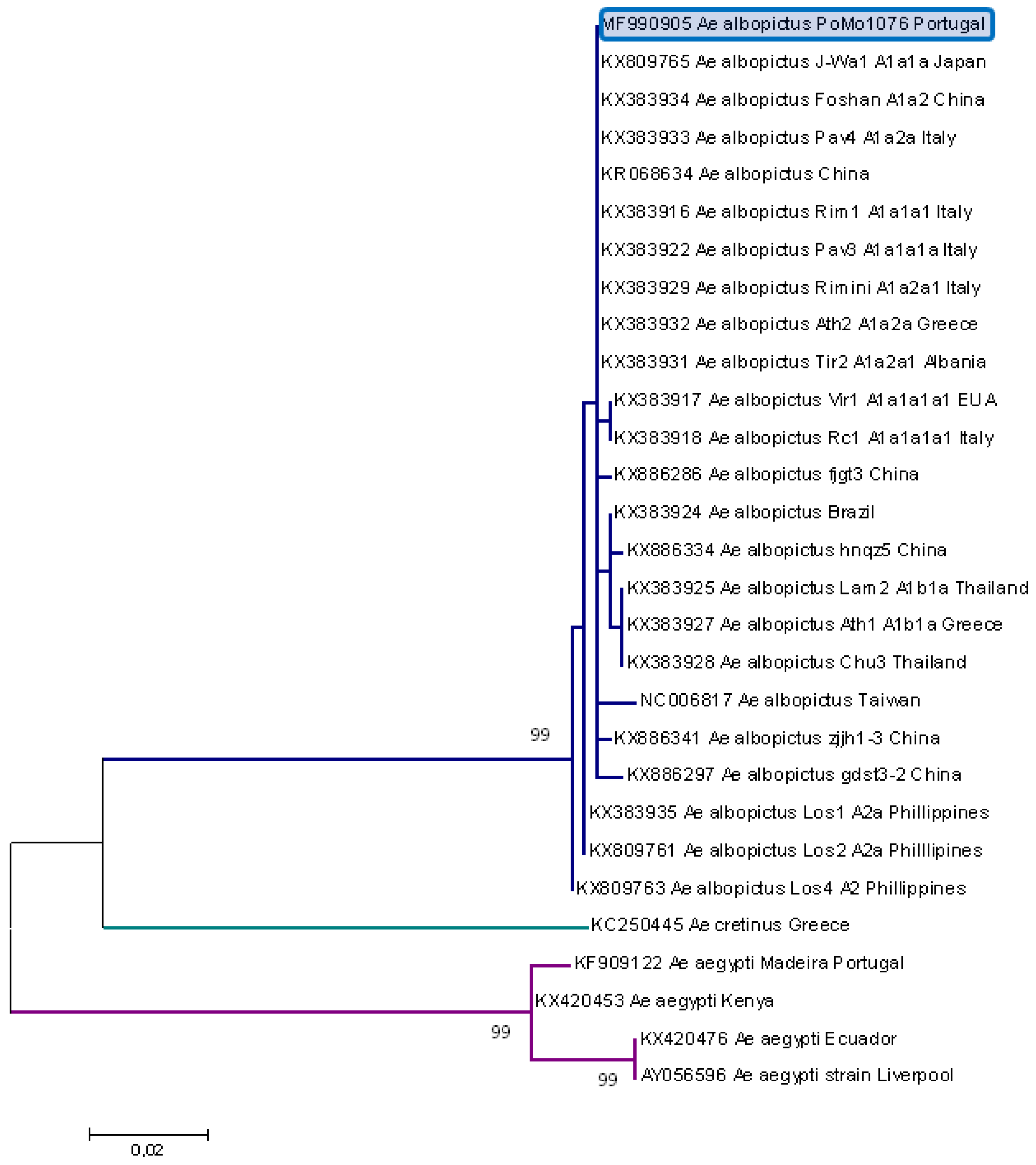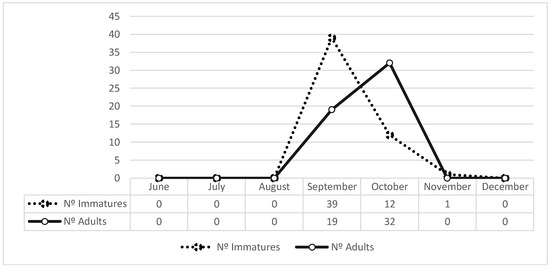 Figure 3.
Number of
Ae. albopictus
specimens identified during REVIVE activities at Urrô site from 12 June to 20 December 2017.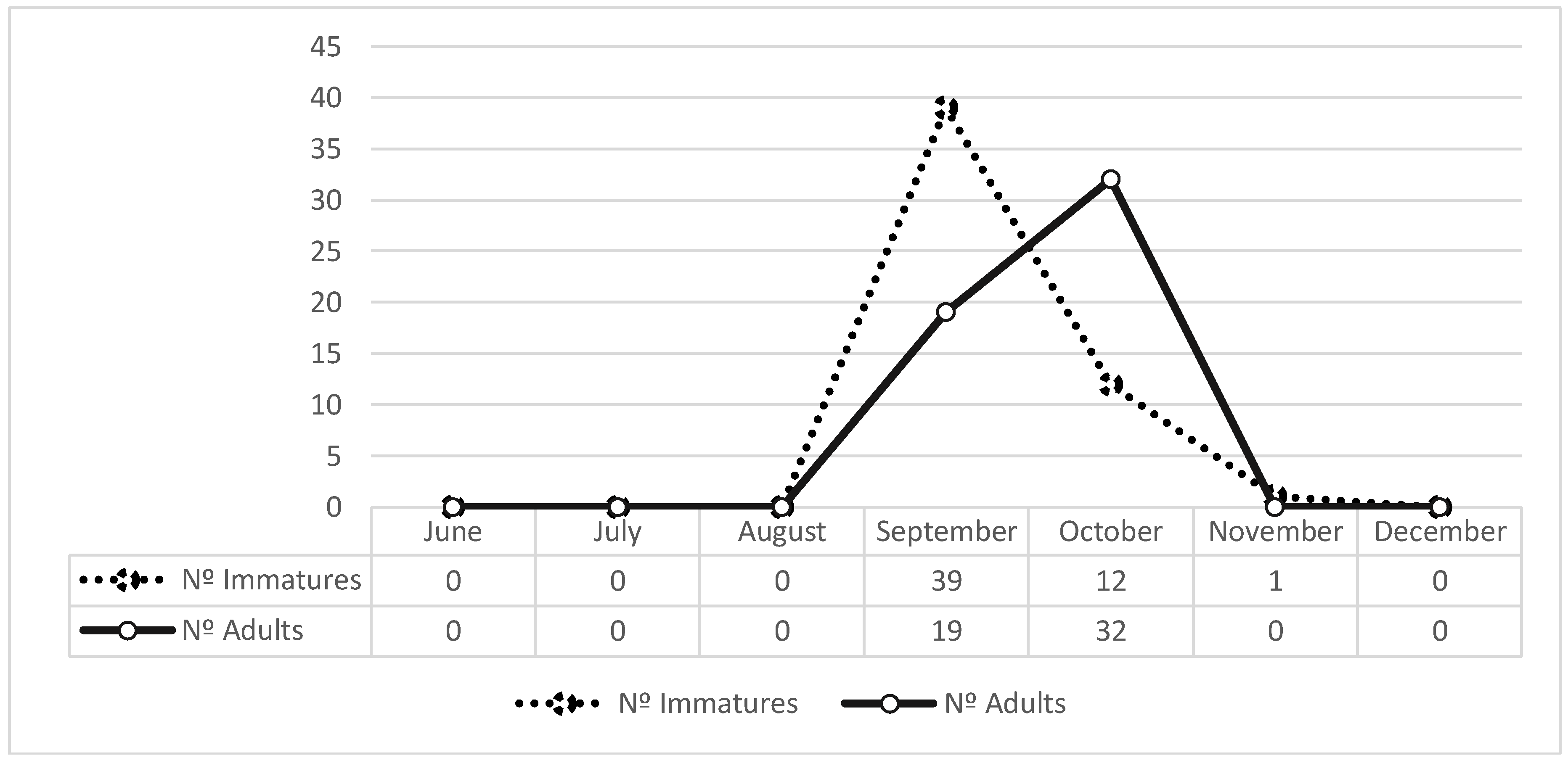 Table 1.
Number of set traps, screened larval habitats, adult mosquitoes collected by aspiration in the surveillance plan after detection of
Ae. albopictus
(number of positive traps/breeding sites for
Ae. albopictus
in brackets), and specimens collected from 12 June to 20 December 2017.
Trap/Breeding Site (T/BS)
No. of T/BS (Positive T/BS)
No. of Immatures
No. of Adults
Total
BG sentinel
7 (2)
11
11
Flower pots
1 (0)
Gutter
8 (4)
42
24
66
Ovitrap
48 (6)
9
11
20
Tyre
1 (1)
1
1
Water tank (>1000 L)
2 (0)
Aspiration
5
5
Total
52
51
103
BG: Biogents sentinel trap.

© 2018 by the authors. Licensee MDPI, Basel, Switzerland. This article is an open access article distributed under the terms and conditions of the Creative Commons Attribution (CC BY) license (http://creativecommons.org/licenses/by/4.0/).