Abundances of Clinically Relevant Antibiotic Resistance Genes and Bacterial Community Diversity in the Weihe River, China
College of Natural Resources and Environment, Agriculture Key Laboratory of Plant Nutrition and Agri-Environment in Northwest China, Northwest A&F University, Yangling 712100, China
*
Author to whom correspondence should be addressed.
Received: 3 February 2018 / Revised: 30 March 2018 / Accepted: 7 April 2018 / Published: 10 April 2018
Abstract
The spread of antibiotic resistance genes in river systems is an emerging environmental issue due to their potential threat to aquatic ecosystems and public health. In this study, we used droplet digital polymerase chain reaction (ddPCR) to evaluate pollution with clinically relevant antibiotic resistance genes (ARGs) at 13 monitoring sites along the main stream of the Weihe River in China. Six clinically relevant ARGs and a class I integron-integrase (
intI1
) gene were analyzed using ddPCR, and the bacterial community was evaluated based on the bacterial 16S rRNA V3–V4 regions using MiSeq sequencing. The results indicated Proteobacteria, Actinobacteria, Cyanobacteria, and Bacteroidetes as the dominant phyla in the water samples from the Weihe River. Higher abundances of
bla
TEM
,
strB
,
aadA
, and
intI1
genes (10
3
to 10
5
copies/mL) were detected in the surface water samples compared with the relatively low abundances of
strA
,
mecA
, and
vanA
genes (0–1.94 copies/mL). Eight bacterial genera were identified as possible hosts of the
intI1
gene and three ARGs (
strA
,
strB
, and
aadA
) based on network analysis. The results suggested that the bacterial community structure and horizontal gene transfer were associated with the variations in ARGs.
View Full-Text
►

▼

Figures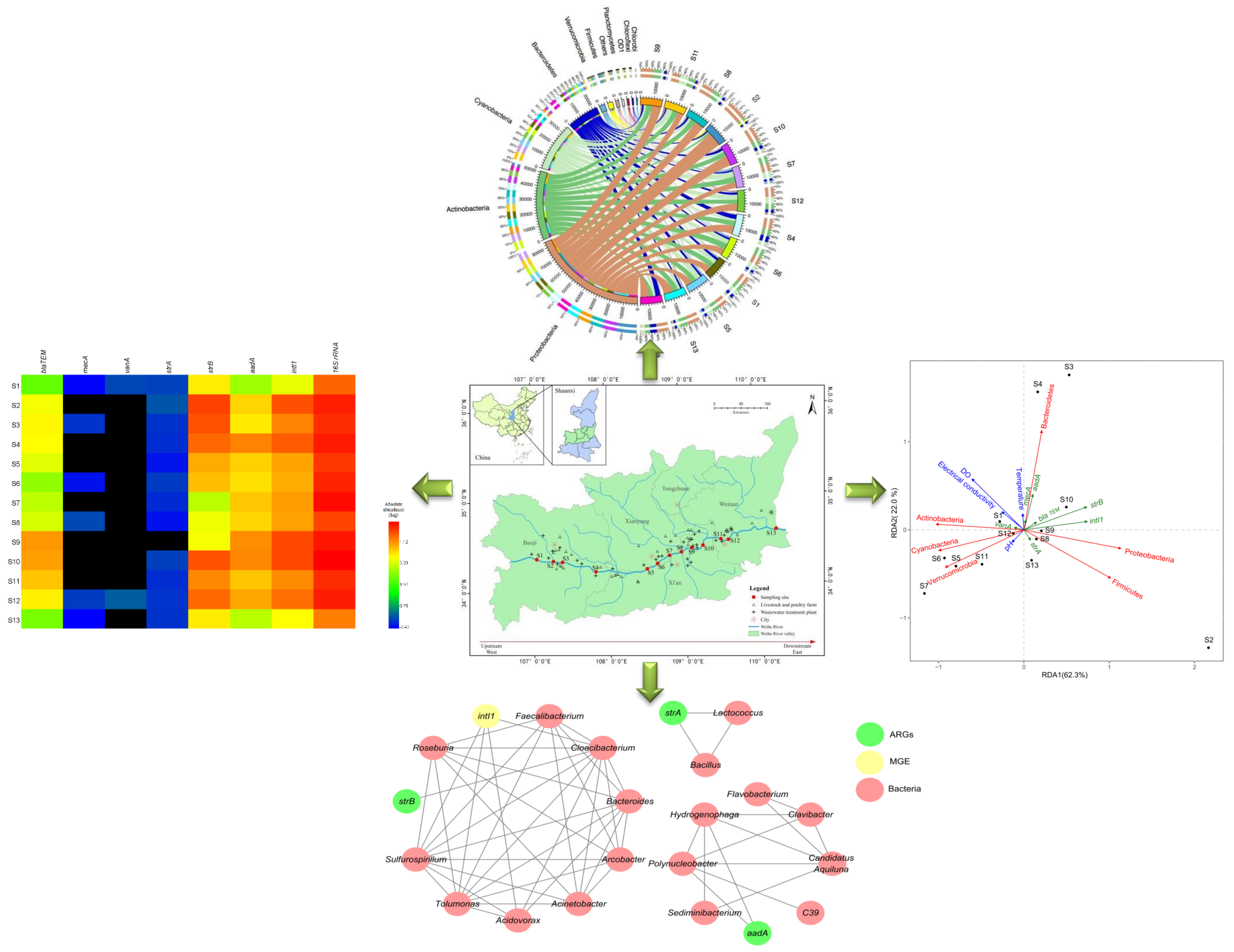 Graphical abstract
This is an open access article distributed under the
Creative Commons Attribution License
which permits unrestricted use, distribution, and reproduction in any medium, provided the original work is properly cited (CC BY 4.0).
Supplementary materials
Supplementary File 1:

Supplementary (PDF, 703 KB)

Externally hosted supplementary file 1
Doi: no
Link: http://no
Description: Figure S1: Total relative abundances of ARGs and intI1 in water samples collected from the Weihe River; Figure S2: Venn diagrams showing the shared and distinct operational taxonomic units (OTUs) in different sites; Figure S3: Distributions of the relative abundances of the 10 most abundant bacteria in the 13 samples at different levels: (a) phylum level; (b) class level; (c) order level; and (d) family level; Table S1: Descriptions of the sampling sites; Table S2: Primers and probes for the detection of clinically relevant antibiotic genes in this study; Table S3: Raw and clean tags, OTUs, Good's coverage, and Shannon, Chao1, ACE, and Simpson's indices for the 13 water samples; Table S4: Environmental factors used for redundancy analysis; Table S5: Pearson's correlation coefficients between genes and the main bacterial phyla. * Significantly different at p < 0.05. ** Significantly different at p < 0.01; Table S6: Pearson's correlation coefficients between the relative abundances of ARGs and the intI1 gene. * Significantly different at p < 0.05; Table S7: Pearson's correlation coefficients between genes and environmental factors. * Significantly different at p < 0.05.

Share & Cite This Article
MDPI and ACS Style
Wang, X.; Gu, J.; Gao, H.; Qian, X.; Li, H. Abundances of Clinically Relevant Antibiotic Resistance Genes and Bacterial Community Diversity in the Weihe River, China. Int. J. Environ. Res. Public Health 2018, 15, 708.
Note that from the first issue of 2016, MDPI journals use article numbers instead of page numbers. See further details here.
Related Articles
Comments
[Return to top]