Sex-Specific Association between Metabolic Abnormalities and Elevated Alanine Aminotransferase Levels in a Military Cohort: The CHIEF Study
1
Department of Medicine, Hualien Armed Forces General Hospital, No. 100, Jin-Feng St., Hualien 970, Taiwan
2
Departments of Medicine, Tri-Service General Hospital, National Defense Medical Center, Taipei 114, Taiwan
3
Department of Public Health, Tzu-Chi University, Hualien 970, Taiwan
4
Department of Critical Care Medicine, Yonghe Cardinal Tien Hospital, Fu-Jen Catholic University, New Taipei City 234, Taiwan
5
Department of Dentistry, National Yang-Ming University, Taipei 112, Taiwan
6
Department of Nursing, Tzu-Chi College of Technology, Hualien 970, Taiwan
7
College of Science and Engineering, National Dong Hwa University, Hualien 974, Taiwan
*
Author to whom correspondence should be addressed.
Received: 5 March 2018 / Revised: 16 March 2018 / Accepted: 16 March 2018 / Published: 19 March 2018
Abstract
The association of metabolic syndrome (MetS) components with elevated serum alanine aminotransferase (ALT) levels, a marker of hepatic injury, may differ between men and women. However, the sex-specific association in a military young population which has a low prevalence of MetS was unclear. We conducted a cross-sectional examination in 6738 men and 766 women, aged 18–50 years, from the cardiorespiratory fitness study in armed forces (CHIEF) in eastern Taiwan. The components of MetS were defined according to the updated International Diabetes Federation (IDF) ethnic criteria for Asians. Elevated ALT levels were defined as ≥40 U/L for both sexes and ≥30 U/L for women alternatively. Multivariate logistic regression analysis was performed to determine the sex-specific association between MetS components and elevated ALT. The prevalence of MetS and elevated ALT in men were 11.9% and 12.7% respectively, and in women were 3.5%, and 3.8% respectively. In men, high-density lipoprotein < 40 mg/dL, blood pressures ≥ 130/85 mmHg, serum triglycerides ≥ 150 mg/dL, and waist size ≥ 90 cm were associated with elevated ALT (odds ratios (OR) and 95% confidence intervals: 1.59 (1.34–1.90), 1.40 (1.19–1.65), 2.00 (1.68–2.39), and 1.68 (1.38–2.04); all
p
< 0.001); whereas in women, only fasting plasma glucose ≥ 100 mg/dL was associated with elevated ALT ≥ 40 U/L (OR: 7.59 (2.35–24.51),
p
= 0.001) and ALT ≥ 30 U/L (2.67 (0.89–7.95),
p
= 0.08). Our findings suggest that the relationship between metabolic abnormalities and elevated ALT may differ by sex, possibly due to the MetS more prevalent in young adult men than in women.
View Full-Text
►

▼

Figures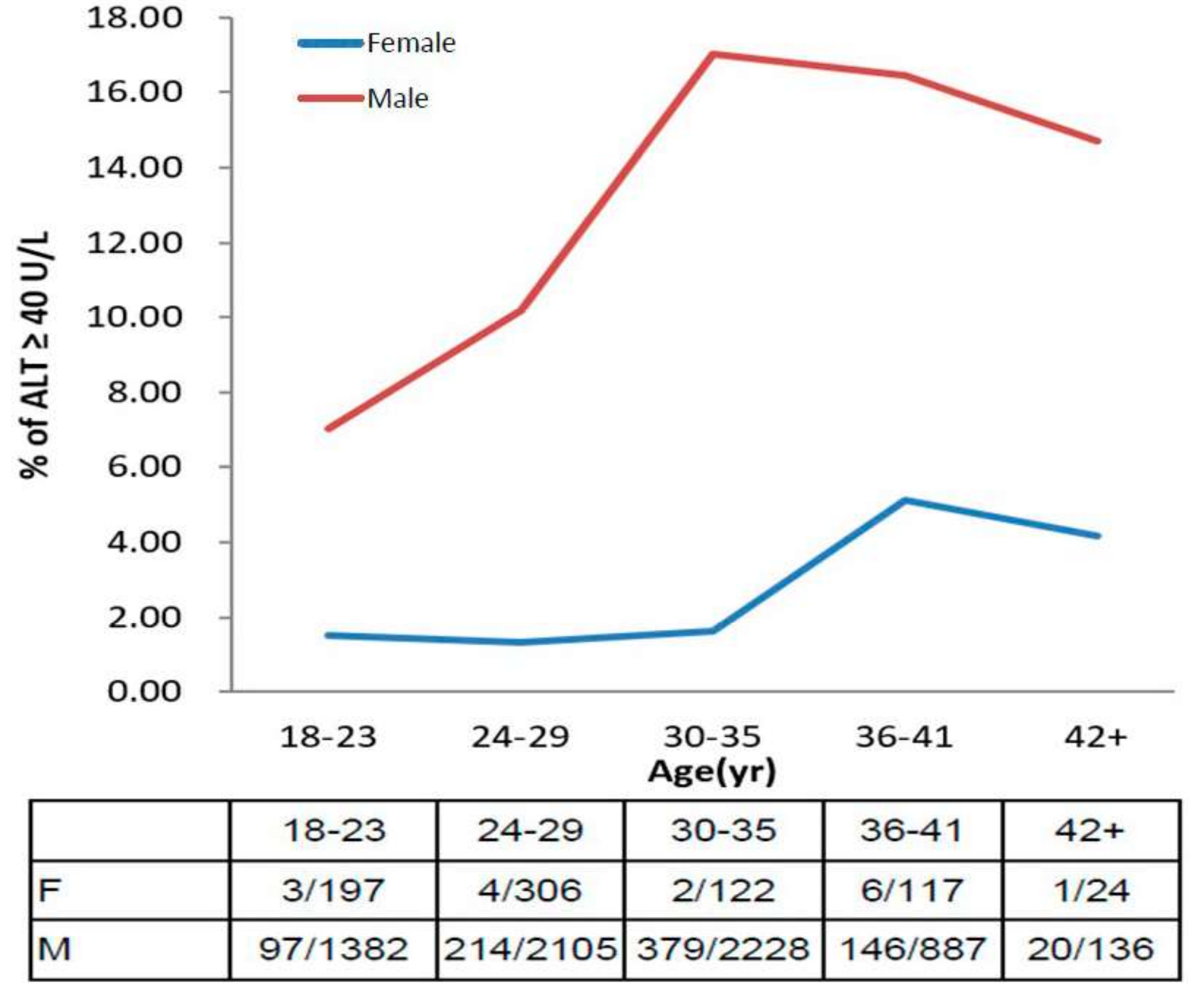 Figure 1
This is an open access article distributed under the
Creative Commons Attribution License
which permits unrestricted use, distribution, and reproduction in any medium, provided the original work is properly cited (CC BY 4.0).

Share & Cite This Article
MDPI and ACS Style
Chen, K.-W.; Meng, F.-C.; Shih, Y.-L.; Su, F.-Y.; Lin, Y.-P.; Lin, F.; Lin, J.-W.; Chang, W.-K.; Lee, C.-J.; Li, Y.-H.; Hsieh, C.-B.; Lin, G.-M. Sex-Specific Association between Metabolic Abnormalities and Elevated Alanine Aminotransferase Levels in a Military Cohort: The CHIEF Study. Int. J. Environ. Res. Public Health 2018, 15, 545.
Note that from the first issue of 2016, MDPI journals use article numbers instead of page numbers. See further details here.
Related Articles
Comments
[Return to top]