Toxicity of
Beauveria bassiana

-28 Mycelial Extracts on Larvae of

Culex quinquefasciatus

Mosquito (Diptera: Culicidae)

1

Molecular Entomology Laboratory, Department of Biotechnology, School of Biosciences, Periyar University, Salem 636 011, Tamil Nadu, India

2

Division of Biopesticides and Environmental Toxicology, Sri Paramakalyani Centre for Excellence in Environmental Sciences, Manonmaniam Sundaranar University, Alwarkurichi, Tirunelveli 627 412, Tamil Nadu, India

*

Author to whom correspondence should be addressed.

Received: 18 December 2017 / Revised: 21 February 2018 / Accepted: 27 February 2018 / Published: 3 March 2018
Abstract
Microbial-based pest control is an attractive alternative to chemical insecticides. The present study sought to evaluate the toxicity of the entomopathogenic fungus
Beauveria bassiana
-28 ethyl acetate extracts on different larval stages and pupae of
Culex quinquefasciatus
mosquitoes.
B. bassiana
-28 ethyl acetate mycelial extracts produced mosquitocidal activity against larvae and pupae which was comparable to that of the commercial insecticide
B. bassiana
-22 extract. The LC
50
(lethal concentration that kills 50% of the exposed larvae) values of
B. bassiana
-28 extracts for 1st to 4th instar larvae and pupae were 11.538, 6.953, 5.841, 3.581 and 9.041 mg/L respectively. Our results show that
B. bassiana
-28 ethyl acetate mycelial extract has strong insecticidal activity against larval and pupal stages of
Cx. quinquefasciatus
. Fourier transform infrared spectrum study of
B. bassiana
-28 extract shows peaks at 3226.91; 2927.94; 1593.13; 1404.18; 1224.18; 1247.94; 1078.21; 1018.41; 229.69; and 871.82 cm
−1
. Major spectral peaks were observed at 3226.91 cm
−1,
assigned to N–H stretching, 2927.94 cm
−1
assigned to C–H bonding and 1595.13 cm
−1
assigned to C–O stretching. Gas Chromatography-Mass Spectrometry studies of
B. bassiana
-28 ethyl acetate crude extract showed presence of six major compounds viz.
N
-hexadecanoic acids (13.6040%);
Z,Z
-9,12 octadecadienic acid (33.74%); 9-eicosyne (10.832%); heptacosane (5.148%); tetrateracontane (5.801%); and 7 hexyleicosane (5.723%). Histology of mosquito midgut tissue shows tissue lysis as a result of
B.bassiana
-28 extract exposure. The study shows that bioactive molecules obtained from
B. bassiana
-28 mycelial extract has insecticidal properties and can be used as alternative for mosquito control.
View Full-Text
►

▼

Figures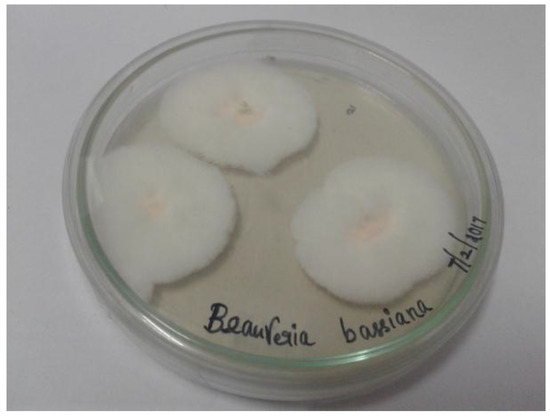 Figure 1
This is an open access article distributed under the
Creative Commons Attribution License
which permits unrestricted use, distribution, and reproduction in any medium, provided the original work is properly cited (CC BY 4.0).

Share & Cite This Article
MDPI and ACS Style
Vivekanandhan, P.; Kavitha, T.; Karthi, S.; Senthil-Nathan, S.; Shivakumar, M.S. Toxicity of Beauveria bassiana-28 Mycelial Extracts on Larvae of Culex quinquefasciatus Mosquito (Diptera: Culicidae). Int. J. Environ. Res. Public Health 2018, 15, 440.
Note that from the first issue of 2016, MDPI journals use article numbers instead of page numbers. See further details here.
Related Articles
Comments
[Return to top]