Estimated Residential Exposure to Agricultural Chemicals and Premature Mortality by Parkinson's Disease in Washington State
1
Department of Biology, Vassar College, Undergraduate Student, Poughkeepsie, NY 12604, USA
2
Department of Nutrition and Exercise Physiology, Elson S. Floyd School of Medicine, Washington State University, Spokane, WA 99202, USA
3
Department of Sociology, Washington State University, Pullman, WA 99164, USA
4
College of Public Health and Human Sciences, Oregon State University, Corvallis, OR 97331, USA
5
Paul G. Allen School for Global Animal Health, Washington State University, Pullman, WA 99164, USA
*
Author to whom correspondence should be addressed.
Received: 14 November 2018 / Revised: 5 December 2018 / Accepted: 12 December 2018 / Published: 16 December 2018
Abstract
The aim of this study was to examine the relationship between estimated residential exposure to agricultural chemical application and premature mortality from Parkinson's disease (PD) in Washington State. Washington State mortality records for 2011–2015 were geocoded using residential addresses, and classified as having exposure to agricultural land-use within 1000 meters. Generalized linear models were used to explore the association between land-use associated with agricultural chemical application and premature mortality from PD. Individuals exposed to land-use associated with glyphosate had 33% higher odds of premature mortality than those that were not exposed (Odds Ratio (OR) = 1.33, 95% Confidence Intervals (CI) = 1.06–1.67). Exposure to cropland associated with all pesticide application (OR = 1.19, 95% CI = 0.98–1.44) or Paraquat application (OR = 1.22, 95% CI = 0.99–1.51) was not significantly associated with premature mortality from PD, but the effect size was in the hypothesized direction. No significant associations were observed between exposure to Atrazine (OR = 1.21, 95% CI = 0.84–1.74) or Diazinon (OR = 1.07, 95% CI = 0.85–1.34), and premature mortality from PD. The relationship between pesticide exposure and premature mortality aligns with previous biological, toxicological, and epidemiological findings. Glyphosate, the world's most heavily applied herbicide, and an active ingredient in Roundup
®
and Paraquat, a toxic herbicide, has shown to be associated with the odds of premature mortality from PD.
View Full-Text
►

▼

Figures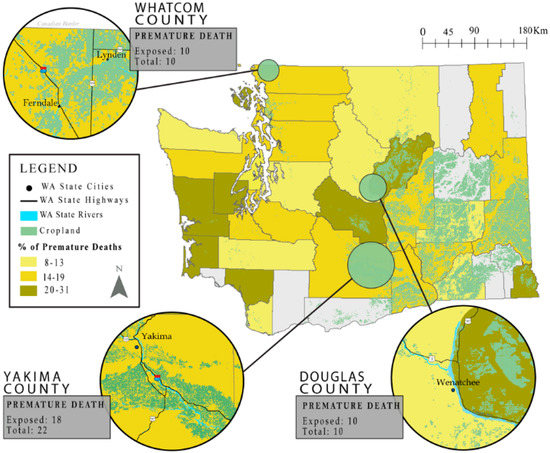 Figure 1
This is an open access article distributed under the
Creative Commons Attribution License
which permits unrestricted use, distribution, and reproduction in any medium, provided the original work is properly cited (CC BY 4.0).

Share & Cite This Article
MDPI and ACS Style
Caballero, M.; Amiri, S.; Denney, J.T.; Monsivais, P.; Hystad, P.; Amram, O. Estimated Residential Exposure to Agricultural Chemicals and Premature Mortality by Parkinson's Disease in Washington State. Int. J. Environ. Res. Public Health 2018, 15, 2885.
Note that from the first issue of 2016, MDPI journals use article numbers instead of page numbers. See further details here.
Related Articles
Comments
[Return to top]