Differences between Dual Users and Switchers Center around Vaping Behavior and Its Experiences Rather than Beliefs and Attitudes
1
Faculty of Psychology and Educational Sciences, KU Leuven—University Leuven, Tiensestraat 102, 3000 Leuven, Belgium
2
Applied Psychology Unit, Thomas More University of Applied Sciences, Molenstraat 8, 2018 Antwerp, Belgium
*
Author to whom correspondence should be addressed.
Received: 24 November 2017 / Revised: 19 December 2017 / Accepted: 21 December 2017 / Published: 23 December 2017
Abstract
(1) Background: Many smokers completely switch to vaping (switchers), whereas others use e-cigarettes (e-cigs) alongside tobacco cigarettes (dual users). To the extent that dual users substantially lower the number of cigarettes, they will reduce health risks from smoking. However, from a medical point of view, exclusive vaping is preferable to dual use; (2) Methods: Using an online questionnaire we assessed behavioral, cognitive and attitudinal aspects of e-cig use in smoking and ex-smoking vapers; (3) Results: Our sample consisted of 19% dual users and 81% switchers. Before e-cig initiation, both groups smoked on average 22 cigarettes per day (CPD). After e-cig initiation, dual users decreased tobacco consumption by 82% and were low-to-moderately cigarette dependent. Both groups had been vaping for on average 22 months, were highly e-cig dependent, used state-of-the-art e-cigs, nicotine concentrations of 4–8 mg/mL and often flavors other than tobacco. Dual users used substantially less e-liquid per week than switchers but reported a similar number of puffs/day, experienced less e-cig efficacy, more practical problems, more negative and less positive consequences, and endorsed smoking reduction (rather than quitting) as a more important reason to start vaping. For both groups, e-cig risk perception was low and little stigmatization was experienced. Dual users preferred tobacco cigarettes in stressful situations and when rapid nicotine uptake is required. E-cigs were preferred where cigarettes are prohibited and to reduce second-hand smoke; (4) Conclusions: Differences between dual users and switchers center around variables proximal to the vaping behavior and its experienced effects rather than hinging on more general vaping-related beliefs and attitudes.
View Full-Text
►

▼

Figures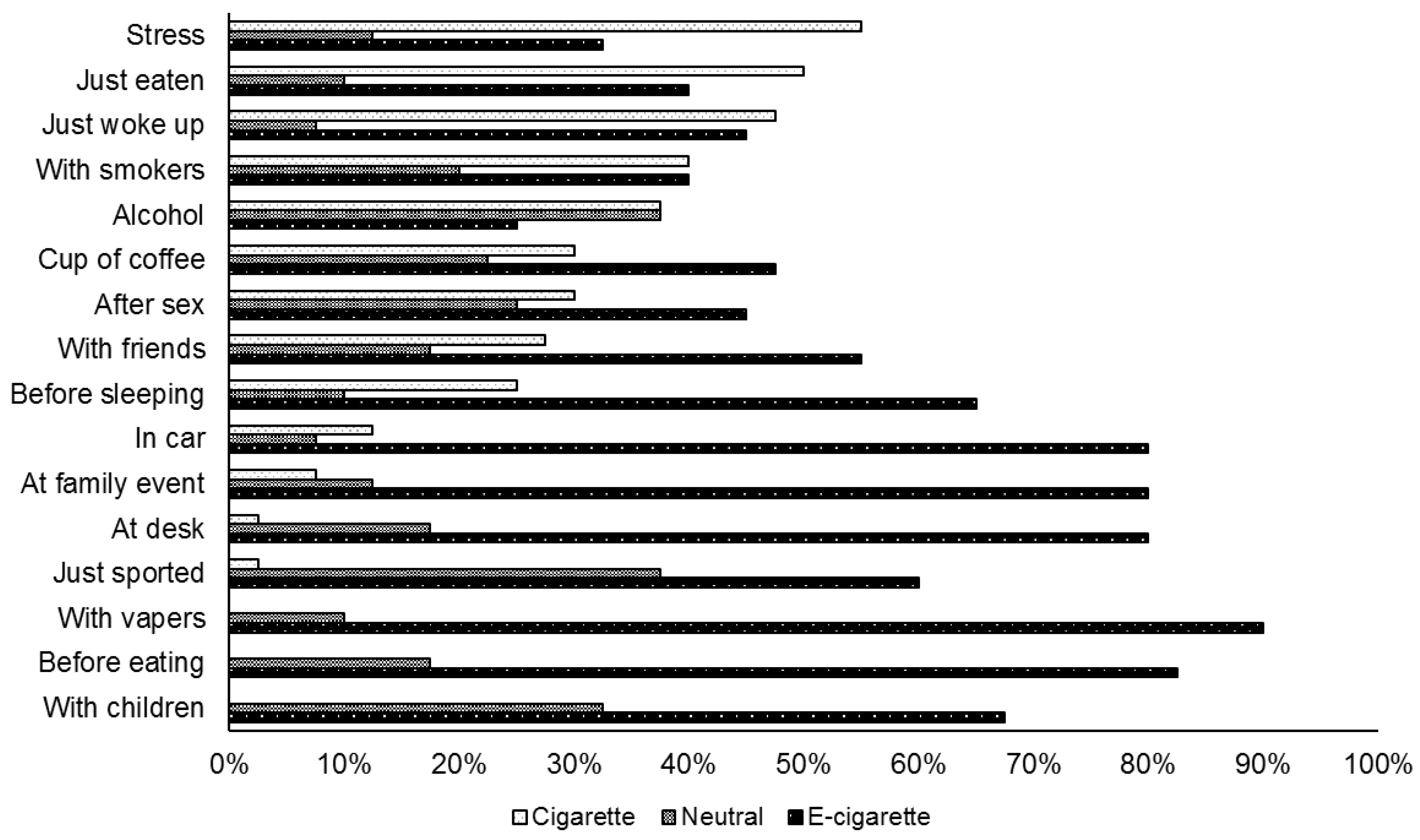 Figure 1
This is an open access article distributed under the
Creative Commons Attribution License
which permits unrestricted use, distribution, and reproduction in any medium, provided the original work is properly cited (CC BY 4.0).

Share & Cite This Article
MDPI and ACS Style
Adriaens, K.; Van Gucht, D.; Baeyens, F. Differences between Dual Users and Switchers Center around Vaping Behavior and Its Experiences Rather than Beliefs and Attitudes. Int. J. Environ. Res. Public Health 2018, 15, 12.
Note that from the first issue of 2016, MDPI journals use article numbers instead of page numbers. See further details here.
Related Articles
Comments
[Return to top]