Predictors of Daily Mobility of Adults in Peri-Urban South India
1
Centre for Research in Environmental Epidemiology (CREAL), ISGlobal, 08003 Barcelona, Spain
2
Universitat Pompeu Fabra, 08002 Barcelona, Spain
3
CIBER Epidemiología y Salud Pública (CIBERESP), 28029 Madrid, Spain
4
Public Health Foundation of India, New Delhi 110070 e, India
5
Geography & Environment, University of Southampton, Highfield Campus, Southampton SO17 1BJ, UK
6
Department of Non-communicable Disease Epidemiology, London School of Hygiene and Tropical Medicine, London WC1E 7HT, UK
7
Department of Civil and Environmental Engineering, University of Washington, Seattle, WA 98195, USA
*
Author to whom correspondence should be addressed.
Received: 2 June 2017 / Revised: 23 June 2017 / Accepted: 30 June 2017 / Published: 14 July 2017
Abstract
Daily mobility, an important aspect of environmental exposures and health behavior, has mainly been investigated in high-income countries. We aimed to identify the main dimensions of mobility and investigate their individual, contextual, and external predictors among men and women living in a peri-urban area of South India. We used 192 global positioning system (GPS)-recorded mobility tracks from 47 participants (24 women, 23 men) from the Cardiovascular Health effects of Air pollution in Telangana, India (CHAI) project (mean: 4.1 days/person). The mean age was 44 (standard deviation: 14) years. Half of the population was illiterate and 55% was in unskilled manual employment, mostly agriculture-related. Sex was the largest determinant of mobility. During daytime, time spent at home averaged 13.4 (3.7) h for women and 9.4 (4.2) h for men. Women's activity spaces were smaller and more circular than men's. A principal component analysis identified three main mobility dimensions related to the size of the activity space, the mobility in/around the residence, and mobility inside the village, explaining 86% (women) and 61% (men) of the total variability in mobility. Age, socioeconomic status, and urbanicity were associated with all three dimensions. Our results have multiple potential applications for improved assessment of environmental exposures and their effects on health.
View Full-Text
►

▼

Figures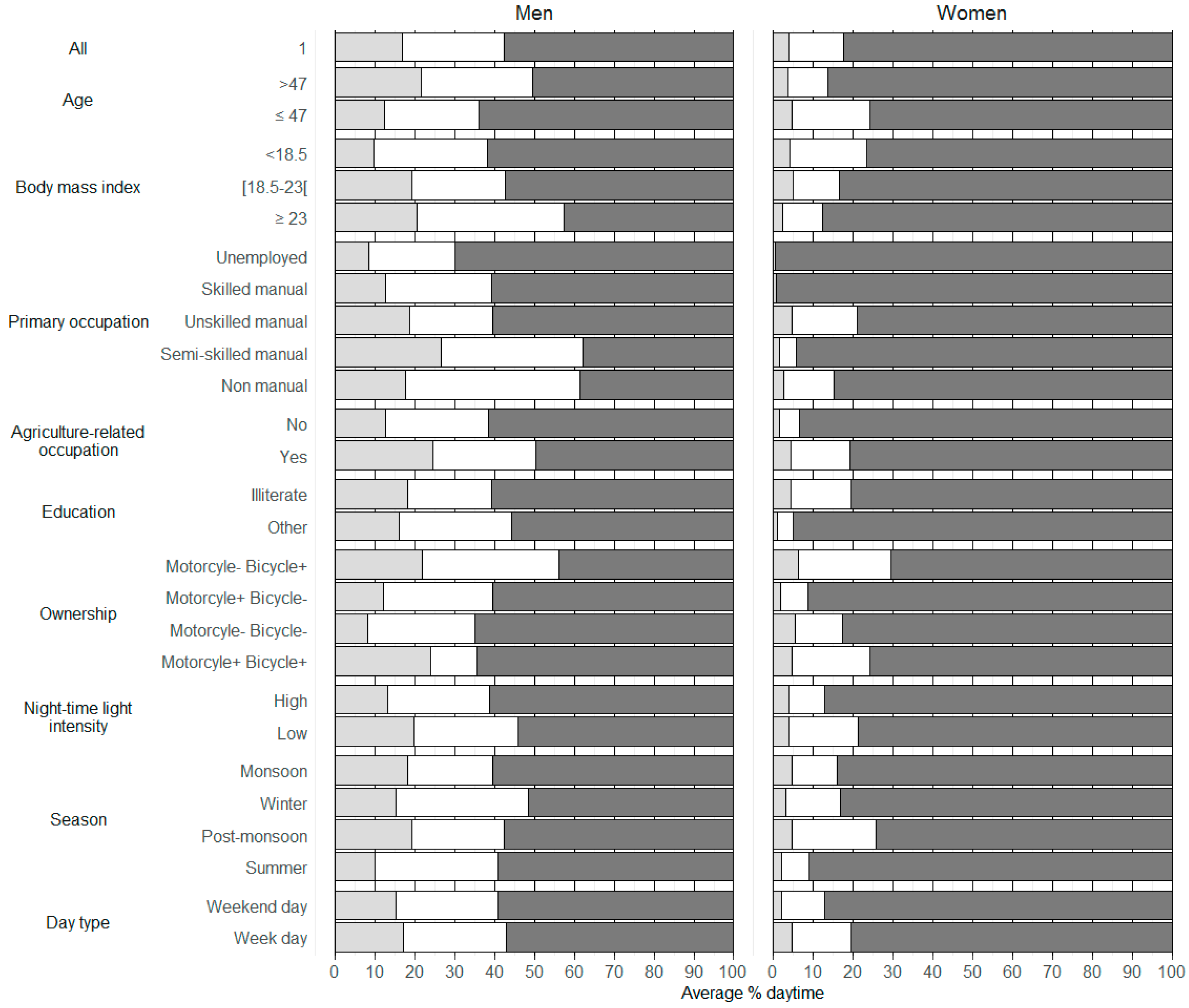 Figure 1
This is an open access article distributed under the
Creative Commons Attribution License
which permits unrestricted use, distribution, and reproduction in any medium, provided the original work is properly cited (CC BY 4.0).

Share & Cite This Article
MDPI and ACS Style
Sanchez, M.; Ambros, A.; Salmon, M.; Bhogadi, S.; Wilson, R.T.; Kinra, S.; Marshall, J.D.; Tonne, C. Predictors of Daily Mobility of Adults in Peri-Urban South India. Int. J. Environ. Res. Public Health 2017, 14, 783.
Note that from the first issue of 2016, MDPI journals use article numbers instead of page numbers. See further details here.
Related Articles
Comments
[Return to top]