The Indirect Efficacy Comparison of DNA Methylation in Sputum for Early Screening and Auxiliary Detection of Lung Cancer: A Meta-Analysis
1
Beijing Municipal Key Laboratory of Clinical Epidemiology, School of Public Health, Capital Medical University, Beijing 100069, China
2
School of Medical and Health Sciences, Edith Cowan University, Perth 6027, Australia
*
Author to whom correspondence should be addressed.
Received: 27 April 2017 / Revised: 15 June 2017 / Accepted: 15 June 2017 / Published: 23 June 2017
Abstract
Background: DNA methylation in sputum has been an attractive candidate biomarker for the non-invasive screening and detection of lung cancer. Materials and Methods: Databases including PubMed, Ovid, Cochrane library, Web of Science databases, Chinese Biological Medicine (CBM), Chinese National Knowledge Infrastructure (CNKI), Wanfang, Vip Databases and Google Scholar were searched to collect the diagnostic trials on aberrant DNA methylation in the screening and detection of lung cancer published until 1 December 2016. Indirect comparison meta-analysis was used to evaluate the diagnostic value of the included candidate genes. Results: The systematic literature search yielded a total of 33 studies including a total of 4801 subjects (2238 patients with lung cancer and 2563 controls) and covering 32 genes. We identified that methylated genes in sputum samples for the early screening and auxiliary detection of lung cancer yielded an overall sensitivity of 0.46 (0.41–0.50) and specificity of 0.83 (0.80–0.86). Combined indirect comparisons identified the superior gene of
SOX17
(sensitivity: 0.84, specificity: 0.88),
CDO1
(sensitivity: 0.78, specificity: 0.67),
ZFP42
(sensitivity: 0.87, specificity: 0.63) and
TAC1
(sensitivity: 0.86, specificity: 0.75). Conclusions: The present meta-analysis demonstrates that methylated
SOX17
,
CDO1
,
ZFP42
,
TAC1
,
FAM19A4
,
FHIT
,
MGMT
,
p16
, and
RASSF1A
are potential superior biomarkers for the screening and auxiliary detection of lung cancer.
View Full-Text
►

▼

Figures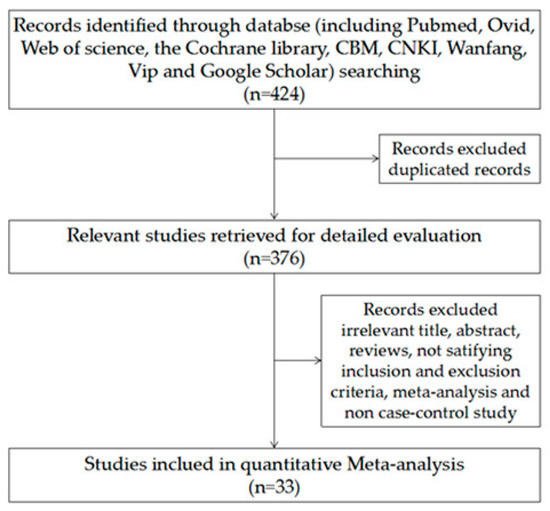 Figure 1
This is an open access article distributed under the
Creative Commons Attribution License
which permits unrestricted use, distribution, and reproduction in any medium, provided the original work is properly cited (CC BY 4.0).

Share & Cite This Article
MDPI and ACS Style
Liu, D.; Peng, H.; Sun, Q.; Zhao, Z.; Yu, X.; Ge, S.; Wang, H.; Fang, H.; Gao, Q.; Liu, J.; Wu, L.; Song, M.; Wang, Y. The Indirect Efficacy Comparison of DNA Methylation in Sputum for Early Screening and Auxiliary Detection of Lung Cancer: A Meta-Analysis. Int. J. Environ. Res. Public Health 2017, 14, 679.
Note that from the first issue of 2016, MDPI journals use article numbers instead of page numbers. See further details here.
Related Articles
Comments
[Return to top]