Functional Coping Dynamics and Experiential Avoidance in a Community Sample with No Self-Injury vs. Non-Suicidal Self-Injury Only vs. Those with Both Non-Suicidal Self-Injury and Suicidal Behaviour
1
Self-Harm Research Group, School of Psychology, University of Nottingham, University Park, Nottingham , NG7 2RD, UK
2
Division of Psychiatry and Applied Psychology, Institute of Mental Health, University of Nottingham, Innovation Park, Triumph Road, Nottingham, NG7 2TU, UK
*
Author to whom correspondence should be addressed.
Received: 29 January 2017 / Revised: 2 May 2017 / Accepted: 20 May 2017 / Published: 29 May 2017
Abstract
Although emotional avoidance may be a critical factor in the pathway from psychological distress to self-injury and/or suicidality, little is known about the relative importance of differing functional coping dynamics and experiential avoidance between people with self-injury histories of differing intent (e.g., Non-Suicidal Self-Injury only vs. Non-Suicidal Self-Injury plus Suicidal Behaviour; NSSI vs. NSSI + SB). A community-based survey (N = 313; female, 81%; ages 16–49 years, M = 19.78, SD = 3.48) explored self-reported experiential avoidance and functional coping dynamics in individuals with (i) no self-injury history (controls); (ii) a history of NSSI only; and (iii) a history of NSSI + SB. Jonckheere-Terpstra trend tests indicated that avoidance coping was higher in the NSSI and NSSI + SB groups than in controls. Emotion regulation was higher in controls than those with a history of self-injury (NSSI and NSSI + SB). Approach and reappraisal coping demonstrated significant ordered effects such that control participants were higher in these coping dynamics than those with a history of NSSI only, who, in turn, were higher than those with a history of NSSI + SB (Control > NSSI > NSSI + SB). Endorsement of the reappraisal/denial facet of experiential avoidance was most pronounced in those with a history of NSSI + SB (Control < NSSI < NSSI + SB). No significant ordered effects were observed for other dimensions of experiential avoidance. Understanding how the endorsement of functional coping dynamics and which components of experiential avoidance vary between groups with differing self-injury intent histories has important implications for treatment planning.
View Full-Text
►

▼

Figures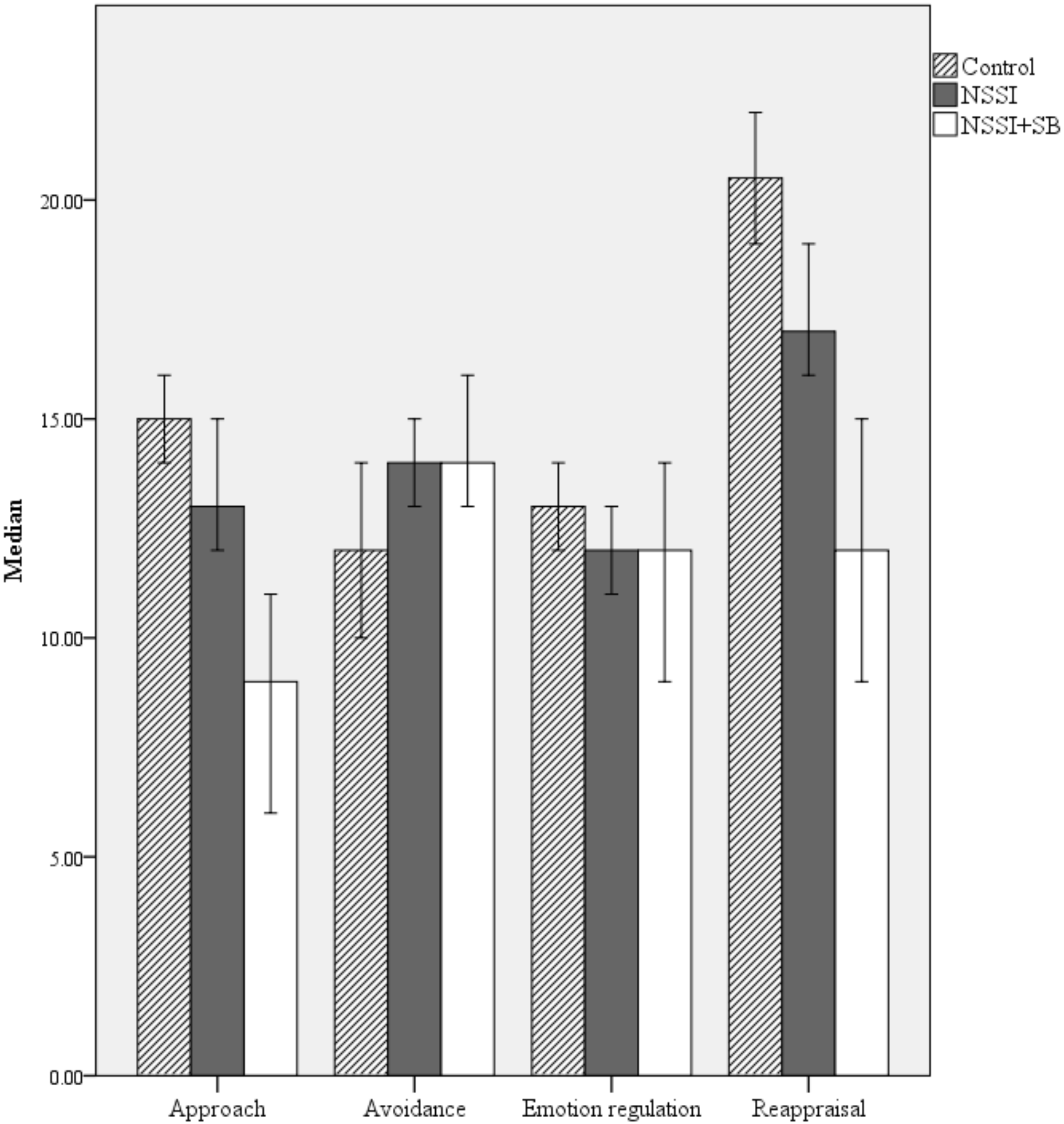 Figure 1
This is an open access article distributed under the
Creative Commons Attribution License
which permits unrestricted use, distribution, and reproduction in any medium, provided the original work is properly cited (CC BY 4.0).

Share & Cite This Article
MDPI and ACS Style
Nielsen, E.; Sayal, K.; Townsend, E. Functional Coping Dynamics and Experiential Avoidance in a Community Sample with No Self-Injury vs. Non-Suicidal Self-Injury Only vs. Those with Both Non-Suicidal Self-Injury and Suicidal Behaviour. Int. J. Environ. Res. Public Health 2017, 14, 575.
Note that from the first issue of 2016, MDPI journals use article numbers instead of page numbers. See further details here.
Related Articles
Comments
[Return to top]