Long-Lasting Insecticide Net Ownership, Access and Use in Southwest Ethiopia: A Community-Based Cross-Sectional Study
1
Institute of Health and Society (IRSS), Université Catholique de Louvain, 1200 Brussels, Belgium
2
Department of Statistics, Natural Science College, Jimma University, Jimma 378, Ethiopia
3
Biometrics Research Group, Faculty of Veterinary Medicine, Ghent University, 9000 Ghent, Belgium
4
School of Economic, Political and Policy Sciences, The University of Texas, Dallas, TX 75080, USA
5
Institute of Tropical Medicine "Alexander von Humboldt", Universidad Peruana Cayetano Heredia, Lima 31, Peru
*
Author to whom correspondence should be addressed.
Received: 19 August 2017 / Revised: 23 October 2017 / Accepted: 24 October 2017 / Published: 27 October 2017
Abstract
Introduction:

A large proportion of the Ethiopian population (approximately 68%) lives in malaria risk areas. Millions of long-lasting insecticide treated nets (LLINs) have been distributed as part of the malaria prevention and control strategy in the country. This study assessed the ownership, access and use of LLNs in the malaria endemic southwest Ethiopia.

Methods

:

A community-based cross-sectional study was conducted in southwest Ethiopia during October–November 2015, including 836 households from sixteen villages around Gilgel-Gibe dam area. Indicators of ownership, access and use of LLINs were derived following the Roll Back Malaria (RBM) guidelines. Factors associated with failure for both LLIN access and use were analysed at household level using a multivariate logistic regression model.

Results

:

The proportion of households with at least one LLIN was 82.7% (95% CI: 80.0, 85.1). However, only 68.9% (95% CI: 65.6, 71.9) had enough LLINs to cover all family members (with ≥one LLIN for every two persons). While 75.3% (95% CI: 68.4, 83.0) of the population was estimated to have accessed to LLINs, only 63.8% (95% CI: 62.3, 65.2) reported to have used a LLIN the previous night. The intra-household gap (i.e., households owning at least one LLIN, but unable to cover all family members) and the behavioral gap (i.e., household members who did not sleep under a LLIN despite having access to one) were 16.8% and 10.5%, respectively. Age, marital status and education of household heads, as well as household size and cooking using firewood were associated with the access to enough LLINs within households. Decreased access to LLINs at households was the main determinant for not achieving ≥80% household members sleeping under a LLIN the previous night. Other associated factors were household size and education level of household head.

Conclusions

:

LLIN coverage levels in study villages remain below national targets of 100% for ownership and 80% for use. The access to enough LLINs within the households is the main restriction of LLIN use in the study area.

View Full-Text
►

▼

Figures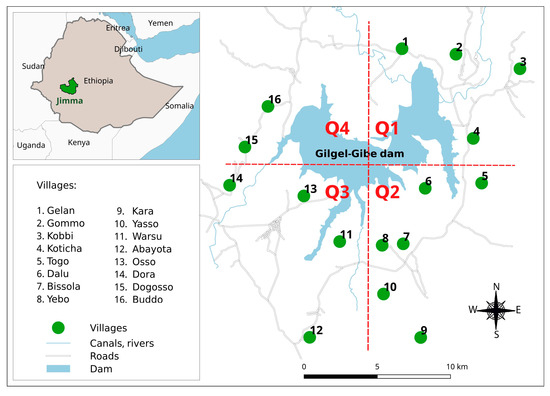 Figure 1
This is an open access article distributed under the
Creative Commons Attribution License
which permits unrestricted use, distribution, and reproduction in any medium, provided the original work is properly cited (CC BY 4.0).

Share & Cite This Article
MDPI and ACS Style
Seyoum, D.; Speybroeck, N.; Duchateau, L.; Brandt, P.; Rosas-Aguirre, A. Long-Lasting Insecticide Net Ownership, Access and Use in Southwest Ethiopia: A Community-Based Cross-Sectional Study. Int. J. Environ. Res. Public Health 2017, 14, 1312.
Note that from the first issue of 2016, MDPI journals use article numbers instead of page numbers. See further details here.
Related Articles
Comments
[Return to top]