Elevated Blood Lead Levels in Infants and Mothers in Benin and Potential Sources of Exposure
1
Ecole des Hautes Etudes en Santé Publique, 35043 Rennes, France
2
Inserm UMR 1153 Obstetrical, Perinatal and Pediatric Epidemiology Research Team (Epopé), Center for Epidemiology and Statistics Sorbonne Paris Cité, DHU Risks in Pregnancy, Paris Descartes University, 75014 Paris, France
3
Inserm UMR 1085, Institut de Recherche en Santé, Environnement et Travail (IRSET), 35000 Rennes, France
4
Institut de Recherche pour le Développement (IRD), Mère et Enfant Face aux Infections Tropicales, 75006 Paris, France
5
Faculté des Sciences Pharmaceutiques et Biologiques, Sorbonne Paris Cité, Université Paris Descartes, 75006 Paris, France
6
Laboratoire de Toxicologie, Institut National de Santé Publique du Québec, Québec, QC G1V 5B3, Canada
7
Faculté des Sciences de la Santé, Université d'Abomey-Calavi, Cotonou, Bénin
8
Axe Santé des Populations et Pratiques Optimales en Santé, Centre de Recherche du CHU de Québec, Québec, QC G1V 5B3, Canada
*
Author to whom correspondence should be addressed.
Academic Editor: Howard W. Mielke
Received: 27 December 2015 / Revised: 25 February 2016 / Accepted: 29 February 2016 / Published: 11 March 2016
Abstract
Lead in childhood is well known to be associated with poor neurodevelopment. As part of a study on maternal anemia and offspring neurodevelopment, we analyzed blood lead level (BLL) with no prior knowledge of lead exposure in 225 mothers and 685 offspring 1 to 2 years old from Allada, a semi-rural area in Benin, sub-Saharan Africa, between May 2011 and May 2013. Blood samples were analyzed by inductively coupled plasma mass spectrometry. Environmental assessments in households and isotopic ratio measurements were performed for eight children with BLL > 100 µg/L. High lead levels (BLL > 50 µg/L) were found in 44% of mothers and 58% of children. The median BLL was 55.1 (interquartile range 39.2–85.0) and 46.6 (36.5–60.1) µg/L, respectively. Maternal BLL was associated with offspring's consumption of piped water and animals killed by ammunition. Children's BLL was associated with presence of paint chips in the house and consumption of animals killed by ammunition. In this population, with 98% of children still breastfed, children's BLL was highly associated with maternal BLL on multivariate analyses. Environmental measures and isotopic ratios supported these findings. Offspring may be highly exposed to lead
in utero
and probably via breastfeeding in addition to lead paint exposure.
View Full-Text
►

▼

Figures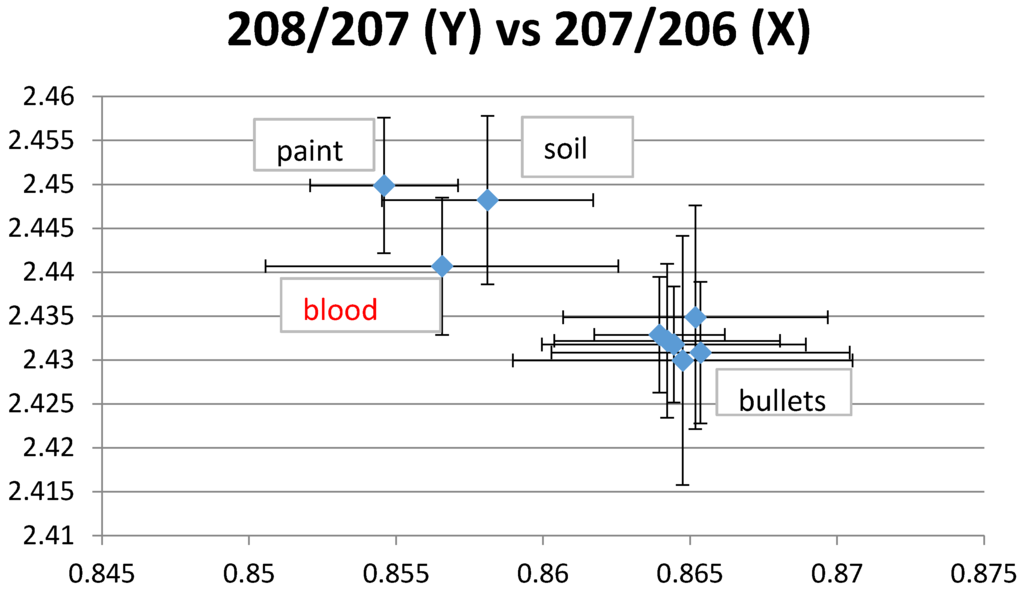 Figure 1
This is an open access article distributed under the
Creative Commons Attribution License
which permits unrestricted use, distribution, and reproduction in any medium, provided the original work is properly cited (CC BY 4.0).

Share & Cite This Article
MDPI and ACS Style
Bodeau-Livinec, F.; Glorennec, P.; Cot, M.; Dumas, P.; Durand, S.; Massougbodji, A.; Ayotte, P.; Le Bot, B. Elevated Blood Lead Levels in Infants and Mothers in Benin and Potential Sources of Exposure. Int. J. Environ. Res. Public Health 2016, 13, 316.
Note that from the first issue of 2016, MDPI journals use article numbers instead of page numbers. See further details here.
Related Articles
Comments
[Return to top]