Pathological Internet Use and Risk-Behaviors among European Adolescents
1
National Centre for Suicide Research and Prevention of Mental Ill-Health (NASP), Karolinska Institutet, Stockholm SE-17177, Sweden
2
Department of Clinical Neuroscience, Karolinska Institutet, Stockholm SE-17177, Sweden
3
Department of Medicine and Health Science, University of Molise, Campobasso 86100, Italy
4
Department of Child and Adolescent Psychiatry, New York State Psychiatric Institute, Columbia University, New York, NY 10032, USA
5
National Institute for Migration and Poverty, Via San Gallicano, Roma 25/A, Italy
6
Feinberg Child Study Centre, Schneider Children's Medical Centre, Tel Aviv University, Tel Aviv 49202, Israel
7
Vadaskert Child and Adolescent Psychiatric Hospital, Budapest 1021, Hungary
8
Institute of Psychology, Eötvös Loránd University, Budapest 1064, Hungary
9
Department of Psychiatry, Center for Biomedical Research in the Mental Health Network (CIBERSAM), University of Oviedo, Oviedo 33006, Spain
10
Section for Disorders of Personality Development, Clinic of Child and Adolescent Psychiatry, Centre of Psychosocial Medicine, University of Heidelberg, Heidelberg 69115, Germany
11
National Suicide Research Foundation, Western Rd., Cork, Ireland
12
Department of Clinical Psychology, Iuliu Hatieganu University of Medicine and Pharmacy, Str. Victor Babes Nr. 8, Cluj-Napoca 400000, Romania
13
Research Division for Mental Health, University for Medical Information Technology (UMIT), Klagenfurt, Innsbruck 6060, Austria
14
Department of Epidemiology, Mailman School of Public Health, Columbia University, New York, NY 10032, USA
15
Department of Psychiatry, Centre Hospitalo-Universitaire de Nancy, Université de Lorraine, Nancy, Vandoeuvre-lès-Nancy 54500, France
16
Slovene Center for Suicide Research, Andrej Marušič Institute, University of Primorska, Koper 6000, Slovenia
17
Centre of Behavioral and Health Sciences, Estonian-Swedish Mental Health & Suicidology Institute, Tallinn University, Tallinn 10120, Estonia
*
Author to whom correspondence should be addressed.
Academic Editor: Paul B. Tchounwou
Received: 1 December 2015 / Revised: 25 February 2016 / Accepted: 3 March 2016 / Published: 8 March 2016
Abstract
Risk-behaviors are a major contributor to the leading causes of morbidity among adolescents and young people; however, their association with pathological Internet use (PIU) is relatively unexplored, particularly within the European context. The main objective of this study is to investigate the association between risk-behaviors and PIU in European adolescents. This cross-sectional study was conducted within the framework of the FP7 European Union project: Saving and Empowering Young Lives in Europe (SEYLE). Data on adolescents were collected from randomized schools within study sites across eleven European countries. PIU was measured using Young's Diagnostic Questionnaire (YDQ). Risk-behaviors were assessed using questions procured from the Global School-Based Student Health Survey (GSHS). A total of 11,931 adolescents were included in the analyses: 43.4% male and 56.6% female (M/F: 5179/6752), with a mean age of 14.89 ± 0.87 years. Adolescents reporting poor sleeping habits and risk-taking actions showed the strongest associations with PIU, followed by tobacco use, poor nutrition and physical inactivity. Among adolescents in the PIU group, 89.9% were characterized as having multiple risk-behaviors. The significant association observed between PIU and risk-behaviors, combined with a high rate of co-occurrence, underlines the importance of considering PIU when screening, treating or preventing high-risk behaviors among adolescents.
View Full-Text
►

▼

Figures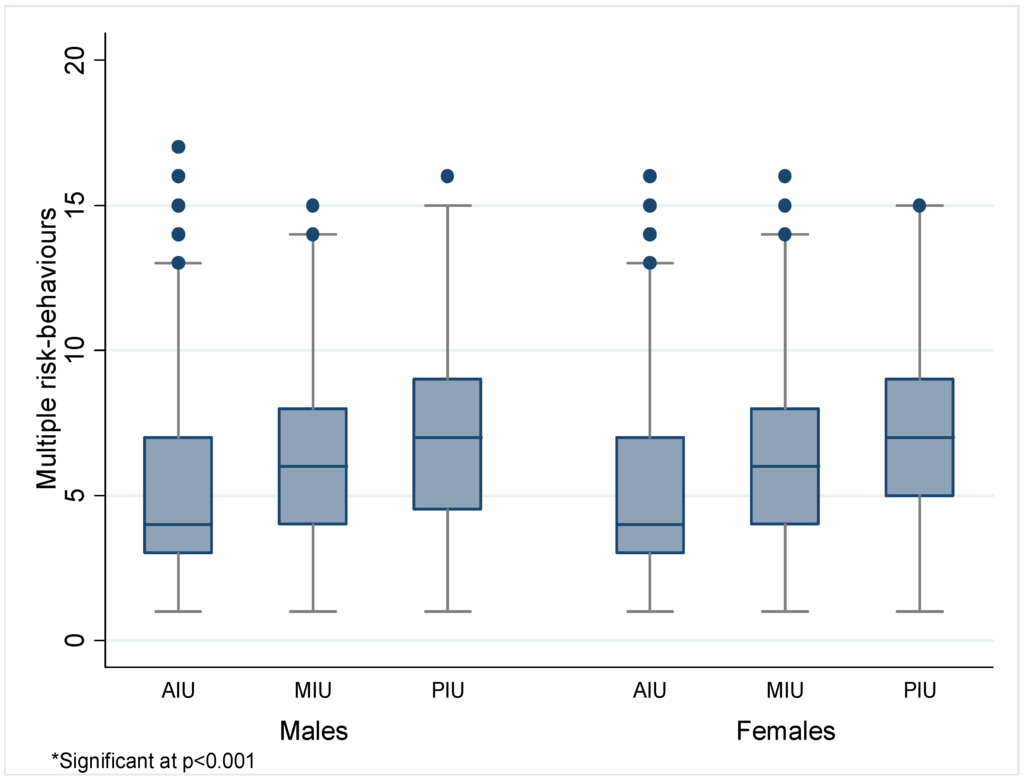 Figure 1
This is an open access article distributed under the
Creative Commons Attribution License
which permits unrestricted use, distribution, and reproduction in any medium, provided the original work is properly cited (CC BY 4.0).

Share & Cite This Article
MDPI and ACS Style
Durkee, T.; Carli, V.; Floderus, B.; Wasserman, C.; Sarchiapone, M.; Apter, A.; Balazs, J.A.; Bobes, J.; Brunner, R.; Corcoran, P.; Cosman, D.; Haring, C.; Hoven, C.W.; Kaess, M.; Kahn, J.-P.; Nemes, B.; Postuvan, V.; Saiz, P.A.; Värnik, P.; Wasserman, D. Pathological Internet Use and Risk-Behaviors among European Adolescents. Int. J. Environ. Res. Public Health 2016, 13, 294.
Note that from the first issue of 2016, MDPI journals use article numbers instead of page numbers. See further details here.
Related Articles
Comments
[Return to top]