Spatiotemporal Pattern Analysis of Scarlet Fever Incidence in Beijing, China, 2005–2014
1
Department of Epidemiology and Biostatistics, School of Public Health, Capital Medical University, Beijing 100069, China
2
Beijing Municipal Key Laboratory of Clinical Epidemiology, Beijing 100069, China
3
Institute for Infectious Disease & Endemic Disease Control, Beijing Center for Disease Prevention & Control (CDC), Beijing Center for Preventive Medical Research, Beijing 100069, China
4
Department of Geriatrics, XuanWu Hospital of Capital Medical University, Beijing 100069, China
5
Systems and Intervention Research Centre for Health, School of Medical Sciences, Edith Cowan University, Perth 6027, Australia
*
Authors to whom correspondence should be addressed.
†
These authors contributed equally to this work.
Academic Editor: Paul B. Tchounwou
Received: 23 November 2015 / Revised: 4 January 2016 / Accepted: 6 January 2016 / Published: 15 January 2016
Abstract
Objective
: To probe the spatiotemporal patterns of the incidence of scarlet fever in Beijing, China, from 2005 to 2014.
Methods
: A spatiotemporal analysis was conducted at the district/county level in the Beijing region based on the reported cases of scarlet fever during the study period. Moran's autocorrelation coefficient was used to examine the spatial autocorrelation of scarlet fever, whereas the Getis-Ord Gi* statistic was used to determine the hotspot incidence of scarlet fever. Likewise, the space-time scan statistic was used to detect the space-time clusters, including the relative risk of scarlet fever incidence across all settings.
Results
: A total of 26,860 scarlet fever cases were reported in Beijing during the study period (2005–2014). The average annual incidence of scarlet fever was 14.25 per 100,000 population (range, 6.76 to 32.03 per 100,000). The incidence among males was higher than that among females, and more than two-thirds of scarlet fever cases (83.8%) were among children 3–8 years old. The seasonal incidence peaks occurred from March to July. A higher relative risk area was mainly in the city and urban districts of Beijing. The most likely space-time clusters and secondary clusters were detected to be diversely distributed in every study year.
Conclusions
: The spatiotemporal patterns of scarlet fever were relatively unsteady in Beijing from 2005 to 2014. The at-risk population was mainly scattered in urban settings and dense districts with high population, indicating a positive relationship between population density and increased risk of scarlet fever exposure. Children under 15 years of age were the most susceptible to scarlet fever.
View Full-Text
►

▼

Figures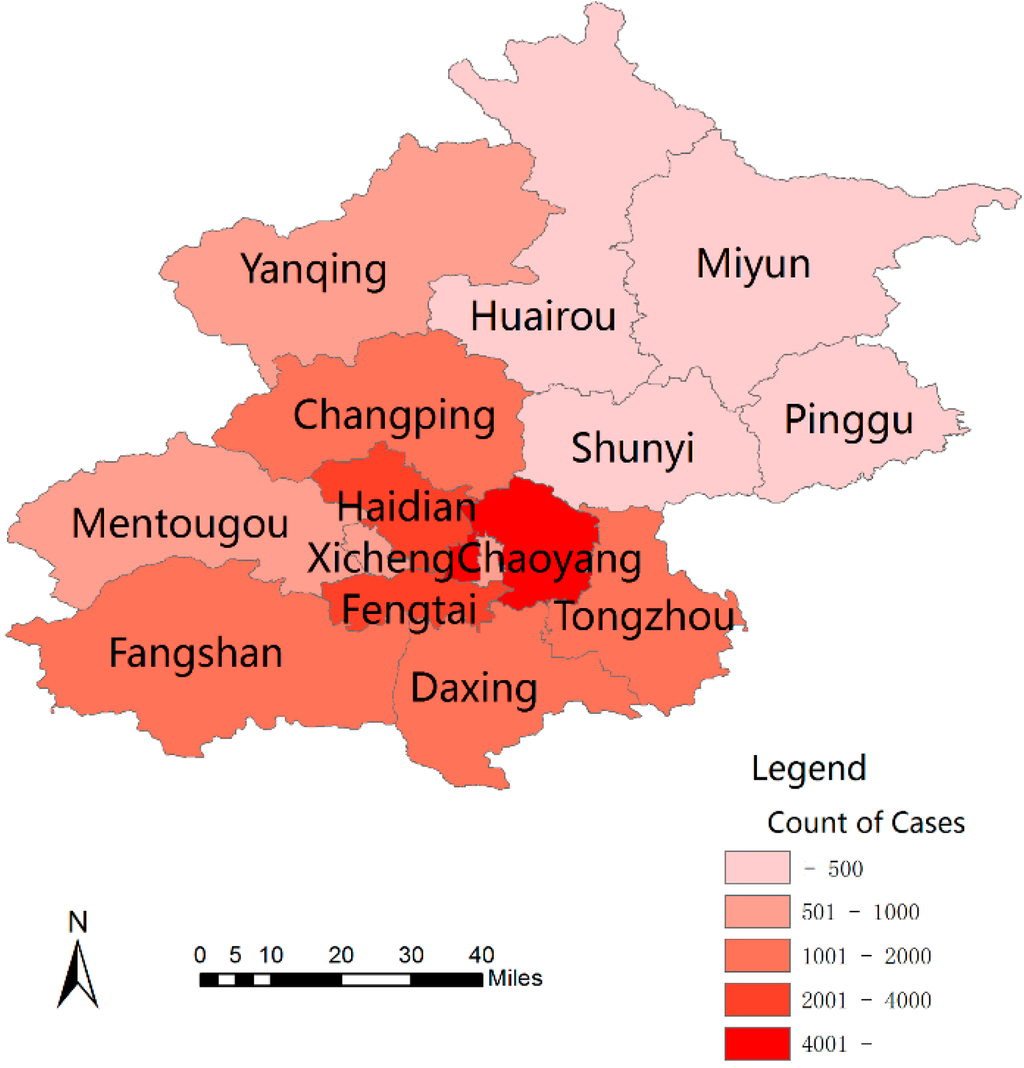 Figure 1
This is an open access article distributed under the
Creative Commons Attribution License
which permits unrestricted use, distribution, and reproduction in any medium, provided the original work is properly cited (CC BY 4.0).

Share & Cite This Article
MDPI and ACS Style
Mahara, G.; Wang, C.; Huo, D.; Xu, Q.; Huang, F.; Tao, L.; Guo, J.; Cao, K.; Long, L.; Chhetri, J.K.; Gao, Q.; Wang, W.; Wang, Q.; Guo, X. Spatiotemporal Pattern Analysis of Scarlet Fever Incidence in Beijing, China, 2005–2014. Int. J. Environ. Res. Public Health 2016, 13, 131.
Note that from the first issue of 2016, MDPI journals use article numbers instead of page numbers. See further details here.
Related Articles
Comments
[Return to top]