A Longitudinal Study of Association between Heavy Metals and Itchy Eyes, Coughing in Chronic Cough Patients: Related with Non-Immunoglobulin E Mediated Mechanism
1
Department of Environmental Health and Preventive Medicine, Graduate School of Medical Sciences, Kanazawa University, 13-1 Takara-machi, Kanazawa 920-8640, Japan
2
Department of Hygiene, Graduate School of Medical Sciences, Kanazawa University, 13-1 Takara-machi, Kanazawa 920-8640, Japan
3
Environment Preservation Center, Kanazawa University, Kakuma-machi, Kanazawa 920-1192, Japan
4
Respiratory Medicine, Cellular Transplantation Biology, Graduate School of Medical Sciences, Kanazawa University, 13-1 Takara-machi, Kanazawa 920-8640, Japan
5
Respiratory Medicine, National Hospital Organization Nanao Hospital, 3-1 Mattou-machi Yabe, Nanao, Ishikawa 926-8531, Japan
6
Third Department of Internal Medicine, Fukui University School of Medicine, Eiheiji, Fukui 910-1193, Japan
*
Author to whom correspondence should be addressed.
Academic Editor: Paul B. Tchounwou
Received: 13 November 2015 / Revised: 22 December 2015 / Accepted: 29 December 2015 / Published: 7 January 2016
Abstract
The association between heavy metals exposure and respiratory diseases or allergic sensitization showing high serum immunoglobulin E (IgE) has been suggested. However, previous findings have been inconsistent and the mechanisms responsible remain unclear. We evaluated heavy metal exposure and its association with coughing, itchy eyes in chronic cough patients with different IgE levels. Ninety outpatients in Kanazawa University Hospital were recruited between January–June 2011. Subjects whose total IgE measured by radioimmunosorbent test were asked to record their daily symptoms. We collected daily total suspended particles (TSP) from which concentrations of calcium (Ca), cadmium (Cd), chromium (Cr), iron (Fe), manganese (Mn), nickel (Ni), and lead (Pb) were determined then divided into high and low level groups. Generalized estimating equations were applied to compute the relationship between concentrations of these metals and symptoms. All metals at high levels were significantly associated with itchy eyes compared with low levels, with exception of Ca, the six others were significant in patients with IgE < 250 IU/mL. Cd, Fe, Mn had association with coughing (odds ratio-OR (95% confidence interval-CI): 1.13 (1.03, 1.24), 1.22 (1.05, 1.42), and 1.13 (1.01, 1.27), respectively), this relationship remained significant for Cd (OR (95% CI): 1.14 (1.03, 1.27)) and Mn (OR (95% CI): 1.15 (1.00, 1.31)) in patients with lower IgE. Our findings demonstrate the relationship between aerial heavy metals and itchy eyes, coughing in chronic cough patients, suggesting these symptoms may be due to a non-IgE mediated mechanism.
View Full-Text
►

▼

Figures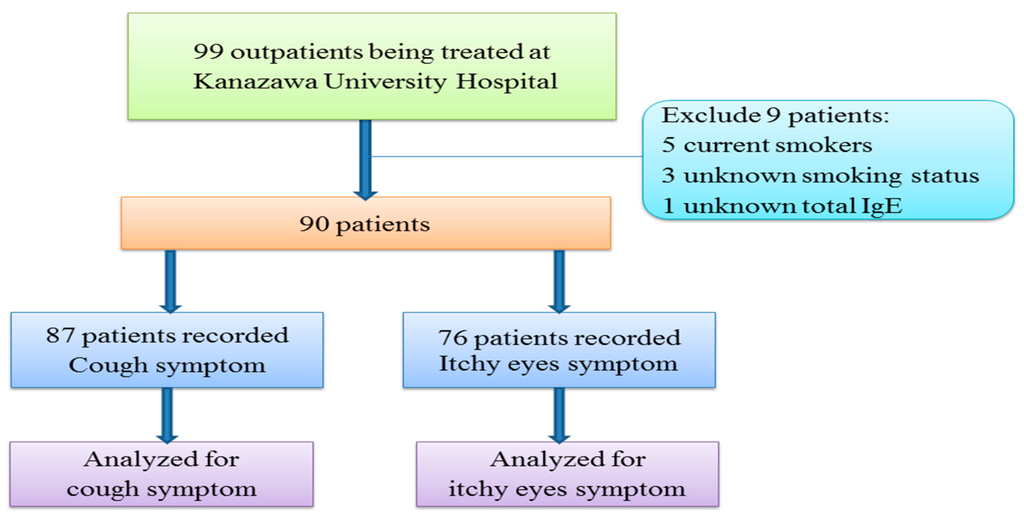 Figure 1
This is an open access article distributed under the
Creative Commons Attribution License
which permits unrestricted use, distribution, and reproduction in any medium, provided the original work is properly cited (CC BY 4.0).

Share & Cite This Article
MDPI and ACS Style
Nguyen, T.T.T.; Higashi, T.; Kambayashi, Y.; Anyenda, E.O.; Michigami, Y.; Hara, J.; Fujimura, M.; Tsujiguchi, H.; Kitaoka, M.; Asakura, H.; Hori, D.; Hibino, Y.; Konoshita, T.; Nakamura, H. A Longitudinal Study of Association between Heavy Metals and Itchy Eyes, Coughing in Chronic Cough Patients: Related with Non-Immunoglobulin E Mediated Mechanism. Int. J. Environ. Res. Public Health 2016, 13, 110.
Note that from the first issue of 2016, MDPI journals use article numbers instead of page numbers. See further details here.
Related Articles
Comments
[Return to top]