Open Access This article is
freely available
re-usable
Article
Mercury Exposure Assessment and Spatial Distribution in A Ghanaian Small-Scale Gold Mining Community
1
Department of Environmental Health Sciences, School of Public Health, University of Michigan, 1415 Washington Heights, Ann Arbor, MI 48109, USA
2
Department of Anthropology, University of Michigan, 101 West Hall, Ann Arbor, MI 48109, USA
3
Department of Afroamerican and African Studies, University of Michigan, 4700 Haven Hall, Ann Arbor, MI 48109, USA
4
Faculty of Agricultural and Environmental Sciences, McGill University, 21, 111 Lakeshore Rd., Ste. Anne de Bellevue, QC H9X 3V9, Canada
*
Author to whom correspondence should be addressed.
Academic Editors: Susan Keane and Paleah Black Moher
Received: 2 June 2015 / Accepted: 26 August 2015 / Published: 1 September 2015
Abstract
:
Mercury is utilized worldwide in artisanal and small-scale gold mining (ASGM) and may pose a risk for miners and mining communities. While a number of studies have characterized mercury in ASGM communities, most have focused on a single media and few have taken a holistic approach. Here, a multiple media exposure assessment and cross-sectional study of mercury was conducted in 2010 through 2012 in northeast Ghana with a small-scale gold mining community, Kejetia, a subsistence farming community, Gorogo, and an urban ASGM gold refinery in Bolgatanga. The objective was to assess mercury in a range of human (urine and hair) and ecological (household soil, sediment, fish, and ore) samples to increase understanding of mercury exposure pathways. All participants were interviewed on demographics, occupational and medical histories, and household characteristics. Participants included 90 women of childbearing age and 97 adults from Kejetia and 75 adults from Gorogo. Median total specific gravity-adjusted urinary, hair, and household soil mercury were significantly higher in Kejetia miners (5.18 µg/L, 0.967 µg/g, and 3.77 µg/g, respectively) than Kejetia non-miners (1.18 µg/L, 0.419 µg/g, and 2.00 µg/g, respectively) and Gorogo participants (0.154 µg/L, 0.181 µg/g, and 0.039 µg/g) in 2011. Sediment, fish, and ore Hg concentrations were below guideline values. Median soil mercury from the Bolgatanga refinery was very high (54.6 µg/g). Estimated mean mercury ingestion for Kejetia adults from soil and dust exceeded the U.S. Environmental Protection Agency reference dose (0.3 µg Hg/kg·day) for pica (0.409 µg Hg/kg·day) and geophagy (20.5 µg Hg/kg·day) scenarios. Most participants with elevated urinary and household soil mercury were miners, but some non-miners approached and exceeded guideline values, suggesting a health risk for non-mining residents living within these communities.
Keywords:
mercury; Ghana; small-scale gold mining; ASGM; GIS
2. Materials and Methods
2.1. Sampling Strategy and Study Populations
Data were collected from two communities in the Upper East Region of Ghana, in the prior Talensi-Nabdam District (
Figure 1
), which has since split into separate Talensi and Nabdam Districts. A small-scale gold mining community, Kejetia (
Figure 2
), was selected from a prior study of ASGM miners in the area [
24
]. Kejetia is a community of approximately 2500 people that developed around ASGM in 1995 [
11
,
25
]. Gorogo, a nearby, upstream, non-mining community, was selected for comparison (
Figure S1
). Permission to work with the communities was granted by each community's traditional chief and assemblyperson in Gorogo, and Institutional Review Board (IRB) approval was obtained through the University of Michigan (HUM00028444).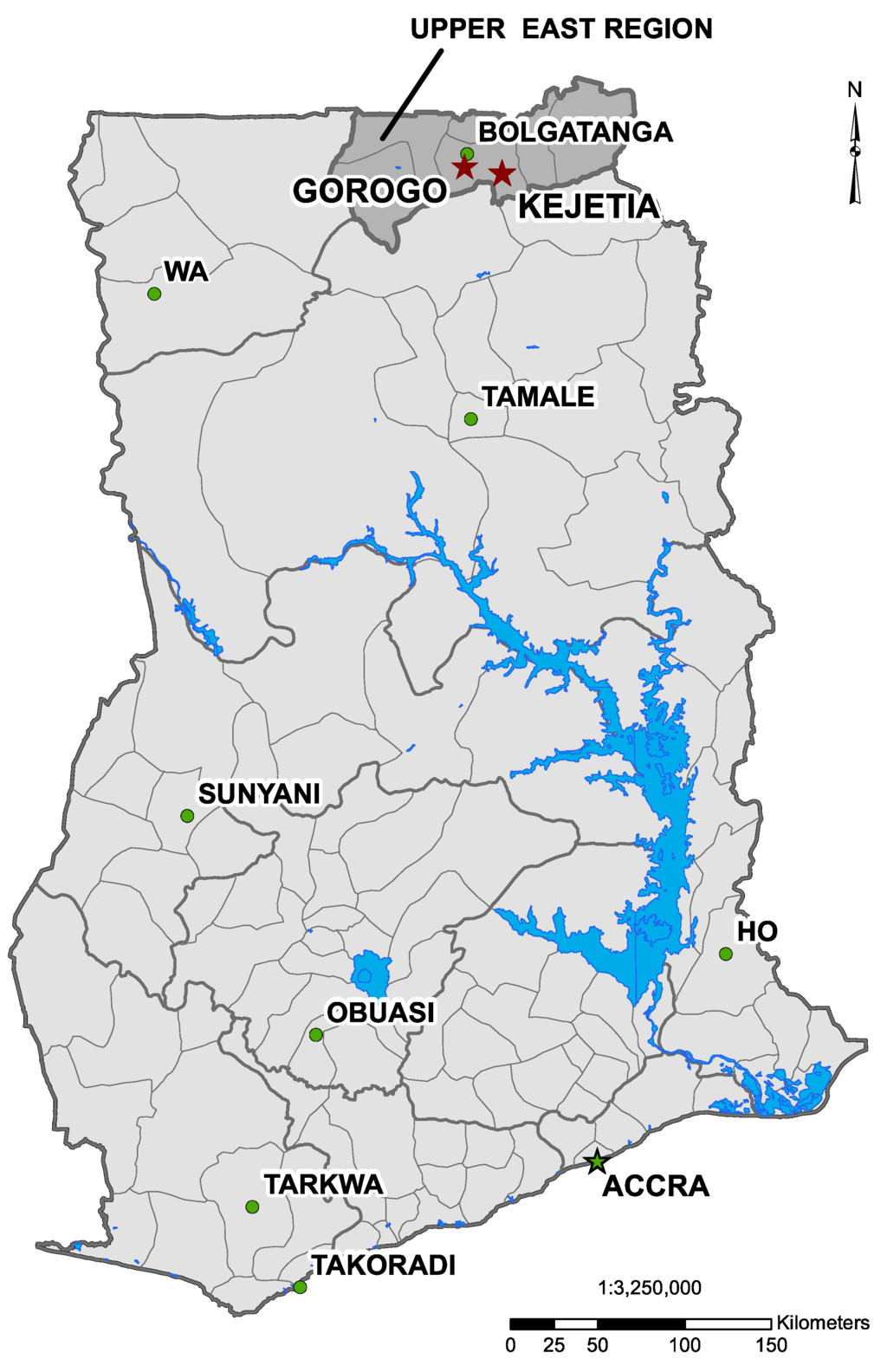 Figure 1.
Map of Ghana indicating Kejetia and Gorogo (two red stars), the two research communities, and the municipal capital, Bolgatanga (green circle), in the Upper East Region. (Map produced from data provided by the National Renewable Energy Laboratory [NREL], by Mozhgon Rajaee, June 2012 [
26
]).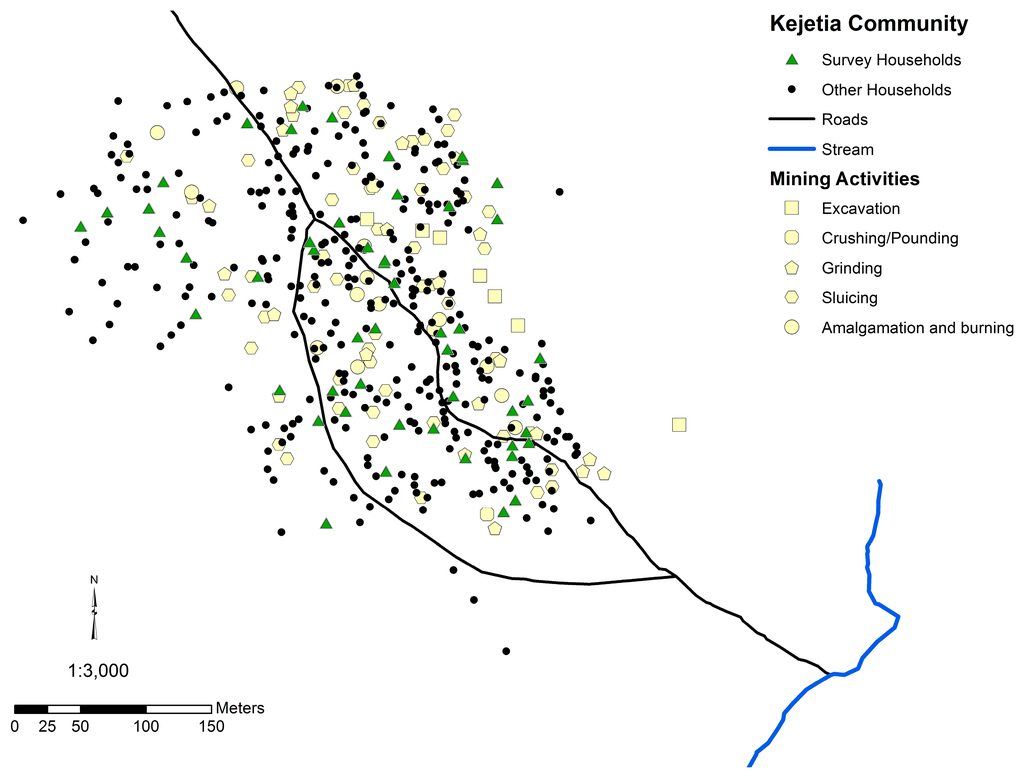 Figure 2. Map of the Kejetia community, indicating households surveyed, community markers, and locations of mining activities.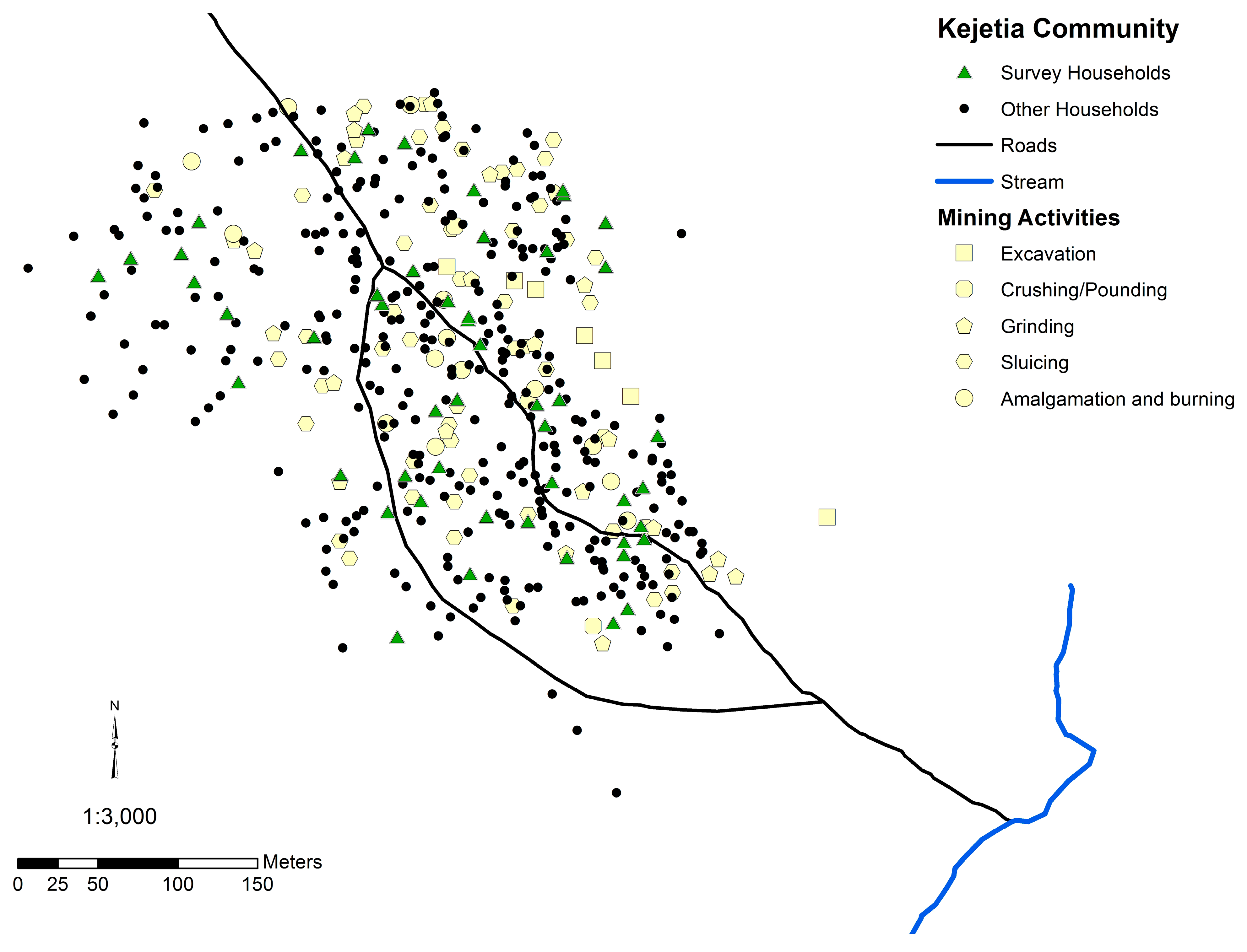 Participants were recruited to participate in the survey by household. In accordance with cultural norms, households were defined as those who eat from the same "pot". Lacking community maps and official population estimates, it was impossible to follow true random sampling. In June 2010, women of childbearing age (16 through 49 years) were surveyed from Kejetia through convenience sampling. From May through July 2011, sampling was done in Kejetia and Gorogo. In Kejetia, all households were assigned a set of coordinates using a handheld global positioning system (GPS; Oregon 450; Garmin International, Inc., Olathe, USA). Households were numbered and assigned to a cluster of approximately 20 households based on geographic proximity. Each day, a random number was selected from a bag to identify a household from up to three different clusters for participation. Two to three random households were sampled from each cluster to ensure geographic representation. If a household was not eligible or declined participation, another number from within the cluster was pulled from the bag until an appropriate household was found.
The community of Gorogo was much more geographically dispersed, making clustering infeasible. Households were selected from convenience sampling, by spinning a plastic bottle at the geographic middle of the community and selecting the house pointed to most closely [
27
]. The bottle was then spun from each participating household to find the next household to be surveyed, and from other geographic locations throughout the community. If a household was not eligible or declined participation, re-spinning the bottle in the same location as the previous spin chose a replacement household.
2.2. Surveys
For each household surveyed, a household head and up to three other adults (18 years or older) were interviewed on household characteristics, and their occupational and medical histories. Questions were adapted from the Ghana Demographic and Health Survey (DHS) [
28
] and the American Thoracic Society Epidemiology Standardization Project [
29
], with responses being studied in other efforts by our team. English surveys were administered by a team of university students and verbally translated by local Ghanaian translators in the participant's choice language (Talen, Nabt, Gurune, Twi, Dagbani, English, or Hausa). Translators were trained on appropriate medical terms and health outcomes in local languages prior to conducting the interviews.
The head of household (HOH) or an identified alternative household participant knowledgeable about the individuals in the household completed a survey on demographics of people in the household, household characteristics and amenities, and a 24-h dietary survey. A maximum of four adults per household, including the HOH were administered a separate survey. In 2010, women were surveyed on prenatal care and birth, medical, and occupational histories. In 2011, this included questions on occupational, medical, and smoking histories; and spirometry was performed when feasible. In households with more than four adults, the HOH provided guidance on who to interview. ASGM activities were stratified as excavation, crushing (crushing, grinding, or pounding ore), sifting ("shanking"), washing (or sluicing), amalgamation, burning (or roasting), and owning or managing a mine. Since many participants engaged in multiple mining activities, each participant was surveyed about ever-involvement in each mining activity as well as the main activity performed in the three months preceding the survey.
2.3. Sample Collection
Urine and hair biological markers were collected to assess elemental and methylmercury exposure, respectively, from all participants when feasible [
5
]. Spot urine samples (5–15 mL) were collected from participants mid-morning at the time of the interview, stored at room temperature in Bolgatanga, Ghana, and frozen at −20 °C until analysis in the U.S. Samples were thawed to 4 °C and vortexed prior to analysis. Hair was cut as close to the scalp as possible from the occipital region of the head and placed on a sticky-note and stored in a plastic bag until analysis. Only the 2 cm closest to the scalp was used for analysis. Hair samples were washed once with acetone and twice with deionized water, and dried for Hg analysis [
24
,
30
].
Household soil samples were collected in 2010 and 2011from Kejetia and in 2012 from a Bolgatanga refinery. Household surface soil was collected from a common area, designated by the HOH. Each household soil sample is a composite of five subsamples taken from the four corners and center of an approximate 30 cm
2
area [
31
]. Samples were collected from the top 1–2 cm of soil into sealed WhirlPak bags. Ore samples were collected from miners within Kejetia from various stages throughout the ASGM process (crushing, grinding, and washing) in 2011. In 2012, soil samples were collected at a gold refinery in the regional urban center Bolgatanga (which processes the gold mined from Kejetia), at zero, three, and six meters from the roasting site, following the same collection protocol as household soil samples. Samples were stored at room temperature in Bolgatanga, Ghana at 4 °C until analysis in the U.S. All samples were dried at 110 °C for 16 h and soil sifted through a 2 mm polymer sieve to remove any detritus or stones.
In 2010, fish and sediment samples were collected from around Kejetia. Fish were caught from the adjacent stream and nearby reservoir and purchased from vendors in Kejetia. Samples were whole fish, but were not identified by species names. All fish samples were dried in Bolgatanga and stored at 4 °C until analysis in the U.S. Samples were dried again at 60 °C for 16 h in the laboratory. Whole fish were ground up for analyses to better reflect consumption habits in the Upper East Region.
2.4. Sample Mercury Analysis
Total Hg was measured using a Direct Mercury Analyzer-80 (DMA-80; Milestone, Inc., Shelton, CT, USA), following U.S. Environmental Protection Agency (EPA) Method 7473 [
32
]. Certified reference materials (CRMs; urine: QMEQAS, Institut National de Santa Publique Quebec; hair: National Institute for Environmental Studies Japan; dogfish liver: DOLT-4, National Research Council Canada; soil: San Joaquin Soil 2709, U.S. National Institute of Standards and Technology) were analyzed approximately every ten samples, blanks every five samples and sample replicates at least every nine samples. All soil and sediment samples were run in duplicate and blanks every two samples (four replicates).
The average recovery of CRMs was 91%–92% for NIES hair and 94%–107% for DOLT-4, and 97%–98% for QMEQAS urine in urine, hair, soil, sediment, ore, and fish sample analyses. For San Joaquin soil CRM, the average recovery ranged from 85% to 101% in Gorogo and Kejetia, respectively. In Kejetia and Gorogo samples, within-day variation was <5% for NIES hair and QMEQAS urine, <10% for DOLT-4, and <20% for San Joaquin soil. The average within-day variation of replicates of participants' samples was low for hair (<6%) and urine (<8.3%). Soil and sediment samples, analyzed in duplicate due to expected higher variation, had an average within-day variation of 6.7%–12.3%.
The average theoretical Hg detection limit (TMDL; 3 × standard deviation of the ng Hg of blanks + average ng Hg of blanks) for hair was 0.058 ng Hg in Kejetia in 2010, 0.126 ng Hg in Kejetia in 2011, and 0.044 ng Hg in Gorogo. No hair samples were below the TMDL. The average TMDL for urine was 0.090 ng Hg for Kejetia in 2010 (1 sample < TMDL), 0.136 ng Hg for Kejetia in 2011 (3 samples < TMDL), and 0.046 ng Hg for Gorogo (21 samples < TMDL). The average TMDL for household soil was 1.853 ng Hg for Kejetia in 2010, 3.030 ng Hg for Kejetia in 2011, and 0.083 ng Hg for Gorogo. The TMDL for Bolgatanga soil refinery samples was 3.987 ng Hg. The TMDL was high for ore samples (3.183 ng Hg), with 3 samples below the TMDL. Sediment samples also had a high TMDL of 1.853 ng Hg, as they were analyzed with household soil samples (11 samples < TMDL). No fish samples were below the TMDL (0.134 ng Hg).
Specific gravity (SG) was measured using a pocket refractometer (PAL-10S, Atago U.S.A., Inc., Tokyo, Japan) to adjust urine samples by urinary dilution using the mean urinary specific gravity (1.016) [
33
,
34
]. Specific gravity was used to adjust for urinary flow over creatinine, as it is less influenced by ethnicity, age, sex, and diet [
35
,
36
,
37
]. The equation is as follows, where
p
refers to a participant's personal urinary Hg and urinary SG values, and the average urinary SG is 1.016:
2.5. Soil and Hg Ingestion
Soil and dust ingestion was assessed with three potential scenarios: inadvertent ingestion of small quantities of soil and dust; occasional, intentional ingestion of soil and dust (pica); and habitual, intentional ingestion of soil and dust (geophagy). Inadvertent soil and dust ingestion occurs from ingestion of house dust and hand-to-mouth and food contact. In rural northern Ghanaian communities, earthen floors, a long dry season, and mining activities may increase soil and dust ingestion for adults and children. Using estimates of ingestion from the U.S. EPA on average ingestion rates based on age for a general U.S. population and estimates from other studies used in Sub-Saharan Africa, scenarios were evaluated using a central tendency (median or mean) or worst-case scenario that was often the estimated 95% upper limit of ingestion. Despite best efforts, however, there have been no known studies to quantify soil or dust ingestion in Sub-Saharan Africa for non-geophagic adults or geophagic practices in northeast Ghana where our study was based. As such, we used existing estimates of soil and dust ingestion and the relevant calculations. A variety of scenarios were explored. The U.S. EPA estimates soil and dust ingestion for inadvertent ingestion, whereas estimates for pica and geophagy principally refer only to soil ingestion [
38
].
Mercury ingestion from soil and dust was calculated per day by multiplying the household soil total Hg concentration (note, we did not speciate the soil Hg) with the quantity of soil and dust ingested per day estimated for various scenarios. For all scenarios, the estimated quantity of soil and dust ingested is equal for all participants, except for the inadvertent ingestion central tendency of 50 mg/day for adults ≥21 years and 110 mg/day for adults 18 to 21 years [
38
]. Lacking a reference dose (RfD) for elemental Hg (which is likely to be the main form of Hg in the soil), Hg ingestion was evaluated with the U.S. EPA RfD for mercuric chloride of 0.3 µg Hg per kg of body weight-day and using participants' body weight [
39
]. To assess potential exposure for Bolgatanga residents living near the urban refinery, a set weight of 65 kg was used to determine an RfD. Although the average U.S. adult weight is 80 kg (>21 years) [
38
], the average weight was 63.2 kg in Kejetia and 59.1 kg in Gorogo. Furthermore, we assumed 100% bioavailability of Hg following ingestion, and without Hg speciation data we used total soil Hg to compare to the RfD. Future studies should further explore these particular issues.
2.6. Statistical and Spatial Analyses
The data were analyzed using SPSS Statistical Software (v.22; IBM, Chicago, IL, USA). Since Hg biomarkers and household soil were not normally distributed, they were log-transformed for independent
t
-tests. Bivariate analyses were also performed non-parametrically (e.g., Spearman's ρ). One-way analysis of variance (ANOVA) was used to assess bivariate correlations of Hg biomarkers and household soil with mining status, mining activities, sex, and education level. Correlations between ever-involvement in each mining activity were assessed through Chi-square tests. Statistical analyses were performed with specific gravity-adjusted and unadjusted urinary Hg. All results are reported with mean ± standard deviation, unless otherwise indicated.
Maps of households in each community were created using ArcGIS (v. 10.1; Esri, Redlands, CA, USA). GPS coordinates were measured at each participant's household. We were unable to geocode three households due to logistical issues. These three households were exempted from geospatial analyses. This included two households from Kejetia and one from Gorogo. Global Moran's I statistic was used to analyze spatial autocorrelation of Hg concentrations across the Kejetia community in urine and household soil. In each assessment, Euclidean distance and inverse distance weighting were used to account for Kejetia's non-grid organization and to place a larger influence on nearby neighbor Hg concentrations than more distant Hg concentrations.
4. Discussion
In Kejetia, like other ASGM communities, Hg contamination is of prominent concern. Our study assessed the Hg contamination of soil, sediment, and fish, and human exposure through multiple biomarker measures. Mining involvement and use of Hg was common in Kejetia—just over 50% of Kejetia 2011 participants performed amalgamation, indicating a potential for widespread contamination and exposures. Urinary and hair Hg biomarkers, which were positively correlated, were elevated among Kejetia and Gorogo participants.
Limitations
There are a number of limitations to consider for this study. Data on air Hg concentrations in homes and throughout the community would provide a more complete picture of exposure pathways. High household soil Hg concentrations may be a source of Hg vapor in homes and an additional inhalational exposure. The Canadian guideline values for Hg in soil and sediment are for non-tropical environments and do not include Hg speciation [
42
,
43
]. Owing to inconsistent practices, recipes, and meal sharing, and a lack of knowledge of fish species and origins, it is difficult to adequately quantify fish consumption for rural Ghanaians. An estimate of MeHg ingestion from fish consumption would help to better estimate the fraction of MeHg in ASGM community participants' hair samples. However, utilizing Sherman
et al.
's study [
14
], we have a suitable estimation of the proportion of MeHg in ASGM miners' hair.
Many of the soil and dust ingestion scenarios from US-based assumptions of inadvertent ingestion and pica are inadequate for West Africans with different dietary habits, earthen floor housing, climate, local environments, and other factors [
19
]. It is unclear what appropriate soil and dust ingestion rates are for rural northern Ghanaians, but the dusty conditions during the long dry season from October through April anecdotally imply higher ingestion rates [
67
]. ASGM areas may also have higher ingestion rates as people work and live in close proximity to ore processing [
48
]. Soil ingestion rates from Tanzanian studies reflect only soil ingestion, and may significantly underestimate total soil and dust ingestion in dusty conditions. Estimations of Hg ingestion from soil were based on household soil concentrations, although we do not have information on the source of soil for geophagy. In northeast Ghana and in a mining community in particular, individuals practicing geophagy may also intentionally obtain soils from outside their community, in community spaces, or from their homes.
The toxicity of Hg depends greatly on its speciation, which is unknown for Kejetia. A site contaminated with mercuric nitrate and elemental Hg in Tennessee, USA, measured total Hg from 0.5 to 3000 µg/g in floodplain soil [
68
]. Only 0.01% was found to be organic Hg (MeHg), 6% was elemental Hg, and 91% was inorganic (primarily HgS) [
68
]. A follow-up study at the same site 15 years later measured elemental Hg in 10%–30% of total Hg [
69
]. At both time points, the soluble and bioavailable fractions were relatively small portions of the total Hg [
68
,
69
]. The presence of certain types of bacteria in the soil (e.g., sulfate-reducing bacteria), which is largely unknown for Ghana, can also influence the speciation in soil [
68
]. In the absence of data on Hg speciation and fractionation in Kejetia, we rely on total Hg concentrations and must also include some uncertainty in our analyses. Further studies on the bioavailability of Hg from soil and dust and ingestion rates in rural, West African communities would aid in clarifying this exposure pathway. Additionally, the U.S. EPA RfD is for mercuric chloride and may not adequately assess risks from elemental Hg ingestion.
5. Conclusions
This study increases our understanding of Hg exposures among miners and non-miners living in an ASGM community to better explain the distribution of Hg contamination in these types of communities. As observed in other ASGM communities, Hg exposures are elevated in Kejetia for miners and non-miners. Urinary and household soil Hg concentrations were significantly higher for miners in Kejetia, but still elevated for Kejetia non-miners compared to non-mining communities. Political and research foci are often on miners, but our study emphasizes the considerable impacts to populations indirectly involved with ASGM. Soil and dust ingestion, inadvertently or through pica or geophagy, and inhalation of volatilized Hg from soil may represent additional pathways of exposure to Hg in ASGM communities. Our assessment of Hg contamination in multiple media affords a more holistic and integrated understanding of ecological contamination and human exposures. Further, by mapping ASGM activities, household locations, and relating this to Hg exposure biomarkers we are able to show that contamination by Hg is widespread across such communities. While urban, non-mining populations are generally perceived as having little Hg exposure, elevated soil Hg concentrations from the Bolgatanga refinery stress the need to better understand the exposure for the surrounding populations.
Supplementary Materials

Table S1. Ever mining involvement for Kejetia participants. Participants were surveyed on ever-engaging in each mining activity.
Table S1. Ever mining involvement for Kejetia participants. Participants were surveyed on ever-engaging in each mining activity.
Mining Activity
Kejetia
Miners a
Females
Males

n

Percent

n

Percent

n

Percent

n

Percent
Any mining activity
75
77.3
71
100.0
31
66.0
44
88.0
Excavation
40
41.2
39
54.9
2
4.3
38
76.0
Crushing
45
46.4
44
62.0
7
14.9
38
76.0
Sifting
45
46.4
42
59.2
30
63.8
15
30.0
Washing
46
47.4
45
63.4
13
27.7
33
66.0
Amalgamation
49
50.5
47
66.2
16
34.0
33
66.0
Burning
31
32.0
31
43.7
7
14.9
24
48.0
Owning
21
21.6
20
28.2
1
2.1
20
40.0
a Refers to current miners only.
Table S2. Kejetia ore Hg concentrations.
Ore Mining Stage

n

Samples in Ore Stage
Mean (SD) (µg/g Hg)
Crushed
4
1.486 (0.933)
Finely ground
4
0.9263 (0.7609)
Washed
2
0.3492 (0.1006)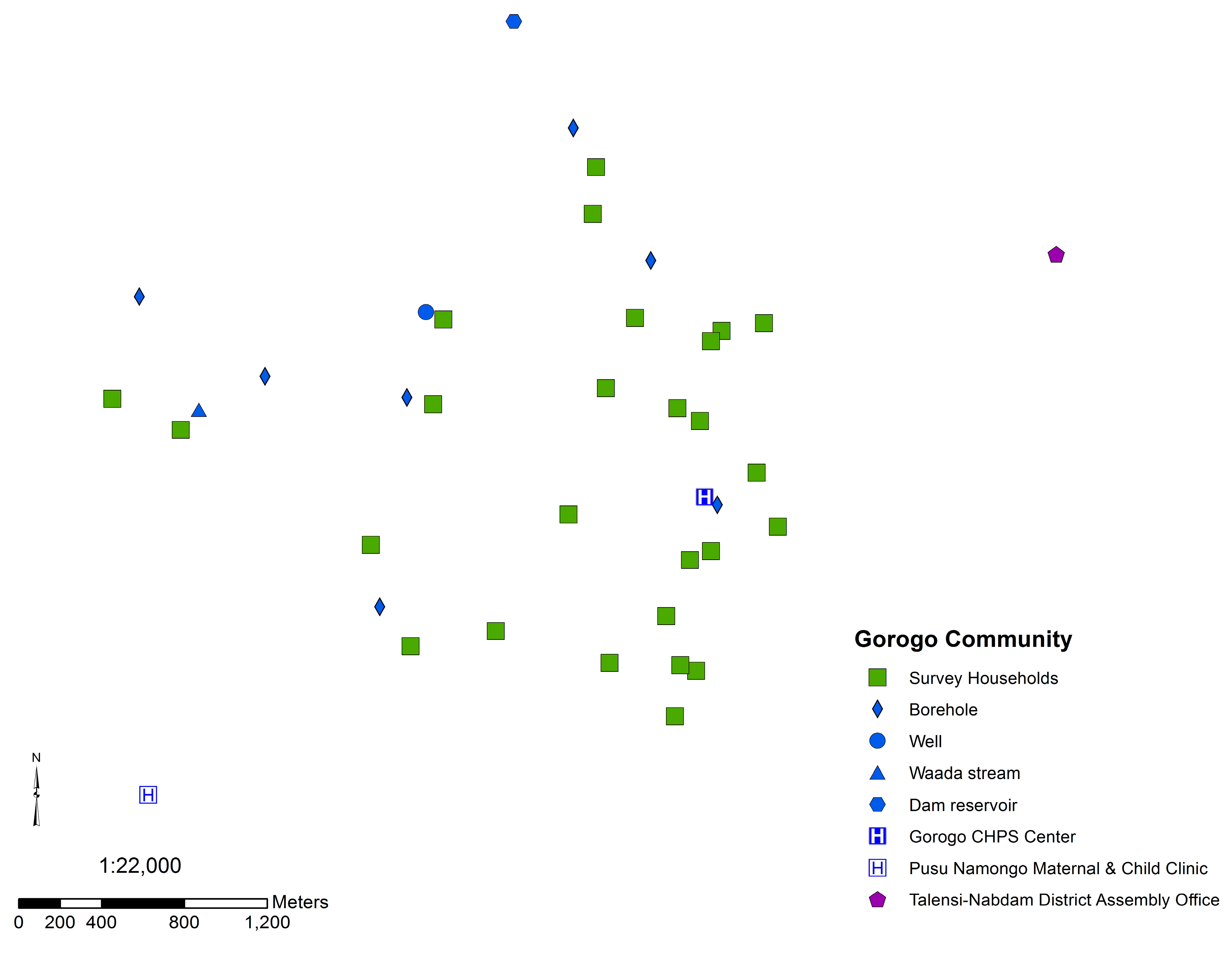 Acknowledgments
We would like to thank the work of all of the researchers, translators, and participants, particularly, Ephraim Sowah Komey, Charles Sampana, Emmanuel Adongo, Allison Yee, Jing Kaylee Lu, and Codi Sharp. We are grateful for funding from the University of Michigan's Graham Environmental Sustainability Institute and the Minorities Health and Health Disparities Research Training (MHIRT) Program (T37 MD001425-15), National Institute of Health, and administered through the University of Michigan's Center for Human Growth and Development.
Author Contributions
Mozhgon Rajaee wrote the paper, with guidance and contributions from Niladri Basu, Rachel N. Long, and Elisha P. Renne. Samples were analyzed by Mozhgon Rajaee and Rachel N. Long.
Conflicts of Interest
The authors declare no conflict of interest.
© 2015 by the authors; licensee MDPI, Basel, Switzerland. This article is an open access article distributed under the terms and conditions of the Creative Commons Attribution license (http://creativecommons.org/licenses/by/4.0/).