The State of Ambient Air Quality in Two Ugandan Cities: A Pilot Cross-Sectional Spatial Assessment
1
Division of Pulmonary Medicine, Department of Medicine, Makerere University College of Health Sciences, Kampala, Uganda
2
Department of Environmental and Occupational Health and Center for Global Public Health, School of Public Health, Rutgers University, NJ 07107, USA
3
Department of General Practice, University Medical Center Groningen, University of Groningen, Groningen 9700 RB, The Netherlands
4
Department of Paediatrics and Child Health, Makerere University College of Health Sciences, Kampala, Uganda
5
Department of Public Health and Primary Care, Leiden University Medical Center, Leiden 2333 ZA, The Netherlands
6
Clinical Epidemiology and Biostatics Unit, Department of Medicine, Makerere University College of Health Sciences, Kampala, Uganda
7
Department of Physiology, Faculty of Medicine, Gulu University, Gulu, Uganda
8
Department of Medicine, Yale University School of Medicine, New Haven, CT 06510, USA
*
Author to whom correspondence should be addressed.
†
These authors contributed equally to this work.
Academic Editor: Paul B. Tchounwou
Received: 11 May 2015 / Revised: 6 July 2015 / Accepted: 7 July 2015 / Published: 15 July 2015
Abstract
Air pollution is one of the leading global public health risks but its magnitude in many developing countries' cities is not known. We aimed to measure the concentration of particulate matter with aerodynamic diameter <2.5 µm (PM
2.5
), nitrogen dioxide (NO
2
), sulfur dioxide (SO
2
), and ozone (O
3
) pollutants in two Ugandan cities (Kampala and Jinja). PM
2.5,
O
3
, temperature and humidity were measured with real-time monitors, while NO
2
and SO
2
were measured with diffusion tubes. We found that the mean concentrations of the air pollutants PM
2.5
, NO
2,
SO
2
and O
3
were 132.1 μg/m
3
, 24.9 µg/m
3
, 3.7 µg/m
3
and 11.4 μg/m
3
, respectively. The mean PM
2.5
concentration is 5.3 times the World Health Organization (WHO) cut-off limits while the NO
2,
SO
2
and O
3
concentrations are
below WHO cut-off limits. PM
2.5
levels were higher in Kampala than in Jinja (138.6 μg/m
3
vs.
99.3 μg/m
3
) and at industrial than residential sites (152.6 μg/m
3
vs.
120.5 μg/m
3
) but residential sites with unpaved roads also had high PM
2.5
concentrations (152.6 μg/m
3
). In conclusion, air pollutant concentrations in Kampala and Jinja in Uganda are dangerously high. Long-term studies are needed to characterize air pollution levels during all seasons, to assess related public health impacts, and explore mitigation approaches.
View Full-Text
►

▼

Figures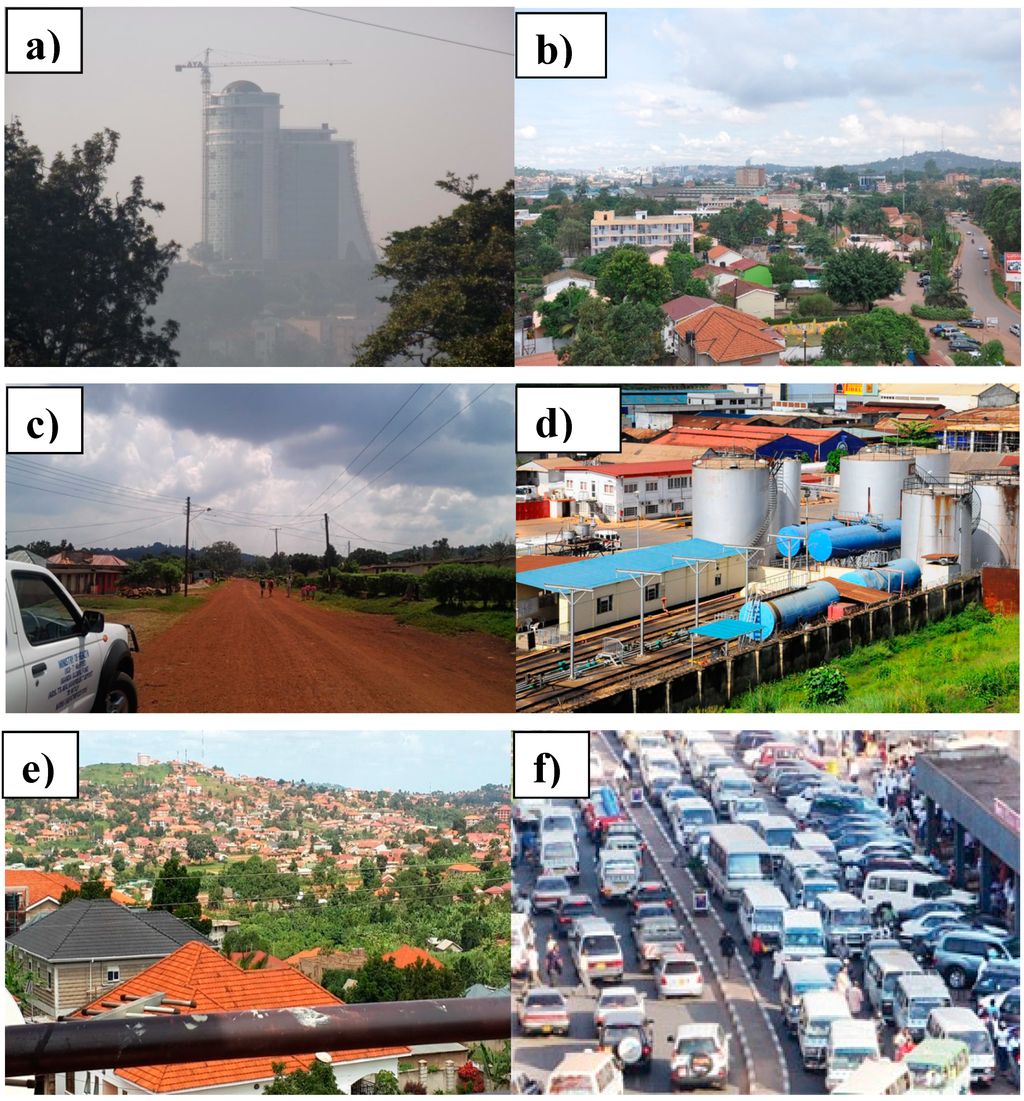 Figure 1
This is an open access article distributed under the
Creative Commons Attribution License
which permits unrestricted use, distribution, and reproduction in any medium, provided the original work is properly cited (CC BY 4.0).

Share & Cite This Article
MDPI and ACS Style
Kirenga, B.J.; Meng, Q.; Van Gemert, F.; Aanyu-Tukamuhebwa, H.; Chavannes, N.; Katamba, A.; Obai, G.; Molen, T.V.; Schwander, S.; Mohsenin, V. The State of Ambient Air Quality in Two Ugandan Cities: A Pilot Cross-Sectional Spatial Assessment. Int. J. Environ. Res. Public Health 2015, 12, 8075-8091.
Related Articles
Comments
[Return to top]