Association of PAEs with Precocious Puberty in Children: A Systematic Review and Meta-Analysis
School of Public Health and Management, Center for Medicine and Social Development, Innovation Center for Social Risk Governance in Health, Chongqing Medical University, Chongqing 400016, China
*
Author to whom correspondence should be addressed.
Academic Editor: Miklas Scholz
Received: 14 September 2015 / Revised: 20 November 2015 / Accepted: 23 November 2015 / Published: 1 December 2015
Abstract
Background
: Precocious puberty (PP) currently affects 1 in 5000 children and is 10 times more common in girls. Existing studies have tried to detect an association between phathalic acid esters (PAEs) and PP, but the results did not reach a consensus.
Objective
: To estimate the association between PAEs and children with PP based on current evidence.
Methods
: Databases including PubMed (1978 to March 2015), OVID (1946 to March 2015), Web of Science (1970 to March 2015), EBSCO (1976 to March 2015), CNKI (1979 to March 2015), WANFANG DATA (1987 to March 2015), CBM (1978 to March 2015) and CQVIP (1989 to March 2015) were searched to identify all case-control studies that determined the exposure and concentration of PAEs and their metabolites in children with PP. Meta-analysis of the pooled standard mean difference (SMD) and odds ratio (OR) with 95% confidence intervals (CI) were calculated.
Results
: A total of 14 studies involving 2223 subjects were finally included. The pooled estimates showed that PP was associated with di-(2-ethylhexyl)-phthalate (DEHP) exposure (OR: 3.90, 95% CI: 2.77 to 5.49). Besides, the concentration of DEHP (SMD: 1.73, 95% CI: 0.54 to 2.91) and di-
n
-butyl phthalate (DBP) (SMD: 4.31, 95% CI: 2.67 to 5.95) in the PP group were significantly higher than those in the control group, respectively, while no difference was detected between case and control groups in either serum or urinary concentration of mono-(2-ethylhexyl)-phthalate (MEHP), monobutyl phthalate (MBP), mono(2-ethyl-5-oxohexyl) phthalate(MEOHP), mono-(2-ethyl-5-carboxypentyl) phthalate (MECPP), monomethyl phthalate (MMP), monobenzyl phthalate (MBzP) or monoethyl phthalate (MEP).
Conclusions
: Exposure of DEHP and DBP might be associated with PP risk for girls, however, there is no evidence to show an association between the exposure to most PAE metabolites and PP. Given the moderate strength of the results, well-designed cohort studies with large sample size should be performed in future.
View Full-Text
►

▼

Figures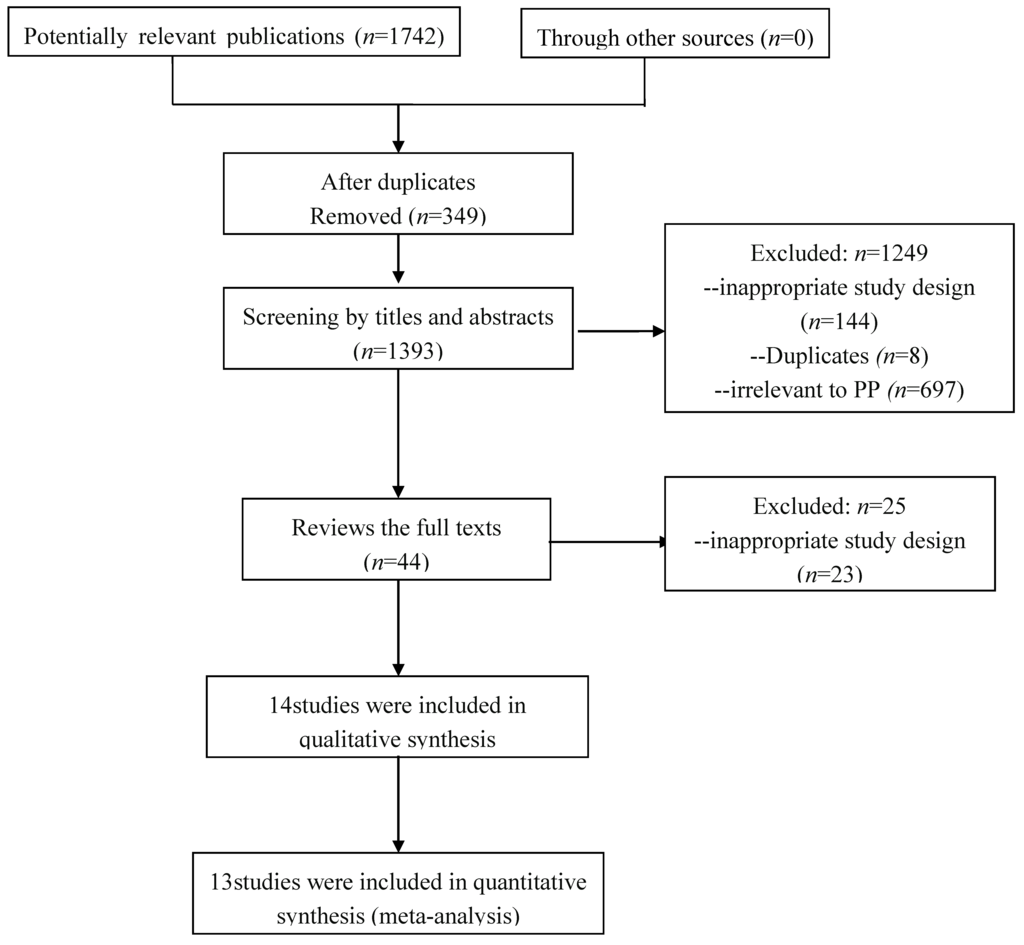 Figure 1
This is an open access article distributed under the
Creative Commons Attribution License
which permits unrestricted use, distribution, and reproduction in any medium, provided the original work is properly cited (CC BY 4.0).

Share & Cite This Article
MDPI and ACS Style
Wen, Y.; Liu, S.-D.; Lei, X.; Ling, Y.-S.; Luo, Y.; Liu, Q. Association of PAEs with Precocious Puberty in Children: A Systematic Review and Meta-Analysis. Int. J. Environ. Res. Public Health 2015, 12, 15254-15268.
Related Articles
Comments
[Return to top]