Elimination of Mother-To-Child Transmission of HIV Infection: The Drug Resource Enhancement against AIDS and Malnutrition Model
1
University of Tor Vergata, 18-00173 Rome, Italy
2
LUMSA University, 18-00173 Rome, Italy
3
Health Services Cluster, Cité du Djoué, P.O. Box 06 Brazzaville, South Africa
4
Community of S.Egidio—DREAM program, Avenida de Julho 7, Maputo, Mozambique
5
Ministère de la Santé et de la lutte contre le SIDA, B.P. 2091, Abidjan, Ivory Coast
6
Cameroon Baptist Convention Health Services, P.O. Box 1 Bamenda, Cameroon
7
Programme National Multisectoriel de Lutte contre le Sida, Blvd Triomphal and 24 Novembre Kinshasa, Congo (RDC)
8
National Department of Health, Private Bag X9070, South Africa
9
Ministry of Health, Ndeke House, P.O. Box 30205, Lusaka, Zambia
10
INMI L. Spallanzani, 00149 Rome, Italy
11
Division of Infectious Diseases, Department of Medical Biotechnologies, University of Siena, Siena University Hospital, Siena 53100, Italy
12
Community of S.Egidio—DREAM program, P.O. Box 30355, Blantyre, Malawi
13
Community of S.Egidio—DREAM program, Rome 00153, Italy
14
David Geffen School of Medicine, University of California at Los Angeles, Los Angeles, CA 90095, USA
*
Author to whom correspondence should be addressed.
Academic Editor: Paul B. Tchounwou
Received: 14 August 2015 / Revised: 1 October 2015 / Accepted: 15 October 2015 / Published: 21 October 2015
Abstract
The Drug Resource Enhancement against AIDS and Malnutrition Program (DREAM) gathered professionals in the field of Elimination of HIV-Mother-To-Child Transmission (EMTCT) in Maputo in 2013 to discuss obstacles and solutions for the elimination of HIV vertical transmission in sub-Saharan Africa. During this workshop, the benefits of administrating combined antiretroviral therapy (cART) to HIV positive women from pregnancy throughout breastfeeding were reviewed. cART is capable of reducing vertical transmission to less than 5% at 24 months of age, as well as maternal mortality and infant mortality in both HIV infected and exposed populations to levels similar to those of uninfected individuals. The challenge for programs targeting eMTCT in developing countries is retention in care and treatment adherence. Both are intrinsically related to the model of care. The drop-out from eMTCT programs before cART initiation ranges from 33%–88% while retention rates at 18–24 months are less than 50%. Comprehensive strategies including peer-to-peer education, social support and laboratory monitoring can reduce refusals to less than 5% and attain retention rates approaching 90%. Several components of the model of care for reduction of HIV-1 MTCT are feasible and implementable in scale-up strategies. A review of this model of care for HIV eMTCT is provided.
View Full-Text
►

▼

Figures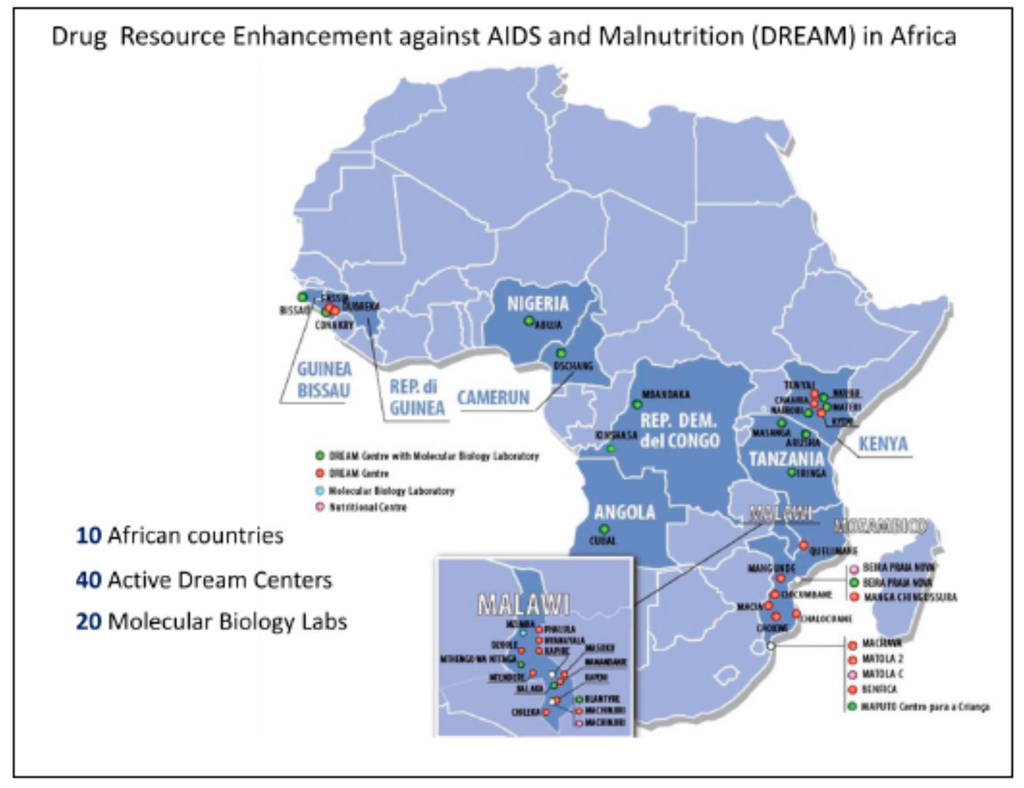 Figure 1
This is an open access article distributed under the
Creative Commons Attribution License
which permits unrestricted use, distribution, and reproduction in any medium, provided the original work is properly cited (CC BY 4.0).

Share & Cite This Article
MDPI and ACS Style
Liotta, G.; Marazzi, M.C.; Mothibi, K.E.; Zimba, I.; Amangoua, E.E.; Bonje, E.K.; Bossiky, B.N.B.; Robinson, P.A.; Scarcella, P.; Musokotwane, K.; Palombi, L.; Germano, P.; Narciso, P.; De Luca, A.; Alumando, E.; Mamary, S.H.; Magid, N.A.; Guidotti, G.; Mancinelli, S.; Orlando, S.; Peroni, M.; Buonomo, E.; Nielsen-Saines, K. Elimination of Mother-To-Child Transmission of HIV Infection: The Drug Resource Enhancement against AIDS and Malnutrition Model. Int. J. Environ. Res. Public Health 2015, 12, 13224-13239.
Related Articles
Comments
[Return to top]