Altered Gene Transcription in Human Cells Treated with Ludox® Silica Nanoparticles
1
Department of Biology, University of Padova, Via G. Colombo 3, Padova 35121, Italy
2
Centro di Ricerca Interdipartimentale per le Biotecnologie Innovative—CRIBI Biotechnology Centre, University of Padova, Via U. Bassi 58/B, Padova 35121, Italy
3
Department of Chemical Sciences, University of Padova, via Marzolo 1, 35131 Padova, Italy
*
Authors to whom correspondence should be addressed.
†
These authors contributed equally to this work.
Received: 30 April 2014 / Revised: 8 July 2014 / Accepted: 5 August 2014 / Published: 28 August 2014
Abstract
Silica (SiO
2
) nanoparticles (NPs) have found extensive applications in industrial manufacturing, biomedical and biotechnological fields. Therefore, the increasing exposure to such ultrafine particles requires studies to characterize their potential cytotoxic effects in order to provide exhaustive information to assess the impact of nanomaterials on human health. The understanding of the biological processes involved in the development and maintenance of a variety of pathologies is improved by genome-wide approaches, and in this context, gene set analysis has emerged as a fundamental tool for the interpretation of the results. In this work we show how the use of a combination of gene-by-gene and gene set analyses can enhance the interpretation of results of
in vitro
treatment of A549 cells with Ludox
®
colloidal amorphous silica nanoparticles. By gene-by-gene and gene set analyses, we evidenced a specific cell response in relation to NPs size and elapsed time after treatment, with the smaller NPs (SM30) having higher impact on inflammatory and apoptosis processes than the bigger ones. Apoptotic process appeared to be activated by the up-regulation of the initiator genes
TNFa
and
IL1b
and by
ATM
. Moreover, our analyses evidenced that cell treatment with Ludox
Ò
silica nanoparticles activated the matrix metalloproteinase genes
MMP1
,
MMP10
and
MMP9
. The information derived from this study can be informative about the cytotoxicity of Ludox
®
and other similar colloidal amorphous silica NPs prepared by solution processes.
View Full-Text
►

▼

Figures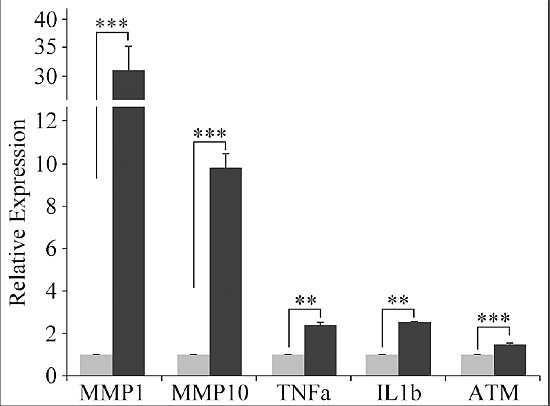 Graphical abstract

Share & Cite This Article
MDPI and ACS Style
Fede, C.; Millino, C.; Pacchioni, B.; Celegato, B.; Compagnin, C.; Martini, P.; Selvestrel, F.; Mancin, F.; Celotti, L.; Lanfranchi, G.; Mognato, M.; Cagnin, S. Altered Gene Transcription in Human Cells Treated with Ludox® Silica Nanoparticles. Int. J. Environ. Res. Public Health 2014, 11, 8867-8890.
Related Articles
Comments
[Return to top]