Effort-Reward Imbalance at School and Depressive Symptoms in Chinese Adolescents: The Role of Family Socioeconomic Status
1
Department of Pediatrics, the First Affiliated Hospital of Zhengzhou University, Zhengzhou 450052, China
2
School of Public Health, Zhengzhou University, Zhengzhou 450001, China
3
First High School of Zhengzhou, Zhengzhou 450000, China
4
Department of Education, Tufts University, Medford, MA 02155, USA
5
Institute of Occupational and Social Medicine, Centre for Health and Society, Faculty of Medicine, University of Düsseldorf, Universitätsstrasse 1, Düsseldorf 40225, Germany
6
Senior Professorship on Work Stress Research, Life-Science Centre, University of Düsseldorf, Düsseldorf 40225, Germany
*
Author to whom correspondence should be addressed.
†
These authors contributed equally to this work.
Received: 10 March 2014 / Revised: 16 May 2014 / Accepted: 26 May 2014 / Published: 10 June 2014
Abstract
Depression is a major mental health problem during adolescence. This study, using a sample of Chinese adolescents, examined the separate and combined effects of perceived school-related stress and of family socioeconomic status (SES) on the prevalence of depressive symptoms. A total of 1774 Chinese students from Grades 7–12 were recruited into our questionnaire survey. School-related stress was measured by the Effort-Reward Imbalance Questionnaire-School Version, family SES was assessed by a standardized question, and depressive symptoms were evaluated by the Center for Epidemiological Studies Depression Scale for Children. Multivariate logistic regression was applied, adjusting for age, gender, grade, smoking, alcohol drinking and physical activity. It was found that high school-related stress and low family SES were associated with elevated odds of depressive symptoms, respectively. The effect of school-related stress was particularly strong in low SES group. In adolescents with both high stress at school and low SES, the odds ratio was 9.18 (95% confidence interval = 6.53–12.89) compared to the reference group (low stress at school and high SES). A significant synergistic interaction effect was observed (synergy index = 2.28, 95% confidence interval = 1.56–3.32). The findings indicated that perceived school-related stress, in terms of effort-reward imbalance, was related to depressive symptoms in this sample of Chinese adolescents. The strong interaction with family SES suggests that health promoting efforts in school settings should be targeted specifically at these socially deprived groups.
View Full-Text
►

▼

Figures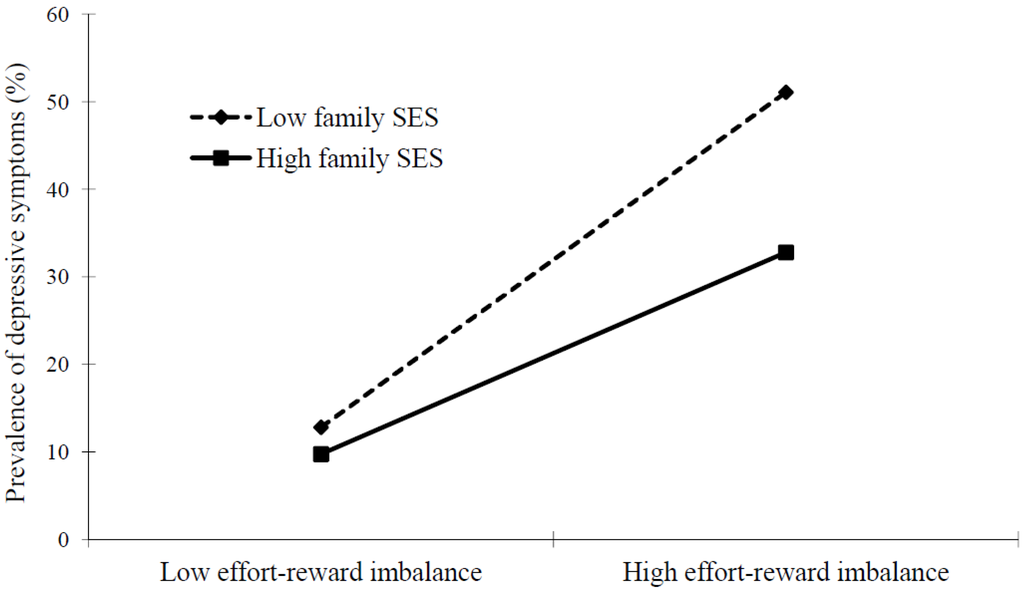 Figure 1

Share & Cite This Article
MDPI and ACS Style
Guo, H.; Yang, W.; Cao, Y.; Li, J.; Siegrist, J. Effort-Reward Imbalance at School and Depressive Symptoms in Chinese Adolescents: The Role of Family Socioeconomic Status. Int. J. Environ. Res. Public Health 2014, 11, 6085-6098.
Related Articles
Comments
[Return to top]